How Amazon Makes Its Money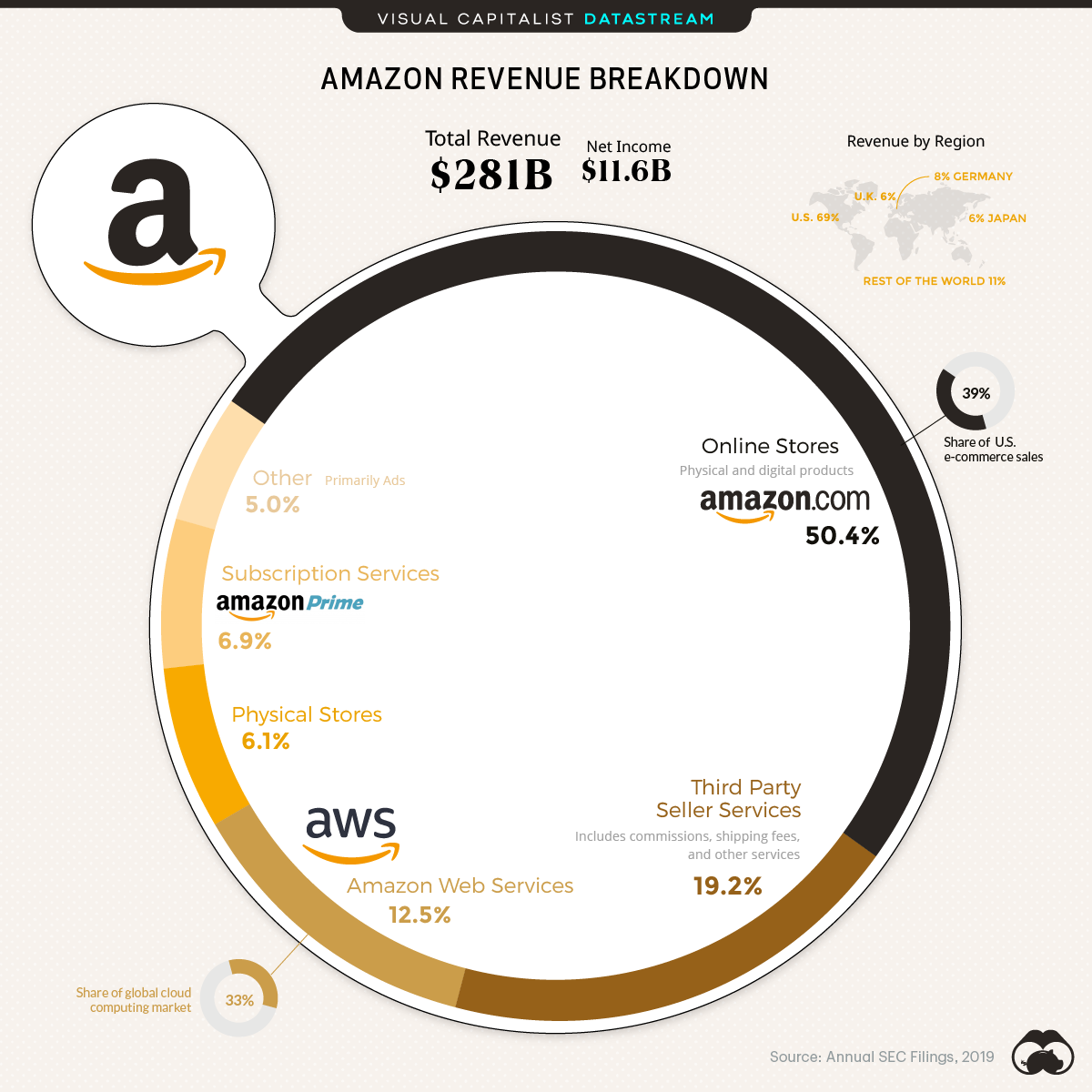 The Briefing
While a majority of Amazon's revenue comes from online sales, the company has several other business segments that generate billions of dollars in revenue
The largest business segment following online sales is third-party selling services
How Amazon Makes Its Money
With a market cap of $1.7 trillion, Amazon is the most valuable retailer in the world. But the company has grown into more than just an online store.
Amazon is now the proud owner of multiple billion-dollar revenue streams—but what are these different business segments, and how much does each unit contribute to the company's overall revenue mix?
Here's a look at Amazon's different business segments, and how much each contributed to the company's total revenue in 2019 (which was a casual $281 billion):
| Business Segment | Percent of Revenue (2019) |
| --- | --- |
| Online stores | 50.4% |
| Third-party seller services | 19.2% |
| Amazon Web Services (AWS) | 12.5% |
| Subscription services | 6.9% |
| Physical stores | 6.1% |
| Other | 5.0% |
While online stores generated the highest amount of revenue at 50.4%, third-party seller services made up a significant portion as well, making up 19.2% of the total.
Third-party selling has seen significant growth over the years—in 2018, it accounted for 58% of Amazon's gross merchandise sales, which is a vast increase compared to 2000, when it made up merely 3%.
Amazon Web Services (AWS) is the third most important revenue stream, contributing 12.5% to the overall mix. However, despite contributing a relatively small percentage to total revenue in 2019, AWS made up a large portion of Amazon's operating income, making it the key to the company's overall profitability.
» To learn more, read our full article on How Big Tech Makes Their Billions.
Where does this data come from?
Data was sourced from directly from Amazon's 2019 SEC filing.
Charted: The Ukraine War Civilian Death Toll
Using data from the UN, this chart shows civilian death toll figures resulting from Russia's invasion of Ukraine.
The Briefing
In total, since the war began in February there have been over 7,031 Ukrainian civilian deaths
Most of the civilian casualties recorded were caused by the use of explosive weapons, such as missiles and heavy artillery
Charted: The Ukraine War Civilian Death Toll
Russia's war of aggression in Ukraine has wrought suffering and death on a mass scale, with many Russian attacks targeted at civilians.
We've created this visual using data from the UN Office of the High Commissioner for Human Rights (OHCHR) to better understand how many civilians have died in Ukraine as a result of the war, as well as how many were injured and how many were children.
The Numbers
As of early December, it is reported that 7,031 people in Ukraine have died because of the war — 433 of them children. Another 11,327 have been injured, 827 of which are children. In total, this is over 18,000 people killed or injured.
The figures are difficult to verify due to differing reports coming out of both Russia and Ukraine. The UN OHCHR anticipates that the numbers could be even higher.
The State of the Conflict
The war began on February 24th, 2022 and less than a year in, millions of people have been displaced by the conflict, and thousands of civilians have been injured or killed.
According to the UN, most of the civilian deaths have been caused by wide-ranging explosives such as heavy artillery shelling, missiles, and air strikes, and have been concentrated in Donetsk and Luhansk and in other territory still held by Ukraine.
Additionally, new estimates from Kyiv report approximately 13,000 Ukrainian military or soldier deaths, which has yet to be confirmed by the army.
Where does this data come from?
Source: The United Nations Office of the High Commissioner for Human Rights monthly reports on civilian deaths in Ukraine.
Note: Data on deaths and injuries can vary wildly depending on the source.