Chart: Ranking the World's Most Valuable Brands
Chart: Ranking the World's Most Valuable Brands
In just 10 years, tech brands have taken over the list
The Chart of the Week is a weekly Visual Capitalist feature on Fridays.
Tech has already conquered the stock market and the realm of digital advertising.
Now the technology sector also has a strangle hold on another measure: the value of consumer brands.
| Global Rank | Brand | Brand Value 2017 |
| --- | --- | --- |
| #1 | Google | $245.6 billion |
| #2 | Apple | $234.7 billion |
| #3 | Microsoft | $143.2 billion |
| #4 | Amazon | $139.3 billion |
| #5 | Facebook | $129.8 billion |
The massive scale and reach of tech companies has helped their brand values to skyrocket over the last decade. In fact, even just adding Google and Apple's most recent numbers together gives a figure that rivals the GDP of Sweden.
What is Brand Value, Anyways?
This data on the most valuable brands comes from the BrandZ Top 100 Global Brands report for 2017, which uses a specific methodology to quantify the financial worth of different brands around the world.
In this case, by "brand", we are referring to the intangible asset that exists in the minds of consumers, which is usually an image forged over time through exposure to branding, ads, publicity, and other types of personal experiences.
Meanwhile, the "brand value" is the dollar amount a brand contributes to the overall value of a corporation. Measuring this intangible asset reveals an additional source of shareholder value that otherwise would not exist.
Diving Deeper
What types of companies are building the strongest brands?
Here is the Top 100 list broken down by a few different key categories.

Note: in these rankings we are counting both Amazon and Alibaba as tech companies
The amount of Chinese brands making the Top 100 is rising quickly – in 2008, only four made the list.
Today, there are 12 Chinese brands on the list, including widely-known names such as Huawei, Alibaba, and Ping An Insurance.
Other types of brands that do well in the rankings include financial services (23 of 100 brands) and technology (23 of 100 brands).
Brand Value on the Rise
Overall, the cumulative brand value of all 100 companies on the list has been rising. It now sits at $3.6 trillion in total.
For comparison's sake – that's bigger than the annual GDP of Germany, the world's fourth largest economy.
Charted: What are Retail Investors Interested in Buying in 2023?
What key themes and strategies are retail investors looking at for the rest of 2023? Preview: AI is a popular choice.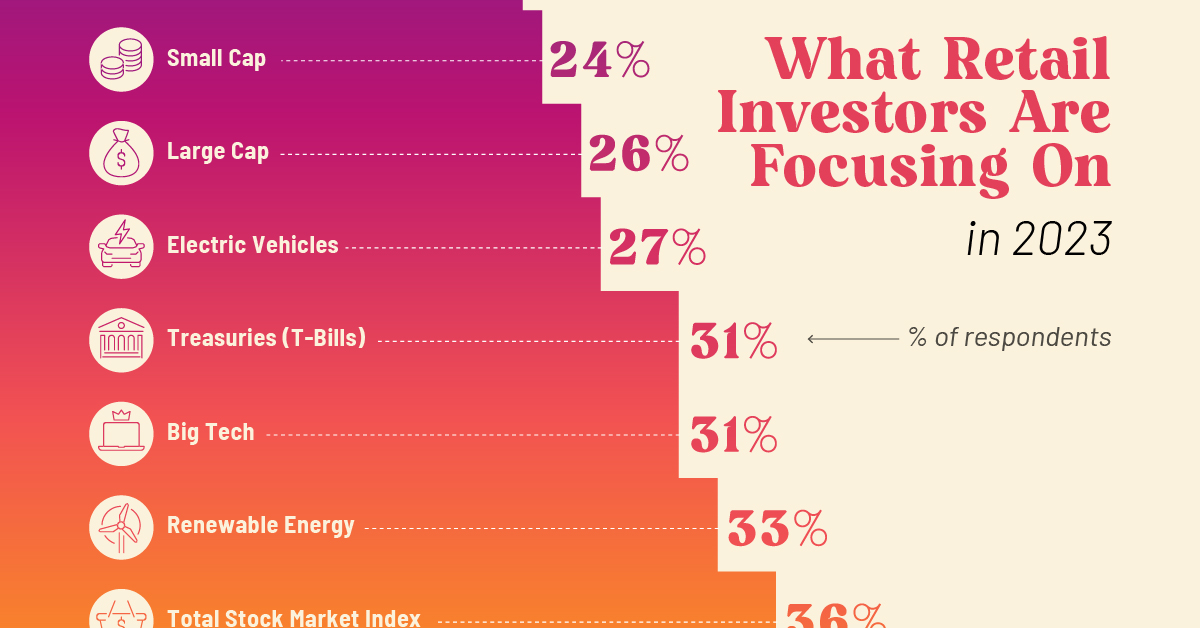 Charted: Retail Investors' Top Picks for 2023
U.S. retail investors, enticed by a brief pause in the interest rate cycle, came roaring back in the early summer. But what are their investment priorities for the second half of 2023?
We visualized the data from Public's 2023 Retail Investor Report, which surveyed 1,005 retail investors on their platform, asking "which investment strategy or themes are you interested in as part of your overall investment strategy?"
Survey respondents ticked all the options that applied to them, thus their response percentages do not sum to 100%.
Where Are Retail Investors Putting Their Money?
By far the most popular strategy for retail investors is dividend investing with 50% of the respondents selecting it as something they're interested in.
Dividends can help supplement incomes and come with tax benefits (especially for lower income investors or if the dividend is paid out into a tax-deferred account), and can be a popular choice during more inflationary times.
| Investment Strategy | Percent of Respondents |
| --- | --- |
| Dividend Investing | 50% |
| Artificial Intelligence | 36% |
| Total Stock Market Index | 36% |
| Renewable Energy | 33% |
| Big Tech | 31% |
| Treasuries (T-Bills) | 31% |
| Electric Vehicles | 27% |
| Large Cap | 26% |
| Small Cap | 24% |
| Emerging Markets | 23% |
| Real Estate | 23% |
| Gold & Precious Metals | 23% |
| Mid Cap | 19% |
| Inflation Protection | 13% |
| Commodities | 12% |
Meanwhile, the hype around AI hasn't faded, with 36% of the respondents saying they'd be interested in investing in the theme—including juggernaut chipmaker Nvidia. This is tied for second place with Total Stock Market Index investing.
Treasury Bills (30%) represent the safety anchoring of the portfolio but the ongoing climate crisis is also on investors' minds with Renewable Energy (33%) and EVs (27%) scoring fairly high on the interest list.
Commodities and Inflation-Protection stocks on the other hand have fallen out of favor.
Come on Barbie, Let's Go Party…
Another interesting takeaway pulled from the survey is how conversations about prevailing companies—or the buzz around them—are influencing trades. The platform found that public investors in Mattel increased 6.6 times after the success of the 'Barbie' movie.
Bud Light also saw a 1.5x increase in retail investors, despite receiving negative attention from their fans after the company did a beer promotion campaign with trans influencer Dylan Mulvaney.
Given the origin story of a large chunk of American retail investors revolves around GameStop and AMC, these insights aren't new, but they do reveal a persisting trend.