50 Cognitive Biases in the Modern World

50 Cognitive Biases in the Modern World
Cognitive biases are widely accepted as something that makes us human.
Every day, systematic errors in our thought process impact the way we live and work. But in a world where everything we do is changing rapidly—from the way we store information to the way we watch TV—what really classifies as rational thinking?
It's a question with no right or wrong answer, but to help us decide for ourselves, today's infographic from TitleMax lists 50 cognitive biases that we may want to become privy to.
In the name of self-awareness, here's a closer look at three recently discovered biases that we are most prone to exhibiting in the modern world.
Automation Bias
AI-infused applications are becoming incredibly good at "personalizing" our content, but will there come a time when we let algorithms make all of our decisions?
Automation bias refers to the tendency to favor the suggestions of automated systems.
Take Netflix, for example. Everything we see on the platform is the result of algorithms—even the preview images that are generated. Then, to harness the power of data and machine learning, Netflix categorizes its content into tens of thousands of micro-genres. Pairing these genre tags with a viewer's history allows them to assign several of over 2,000 "taste profiles" to each user.
And while there's nothing wrong with allowing Netflix to guide what we watch, there's an enormous sea of content standing by. Estimates from 2015 claimed it would take nearly four years to watch all of Netflix's content. Thousands more hours of content have since been added.
If we want to counter this cognitive bias, finding a new favorite series on platforms like Netflix may require some good old-fashioned human curiosity.
The Google Effect
Also known as "digital amnesia", the aptly named Google Effect describes our tendency to forget information that can be easily accessed online.
First described in 2011 by Betsy Sparrow (Columbia University) and her colleagues, their paper described the results of several memory experiments involving technology.
In one experiment, participants typed trivia statements into a computer and were later asked to recall them. Half believed the statements were saved, and half believed the statements were erased. The results were significant: participants who assumed they could look up their statements did not make much effort to remember them.
Because search engines are continually available to us, we may often be in a state of not feeling we need to encode the information internally. When we need it, we will look it up.
– Sparrow B, et al. Science 333, 777 (2011) 
Our modern brains appear to be re-prioritizing the information we hold onto. Notably, the study doesn't suggest we're becoming less intelligent—our ability to learn offline remains the same.
The IKEA Effect
Identified in 2011 by Michael Norton (Harvard Business School) and his colleagues, this cognitive bias refers to our tendency to attach a higher value to things we help create.
Combining the Ikea Effect with other related traits, such as our willingness to pay a premium for customization, is a strategy employed by companies seeking to increase the intrinsic value that we attach to their products.
For instance, American retailer Build-A-Bear Workshop is anchored around creating a highly interactive customer experience. With the help of staff, children (or adults) can assemble their stuffed animals from scratch, then add clothing and accessories at extra cost.
Nike also incorporates this bias into its offering. The footwear company offers a Nike By You line of customizable products, where customers pay a premium to design bespoke shoes with an extensive online configurator.
While there's nothing necessarily wrong with our susceptibility to the Ikea Effect, understanding its significance may help us make more appropriate decisions as consumers.
What Can We Do?
As we navigate an increasingly complex world, it's natural for us to unconsciously adopt new patterns of behavior.
Becoming aware of our cognitive biases, and their implications, can help us stay on the right course.

These Powerful Maps Show the Extremes of U.S. Population Density
The U.S. population is spread across a huge amount of land, but its distribution is far from equal. These maps are a unique look at population density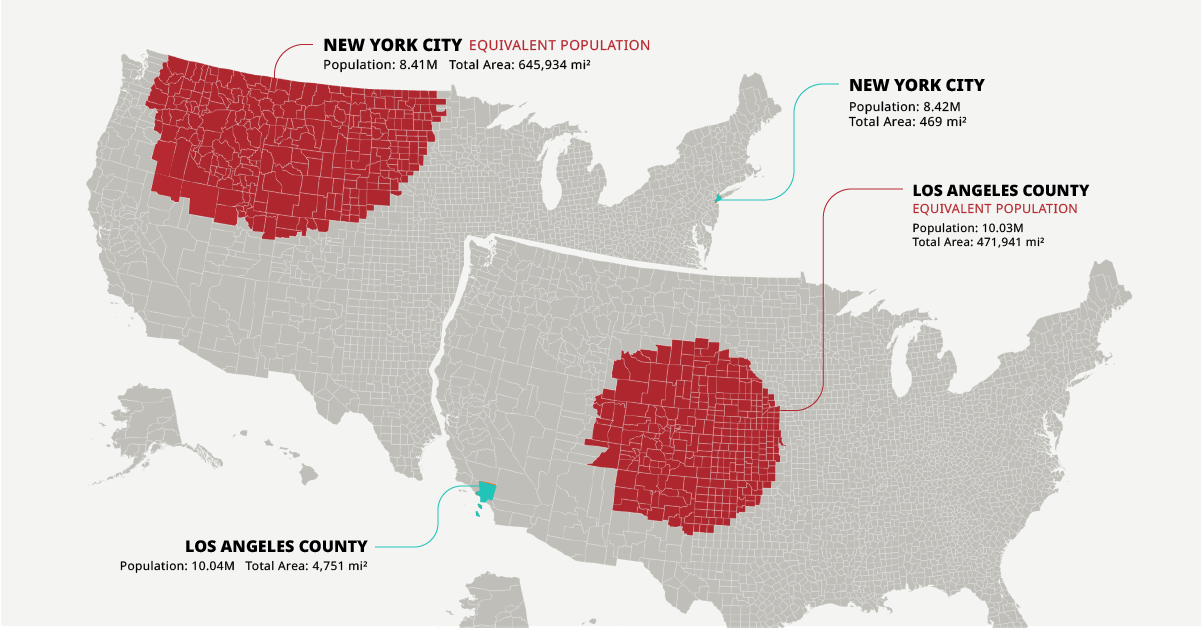 America's 328 million people are spread across a huge amount of territory, but the population density of various regions is far from equal.
It's no secret that cities like New York have a vastly different population density than, say, a rural county in North Dakota. Even so, this interactive map by Ben Blatt of Slate helps visualize the stark contrast between urban and rural densities in a way that might intrigue you.
How many counties does it take to equal the population of these large urban areas? Let's find out.
New York City's Rural Equivalent
New York City (proper) Population: 8.42 million
New York City Population density: 27,547 persons / mi²
New York City became the largest city in the U.S. back in 1781 and has long been the country's most densely packed urban center. Today, 1 in every 38 people living in the United States resides in The Big Apple.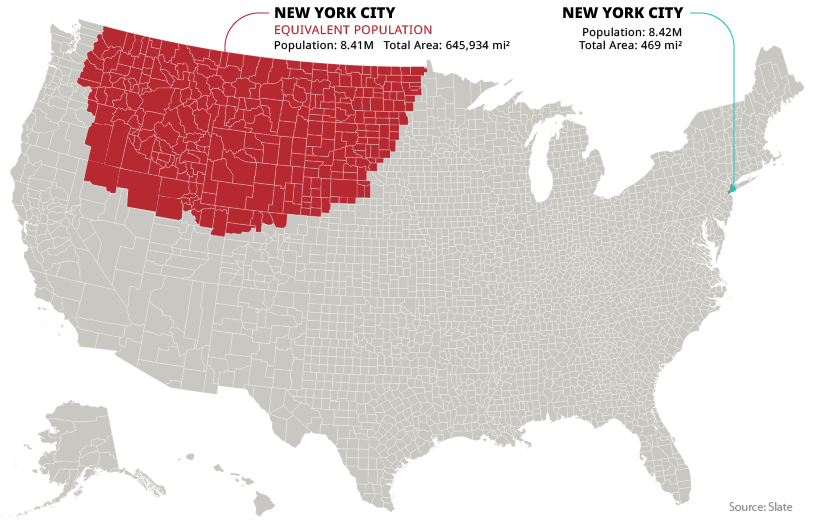 For the northwestern counties above to match the population of New York City, it takes a land area around the size of Mongolia. The region shown above is 645,934 mi², and runs through portions of 12 different states.
In order to match the population of the entire New York metropolitan area, which holds 18 million people and includes adjacent cities and towns in New York state, New Jersey, and Connecticut, the above equivalent area would have to be even more massive.
Los Angeles County's Rural Equivalent
LA County Population: 10.04 million
LA County Population density: 2,100 persons / mi²
Los Angeles County is home to the 88 incorporated cities that make up the urban area of Los Angeles.
Even excluding nearby population centers such as Anaheim, San Bernadino, and Riverside (which are located in adjacent counties) it is still the most populous county in the United States, with over 10 million inhabitants.
To match this enormous scale in Middle America, it would take 298 counties covering an area of 471,941 mi².
Chicago's Rural Equivalent
Chicago Metropolitan Area Population: 9.53 million
Chicago Metropolitan Area Population density: 1,318 persons / mi²
Next up is America's third largest city, Chicago. For this visualization, we're using the Chicago metropolitan area, which covers the full extent of the city's population.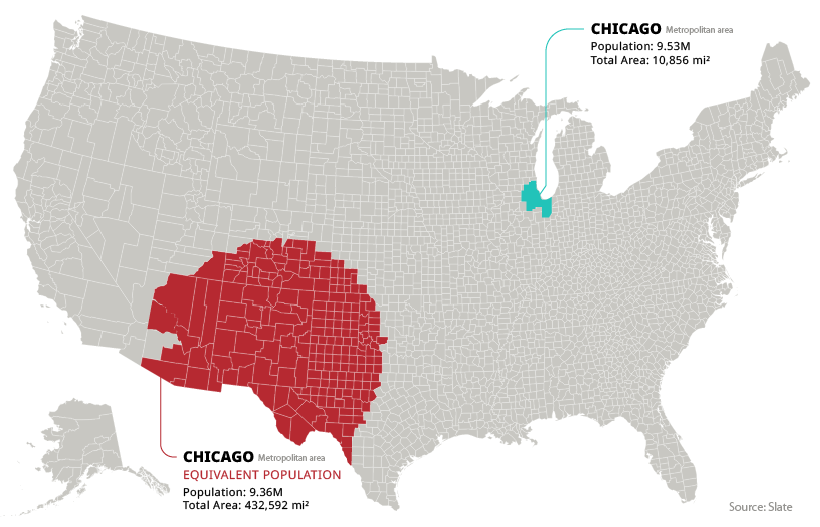 To match the scale of the population of the Windy City, we would need to add up every county in New Mexico, along with large portions of Colorado, Arizona, and Texas.
Turning the Tables?
Conversely, what if we transported the people in the country's least densely populated counties into the middle of an urban center?
| Rank | County | Population |
| --- | --- | --- |
| 1 | Kalawao County, Hawaii | 86 |
| 2 | Loving County, Texas | 169 |
| 3 | King County, Texas | 272 |
| 4 | Kenedy County, Texas | 404 |
| 5 | Arthur County, Nebraska | 463 |
As it turns out, the total population of the five least populated counties is just 1,394—roughly the same amount of people that live on the average Manhattan block.

Visualized: Comparing the Titanic to a Modern Cruise Ship
The sheer size of the Titanic was a sight to behold in 1912, but over 100 years later, how does this vessel compare to a modern cruise ship?
Remembering the Tragedy of the Titanic
When the Titanic was completed on April 2, 1912, it was the largest and perhaps most luxurious ship in the world. The vessel could hold over 3,300 people including crew members, and boasted various amenities including a swimming pool and squash court.
The Titanic's impressive size attracted many of the world's wealthiest individuals, and on April 10, 1912, it set out on its maiden voyage. Just five days later, the ship sank after hitting an iceberg, resulting in more than 1,500 deaths.
It's been over 100 years since the Titanic's demise, so how have passenger ships evolved?
To find out, we've visualized it beside Royal Caribbean's Symphony of the Seas, currently the world's largest cruise ship.
The Size of the Titanic, in Perspective
The following table lists the dimensions of both ships to provide a better understanding of the Titanic's relative size.
| | RMS Titanic | Symphony of the Seas |
| --- | --- | --- |
| Year Built | 1912 | 2018 |
| Length | 882ft (269m) | 1,184ft (361m) |
| Width | 92ft (28m) | 215ft (66m) |
| Height | 175ft (53m) | 238ft (73m) |
| Internal volume | 46,328 gross register tonnage (grt) | 228,081 gross tonnage (gt) |
| Passengers | 2,435 | 6,680 |
| Crew | 892 | 2,200 |
Source: Owlcation, Insider
Note: Gross register tonnage (grt) is a historic measure of a ship's internal volume. This metric was replaced by gross tonnage (gt) on July 18, 1982.
One of the biggest differences between these two ships is width, with the latter being more than twice as wide. This is likely due to the vast amenities housed within the Symphony of the Seas, which includes 24 pools, 22 restaurants, 2 rock climbing walls, an ice-skating rink, and more. With accommodations for 6,680 passengers, the Symphony of the Seas also supports a crew that is 147% larger.
The Symphony of the Seas clearly surpasses the Titanic in terms of size, but there's also a substantial difference in cost. When converted to today's dollars, the bill for the Titanic equates to roughly $400 million, less than half of the Symphony of the Seas' cost of $1.35 billion.
Lessons Learned from the Disaster
Inadequate safety preparations were a contributor to the Titanic's high death toll. During its journey, the vessel carried enough lifeboats to accommodate just 33% of its total passengers and crew. This was legal at the time, as regulations based a ship's number of required lifeboats on its weight, rather than its passenger capacity.
To make matters worse, investigations determined that the Titanic's lifeboats had not been used to their full capacity, and that a scheduled lifeboat drill had been cancelled by the ship's captain. These shortfalls, among others, paved the way for numerous improvements in maritime safety regulation.
These include the creation of the International Convention for the Safety of Life at Sea Treaty (SOLAS) in 1914, which is still in force today. Regarded as the most important international treaty on ship safety, SOLAS has been updated numerous times and is followed by 164 states, which together flag 99% of merchant ships (by gross tonnage) on the high seas today.