Ranked: These Are 10 of the World's Least Affordable Housing Markets
The Briefing
For the 12th year in a row, Hong Kong is the world's least affordable housing market, according to Demographia's ranking of 92 cities in select countries
Sydney, Australia moves up one spot from last year's ranking to take second place
These Are 10 of the World's Least Affordable Housing Markets
It's become increasingly difficult for middle-class families to purchase a home over the last few years—and the global pandemic has only made things worse.
According to Demographia's 2022 Housing Affordability Report, the number of housing markets around the world deemed "severely unaffordable" increased by 60% compared to 2019 (prior to the pandemic).
This graphic looks at some of the least affordable housing markets across the globe, relative to median household income. The report covers 92 different cities in eight nations: Australia, Canada, China, Ireland, New Zealand, Singapore, the United Kingdom, and the United States.
The Least Affordable Housing Markets
Before diving in, it's worth outlining the methodology used in this report, to help explain what's classified as a severely unaffordable housing market.
To calculate affordability, a city's median housing price and divided by its median household income. From there, a city is given a score:
A score of 5.1 or above is considered severely unaffordable
4.1 to 5.0 is considered seriously unaffordable
3.1 to 4.0 is considered moderately unaffordable
All the cities on this graphic are classified as severely unaffordable⁠—and, for the 12th year in a row, Hong Kong takes the top spot as the world's most unaffordable housing market, with a score of 23.2.
| Housing Market | Nation | Score |
| --- | --- | --- |
| Hong Kong | 🇭🇰​ Hong Kong (SAR) | 23.2 |
| Sydney, NSW | 🇦🇺​ Australia | 15.3 |
| Vancouver, BC | 🇨🇦​ Canada | 13.3 |
| San Jose, CA | 🇺🇸​ U.S. | 12.6 |
| Melbourne, VIC | 🇦🇺​ Australia | 12.1 |
| Honolulu, HI | 🇺🇸​ U.S. | 12.0 |
| San Francisco, CA | 🇺🇸​ U.S. | 11.8 |
| Auckland, AUK | 🇳🇿​ New Zealand | 11.2 |
| Los Angeles, CA | 🇺🇸​ U.S. | 10.7 |
| Toronto, ON | 🇨🇦​ Canada | 10.5 |
One reason for Hong Kong's steep housing costs is its lack of supply, partly due to its lack of residential zoning—which only accounts for 7% of the region's zoned land. For context, 75% of New York City's land area is dedicated to residential housing.
Sydney moved up one spot this year, making it the second most expensive city to purchase a home on the list, with a score of 15.3. Besides Hong Kong, no other city has scored this high in the last 18 years this report has been released.
There are several theories for Sydney's soaring housing rates, but industry expert Tom Forrest, CEO of Urban Taskforce Australia, boils it down to one fundamental issue in an interview with Australia Broker—supply isn't keeping up with demand:
"Housing supply has been consistently not meeting demand in the Greater Sydney and across regional New South Wales…if you have supply consistently not meeting demand then the price will go up. That's what happened and we're seeing it in abundance."Tom Forrest, CEO of Urban Taskforce Australia
The COVID-19 Impact
Middle-income earners were already feeling the squeeze prior to the global pandemic, but COVID-19 only exacerbated housing affordability issues.
As people began to work from home, high-income earners started to look for more spacious housing that wasn't necessarily in the city center, driving up demand in suburban areas that were relatively affordable prior to the pandemic.
At the same time, supply chain issues and material costs impacted construction, which created a perfect storm that ultimately drove housing prices up.
But with interest rates rising and COVID-19 restrictions easing around the world, some experts are predicting a market cool down this year—at least in some parts of the world.
>>Like this? Then you might like this article: How Much Prime Real Estate Could You Buy for $1M?

Where does this data come from?
Source: Demographia
Details: The affordability score is calculated by taking a city's median housing price and dividing it by the median household income. Anything over 5.1 is considered severely unaffordable
Notes: Data includes 92 metropolitan markets across eight countries; Australia, Canada, Ireland, Singapore, China, New Zealand, the U.K., and the U.S., as of the third quarter of 2021. Many European countries, along wth Japan, we excluded from the dataset, because information on median income was not readily available.
Visualizing the Five Drivers of Forest Loss
Approximately 15 billion trees are cut down annually across the world. Here's a look at the five major drivers of forest loss. (Sponsored)
The Briefing
On average, the world loses more than 20 million hectares of forests annually.
Agriculture and commodity-driven deforestation each account for approximately a quarter of annual forest loss.
Visualizing the Five Drivers of Forest Loss
The world has lost one-third of its forests since the ice age, and today, approximately 15 billion trees are cut down annually.
Forests are wellsprings of biodiversity and an essential buffer against climate change, absorbing billions of tonnes of carbon dioxide emissions every year. Yet, forest loss continues to grow.
The above infographic sponsored by Carbon Streaming Corporation highlights the five primary drivers behind forest loss.
Deforestation vs. Degradation
'Forest loss' is a broad term that captures the impacts of both permanent deforestation and forest degradation. There is an important distinction between the two:
Permanent deforestation: Refers to the complete removal of trees or conversion of forests to another land use (like buildings), where forests cannot regrow.
Forest degradation: Refers to a reduction in the density of trees in the area without a change in land use. Forests are expected to regrow.
Forest degradation accounts for over 70% or 15 million hectares of annual forest loss. The other 30% of lost forests are permanently deforested.
| Driving factor | Category | Average annual forest loss (2001-2015, million hectares) |
| --- | --- | --- |
| Commodity-driven deforestation | Permanent deforestation | 5.7 |
| Urbanization | Permanent deforestation | 0.1 |
| Forestry products | Forest degradation | 5.4 |
| Shifting agriculture | Forest degradation | 5 |
| Wildfires | Forest degradation | 4.8 |
| Total | N/A | 21 |
Commodity-driven deforestation, which includes removal of forests for farming and mining, is the largest driver of forest loss. Agriculture alone accounts for three-fourths of all commodity-driven deforestation, where forests are often converted into land for cattle ranches and plantations.
The harvesting of forestry products like timber, paper, pulp, and rubber accounts for the largest share of forest loss from degradation. This process is often managed and planned so that forests can regrow after the harvest.
Shifting agriculture and wildfires each account for around 5 million hectares or one-fourth of annual forest loss. In both cases, forests can replenish if the land is left unused.
Urbanization—the conversion of forests into land for cities and infrastructure—is by far the smallest contributor, accounting for less than 1% of annual forest loss.
How Much Carbon Do Forests Absorb?
The world's forests absorbed nearly twice as much carbon dioxide (CO2) as they emitted between 2001 and 2019, according to research published in Nature.
On a net basis, forests sequester 7.6 billion tonnes of CO2 equivalent (CO2e) annually, which equates to around 15% of global CO2e emissions. As the impacts of climate change intensify, protecting forests from deforestation and degradation is increasingly critical.
Carbon Streaming Corporation accelerates climate action through carbon credit streams on REDD+ projects that protect the Earth's forests. Click here to learn more now.
Ranked: Top 10 Foreign Policy Concerns of Americans
As the world's superpower, the U.S. has major influence in world events. Which foreign policy concerns stand out for Americans?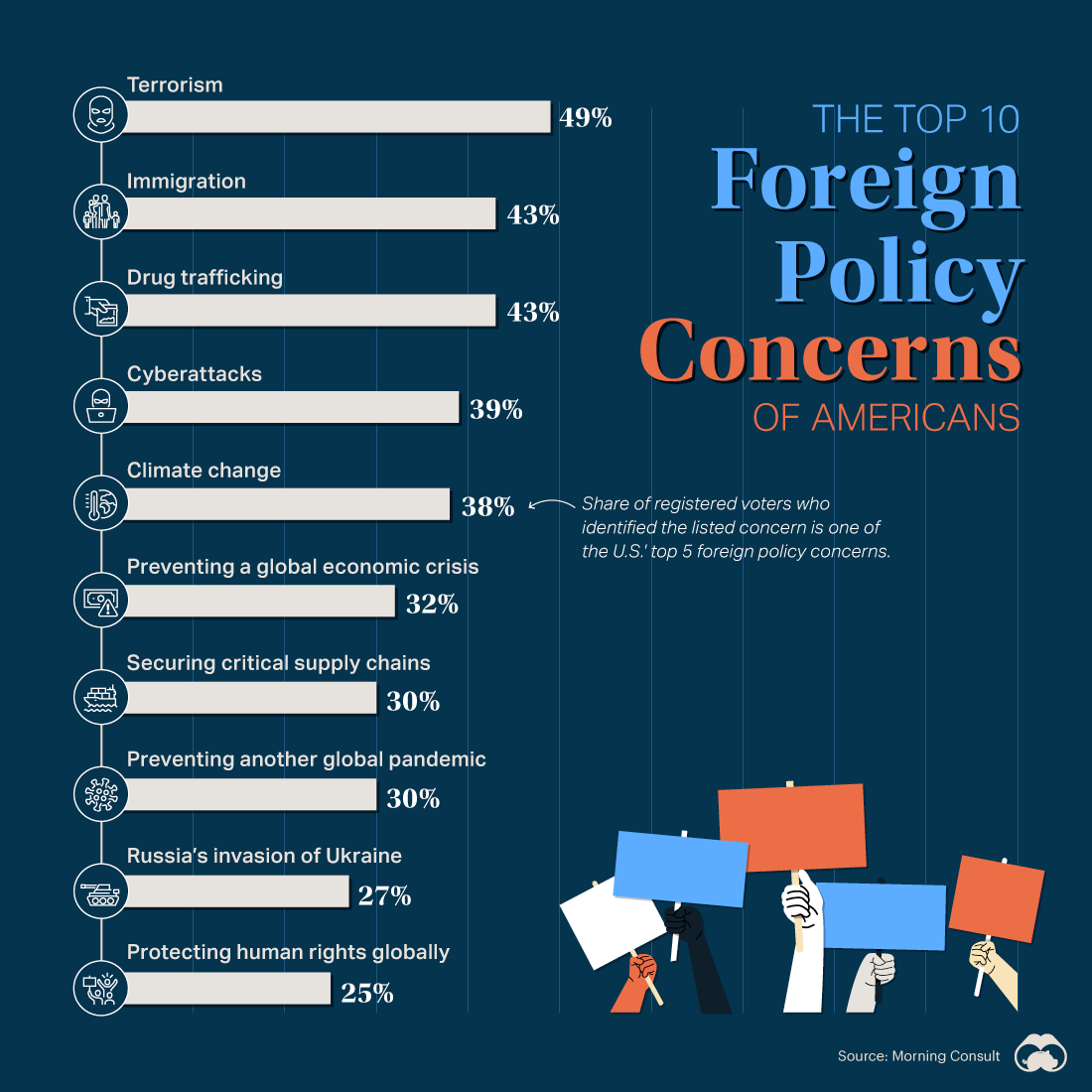 The Briefing
Political leanings aside, terrorism remains a top issue of concern for Americans
Previous top issues, such as disinformation and U.S.–China relations, now rank lower
In the United States, there is a distinct difference on top foreign policy concerns between Democrats and Republicans.
This chart uses data from Morning Consult to assess the top policy concerns of Americans.
The Top Concerns
Overall, the average American is most concerned about terrorism, immigration, and drug trafficking. Interestingly, this list corresponds with the concerns of the average Republican, though falling in a different order.
Meanwhile, Democrats are chiefly worried about climate change, another global pandemic, and terrorism.
Here's a breakdown of the policy concerns at large and across political parties.
| Overall Rank with Americans | Foreign Policy Concern | Share of Voters Listing it as a Top Concern | Share of Democrats Listing it as a Top Concern | Share of Republicans Listing it as a Top Concern |
| --- | --- | --- | --- | --- |
| #1 | Terrorism | 49% | 38% | 62% |
| #2 | Immigration | 43% | 22% | 67% |
| #3 | Drug trafficking | 43% | 30% | 59% |
| #4 | Cyberattacks | 39% | 35% | 40% |
| #5 | Climate change | 38% | 54% | 17% |
| #6 | Preventing a global economic crisis | 32% | 33% | 31% |
| #7 | Securing critical supply chains | 30% | 27% | 34% |
| #8 | Preventing another global pandemic | 30% | 38% | 22% |
| #9 | Russia's invasion of Ukraine | 27% | 33% | 21% |
| #10 | Protecting human rights globally | 25% | 31% | 18% |
| #11 | Preventing disinformation | 24% | 29% | 21% |
| #12 | U.S.-China relations | 24% | 19% | 31% |
| #13 | Iran nuclear deal | 21% | 19% | 24% |
| #14 | Upholding democracy globally | 15% | 22% | 8% |
Notably, the concern around U.S.-China relations ranks considerably low, as does preventing disinformation. Upholding democracy worldwide ranks extremely low with Republicans.
America's Foreign Policy
Along party lines, the results are not surprising. Democrats skew towards multilateralism and want to engage with foreign bodies and other countries to tackle global issues. Republicans are generally more concerned with what's happening at home.
Looking at the country as a whole and its relations with other nations, however, Americans lean more towards an America-first focus. According to Morning Consult, 39% of registered voters want to decrease U.S. involvement in other countries' affairs, whereas 20% want to increase it; 30% want to keep the status quo.
Here's a closer look at Americans' desire to get involved in a variety of foreign policy initiatives:
| Issue | Increase Efforts | Decrease Efforts | Neither |
| --- | --- | --- | --- |
| Overseas Troop Deployment | 21% | 37% | 30% |
| Trade and Tariffs | 41% | 15% | 29% |
| Involvement with International Organizations | 35% | 21% | 32% |
| Resolution of Military Disputes | 38% | 16% | 33% |
| Resolution of Economic Disputes | 43% | 13% | 31% |
As of October 2022
The U.S. Midterm Elections
With midterm elections underway, America's foreign policy may not be the most important factor for voters. Pew Research Center found that in these congressional elections, foreign policy only ranked 12th among other key issues considered "very important" by registered voters.
The top five concerns of voters in these midterms are:
The economy
The future of democracy within the U.S.
Education
Healthcare
Energy policy
Regardless, the U.S. has a massive impact in foreign affairs and the results of the country's midterm elections will likely cause a ripple effect globally. If Republicans win the House—which is looking extremely likely—and the Senate, President Biden's foreign policy initiatives and priorities could be drastically restricted.
Where does this data come from?
Source: Morning Consult
Data notes: This ranking is made using the share of registered U.S. voters who identified the given issue as a top 5 concern for the country. For example, only 30% of registered voters said securing critical supply chains was a top 5 concern which is why it's #7, whereas 43% said immigration was a top concern, ranking it at #2.