Visualizing What COVID-19 Does to Your Body
View the full-size version of this infographic.
Visualizing What COVID-19 Does to Your Body
View the high resolution version of this infographic by clicking here
By now, researchers and health experts have gained a better understanding of the range of symptoms caused by COVID-19, which include fever, a dry cough, and of course, the dangerous inflammation of the respiratory system. Most of us know that COVID-19 can be much more severe than a typical flu, but lesser known are the mechanics behind how the virus causes pneumonia in its victims.
Today's informative illustration, by scientific designer and animator Avesta Rastan, details the effects COVID-19 has on our lungs, from moderate to severe cases.
According to the World Health Organization (WHO), most people who contract COVID-19 only experience mild flu-like symptoms. Occasionally though, the infection can cascade into a severe case of pneumonia that can be lethal, especially for older people and those with underlying medical conditions.
Here's what COVID-19 does to your body.
Infection
The virus, officially named SARS-CoV-2, enters the body – generally through the mouth or nose. From there, the virus makes its way down into the air sacs inside your lungs, known as alveoli.
Once in the alveoli, the virus uses its distinctive spike proteins to "hijack" cells. The primary genetic programming of any virus is to make copies of itself, and COVID-19 is no exception. Once the virus' RNA has entered a cell, new copies are made and the cell is killed in the process, releasing new viruses to infect neighboring cells in the alveolus.
This process can occur initially without a person being aware of the infection, which is one of the reasons COVID-19 has been able to spread so effectively.
Immune Response
The process of hijacking cells to reproduce causes inflammation in the lungs, which triggers an immune response. As this process unfolds, fluid begins to accumulate in the alveoli, causing a dry cough and making breathing difficult.
For 80-85% of people infected by COVID-19, these symptoms will run their course much as they would with a case of the flu.
Severe Symptoms
In 15-20% cases, the immune system's response to inflammation in the lungs can cause what's known as a "cytokine storm". This runaway response can cause more damage to the body's own cells than to the virus it's trying to defeat, and is thought to be the main reason for why the conditions of young, otherwise healthy individuals can rapidly deteriorate.
If enough alveoli collapse, a patient to be placed on a ventilator for breathing assistance. Both acute respiratory distress syndrome (ARDS) and high-altitude pulmonary edema (HAPE) are being investigated as causes.
At this stage, the surfactant that helps keep alveoli from collapsing has been diluted, and fluid containing cellular debris is impairing the gas exchange process that supplies oxygen to our bloodstream.
In the most severe cases, systemic inflammatory response syndrome (SIRS) occurs as the protein-rich fluid from the lungs enters the bloodstream, resulting in septic shock and multi-organ failure. This is often the cause of death for people who have succumbed to a COVID-19 infection.
The Best Protection
Thankfully, COVID-19 isn't a death sentence for most people who become infected, but the symptoms described above are not pleasant. Until a vaccine is developed, the best defense is avoiding infection altogether through frequent, thorough hand washing, and physical distancing as recommended by health authorities.
To see the full set of graphics, as well as other health and science related illustrations, visit Avesta Rastan's website.
Visualizing The Most Widespread Blood Types in Every Country
There are 8 common blood groups but 36 human blood types in total. Here we map the most widespread blood types in every country in the world.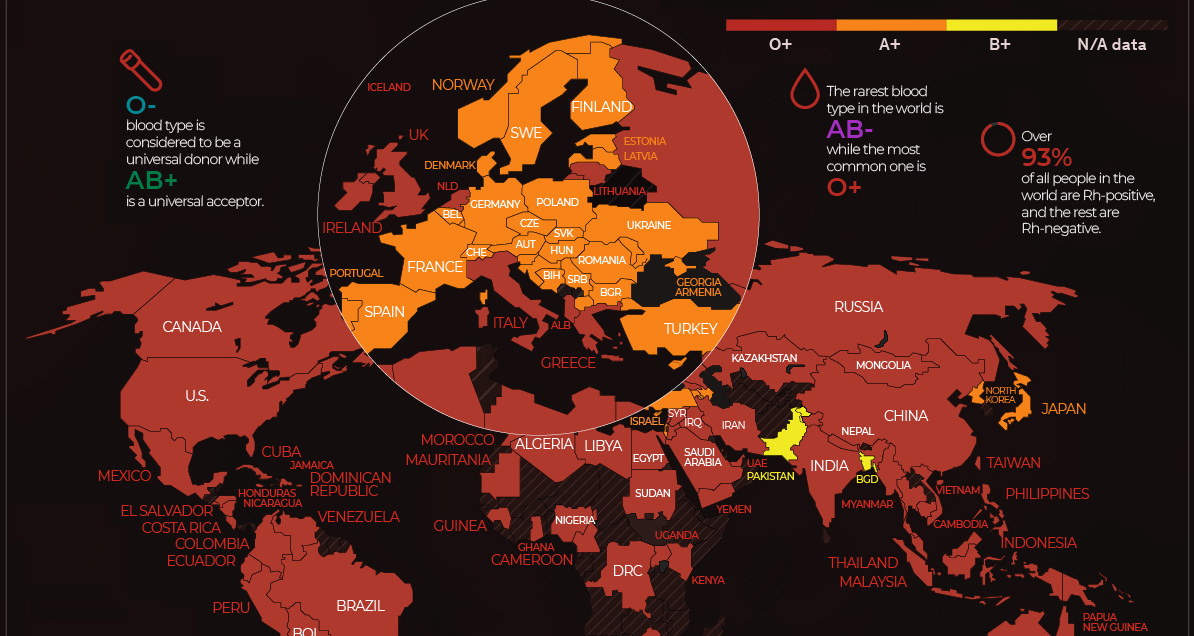 The Most Widespread Blood Types, by Country
Blood is essential to the human body's functioning. It dispenses crucial nutrients throughout the body, exchanges oxygen and carbon dioxide, and carries our immune system's "militia" of white blood cells and antibodies to stave off infections.
But not all blood is the same. The antigens in one's blood determine their blood type classification: There are eight common blood type groups, and with different combinations of antigens and classifications, 36 human blood type groups in total.
Using data sourced from Wikipedia, we can map the most widespread blood types across the globe.
Overall Distribution of Blood Types
Of the 7.9 billion people living in the world, spread across 195 countries and 7 continents, the most common blood type is O+, with over 39% of the world's population falling under this classification. The rarest, meanwhile, is AB-, with only 0.40% of the population having this particular blood type.
Breaking it down to the national level, these statistics begin to change. Since different genetic factors play a part in determining an individual's blood type, every country and region tells a different story about its people.
Regional Distribution of Blood Types
Asia
Even though O+ remains the most common blood type here, blood type B is relatively common too. Nearly 20% of China's population has this blood type, and it is also fairly common in India and other Central Asian countries.
Comparatively, in some West Asian countries like Armenia and Azerbaijan, the population with blood type A+ outweighs any others.
Americas
The O blood type is the most common globally and is carried by nearly 70% of South Americans. It is also the most common blood type in Canada and the United States.
Here is a breakdown of the most common blood types in the U.S. by race:
Africa
O+ is a strong blood group classification among African countries. Countries like Ghana, Libya, Congo and Egypt, have more individuals with O- blood types than AB+.
Europe
The A blood group is common in Europe. Nearly 40% of Denmark, Norway, Austria, and Ukraine have this blood type.
Oceania
O+ and A+ are dominant blood types in the Oceanic countries, with only Fiji having a substantial B+ blood type population.
Middle East
More than 41% of the population displays the O+ blood group type, with Lebanon being the only country with a strong O- and A- blood type population.
The Caribbean
Nearly half of people in Caribbean countries have the blood type O+, though Jamaica has B+ as the most common blood type group.
Here is the classification of the blood types by every region in the world: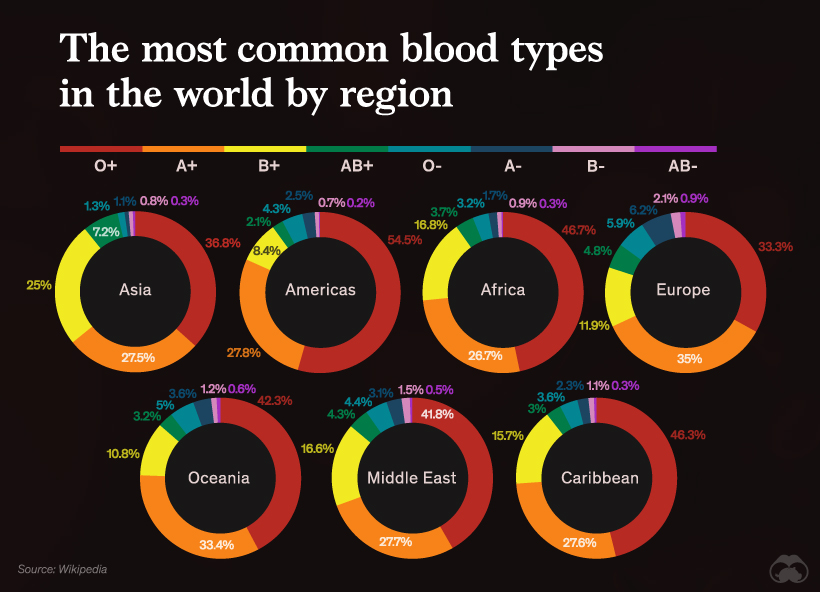 Unity in Diversity
Even though ethnicity and genetics play a vital role in determining a person's blood type, we can see many different blood types distributed worldwide.
Blood provides an ideal opportunity for the study of human variation without cultural prejudice. It can be easily classified for many different genetically inherited blood typing systems.
Our individuality is a factor that helps determine our life, choices, and personalities. But at the end of the day, commonalities like blood are what bring us together.
Pandemic Recovery: Have North American Downtowns Bounced Back?
All North American downtowns are facing a sluggish recovery, but some are still seeing more than 80% less foot traffic than pre-pandemic times
Pandemic Recovery: Have Downtowns Bounced Back?
As we continue on our journey towards recovery from the impacts of the pandemic, North American offices that sat empty for months have started to welcome back in-person workers.
This small step towards normalcy has sparked questions around the future of office life—will office culture eventually bounce back to pre-pandemic levels, or is remote work here to stay?
It's impossible to predict the future, but one way to gauge the current state of office life is by looking at foot traffic across city centers in North America. This graphic measures just that, using data from Avison Young.
Change in Downtown Office Traffic
According to the data, which measures foot traffic in major office buildings in 23 different metropolitan hubs across North America, remains drastically below pre-pandemic levels.
Across all major cities included in the index, average weekday visitor volume has fallen by 73.7% since the early months of 2020. Here's a look at each individual city's change in foot traffic, from March 2, 2020 to Oct 11, 2021:
| City | Country | Change in Foot Traffic |
| --- | --- | --- |
| Austin | 🇺🇸 | -51.70% |
| Calgary | 🇨🇦 | -54.50% |
| Boston | 🇺🇸 | -54.90% |
| New York | 🇺🇸 | -60.50% |
| San Francisco | 🇺🇸 | -60.80% |
| Edmonton | 🇨🇦 | -62.20% |
| Houston | 🇺🇸 | -67.90% |
| Chicago | 🇺🇸 | -68.10% |
| Vancouver | 🇨🇦 | -68.20% |
| Los Angeles | 🇺🇸 | -68.60% |
| Philadelphia | 🇺🇸 | -69.00% |
| Washington, DC | 🇺🇸 | -69.40% |
| San Francisco Peninsula | 🇺🇸 | -70.00% |
| Denver | 🇺🇸 | -73.50% |
| Nashville | 🇺🇸 | -75.60% |
| East Bay/Oakland | 🇺🇸 | -76.10% |
| Atlanta | 🇺🇸 | -77.50% |
| Dallas | 🇺🇸 | -79.80% |
| Montreal | 🇨🇦 | -80.30% |
| Toronto | 🇨🇦 | -81.20% |
| Miami | 🇺🇸 | -82.20% |
| Silicon Valley | 🇺🇸 | -82.60% |
| Ottawa | 🇨🇦 | -87.70% |
The Canadian city of Calgary is a somewhat unique case. On one hand, foot traffic has bounced back stronger than many other downtowns across North America. On the other hand, the city has one of the highest commercial vacancy rates in North America, and there are existential questions about what comes next for the city.
Interestingly, a number of cities with a high proportion of tech jobs, such as Austin, Boston, and San Francisco bounced back the strongest post-pandemic. Of course, there is one noteworthy exception to that rule.
A Tale of Two Cities
Silicon Valley has experienced one of the most significant drops in foot traffic, at -82.6%. Tech as an industry has seen one of the largest increases in remote work, as Bay Area workers look to escape high commuter traffic and high living expenses. A recent survey found that 53% of tech workers in the region said they are considering moving, with housing costs being the primary reason most respondents cited.
Meanwhile, in a very different part of North America, another city is experienced a sluggish rebound in foot traffic, but for very different reasons. Ottawa, Canada's capital, is facing empty streets and struggling small businesses that rely on the droves of government workers that used to commute to downtown offices. Unlike Silicon Valley, where tech workers are taking advantage of flexible work options, many federal workers in Ottawa are still working from home without a clear plan on returning to the workplace.
It's also worth noting that these two cities are home to a lot of single-occupant office buildings, which is a focus of this data set.
Some Businesses Remain Hopeful
Despite a slow return to office life, some employers are snapping up commercial office space in preparation for a potential mass return to the office.
Back in March 2021, Google announced it was planning to spend over $7 billion on U.S. office space and data centers. The tech giant held true to its promise—in September, Google purchased a Manhattan commercial building for $2.1 billion.
Other tech companies like Alphabet and Facebook have also been growing their office spaces throughout the pandemic. In August 2021, Amazon leased new office space in six major U.S. cities, and in September 2020, Facebook bought a 400,000 square foot complex in Bellevue, Washington.
Will More Employees Return or Stay Remote?
It's important to note that we're still in the midst of pandemic recovery, which means the jury's still out on what our post-pandemic world will look like.
Will different cities and industries eventually recover in different ways, or are we approaching the realities of "new normal" foot traffic in North American city centers?