Visualizing the Healthtech Revolution
Imagine being a patient in the early 19th century, when all ailments were considered "humors" to be ejected from the body. To restore balance, various techniques such as diets, natural herbs, or bloodletting with leeches were used – the only "technology" available at the time.
Even when the basic structure of modern medicine came into place, the average life expectancy was just 34 years old in 1913. A patient from that era would surely be amazed by the leaps and bounds that healthcare has undergone since then, thanks to the influence of technology.
The Healthtech Revolution
Today's infographic dives into some of the technological advances that are pushing the boundaries of modern healthcare, and what this could mean for the sector.
What is Healthtech?
Healthcare technology, or healthtech, is the use of technology to better treat patients. Many such inventions have been credited for saving countless human lives since the 1800s.
Medicines, devices, procedures, and even organizational systems contribute to expanding life expectancy and improvements in quality of life.
From Fiction to Reality
Breakthroughs such as robotic arms, 3D bio-printed organs, and virtual reality for pain relief are being developed in the medical sector, drawing influences from the big screen.
Technologies that were once the staple of science fiction movies are rapidly becoming realities.
— Jeroen Tas, Chief Innovation Officer, Philips
But there's a less tactile application of technology from science fiction that will arguably have an even bigger impact on healthcare: artificial intelligence (AI).
By recognizing patterns in behavior and creating their own logic, machine learning algorithms are set to transform various aspects of healthcare ranging from the automation of mundane tasks to the creation of entirely new drugs.
Healthcare at our Fingertips
Healthcare is also getting more mobile and connected, putting the Internet of Things (IoT) and mobile health (mHealth) at center stage as sources of potential disruption.
These technologies can help in everything from offering patients a convenient way to book appointments and pay bills online, to allowing doctors to use electronic health records to access and share information.
Wearable devices and smartphone apps are spiking in adoption as they unlock the option to monitor and manage individual health anytime, anywhere. This is creating an explosion in personal health data, which consumers are willing to share with their doctor if it will benefit them or others.
The Coming Healthtech Boom
Artificial intelligence, IoT, and mHealth are contributing to rapidly expanding healthtech sector, and each are expected to experience rapid growth by 2025:
| Healthcare segment | Current* | Projected (2025E) | CAGR |
| --- | --- | --- | --- |
| Artificial Intelligence | $2.1 billion | $36.1 billion | 50.2% |
| Global IoT | $120.2 billion | $543.3 billion | 20.2% |
| Global mHealth | $4.16 billion | $111.8 billion | 44.2% |
*2018E for AI, 2017 for IoT, 2016 for mHealth.
While healthtech won't replace your doctor anytime soon, but it will certainly change your experience with healthcare – both on the front-end and behind the scenes.
Charted: What are Retail Investors Interested in Buying in 2023?
What key themes and strategies are retail investors looking at for the rest of 2023? Preview: AI is a popular choice.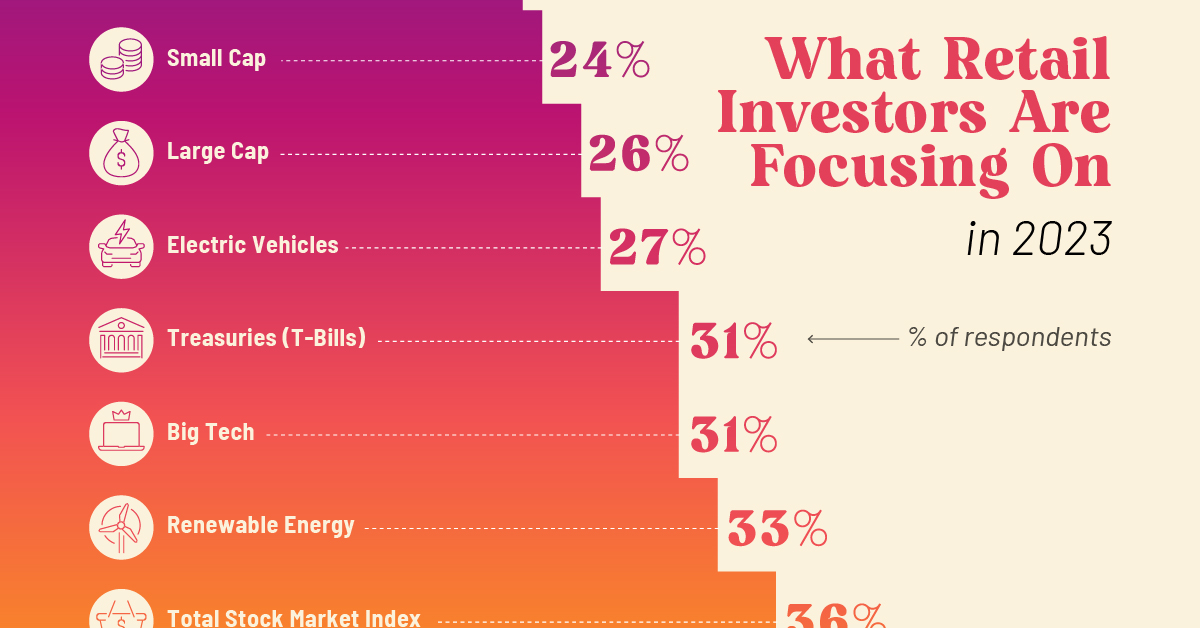 Charted: Retail Investors' Top Picks for 2023
U.S. retail investors, enticed by a brief pause in the interest rate cycle, came roaring back in the early summer. But what are their investment priorities for the second half of 2023?
We visualized the data from Public's 2023 Retail Investor Report, which surveyed 1,005 retail investors on their platform, asking "which investment strategy or themes are you interested in as part of your overall investment strategy?"
Survey respondents ticked all the options that applied to them, thus their response percentages do not sum to 100%.
Where Are Retail Investors Putting Their Money?
By far the most popular strategy for retail investors is dividend investing with 50% of the respondents selecting it as something they're interested in.
Dividends can help supplement incomes and come with tax benefits (especially for lower income investors or if the dividend is paid out into a tax-deferred account), and can be a popular choice during more inflationary times.
| Investment Strategy | Percent of Respondents |
| --- | --- |
| Dividend Investing | 50% |
| Artificial Intelligence | 36% |
| Total Stock Market Index | 36% |
| Renewable Energy | 33% |
| Big Tech | 31% |
| Treasuries (T-Bills) | 31% |
| Electric Vehicles | 27% |
| Large Cap | 26% |
| Small Cap | 24% |
| Emerging Markets | 23% |
| Real Estate | 23% |
| Gold & Precious Metals | 23% |
| Mid Cap | 19% |
| Inflation Protection | 13% |
| Commodities | 12% |
Meanwhile, the hype around AI hasn't faded, with 36% of the respondents saying they'd be interested in investing in the theme—including juggernaut chipmaker Nvidia. This is tied for second place with Total Stock Market Index investing.
Treasury Bills (30%) represent the safety anchoring of the portfolio but the ongoing climate crisis is also on investors' minds with Renewable Energy (33%) and EVs (27%) scoring fairly high on the interest list.
Commodities and Inflation-Protection stocks on the other hand have fallen out of favor.
Come on Barbie, Let's Go Party…
Another interesting takeaway pulled from the survey is how conversations about prevailing companies—or the buzz around them—are influencing trades. The platform found that public investors in Mattel increased 6.6 times after the success of the 'Barbie' movie.
Bud Light also saw a 1.5x increase in retail investors, despite receiving negative attention from their fans after the company did a beer promotion campaign with trans influencer Dylan Mulvaney.
Given the origin story of a large chunk of American retail investors revolves around GameStop and AMC, these insights aren't new, but they do reveal a persisting trend.