These 8 Pivots by Startups Changed the World
These 8 Pivots by Startups Changed the World
How do successful companies get built? Is there a predetermined formula or ideal circumstances to get off on the right foot as an entrepreneur?
When it comes to the technology world, the truth is that the most successful companies come in all shapes and sizes. Once in a while, strategy and its execution go as planned – but more often than not, a company must change its entire basis to get its best shot at winning.
In the startup world, this is called a "pivot". It's a risky change of direction that could end up as a game-changing success or a resolute failure. Circumstances can change fast to prompt such a desperation move. With technological progress growing at an exponential rate, in many tech-focused businesses such pivots can even be the norm.
There are many reasons a company may shake up its strategy. Maybe the customer response isn't what was expected, or perhaps intuition suggests that a product could be used another way with a few modifications. Sometimes a mentor or friend may have a different vision on how something can be used, and other times a competitor can apply pressure to an early-stage startup by offering a similar or better product.
I know something about pivots myself, as this website (Visual Capitalist) is the result of a few of them. We first started as a marketing consultancy, and then we gambled at the idea of using infographics to supplement the press releases of microcap public companies. Neither of those really were effective, but we still loved the idea of explaining the business and investment world with rich visuals – and eventually Visual Capitalist was born.
Similarly, many other companies that we cherish would not exist without these types of strategic pivots. Twitter, Paypal, Nintendo, and many others were born under completely different circumstances than we know them today. Nintendo built vacuum cleaners and made instant rice until they thought the video game industry could be an interesting market. Nokia, which in the late 2000s was one of the biggest mobile phone makers by market share, used to have a Finnish paper mill and manufacture rubber goods in its early stages.
Today's infographic looks at eight of the startup pivots that have changed the world.
Original graphic by: WhoisHostingThis?
Which Companies Make Up the "Magnificent Seven" Stocks?
FAANG is dead… meet the 'Magnificent Seven' stocks that now make up over 25% of the S&P 500.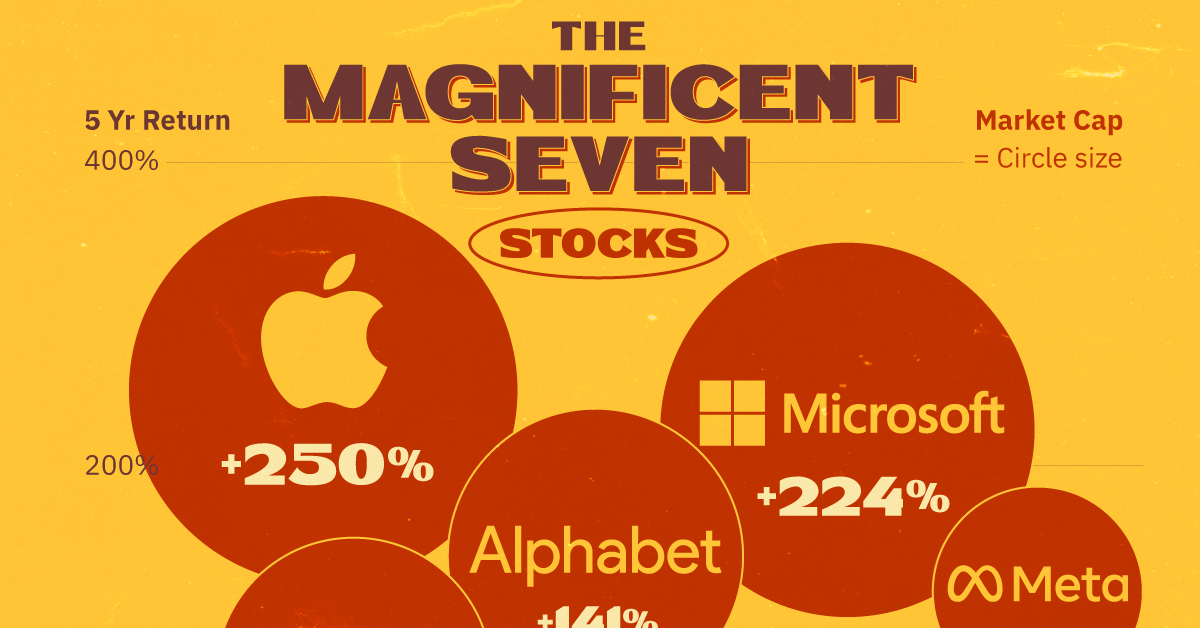 Which Companies Make Up the "Magnificent Seven" Stocks?
In 2013 CNBC analyst Jim Cramer popularized "FANG," comprised of Facebook (now Meta), Amazon, Netflix, and Google (now Alphabet), as a shorthand for the best performing technology stocks on the market. Apple, added in 2017, made it FAANG.
However, over the last year a new moniker given by Bank of America analyst Michael Hartnett highlights the most valuable and popularly-owned companies on the American stock market: the "Magnificent Seven" stocks.
We visualize the Magnificent Seven's market capitalization and 5-year stock performance as of November 2023 using data from Google Finance and CompaniesMarketCap.
The Magnificent Seven Stocks by Market Cap and 5-Year Return
The Magnificent Seven stocks are megacap companies focused and capitalizing on tech growth trends including AI, cloud computing, and cutting-edge hardware and software.
Four of the five FAANG stocks retain their place amongst the Magnificent Seven, with newcomers Nvidia, Tesla, and Microsoft joining the group. Following a poor 2022 performance and having more difficulty capitalizing on tech trends, Netflix is the sole FAANG company not included.
Here's a look at the companies ranked by their market capitalization on November 6, 2023, alongside their 5-year stock performance:
| Rank | Company | Market Cap | 5 Year Performance |
| --- | --- | --- | --- |
| 1 | Apple | $2.8 trillion | +250% |
| 2 | Microsoft | $2.6 trillion | +224% |
| 3 | Alphabet | $1.6 trillion | +141% |
| 4 | Amazon | $1.4 trillion | +63% |
| 5 | Nvidia | $1.1 trillion | +783% |
| 6 | Meta | $811 billion | +118% |
| 7 | Tesla | $690 billion | +829% |
The Magnificent Seven make up more than one-quarter of the S&P 500 and more than half of the Nasdaq 100.
Meanwhile, five of the seven are part of the rare trillion dollar club, with Nvidia being the most recent entry.
A common theme among the Magnificent Seven is their ability to collect vast amounts of customer data, create cutting-edge hardware and software, as well as harness the power of AI.
However, if Netflix gets back on track—recently announcing its new ad-supported membership tier has 15 million subscribers—we could soon see a "Magnificent Eight."