Visualizing the World of Sales Technology
"Always Be Closing."
This infamous phrase was popularized in the 1992 film Glengarry Glen Ross, and has become a mantra among fervent salespeople.
While sealing the deal is always the ultimate goal, salespeople actually spend the majority of their time on other tasks like generating and nurturing prospects, following up with customers, and finding new sales opportunities. For this reason, nearly three-quarters of sales professionals rely on technology to do those less glamorous tasks faster and more efficiently.
Today's graphic from Raconteur shows the value of technology in today's sales world and how artificial intelligence (AI) technology ultimately helps sales reps win more business.
Artificial Intelligence in Sales
Globally, 40% of salespeople use or are implementing AI technology into their workflows to automate or streamline sales.
AI-based sales technology helps to:
Identify the best leads to target using past customer data
Improve the quantity and quality of leads
Increase omnichannel customer engagement
Personalize customer information in real-time
Automate sales tasks such as contact information data entry
Using AI tools could mean the difference between closing a deal or losing a prospect.
Companies that automated their contact form responses, for example, saw a 71% increase in open rates and a 152% increase in clickthrough rates.
Growth of Sales Technologies and Tools
With at least two dozen major sales tech segments projected to grow in the next few years, five technologies stand to gain the most traction.
1. Account and Opportunity Planning
Refined data from past and existing customers offer valuable insights on which future prospects to target. Using these insights and other key data (company lists), sales intelligence tools can create custom search criteria to narrow down the best leads to approach.
These tools merge seamlessly with analytics, marketing, and data management to prevent information silos within a company.
2. Sales Methodology/Workflow
Customer relationship management (CRM) is now the fastest-growing software sector in the world. The CRM market is expected to double from $40 billion in 2019 to $80 billion by 2025.
Salespeople can use tools like Salesforce to manage leads and customers effectively and even assist other internal teams with more personalized customer interactions, such as customer service.
3. Content Management
In this information-rich age, companies are expected to keep customer information secure. Content Management Software (CMS) such as Confluence or Paperflite allows sales teams to instantly organize, collaborate on, and distribute internal documents and resources with one another to maintain up-to-date files.
4. Prospect Engagement Management
Customers want products and services tailored to their specific needs and desires. Many companies using a series of personalized emails to welcome or re-engage online customers found they could close 75% more in sales.
5. Online Training and Coaching Delivery
With new technologies, more nuanced client data, and shifting public perceptions of brands, top salespeople are seeking out efficient methods to maintain their skills. This helps them to better connect with prospects and manage sales pipelines.
Technology in the Sales Workflow
Top sales professionals have weighed in—sales technology platforms and tools are invaluable to their success. An overwhelming majority of salespeople use these tools every day:
98% use sales intelligence solutions that provide insight and automation.
Examples: InsideView, Nimble, Clearbit
94% use collaboration tools to keep their finger on the pulse of sales activities.
Examples: Wrike, Basecamp, Slack
92% use email tracking tools to track campaigns and conversions.
Examples: Ebsta, Clearslide, Hubspot Sales
Using more refined software tools, salespeople are able to make better-informed decisions about which prospects to nurture and which ones to grow organically.
And as Glengarry Glen Ross reminds us: "Coffee's for closers only."
Explainer: How Synthetic Biology is Redesigning Life
Synthetic biology (SynBio) is a field of science that involves engineering life for human benefit. Here's an in-depth look at how it works.
Explainer: How Synthetic Biology is Redesigning Life
Synthetic biology (SynBio) is a field of science that involves engineering life for human benefit. It has the potential to reshape many facets of society—from the ways we produce food, to how we detect and cure diseases.
It's a fast-growing field of science. In fact, by 2026, the SynBio market's global revenue is expected to reach $34.5 billion, at a CAGR of 21.9%.
While this fascinating area of research is worth paying attention to, it might be daunting to wrap your head around—especially if you don't come from a scientific background. With this in mind, here's an introduction to synthetic biology, and how it works.
What is Synthetic Biology?
As we touched on in the introduction, SynBio is an area of scientific research that involves editing and redesigning the biological components, systems, and interactions that make up life. By doing this, SynBio can grant organisms new abilities that are beneficial to humans.
It's similar to genetic engineering, however, it's slightly more granular. While genetic engineering transfers ready-made genetic material between organisms, SynBio builds new genetic material from scratch.
SynBio has applications across a myriad of fields, with research covering everything from space exploration to drug discovery. Here's a look at five of its real-world applications:
1. Medical Technologies
SynBio has a wide range of medical applications, including drug discovery, antibody production, and vaccine innovation (it's been key in the fight against COVID-19). It also plays a significant role in "living drug" development, which is the use of living microbes to treat chronic or severe illnesses.
2. Sustainable Energies
Biofuel, which is renewable energy that's derived from living matter, could replace petroleum and diesel in the near future—and synthetic biology technology is helping develop fermentation processes that will produce biofuel more efficiently.
3. Bioremediation
Bioremediation uses living organisms to restore polluted sites to their original condition. This field uses SynBio to try and make the decontamination process more efficient, and to expand the list of contaminants that bioremediation can target.
4. Food and Agriculture
SynBio plays a significant role in cellular agriculture, which is the production of agricultural products directly from cells rather than livestock or plants. These modified foods might have higher nutritional value, or might be void of allergens. For instance, this can be used to make plant-based burgers taste more like meat.
5. Space Systems and Exploration
Synthetic biology and 3-D printing have huge potential to sustain life during space exploration. Using SynBio technology, cells and bacteria could be modified to produce a myriad of materials—from plastic to medicine, and even food—and astronauts could print these synthetically engineered materials on-demand while in space.
Zooming in: the Science Behind Synthetic Biology
Now that we've touched on SynBio's use in a wide range of industries, let's dive into the science behind it. In order to understand the mechanics of SynBio, it's important to explore the relationship between DNA and protein production.
Proteins are the drivers of life in a cell—they're responsible for carrying out all of life's functions. They are created through a process called protein synthesis, which relies heavily on DNA. Why is DNA so important in protein production? Because it houses all the information a cell needs for protein synthesis.
Once a protein is formed, it embarks on a complex journey throughout the cell, interacting with a number of other proteins and cellular components to perform functions needed for the cell's survival.
This process of protein production and cellular interaction is an example of a biological system. And it's this biological system that synthetic biologists investigate, and try to manipulate.
The Five Main Areas of Research
After combing through the literature, we identified five major areas of SynBio research:
In silico Synthetic Biology
Meaning "via computer", this area of SynBio research uses computational simulations to design and predict new biological systems. It's like using a drawing board before starting a project.
"Unnatural" Molecular Biology
An area of research focused on altering the smallest unit of DNA—nucleotides.
Bioengineering
This area of research deals with larger segments of DNA like genes or chromosomes, and sometimes other cell components that interact with DNA. It aims to create new proteins or protein systems and is the most popular area of SynBio research.
Synthetic Genomics
Focused on altering and manipulating whole genomes (which is the complete set of a cell's DNA).
Protocell Synthetic Biology
This field of research aims to construct whole cells. This is a step towards creating organisms that are entirely synthetic
While early research in SynBio struggled to finish real-world projects, innovation in this field has ramped up quickly in the last decade.
Synthetic biology products are becoming increasingly more pervasive in everyday life—so much so that by 2030, some scientists believe most people will have eaten, worn, or used something created through synthetic biology.
The World's Top 50 Influencers Across Social Media Platforms
Which influencers have the most total social media followers? We tally up follower counts across all major platforms, from Twitter to TikTok.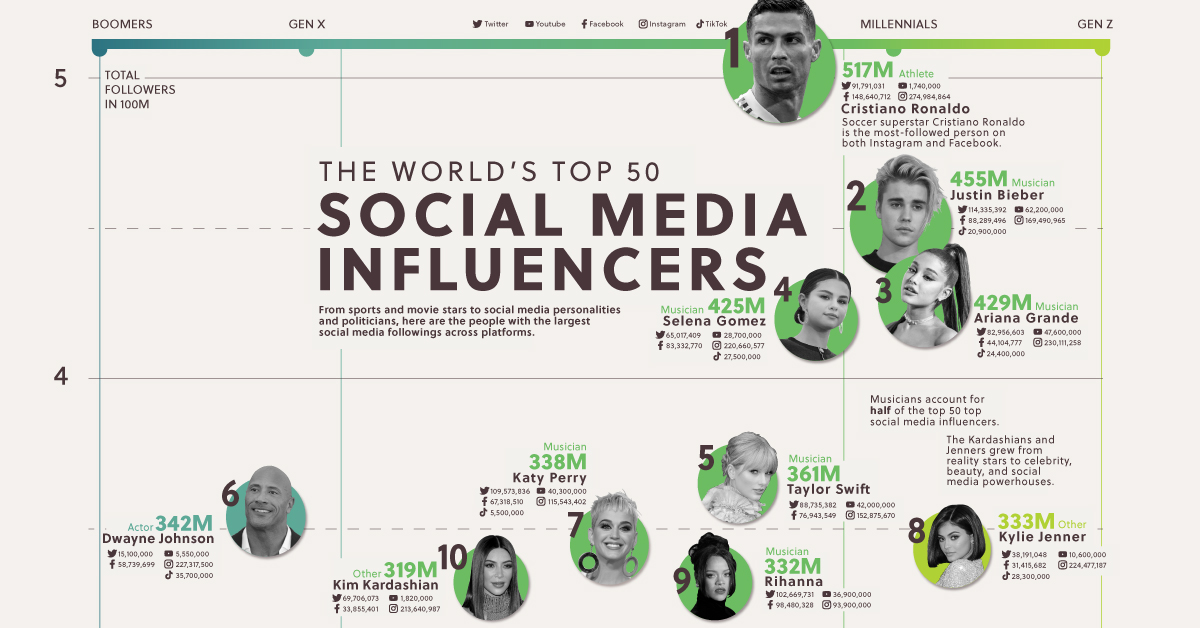 Visualizing the World's Top 50 Influencers
In the modern digital world, social media reach is power.
The people with the most followers on Twitter, for example, have a massive platform to spread their messages, while those with large, engaged followings on Instagram are an advertiser's dream sponsor partner.
Social media can also be an equalizer of power. It's true that many celebrities boast large followings across platforms, but social media has also enabled previously unknown personalities to turn YouTube or TikTok fame into veritable star power and influence.
Who has the biggest reach across the entire social media universe? Instead of looking at who has the most followers on Instagram, Twitter, or other networks, we ranked the most-followed personalities across all major platforms combined.
Who Has the Most Overall Followers on Social Media?
We parsed through hundreds of the most-followed accounts on multiple platforms to narrow down the top influencers across social media as of April 2021.
Sources include trackers of the most followers on Twitter, Instagram, Facebook, YouTube, Twitch, and TikTok, verified directly on site and with social media tracker Socialblade.
The results? A top 50 list of social media influencers consisting of athletes, musicians, politicians, and other personalities.
| Rank | Name | Category | Total Followers | Biggest Platform |
| --- | --- | --- | --- | --- |
| #1 | Cristiano Ronaldo | Sports | 517M | Instagram |
| #2 | Justin Bieber | Music | 455M | Instagram |
| #3 | Ariana Grande | Music | 429M | Instagram |
| #4 | Selena Gomez | Music | 425M | Instagram |
| #5 | Taylor Swift | Music | 361M | Instagram |
| #6 | Dwayne Johnson | Film & TV | 342M | Instagram |
| #7 | Katy Perry | Music | 338M | Instagram |
| #8 | Kylie Jenner | Other | 333M | Instagram |
| #9 | Rihanna | Music | 332M | Twitter |
| #10 | Kim Kardashian | Other | 319M | Instagram |
| #11 | Lionel Messi | Sports | 298M | Instagram |
| #12 | Neymar | Sports | 283M | Instagram |
| #13 | Shakira | Music | 282M | Facebook |
| #14 | Jennifer Lopez | Music | 277M | Instagram |
| #15 | Beyoncé | Music | 267M | Instagram |
| #16 | Ellen DeGeneres | Film & TV | 260M | Instagram |
| #17 | Miley Cyrus | Music | 235M | Instagram |
| #18 | Nicki Minaj | Music | 232M | Instagram |
| #19 | Barack Obama | Politics | 221M | Twitter |
| #20 | Will Smith | Film & TV | 217M | Facebook |
| #21 | Kendall Jenner | Other | 212M | Instagram |
| #22 | Demi Lovato | Music | 211M | Instagram |
| #23 | Lady Gaga | Music | 210M | Twitter |
| #24 | Kevin Hart | Film & TV | 201M | Instagram |
| #25 | Virat Kohli | Sports | 195M | Instagram |
| #26 | Eminem | Music | 194M | Facebook |
| #27 | Drake | Music | 192M | Instagram |
| #28 | Khloé Kardashian | Other | 191M | Instagram |
| #29 | Bruno Mars | Music | 191M | Facebook |
| #30 | Chris Brown | Music | 187M | Instagram |
| #31 | Vin Diesel | Film & TV | 177M | Facebook |
| #32 | Narendra Modi | Politics | 175M | Twitter |
| #33 | Justin Timberlake | Music | 175M | Twitter |
| #34 | Billie Eilish | Music | 171M | Instagram |
| #35 | Charli D'Amelio | Other | 169M | TikTok |
| #36 | Kourtney Kardashian | Other | 165M | Instagram |
| #37 | Cardi B | Music | 160M | Instagram |
| #38 | LeBron James | Sports | 157M | Instagram |
| #39 | Adele | Music | 156M | Facebook |
| #40 | Priyanka Chopra | Film & TV | 144M | Instagram |
| #41 | Germán Garmendia | Gaming | 143M | Youtube |
| #42 | Wiz Khalifa | Music | 142M | Facebook |
| #43 | Felix "PewDiePie" Kjellberg | Gaming | 141M | Youtube |
| #44 | Akshay Kumar | Film & TV | 140M | Instagram |
| #45 | Snoop Dogg | Music | 138M | Instagram |
| #46 | Deepika Padukone | Film & TV | 138M | Instagram |
| #47 | Britney Spears | Music | 137M | Twitter |
| #48 | Shawn Mendes | Music | 136M | Instagram |
| #49 | Whindersson Nunes Batista | Other | 135M | Instagram |
| #50 | Salman Khan | Film & TV | 134M | Facebook |
Unsurprisingly, celebrities reign supreme on social media. As of April 2021, soccer superstar Cristiano Ronaldo was the most-followed person on social media with more than 500 million total followers.
But there are other illuminating highlights, such as the global reach of music. With large and diverse fanbases, artists account for half of the top 50 largest social media followings.
Also notable is the power of Instagram, which was the biggest platform for 67% of the top 50 social media influencers. This includes hard-to-categorize celebrities like the Kardashians and Jenners, which turned reality TV and social media fame into business and media empires.
Download the Generational Power Report (.pdf)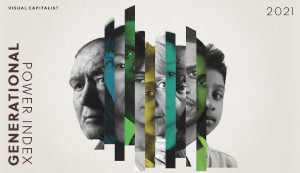 The Most Followers on Twitter, TikTok, and YouTube
However, it's not only celebrities that dominate social media.
Personalities that started on one social media platform and developed massive followings include TikTok's most-followed star Charli D'Amelio and YouTubers Germán Garmendia, Felix "PewDiePie" Kjellberg, and Whindersson Nunes Batista.
Politicians were also prominent influencers. Former U.S. President Barack Obama has the most followers on Twitter, and India's Prime Minister Narendra Modi has more than 175 million followers across social media.
Former U.S. President Donald Trump would have also made the list with more than 140 million followers across social media before being banned from multiple platforms on January 8, 2021.
A Generational Look at Social Media Influence
While older generations have had to adapt to social media platforms, younger generations have grown up alongside them. As a measure of cultural importance, this gives Gen X, Millennials, and Gen Z a rare leg-up on older generations.
Millennials, in particular, hold the lion's share of spots in this top 50 list:
| Generation | # of Influencers in Generation | Top Influencer in Generation |
| --- | --- | --- |
| Gen Z | 4 | Kylie Jenner |
| Millennial | 33 | Cristiano Ronaldo |
| Gen X | 10 | Dwayne (The Rock) Johnson |
| Baby Boomer | 3 | Ellen DeGeneres |
The average age of the top 50 influencers was just over 37.
In our Generational Power Index (GPI), which measures the share of power generations hold in various categories, digital platforms were a key area where Millennials derived their power and influence. Overall, Baby Boomers—and to a lesser extent, Gen X—still run the show in most areas of society today.
Social Media Influence, Going Forward
As most fans and advertisers know, not all social media accounts and followings are homogenous.
Many influencers with relatively small followings have more consistent engagement, and are often able to demand high advertising fees as a result.
Conversely, most social media platforms are reckoning with a severe glut of fake accounts or bots that inflate follower counts, impacting everything from celebrities and politicians to personalities and businesses.
Regardless, social media has become a mainstay platform (or soapbox) for today's cultural influencers. Billions of people turn to social media for news, engagement, recommendations, and entertainment, and new platforms are always on the rise.
Editor's Note: An earlier version of the data used for this story incorrectly counted Facebook likes instead of followers for some personalities. The content has since been corrected and updated."