The Looming Copper Supply Crunch
The Looming Copper Supply Crunch
This infographic is presented by Western Copper & Gold
Copper is among the three most used metals in the world, and high quantities of the red metal must be mined every year to meet global demand.
The market for copper is equal to approximately $120 billion each year, which rivals that of even iron ore, the most widely traded metal. This is because infrastructure, technology, and automobiles consume massive amounts of copper.
Behind silver, copper is the second best metal for conducting electricity. That's why 75% of copper is used in electrical wires or for wiring in machinery. From power grids to motherboards, copper wire is indispensable to modern society.
Copper is also essential for green energy and a sustainable future. For example, each generation of car needs more copper wiring: a gasoline-powered car needs 55 lbs, while hybrids and electric vehicles need 110 lbs and 165 lbs respectively. Further, it is estimated that an average of 3.6 tonnes of copper is used for each MW of wind power.
The Copper Supply Problem
The problem is: copper is not being discovered fast enough to meet upcoming demand. A study by Wood Mackenzie found that there will be a 10 million tonne supply deficit by 2028. That's equal to the annual production of the world's biggest copper mine (Escondida) multiplied by a factor of ten.
There are several reasons for this.
First, it now takes longer to go from discovery to production than ever before in the mining industry. Geological, environmental, and political challenges have brought the average lead time to around 20 years for new mines.
Beyond all of the challenges above, the economics also have to line up. Thomson Reuters GFMS estimates that for new copper supply to be incentivized to come online, the copper price must be $3.50 per pound.
Copper mining is all about grade or scale. The majority of global output comes from mega mines that have massive economies of scale to reduce costs. However, it has been a long-running trend that the grades for these established mines are dropping.
A good example of this is Escondida, the world's largest copper mine which is located in Chile. It produced 6% of global copper output in 2014, but the mine is facing a similar problem to that of other large copper projects: grades are dropping. In 2007, the copper grade was 1.72%, but it is predicted to drop to half of that in upcoming years. In fact, BHP Billiton is expecting a year-over-year decline of 24% between 2015 and 2016.
Codelco is the world's largest copper miner overall, and has recently announced a $25 billion investment plan to expand aging mines. It will spend $5 billion each year, but it expects no significant gain in production for its efforts.
The Coming Supply Gap
Add these factors together, and stocks of copper are at their lowest levels since 2008. Further, 4% of the world's copper mining capacity falls off the table each year, which means that this must be replaced somehow.
With 10 Escondidas needed to fill a 10 million tonne supply deficit by 2028, metals investors need to stay vigilant as changes in the market will be coming.
Visualizing U.S. Consumption of Fuel and Materials per Capita
Wealthy countries consume large amounts of natural resources per capita, and the U.S. is no exception. See how much is used per person.
Visualizing U.S. Consumption of Fuel and Materials per Capita
This was originally posted on Elements. Sign up to the free mailing list to get beautiful visualizations on natural resource megatrends in your email every week.
Wealthy countries consume massive amounts of natural resources per capita, and the United States is no exception.
According to data from the National Mining Association, each American needs more than 39,000 pounds (17,700 kg) of minerals and fossil fuels annually to maintain their standard of living.
Materials We Need to Build
Every building around us and every sidewalk we walk on is made of sand, steel, and cement.
As a result, these materials lead consumption per capita in the United States. On average, each person in America drives the demand of over 10,000 lbs of stone and around 7,000 lbs of sand and gravel per year.
| Material/Fossil Fuel | Pounds Per Person |
| --- | --- |
| Stone | 10,643 |
| Natural Gas | 9,456 |
| Sand, Gravel | 7,088 |
| Petroleum Products | 6,527 |
| Coal | 3,290 |
| Cement | 724 |
| Other Nonmetals | 569 |
| Salt | 359 |
| Iron Ore | 239 |
| Phosphate Rock | 166 |
| Sulfur | 66 |
| Potash | 49 |
| Soda Ash | 36 |
| Bauxite (Aluminum) | 24 |
| Other Metals | 21 |
| Copper | 13 |
| Lead | 11 |
| Zinc | 6 |
| Manganese | 4 |
| Total | 39,291 |
The construction industry is a major contributor to the U.S. economy.
Crushed stone, sand, gravel, and other construction aggregates represent half of the industrial minerals produced in the country, resulting in $29 billion in revenue per year.
Also on the list are crucial hard metals such as copper, aluminum, iron ore, and of course many rarer metals used in smaller quantities each year. These rarer metals can make a big economic difference even when their uses are more concentrated and isolated—for example, palladium (primarily used in catalytic converters) costs $54 million per tonne.
Fuels Powering our Lives
Despite ongoing efforts to fight climate change and reduce carbon emissions, each person in the U.S. uses over 19,000 lbs of fossil fuels per year.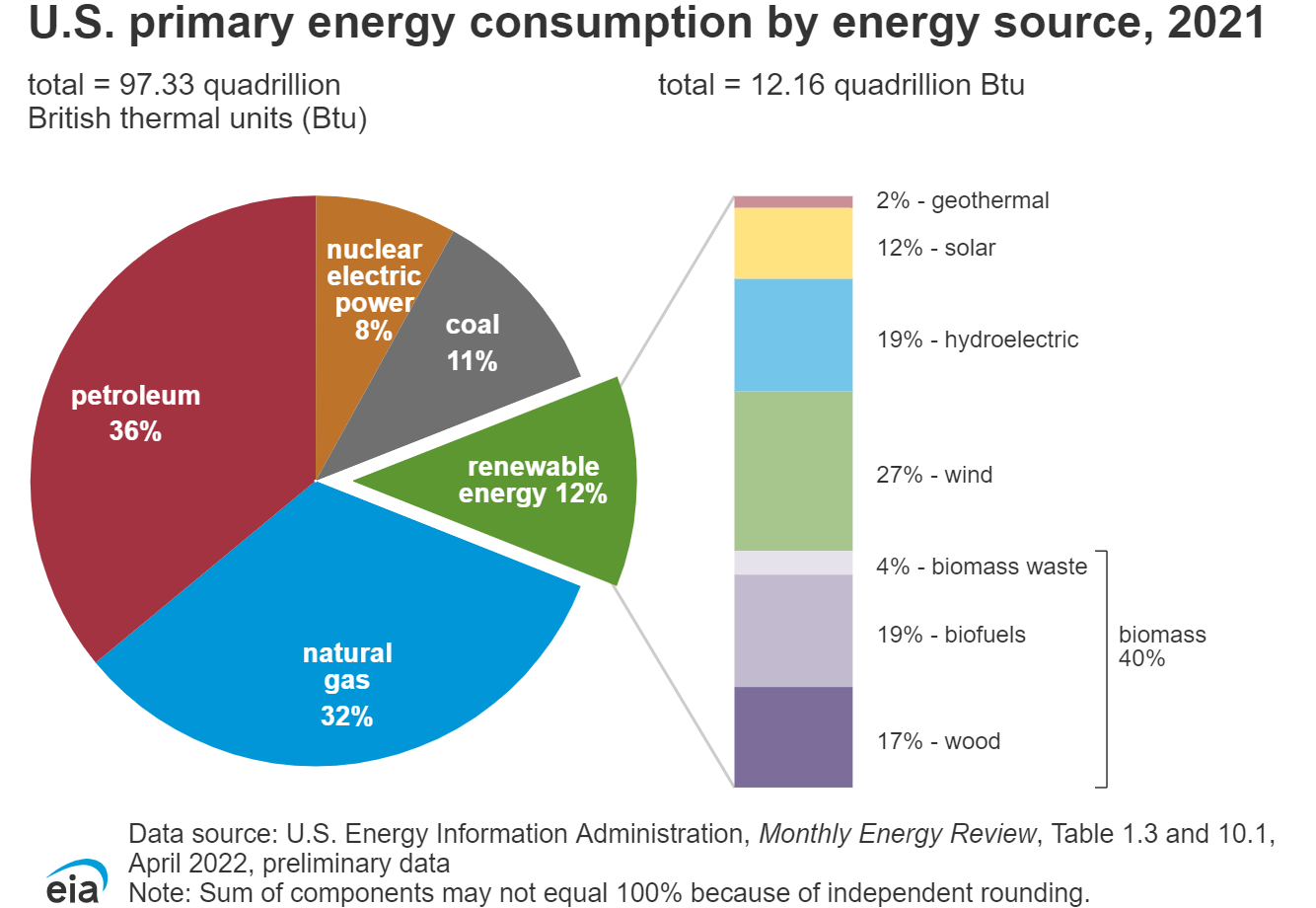 Gasoline is the most consumed petroleum product in the United States.
In 2021, finished motor gasoline consumption averaged about 369 million gallons per day, equal to about 44% of total U.S. petroleum use. Distillate fuel oil (20%), hydrocarbon gas liquids (17%), and jet fuel (7%) were the next most important uses.
Reliance on Other Countries
Over the past three decades, the United States has become reliant on foreign sources to meet domestic demand for minerals and fossil fuels. Today, the country is 100% import-reliant for 17 mineral commodities and at least 50% for 30 others.
In order to reduce the dependency on other countries, namely China, the Biden administration has been working to diversify supply chains in critical minerals. This includes strengthening alliances with other countries such as Australia, India, and Japan.
However, questions still remain about how soon these policies can make an impact, and the degree to which they can ultimately help localize and diversify supply chains.