The Looming Copper Supply Crunch
The Looming Copper Supply Crunch
This infographic is presented by Western Copper & Gold
Copper is among the three most used metals in the world, and high quantities of the red metal must be mined every year to meet global demand.
The market for copper is equal to approximately $120 billion each year, which rivals that of even iron ore, the most widely traded metal. This is because infrastructure, technology, and automobiles consume massive amounts of copper.
Behind silver, copper is the second best metal for conducting electricity. That's why 75% of copper is used in electrical wires or for wiring in machinery. From power grids to motherboards, copper wire is indispensable to modern society.
Copper is also essential for green energy and a sustainable future. For example, each generation of car needs more copper wiring: a gasoline-powered car needs 55 lbs, while hybrids and electric vehicles need 110 lbs and 165 lbs respectively. Further, it is estimated that an average of 3.6 tonnes of copper is used for each MW of wind power.
The Copper Supply Problem
The problem is: copper is not being discovered fast enough to meet upcoming demand. A study by Wood Mackenzie found that there will be a 10 million tonne supply deficit by 2028. That's equal to the annual production of the world's biggest copper mine (Escondida) multiplied by a factor of ten.
There are several reasons for this.
First, it now takes longer to go from discovery to production than ever before in the mining industry. Geological, environmental, and political challenges have brought the average lead time to around 20 years for new mines.
Beyond all of the challenges above, the economics also have to line up. Thomson Reuters GFMS estimates that for new copper supply to be incentivized to come online, the copper price must be $3.50 per pound.
Copper mining is all about grade or scale. The majority of global output comes from mega mines that have massive economies of scale to reduce costs. However, it has been a long-running trend that the grades for these established mines are dropping.
A good example of this is Escondida, the world's largest copper mine which is located in Chile. It produced 6% of global copper output in 2014, but the mine is facing a similar problem to that of other large copper projects: grades are dropping. In 2007, the copper grade was 1.72%, but it is predicted to drop to half of that in upcoming years. In fact, BHP Billiton is expecting a year-over-year decline of 24% between 2015 and 2016.
Codelco is the world's largest copper miner overall, and has recently announced a $25 billion investment plan to expand aging mines. It will spend $5 billion each year, but it expects no significant gain in production for its efforts.
The Coming Supply Gap
Add these factors together, and stocks of copper are at their lowest levels since 2008. Further, 4% of the world's copper mining capacity falls off the table each year, which means that this must be replaced somehow.
With 10 Escondidas needed to fill a 10 million tonne supply deficit by 2028, metals investors need to stay vigilant as changes in the market will be coming.
Visualizing China's Dominance in Clean Energy Metals
Despite being the world's biggest carbon emitter, China is also a key producer of most of the critical minerals for the green revolution.
Visualizing China's Dominance in Clean Energy Metals
This was originally posted on Elements. Sign up to the free mailing list to get beautiful visualizations on natural resource megatrends in your email every week.
Renewable sources of energy are expected to replace fossil fuels over the coming decades, and this large-scale transition will have a downstream effect on the demand of raw materials. More green energy means more wind turbines, solar panels, and batteries needed, and more clean energy metals necessary to build these technologies.
This visualization, based on data from the International Energy Agency (IEA), illustrates where the extraction and processing of key metals for the green revolution take place.
It shows that despite being the world's biggest carbon polluter, China is also the largest producer of most of the world's critical minerals for the green revolution.
Where Clean Energy Metals are Produced
China produces 60% of all rare earth elements used as components in high technology devices, including smartphones and computers.
The country also has a 13% share of the lithium production market, which is still dominated by Australia (52%) and Chile (22%). The highly reactive element is key to producing rechargeable batteries for mobile phones, laptops, and electric vehicles.
| China's Share | Extraction | Processing |
| --- | --- | --- |
| Copper | 8% | 40% |
| Nickel | 5% | 35% |
| Cobalt | 1.5% | 65% |
| Rare Earths | 60% | 87% |
| Lithium | 13% | 58% |
But even more than extraction, China is the dominant economy when it comes to processing operations. The country's share of refining is around 35% for nickel, 58% for lithium, 65% for cobalt, and 87% for rare earth elements.
Despite being the largest economy in the world, the U.S. does not appear among the largest producers of any of the metals listed. To shorten the gap, the Biden administration recently launched an executive order to review the American strategy for critical and strategic materials.
It's also worth noting that Russia also does not appear among the top producers when it comes to clean energy metals, despite being one of the world's leading producers of minerals like copper, iron, and palladium.
Low Regulation in the Clean Metal Supply Chain
While China leads all countries in terms of cobalt processing, the metal itself is primarily extracted in the Democratic Republic of Congo (DRC). Still, Chinese interests own 15 of the 17 industrial cobalt operations in the DRC, according to a data analysis by The New York Times and Benchmark Mineral Intelligence.
Unfortunately, the DRC's cobalt production has been criticized due to reports of corruption and lack of regulation.
Part of the Congolese cobalt comes from artisanal mines with low regulation. Of the 255,000 Congolese artisanal miners, an estimated 40,000 are children, some as young as six years old.
The Rise of Clean Energy Metals
The necessary shift from fossil fuels to renewable energy opens up interesting questions about how geopolitics, and these supply chains, will be affected.
In the race to secure raw materials needed for the green revolution, new world powers could emerge as demand for clean energy metals grows.
For now, China has the lead.
The Periodic Table of Commodity Returns (2012-2021)
Energy fuels led the way as commodity prices surged in 2021, with only precious metals providing negative returns.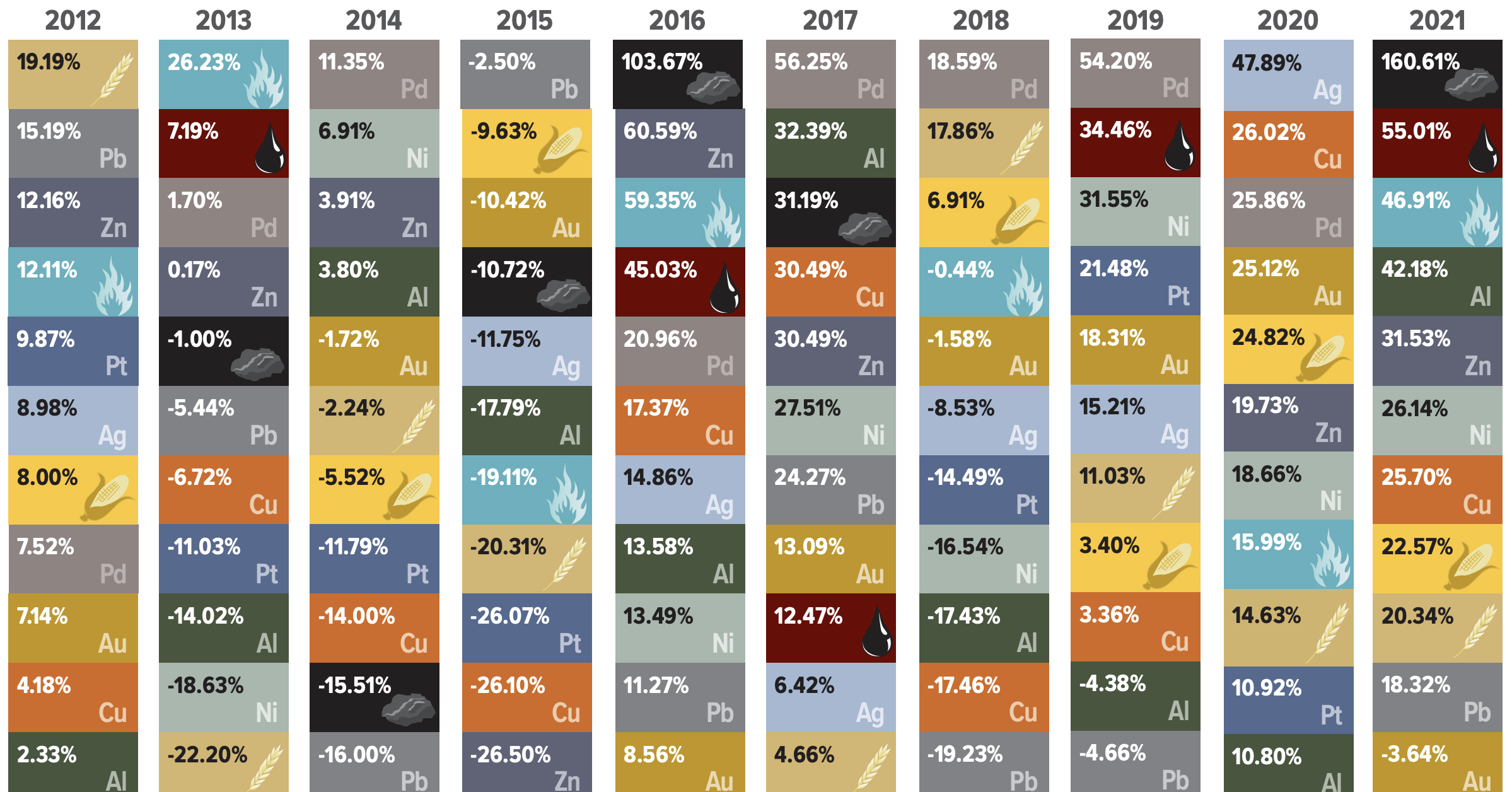 The Periodic Table of Commodity Returns (2022 Edition)
For investors, 2021 was a year in which nearly every asset class finished in the green, with commodities providing some of the best returns.
The S&P Goldman Sachs Commodity Index (GSCI) was the third best-performing asset class in 2021, returning 37.1% and beating out real estate and all major equity indices.
This graphic from U.S. Global Investors tracks individual commodity returns over the past decade, ranking them based on their individual performance each year.
Commodity Prices Surge in 2021
After a strong performance from commodities (metals especially) in the year prior, 2021 was all about energy commodities.
The top three performers for 2021 were energy fuels, with coal providing the single best annual return of any commodity over the past 10 years at 160.6%. According to U.S. Global Investors, coal was also the least volatile commodity of 2021, meaning investors had a smooth ride as the fossil fuel surged in price.
| Commodity | 2021 Returns |
| --- | --- |
| Coal | 160.61% |
| Crude Oil | 55.01% |
| Gas | 46.91% |
| Aluminum | 42.18% |
| Zinc | 31.53% |
| Nickel | 26.14% |
| Copper | 25.70% |
| Corn | 22.57% |
| Wheat | 20.34% |
| Lead | 18.32% |
| Gold | -3.64% |
| Platinum | -9.64% |
| Silver | -11.72% |
| Palladium | -22.21% |
Source: U.S. Global Investors
The only commodities in the red this year were precious metals, which failed to stay positive despite rising inflation across goods and asset prices. Gold and silver had returns of -3.6% and -11.7% respectively, with platinum returning -9.6% and palladium, the worst performing commodity of 2021, at -22.2%.
Aside from the precious metals, every other commodity managed double-digit positive returns, with four commodities (crude oil, coal, aluminum, and wheat) having their best single-year performances of the past decade.
Energy Commodities Outperform as the World Reopens
The partial resumption of travel and the reopening of businesses in 2021 were both powerful catalysts that fueled the price rise of energy commodities.
After crude oil's dip into negative prices in April 2020, black gold had a strong comeback in 2021 as it returned 55.01% while being the most volatile commodity of the year.
Natural gas prices also rose significantly (46.91%), with the UK and Europe's natural gas prices rising even more as supply constraints came up against the winter demand surge.
Despite being the second worst performer of 2020 with the clean energy transition on the horizon, coal was 2021's best commodity.
High electricity demand saw coal return in style, especially in China which accounts for one-third of global coal consumption.
Base Metals Beat out Precious Metals
2021 was a tale of two metals, as precious metals and base metals had opposing returns.
Copper, nickel, zinc, aluminum, and lead, all essential for the clean energy transition, kept up last year's positive returns as the EV batteries and renewable energy technologies caught investors' attention.
Demand for these energy metals looks set to continue in 2022, with Tesla having already signed a $1.5 billion deal for 75,000 tonnes of nickel with Talon Metals.
On the other end of the spectrum, precious metals simply sunk like a rock last year.
Investors turned to equities, real estate, and even cryptocurrencies to preserve and grow their investments, rather than the traditionally favorable gold (-3.64%) and silver (-11.72%). Platinum and palladium also lagged behind other commodities, only returning -9.64% and -22.21% respectively.
Grains Bring Steady Gains
In a year of over and underperformers, grains kept up their steady track record and notched their fifth year in a row of positive returns.
Both corn and wheat provided double-digit returns, with corn reaching eight-year highs and wheat reaching prices not seen in over nine years. Overall, these two grains followed 2021's trend of increasing food prices, as the UN Food and Agriculture Organization's food price index reached a 10-year high, rising by 17.8% over the course of the year.
As inflation across commodities, assets, and consumer goods surged in 2021, investors will now be keeping a sharp eye for a pullback in 2022. We'll have to wait and see whether or not the Fed's plans to increase rates and taper asset purchases will manage to provide price stability in commodities.