The Rising Speed of Technological Adoption
The Rising Speed of Technological Adoption
Technological progress is not the only thing rising at an exponential rate.
The rate at which newly commercialized technologies get adopted by consumers is also getting faster, too.
In the modern world, through increased connectivity, instant communication, and established infrastructure systems, new ideas and products can spread at speeds never seen before – and this enables a new product to get in the hands of consumers in the blink of an eye.
Visualizing Technological Adoption
Today's dynamic chart comes to us from Our World in Data, and it allows you to compare the adoption rates of new technologies over the period of more than a century.
In addition to the technologies you'll find embedded on the initial chart above, you can also use the "Add technology" tab of the chart (bottom left) to list up to 40 tech data series on the chart in total. This allows you to gauge adoption rates for everything from color televisions to washing machines, while giving you an idea of the trajectory of many common technologies today.
A Blast From the Past
To get the full impact of the chart, it's worth removing more modern technologies like smartphones, social media, tablets, cellular phones, and the internet from the list.
Here's a look at adoption rates for the household appliances and products today that we would consider pretty essential, over a period of more than 120 years:
The telephone was invented in 1876, but it wasn't until a century later that landlines reached a saturation point in households.
For this to happen, massive amounts of infrastructure had to be built and network effects also needed to accumulate to make the product worthwhile for consumers. Further, the telephone suffered from the "last-mile problem", in which the logistics get tougher and more expensive as end-users get hooked up to a network.
As a result, it wasn't until the 1960s that 80% of U.S. households had landlines in them.
New Adoption Speeds
Now, here's a chart with many older technologies removed – keep in mind that the x axis has changed to a much shorter timespan (~65 years):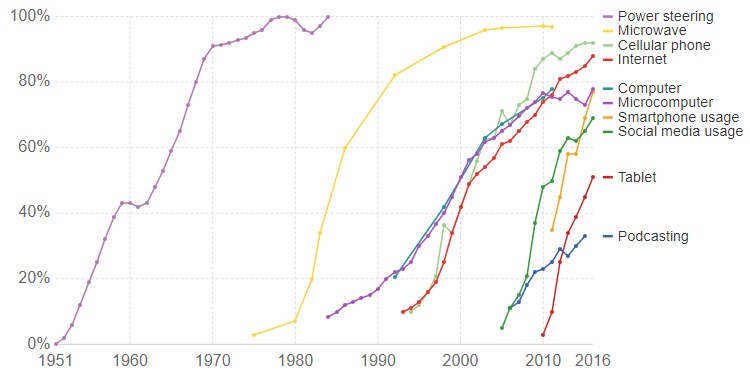 Microwaves, cell phones, smartphones, social media, tablets, and other inventions from the modern era all show fast-rising adoption rates. Standing out most on the chart is the tablet computer, which went from nearly 0% to 50% adoption in five years or so.
Why do newer technologies get adopted so quickly? It seems partly because modern tech needs less infrastructure in contrast with the water pipes, cable lines, electricity grids, and telephone wires that had to be installed throughout the 20th century.
However, it also says something else about today's consumers – which is that they are connected, fast-acting, and not afraid to adopt the new technologies that can quickly impact their lives for the better.
Infographic: 11 Tech Trends to Watch in 2023
This infographic highlights eleven exciting areas within the world of technology worth keeping an eye on in 2023.
Infographic: 11 Tech Trends to Watch in 2023
It can be tough to keep up with the rapid pace of innovation.
Each new year delivers the full spectrum of progress from game-changing breakthroughs to incremental advancements in a wide variety of fields.
In a noisy media landscape fueled by hype and speculation, it can be tough to know where true value is being created. The infographic above, which draws from CB Insights' recent report on 11 Tech Trends To Watch Closely in 2023, helps narrow down some areas of focus:
Immortality-as-a-service
The secret invasion of super apps
Fintech's rapid regeneration
Bots in the house
Virtual power plants
Healthcare's invisibility trick
Smell goes digital
Femtech turns to menopause
The bio-based materials boom
India's tech ascent
Regenerative agtech takes root
The report draws information from earnings transcripts, media mentions, investment activity, patents, and more to arrive at the trends listed.
We'll examine three of these trends below in a bit more detail.
Setting the Stage: Clash of the Super Apps
The concept of a super app⁠—an all-in-one smartphone application that integrates a wide range of services⁠—is far from new. In fact, for years now, WeChat has been the go-to app for many Chinese citizens to chat, order services, pay bills, and more.
A natural question comes to mind: why doesn't an app like that exist in Western countries yet? Well, there are a couple of key reasons:
Consumers and regulators alike are wary of providers holding so much personal information and power. In China, WeChat actually had government support, integrating public services into the app. As well, expectations of personal privacy are completely different in China than in Western countries
Unlike China, which rapidly adopted digital payments, North America and Europe had preexisting near-ubiquitous financial networks in place. Super apps were a game changer for millions of unbanked consumers in China and beyond.
The situation is changing rapidly though, and 2023 could be the year that the foundations are laid for a clash of various Big Tech incarnations of the super app.
In late 2022, Microsoft was rumored to be building a super app using Bing as the foundation, and recent investment into ChatGPT adds fuel to that fire. Even Elon Musk hinted at his ambitions to turn Twitter into a one-stop-shop for just about everything.
There are still significant barriers to bundling a plethora of services into a single app, but that isn't stopping companies from racing to be the one to do it. To the victor go the spoils.
The Resiliency of Life Extension
The concepts of immortality and age reversal have been a preoccupation of mankind since the dawn of time, so it stands to reason that technology that promises extra lifespan and quality of life continues to be compelling for individuals and investors alike.
Players in this space can approach life extension and anti-aging from a number of different angles, from supplements to tinkering at the cellular level.
Two high-profile examples in this space are Calico, which is a subsidiary of Alphabet, and the Jeff Bezos-backed Altos Labs. Other billionaires have expressed an interest in life extension as well, including Peter Thiel, who has definitive views on mortality.
I believe if we could enable people to live forever, we should do that. […] I think it is against human nature not to fight death. – Peter Thiel
In 2023, look for more investment and news from startups focused on gene therapy, genome analysis, regenerative medicine, or "longevity in a pill".
Beyond Plastic: The Bio-Based Materials Boom
Public pressure is mounting for producers of consumer goods to change the way they manufacture their products.
The good news is that many of the largest producers of consumer packaged goods and apparel have some kind of plan in place to use more post-consumer recycled plastic in their products. The bad news is that not enough plastic is recycled globally for companies to source enough material to produce their products more sustainably. As a result, many companies are exploring the option of ditching plastic entirely.
For example, materials derived from seaweed are an active area of innovation right now. Mushrooms and algae are also commonly-used materials from nature that are being used to create biodegradable products. In one particularly interesting example, a company called MycoWorks recently began working with GM Ventures to explore the use of mycelium-based leather alternatives in GM's vehicles.
While researchers and companies are just scratching the surface of what's possible, consumers are likely to see more tangible examples of bio-based materials popping up in stores. After all, brands will be very eager to talk about their increasingly plastic-free product lines.