The Rising Speed of Technological Adoption
The Rising Speed of Technological Adoption
Technological progress is not the only thing rising at an exponential rate.
The rate at which newly commercialized technologies get adopted by consumers is also getting faster, too.
In the modern world, through increased connectivity, instant communication, and established infrastructure systems, new ideas and products can spread at speeds never seen before – and this enables a new product to get in the hands of consumers in the blink of an eye.
Visualizing Technological Adoption
Today's dynamic chart comes to us from Our World in Data, and it allows you to compare the adoption rates of new technologies over the period of more than a century.
In addition to the technologies you'll find embedded on the initial chart above, you can also use the "Add technology" tab of the chart (bottom left) to list up to 40 tech data series on the chart in total. This allows you to gauge adoption rates for everything from color televisions to washing machines, while giving you an idea of the trajectory of many common technologies today.
A Blast From the Past
To get the full impact of the chart, it's worth removing more modern technologies like smartphones, social media, tablets, cellular phones, and the internet from the list.
Here's a look at adoption rates for the household appliances and products today that we would consider pretty essential, over a period of more than 120 years:
The telephone was invented in 1876, but it wasn't until a century later that landlines reached a saturation point in households.
For this to happen, massive amounts of infrastructure had to be built and network effects also needed to accumulate to make the product worthwhile for consumers. Further, the telephone suffered from the "last-mile problem", in which the logistics get tougher and more expensive as end-users get hooked up to a network.
As a result, it wasn't until the 1960s that 80% of U.S. households had landlines in them.
New Adoption Speeds
Now, here's a chart with many older technologies removed – keep in mind that the x axis has changed to a much shorter timespan (~65 years):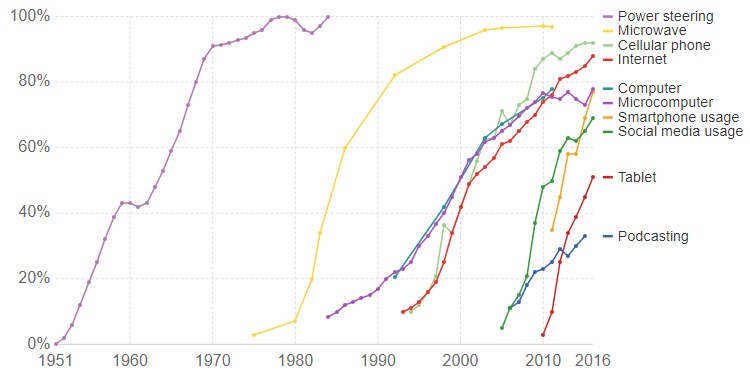 Microwaves, cell phones, smartphones, social media, tablets, and other inventions from the modern era all show fast-rising adoption rates. Standing out most on the chart is the tablet computer, which went from nearly 0% to 50% adoption in five years or so.
Why do newer technologies get adopted so quickly? It seems partly because modern tech needs less infrastructure in contrast with the water pipes, cable lines, electricity grids, and telephone wires that had to be installed throughout the 20th century.
However, it also says something else about today's consumers – which is that they are connected, fast-acting, and not afraid to adopt the new technologies that can quickly impact their lives for the better.
Ranked: America's Largest Semiconductor Companies
This graphic visualizes the market capitalizations of America's 15 largest semiconductor companies.
Ranking America's Largest Semiconductor Companies
As our world moves further into an era of widespread digitization, few industries can be considered as important as semiconductors.
These components are found in almost everything we use on a daily basis, and the ability to produce them domestically has become a topic of national security. For example, in 2022 the Biden administration announced the CHIPS and Science Act, which aims to strengthen America's position in everything from clean energy to artificial intelligence.
With this in mind, we've ranked the top 15 U.S. semiconductor companies by their market capitalizations.
Data and Highlights
The data we used to create this infographic is listed in the table below. Year-to-date (YTD) returns were included for additional context. Both metrics are as of May 30, 2023.
| Rank | Company | Ticker | Market Cap (USD billions) | YTD Return |
| --- | --- | --- | --- | --- |
| 1 | Nvidia | NVDA | $992 | 180.2% |
| 2 | Broadcom | AVGO | $335 | 45.1% |
| 3 | AMD | AMD | $202 | 95.7% |
| 4 | Texas Instruments | TXN | $160 | 8.2% |
| 5 | Qualcomm | QCOM | $129 | 8.2% |
| 6 | Intel | INTC | $125 | 12.2% |
| 7 | Applied Materials | AMAT | $115 | 41.2% |
| 8 | Analog Devices | ADI | $89 | 9.2% |
| 9 | Lam Research | LRCX | $85 | 52.1% |
| 10 | Micron Technology | MU | $78 | 42.3% |
| 11 | Snyopsys | SNPS | $71 | 45.4% |
| 12 | KLA | KLAC | $63 | 21.8% |
| 13 | Marvell Technology Group | MRVL | $54 | 76.2% |
| 14 | Microchip Technology | MCHP | $42 | 11.2% |
| 15 | ON Semiconductor | ON | $36 | 36.3% |
At the top is Nvidia, which became America's newest $1 trillion company on Tuesday, May 30th. Shares pulled back slightly over the day and Nvidia closed at $992 billion. Over the past decade, Nvidia has transformed from a gaming-focused graphics card producer to a global leader in AI and data center chips.
In third and sixth place are two of America's most well known chipmakers, AMD and Intel. These longtime rivals are moving in opposite trajectories, with AMD shares climbing 770% over the past five years, and Intel shares falling 47%. One reason for this is the data center segment, in which AMD appears to be stealing market share from Intel.
Further down the list we see Applied Materials in seventh, and Lam Research in ninth. Both firms specialize in semiconductor manufacturing equipment and thus play an important role in the industry's supply chain.
Trade War Impacts
As tensions between the U.S. and China escalate, chipmakers are becoming increasingly entangled in geopolitical conflict.
In October 2022, the Biden administration introduced new export controls aimed at blocking China's access to semiconductors produced with U.S. equipment. This impacted several companies in our top 15 list, including Lam Research and Applied Materials.
Shortly after the export controls were announced, Lam Research said it expected to lose upwards of $2.5 billion in annual revenues.
We lost some very profitable customers in the China region, and that's going to persist, obviously.
– Doug Bettinger, CFO, Lam Research
In response, China announced in May 2023 that it would no longer allow America's largest memory chipmaker, Micron, to sell its products to "critical national infrastructure operators".
This is not the first time Micron has been involved in a controversy with China. In 2018, the firm alleged that Fujian Jinhua Integrated Circuit, a Chinese state-owned company, had solicited a Micron employee to steal specifications for memory chips. The U.S. Department of Commerce imposed export restrictions on Fujian Jinhua as a result.
Chipmakers on both sides of the Pacific will be closely watching as competition between these two countries heats up.