How Much Radiation is Emitted by Popular Smartphones?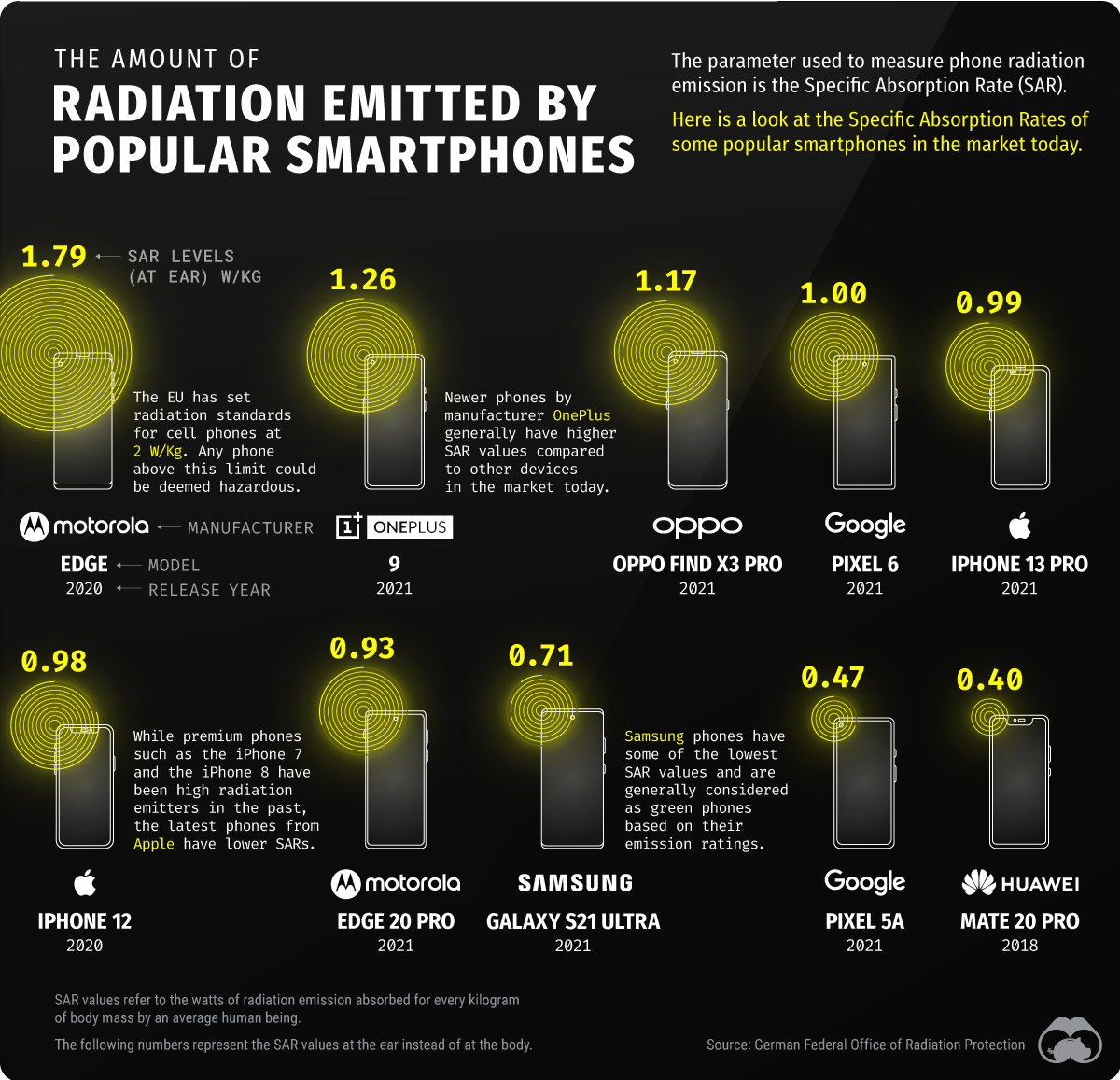 Radiation Emissions of Popular Smartphones
Smartphones have become an integral part of our everyday lives. From work and school to daily tasks, these handheld devices have brought everything into the palm of our hands.
Most people spend 5-6 hours on their phones each day. And, given that our phones emit a tiny amount of radiation, we're exposing ourselves to radiation for hours each day.
But different phones emit different amounts of radiation.
With the help of data collected by the German Federal Office of Radiation Protection, we visualize the radiation emissions of some popular smartphones in the market today.
Radiation and SAR Values of Smartphones
Smartphones and other mobile devices emit tiny amounts of radiofrequency (RF) radiation. Humans can absorb this radiation when the smartphone is being used or is lying dormant anywhere near their bodies.
The parameter used to measure phone radiation emissions is the Specific Absorption Rate (SAR). It is the unit of measurement that represents the quantity of electromagnetic energy absorbed by the body when using a mobile device.
The Council of the European Union has set radiation standards for cell phones at 2 watts per kilogram, measured over the 10 grams of tissue that is absorbing the most signal.
SAR values are calculated at the ear (speaking on the phone) and at the body (kept in your pocket). For the purposes of this article, we've used the former calculations.
Smartphones With the Highest Levels of Radiation Emissions
The Motorola Edge has the highest radiation emission with a SAR value of 1.79 watts of radiation per kilogram. That's significantly higher than most other smartphone models in the market today and close to the limits set by the EU for cellphones.
Coming in second is the Axon 11 5G by ZTE with 1.59, followed by the OnePlus 6T at a close third with 1.55 W/kg. The Sony Experia AX2 Plus with 1.41 and the Google Pixel 3 XL and 3A XL at 1.39 round out the top five.
Here is a look at the 10 smartphones that emit the highest level of radiation:
Now that we have detailed the worst offenders let's look at the smartphones with the lowest levels of radiation emissions.
Smartphones With the Lowest Levels of Radiation Emissions
The smartphone with the lowest SAR value is the ZTE Blade V10, with 0.13 watts of radiation per kilogram.
Mobile devices by Samsung carry some of the least radiation risks. The company has four phones considered to be the best in the category. The Galaxy Note 10+ is the best model in their line-up, emitting a meager 0.19 watts per kilogram.
Here is a look at the 10 smartphones that emit the lowest levels of radiation:
There is currently no significant research proving the harmful effects of phone radiation.
Despite this, people who are in contact with their devices for extended periods can at least quantify their radiation exposure and make choices about which brands serve their needs.
Nvidia Joins the Trillion Dollar Club
America's biggest chipmaker Nvidia has joined the trillion dollar club as advancements in AI move at lightning speed.
Nvidia Joins the Trillion Dollar Club
Chipmaker Nvidia is now worth nearly as much as Amazon.
America's largest semiconductor company has vaulted past the $1 trillion market capitalization mark, a milestone reached by just a handful of companies including Apple, Amazon, and Microsoft. While many of these are household names, Nvidia has only recently gained widespread attention amid the AI boom.
The above graphic compares Nvidia to the seven companies that have reached the trillion dollar club.
Riding the AI Wave
Nvidia's market cap has more than doubled in 2023 to over $1 trillion.
The company designs semiconductor chips that are made of silicon slices that contain specific patterns. Just like you flip an electrical switch by turning on a light at home, these chips have billions of switches that process complex information simultaneously.
Today, they are integral to many AI functions—from OpenAI's ChatGPT to image generation. Here's how Nvidia stands up against companies that have achieved the trillion dollar milestone:
Joined Club
Market Cap
in trillions
Peak Market Cap
in trillions
Apple
Aug 2018
$2.78
$2.94
Microsoft
Apr 2019
$2.47
$2.58
Aramco
Dec 2019
$2.06
$2.45
Alphabet
Jul 2020
$1.58
$1.98
Amazon
Apr 2020
$1.25
$1.88
Meta
Jun 2021
$0.68
$1.07
Tesla
Oct 2021
$0.63
$1.23
Nvidia
May 2023
$1.02
$1.02
Note: Market caps as of May 30th, 2023
After posting record sales, the company added $184 billion to its market value in one day. Only two other companies have exceeded this number: Amazon ($191 billion), and Apple ($191 billion).
As Nvidia's market cap reaches new heights, many are wondering if its explosive growth will continue—or if the AI craze is merely temporary. There are cases to be made on both sides.
Bull Case Scenario
Big tech companies are racing to develop capabilities like OpenAI. These types of generative AI require vastly higher amounts of computing power, especially as they become more sophisticated.
Many tech giants, including Google and Microsoft use Nvidia chips to power their AI operations. Consider how Google plans to use generative AI in six products in the future. Each of these have over 2 billion users.
Nvidia has also launched new products days since its stratospheric rise, spanning from robotics to gaming. Leading the way is the A100, a powerful graphics processing unit (GPU) well-suited for machine learning. Additionally, it announced a new supercomputer platform that Google, Microsoft, and Meta are first in line for. Overall, 65,000 companies globally use the company's chips for a wide range of functions.
Bear Case Scenario
While extreme investor optimism has launched Nvidia to record highs, how do some of its fundamental valuations stack up to other giants?
As the table below shows, its price to earnings (P/E) ratio is second-only to Amazon, at 214.4. This shows how much a shareholder pays compared to the earnings of a company. Here, the company's share price is over 200 times its earnings on a per share basis.
| | P/E Ratio | Net Profit Margin (Annual) |
| --- | --- | --- |
| Apple | 30.2 | 25.3% |
| Microsoft | 36.1 | 36.7% |
| Aramco | 13.5 | 26.4% |
| Alphabet | 28.2 | 21.2% |
| Amazon | 294.2 | -0.5% |
| Meta | 33.9 | 19.9% |
| Tesla | 59.0 | 15.4% |
| Nvidia | 214.4 | 16.19% |
Consider how this looks for revenue of Nvidia compared to other big tech names:
$NVDA $963 billion market cap, 38x Revenue
$MSFT $2.5 trillion market cap, 12x Revenue$TSLA $612 billion market cap, 7.8x Revenue$AAPL $2.75 trillion market cap, 7.3x Revenue$GOOG $1.6 trillion market cap, 6.1x Revenue$META $672 billion market cap, 6x Revenue pic.twitter.com/VgkKAfiydx

— Martin Pelletier (@MPelletierCIO) May 29, 2023
For some, Nvidia's valuation seems unrealistic even in spite of the prospects of AI. While Nvidia has $11 billion in projected revenue for the next quarter, it would still mean significantly higher multiples than its big tech peers. This suggests the company is overvalued at current prices.
Nvidia's Growth: Will it Last?
This is not the first time Nvidia's market cap has rocketed up.
During the crypto rally of 2021, its share price skyrocketed over 100% as demand for its GPUs increased. These specialist chips help mine cryptocurrency, and a jump in demand led to a shortage of chips at the time.
As cryptocurrencies lost their lustre, Nvidia's share price sank over 46% the following year.
By comparison, AI advancements could have more transformative power. Big tech is rushing to partner with Nvidia, potentially reshaping everything from search to advertising.