The Most Prolific Investors in Startups Are Fans of These Books
The world's most elite startup investors come in all shapes and sizes.
Some of them, such as Marc Andreessen or Josh Kopelman, come from an operating background as former entrepreneurs themselves. They know what it takes to build a great company, and they use that knowledge to try and spot the next Mark Zuckerberg or Evan Spiegel to place a bet on.
Other venture capitalists come at it from a more institutional angle. Mary Meeker, for example, spent a lot of time on Wall Street before making the move to Silicon Valley. She covered technology research for investment banks such as Salomon Brothers and Morgan Stanley, and helped lead famous IPOs for companies like Netscape and Google.
However, despite the differences in the backgrounds and approaches of top VCs, there does seem to be at least one commonality: they tend to be exceptionally well-read. Every new book helps arm them with knowledge, some of which could help give them the edge on their next deal or investment.
The favorite books of top startup investors
Joe Hovde, from the Ramen Profitable blog, collected data from the interviews of every venture capitalist and entrepreneur featured on the popular Twenty Minute VC podcast.
Each guest on the podcast is asked to provide a book recommendation, and Hovde has visualized this information.
The most cited authors include Ben Horowitz, Eric Ries, Nassim Taleb, and Peter Thiel
Ben Horowitz and Peter Thiel are fellow venture capitalists, while Eric Ries developed the "lean startup" methodology based on his experiences advising startups. Nassim Taleb is a mathematician, philosopher, and former trader that is best-known for popularizing the ideas of "black swans" and "antifragility".
The most cited book overall is easily The Hard Things About Hard Things by Ben Horowitz
Ben Horowitz's book The Hard Things About Hard Things covers Ben's early trials and tribulations as a co-founder of Loudcloud, which almost imploded multiple times during the Dotcom Bust. Eventually the company pivoted to enterprise software and was sold to HP for $1.7 billion in 2007, proving to ultimately be a success. The book cuts right to the hard facts about entrepreneurship and building companies, relating back to the challenges faced in Ben's previous endeavors.
The most popular non-fiction books also include Zero to One and The Lean Startup
Other titles that got some love from VCs: Nassim Taleb's Fooled by Randomness and Good to Great by Jim Collins.
The two most popular fiction titles are The Alchemist and The Master and Margarita
Paulo Coelho's The Alchemist is considered a modern classic by many. It tells the story of Santiago, an Andalusian shepherd boy who one night dreams of a distant treasure in the Egyptian pyramids. He leaves Spain to pursue his dream, and discovers himself along the way.
The Master and Margarita, a novel by Russian writer Mikhail Bulgakov, is another modern masterpiece. Written during the darkest days of Stalin's reign, it is a satirical take on the Soviet Union that uses a visit by the Devil as a literary vehicle to tell the tale.
What are the books that have influenced you the most?
Visualizing Population Density Patterns in Six Countries
These maps show the population density of several countries, using 3D spikes to denote where more people live.

Creator Program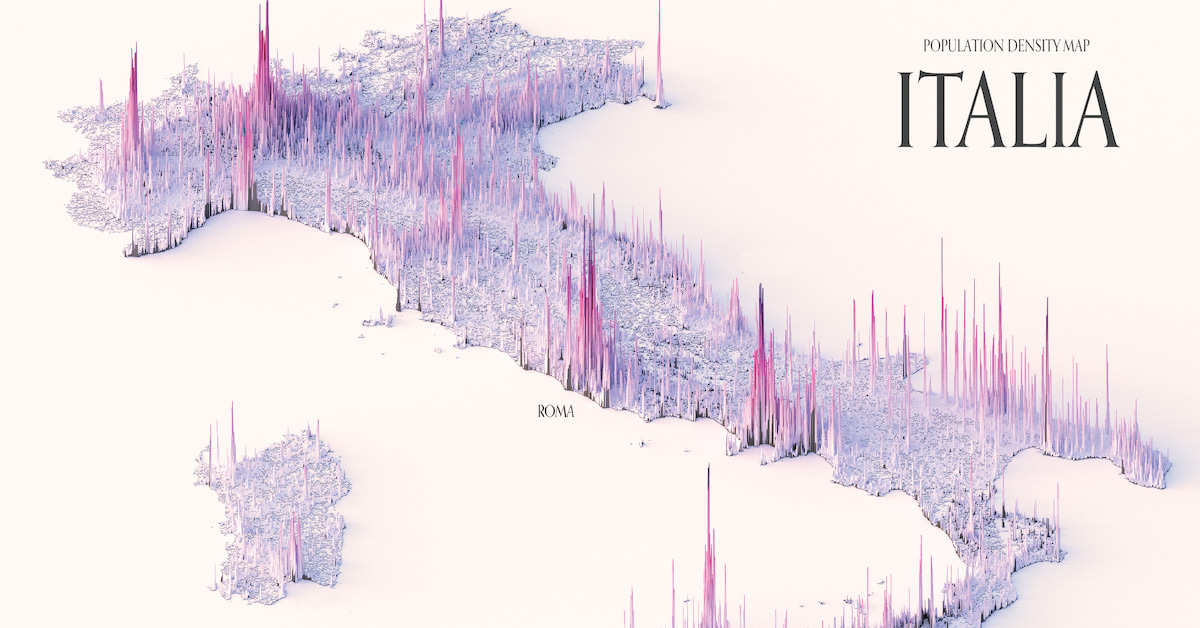 As of 2022, Earth has 8 billion humans. By 2050, the population is projected to grow to 10 billion.
In the last 100 years, the global population more than quadrupled. But none of this growth has been evenly spread out, including within countries.
This series of 3D maps from Terence Teo, an associate professor at Seton Hall University, renders the population density of six countries using open-source data from Kontur Population. He used popular programming language R and a path-tracing package, Rayshader, to create the maps.
France and Germany: Population Density Spikes and Troughs
Let's take a look at how the population spreads out in different countries around the world. Click the images to explore higher-resolution versions.
France is the world's 7th largest economy and second-most-populous country in the EU with 65 million people. But a staggering one-fifth of the French population lives in Paris and its surrounding metro—the most populous urban area in Europe.
Many residents in the Paris metropolitan area are employed in the service sector, which makes up one-third of France's $2.78 trillion gross domestic product.
Unlike France, Germany has many dense cities and regions, with Berlin, Munich, Stuttgart, and Cologne all having over a million residents. Berlin is the most populated at 3.5 million residents in the city proper, and 6 million in the wider urban area.
That said, the relatively recent reunification of West and East Germany in 1991 meant that post-WWII growth was mostly concentrated in West Germany (and West Berlin).
Italy and Chile: Coast to Coast
In Italy, another phenomenon affects population density and urban development—a sprawling coastline.
Despite having a large population of 59 million and large metropolitan areas throughout, Italy's population spikes are closer to the water.
The port cities of Genoa, Napoli, and Palermo all have large spikes relative to the rest of the country, as does the capital, Rome. Despite its city center located 15 miles inland from the sea, it extends to the shore through the district of Ostia, where the ancient port of Rome existed.
Meanwhile in Chile, stuck between the Andes to the east and the Pacific Ocean to the west, population spikes corroborate with its many port towns and cities.
However, the country is more concentrated than Italy, with 40% of its residents congregating around the capital of Santiago.
Turkey and Canada: Marred by Mountains and Climes
Though Chile has difficulties with terrain, it is relatively consistent. Other countries have to attempt to settle many different climes—regions defined by their climates.
Mountains to the south and east, a large, semi-arid plateau, and even a small desert leave few centers of urban growth in Türkiye.
Predictably, further west, as the elevation comes down to the Aegean and Mediterranean Seas, population spikes begin to heighten. The largest of course is the economic and cultural hub of Istanbul, though the capital Ankara is also prominent with more than 5 million residents.
In Canada, the Rocky Mountains to the west and freezing cold temperatures in the center and north account for the large country's relative emptiness.
Though population spikes in Western Canada are growing rapidly, highly populous urban centers are noticeably concentrated along the St. Lawrence River, with the Greater Toronto Area accounting for more than one-sixth of the country's 39 million people.
Increasing Urbanization
According to the World Bank, more than half of the world's population currently lives in cities, and that trend is only growing.
By 2050, 7 out of 10 people are projected to live in cities. This congregation makes cities a beehive of productivity and innovation—with more than 80% of the world's GDP being generated at these population centers.
It's in this context that mapping and studying urban development becomes all the more important, particularly as policymakers try their hand at sustainable urban planning.
As Teo puts it:
"By showing where people are (and are not), they show us where political and economic power is concentrated, and perhaps where and who our governments represent."