Map Explainer: Sudan
Map Explainer: Sudan
The African nation of Sudan has been in the headlines, as intense fighting has rocked the country. As this bloody power struggle plays out, the map infographic above aims to provides key information on the conflict, as well as general facts and context about the country.
To begin, what exactly is happening in Sudan?
The 2023 Conflict in Sudan: A Primer
As explosions echo throughout Khartoum—Africa's sixth largest urban area—many around the world are left wondering how the conflict escalated to this point. Here are five things to know:
Two generals have been sharing power since a coup in 2021. The first is General Abdel Fattah al-Burhan, who leads the Sudanese Army. The second is General Mohamed Hamdan Dagalo (aka Hemedti), who leads the Rapid Support Forces (RSF) paramilitary group. This power-sharing arrangement was meant to be temporary, with an eventual transition to a civilian-led democracy. Instead, the situation devolved into conflict.
Fighting broke out around the country in mid-April, with Khartoum becoming a major flash point. Flames billowed over the Khartoum airport, and the city's military headquarters was reduced to a burned-out husk.
As violence began to grip Sudan's largest city, there was an exodus of foreign officials and citizens. In one particularly dramatic scene at the U.S. Embassy, nearly 100 people were escorted onto an aircraft by Navy SEALs and flown to nearby Djibouti.
There have been a number of ceasefire agreements so far, but they've done little to stem the intense fighting.
The stream of refugees fleeing the violence continues to grow. There is growing concern that this conflict will cause further instability in the region, as most of Sudan's neighbors have their own histories with recent conflict, and many areas are facing food insecurity.
Unfortunately, Sudan is no stranger to conflict, having been ruled by the military for much of its existence. As of the writing of this article, there is technically a ceasefire in place, but fighting rages on. It remains to be seen how far these warring generals are willing to push the situation to assert their power.
Fast Facts About the Country of Sudan
Beyond headlines of conflict, Sudan is not a well-known country to many in the West. In the map above, we've also included more general information about geography, climate, population centers, and more.
Geography and Climate
Sudan is the third largest nation in Africa (16th globally), so there is a lot of climate and geographic variance within the country's borders.
The country is located in Northeast Africa, directly below Egypt. Roughly speaking, its climate changes along a north–south axis, moving from arid to tropical. About two-thirds of the nation is arid and semi-arid, which is typical of countries with territory that includes the Sahara Desert.
The further south one goes in Sudan, the greener the surroundings get. The map below (which also includes the relatively new country of South Sudan) shows the extreme difference in vegetation from the north to south in the region.
The Nile River is a prominent feature running across this arid region, providing two-thirds of the country's fresh water. In the south, the Blue and White portions of the Nile enter the country from South Sudan and Ethiopia, respectively. The rivers meet midway through the country and the Nile River flows northward, eventually reaching Egypt.
This flow of water from country-to-country can sometimes be a point of contention between Sudan, South Sudan, Ethiopia, and Egypt, who all rely on the river for power, fresh water, and irrigation.
Population Centers
Over 43 million people live in Sudan, which ranks it ninth in terms of population in Africa. Below, we can see that much of the Sudanese population is clustered in a couple of key areas, while much of the country remains sparsely populated.
Khartoum, the capital and largest city, is located in the interior of the country at the strategic point where the Blue and White Niles converge. This fast-growing city is shaped by the three sections surrounding the river junction—with Khartoum, North Khartoum, and Omdurman making up a metro area of 6.3 million people.
Sudan is divided into 18 states, five of which form the Darfur region in the west. If the name Darfur is familiar, it's for good reason. In the 2000s, the region experienced a conflict marked by widespread violence, human rights abuses, and displacement, resulting in a humanitarian crisis. One of the generals involved in the current crisis, Hemedti, previously commanded the Janjaweed militias, which carried out some of the most egregious atrocities of the Darfur conflict.
In the northwest, Sudan borders the strategic Red Sea route. Port Sudan serves as the main entry point for imports and the primary export outlet for Sudanese commodities, including agricultural products (such as cotton, gum arabic, and sesame), minerals (such as gold), and livestock. The city has also been tapped to host a Russian naval base in the near future, though the recent power struggle in Sudan has potentially complicated negotiations.
As violence continues to rage in residential areas and people flee for safer areas, it remains to be seen how this conflict will influence population patterns within the country. How many people will be displaced? And once the smoke clears, will they return?
Ranked: Share of Global Arms Exports in 2022
The U.S. is the biggest weapons exporter in the world, but which other countries take up a significant share of global arms exports in 2022? And how has that share changed over time?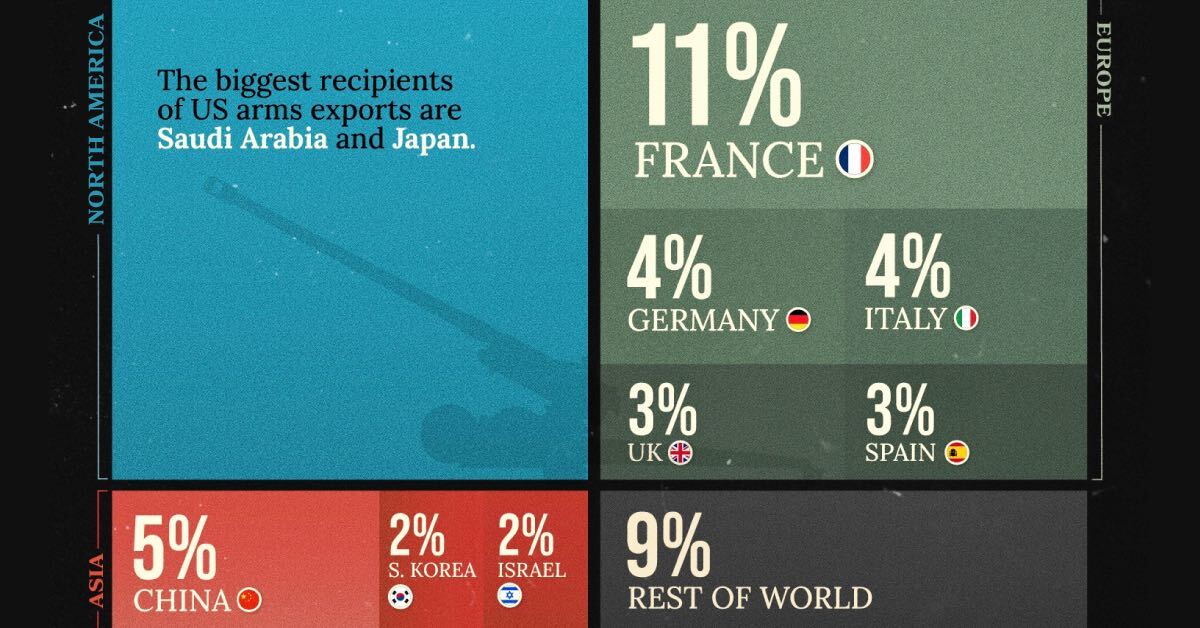 Ranked: Share of Global Arms Exports 2018–2022
In 2022, global military budgets hit $2.2 trillion, an eighth consecutive year of increase.
Part of those budgets were used for the procurement of arms, but which countries are major weapons suppliers, and how do they influence the global arms trade?
We chart out the top 10 countries with the biggest share of global arms exports using data from the Stockholm International Peace Research Institute (SIPRI).
Which Country Exports the Most Weapons?
The U.S. is the biggest weapons exporter, accounting for 40% of the total volume of international arms transfers between 2018–2022. Nearly one-fifth of these exports headed to Saudi Arabia, and other significant amounts went to Japan (8.6%) and Australia (8.4%).
Below we rank the biggest weapons exporters by share of total volume traded in 2018–2022, as well as their growth or decline from trends recorded in 2013–2017.
Rank
Country
% share of global arms exports
(2018-2022)
% change between
2013-17 & 2018-22
1
🇺🇸 U.S.
40%
+14%
2
🇷🇺 Russia
16%
-31%
3
🇫🇷 France
11%
+44%
4
🇨🇳 China
5%
-23%
5
🇩🇪 Germany
4%
-35%
6
🇮🇹 Italy
4%
+45%
7
🇬🇧 UK
3%
-35%
8
🇪🇸 Spain
3%
-4%
9
🇰🇷 South Korea
2%
+74%
10
🇮🇱 Israel
2%
-15%
N/A
🌐 Rest of World
9%
N/A
Russia (16%) and France (11%) rank close together, followed by China (5%) and Germany (4%) to round out the top five major arms exporters.
However France's export volumes grown considerably (+44%) from the previous five-year period, thanks to big sales to India, which included 62 combat aircraft and four submarines, one-third of all French weapons trade. This has resulted in France leapfrogging the U.S. as India's second-largest weapons supplier after Russia.
On the other hand, Russia's exports by volume has decreased (-31%) even before sanctions kicked in after the invasion of Ukraine. Its biggest trade partners, India and China, have prioritized developing their own weapons industries.
South Korea's Surging Weapons Exports
Another country whose arms sales are skyrocketing is South Korea, which ranks 9th in the overall share of global arms exports, but has seen a 74% increase in its export volumes. Key recipients include the Philippines, India, and Thailand.
South Korean president Yoon Suk Yeol has pledged to grow his country into the world's fourth largest arms exporter by 2027.
Interestingly, South Korea is one of three countries which is both a top-10 arms exporter and importer (along with China and the U.S.) as it has many takers for domestically produced military equipment, while simultaneously being reliant on American-produced long-range missiles and advanced combat aircraft.