Visualizing the Snowball of Government Debt
Visualizing the Snowball of Government Debt in 2021
As we approach the second half of 2021, many countries around the world are beginning to relax their COVID-19 restrictions.
And while this signals a return to normalcy for much of the global economy, there's one subject that's likely to remain controversial: government debt.
To see how each country is faring in the aftermath of an unprecedented global borrowing spree, this graphic from HowMuch.net visualizes debt-to-GDP ratios using April 2021 data from the International Monetary Fund (IMF).
Ranking the Top 10 in Government Debt
Government debt is often analyzed through the debt-to-GDP metric because it contextualizes an otherwise massive number.
Take for example the U.S. national debt, which currently sits at over $27 trillion. In isolation this figure sounds daunting, but when expressed as a % of U.S. GDP, it works out to a more relatable 133%. This format also allows us to make a better comparison between countries, especially when their economies differ in size.
With that being said, here are the top 10 countries in terms of debt-to-GDP. For further context, we've included their 2019 and 2020 values as well.
| Rank (2021) | Country | Debt-to-GDP (2019) | Debt-to-GDP (2020) | Debt-to-GDP (April 2021) |
| --- | --- | --- | --- | --- |
| #1 | 🇯🇵 Japan | 235% | 256% | 257% |
| #2 | 🇸🇩 Sudan | 200% | 262% | 212% |
| #3 | 🇬🇷 Greece | 185% | 213% | 210% |
| #4 | 🇪🇷 Eritrea | 189% | 185% | 176% |
| #5 | 🇸🇷 Suriname | 93% | 166% | 157% |
| #6 | 🇮🇹 Italy | 135% | 156% | 157% |
| #7 | 🇧🇧 Barbados | 127% | 149% | 143% |
| #8 | 🇲🇻 Maldives | 78% | 143% | 140% |
| #9 | 🇨🇻 Cape Verde | 125% | 139% | 138% |
| #10 | 🇧🇿 Belize | 98% | 127% | 135% |
Source: IMF
Japan tops the list with a ratio of 257%, though this isn't really a surprise—the country's debt-to-GDP ratio first surpassed 100% in the 1990s, and in 2010, it became the first advanced economy to reach 200%.
Such significant debt burdens are the result of non-traditional monetary policies, many of which were first implemented by Japan, then adopted by others. In the late 1990s, for instance, the Bank of Japan (BoJ) set interest rates at 0% to counter deflation and promote economic growth.
This low cost of borrowing enables businesses and governments to accumulate debt much more freely, and has seen widespread use among other developed nations post-2008.
What are the Risks?
Given that a majority of countries in this visual are red (meaning their debt-to-GDP ratios are over 50%), it's safe to say that government borrowing is common practice.
But are large government debts a cause for concern?
Some believe that excessive borrowing will lead to higher interest costs in the long run, which could detract from economic growth and public sector investment. This theory is unlikely to become a reality anytime soon, however.
A recent report by RBC Wealth Management reported that the cost of servicing U.S. federal debt actually decreased in 2020, thanks to the low borrowing costs mentioned previously.
Perhaps a more prescient question would be: how long can the world's central banks keep interest rates at near-zero levels?
Timeline: 150 Years of U.S. National Debt
This interactive visual shows how the U.S. national debt has fluctuated since 1900, as well as projections all the way to 2050.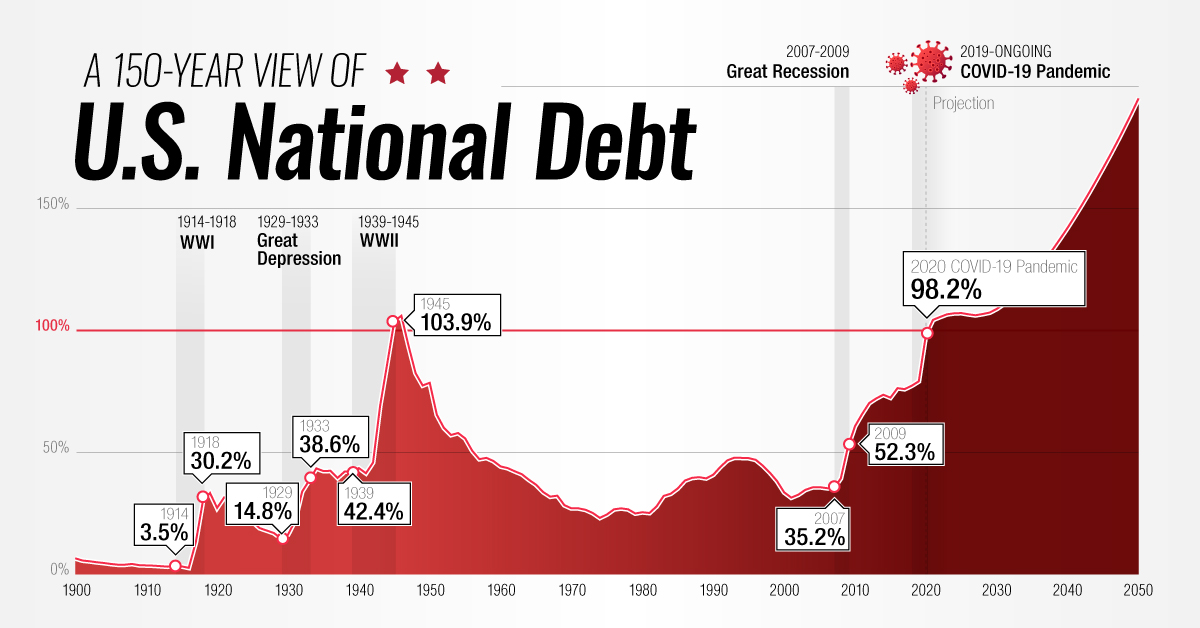 Looking Back at 150 Years of U.S. Debt
The total U.S. national debt reached an all-time high of $28 trillion* in March 2021, the largest amount ever recorded.
Recent increases to the debt have been fueled by massive fiscal stimulus bills like the CARES Act ($2.2 trillion in March 2020), the Consolidated Appropriations Act ($2.3 trillion in December 2020), and most recently, the American Rescue Plan ($1.9 trillion in March 2021).
To see how America's debt has gotten to its current point, we've created an interactive timeline using data from the Congressional Budget Office (CBO). It's crucial to note that the data set uses U.S. national debt held by the public, which excludes intergovernmental holdings.
*Editor's note: This top level figure includes intragovernmental holdings, or the roughly $6 trillion of debt owed within the government to itself.
What Influences U.S. Debt?
It's worth pointing out that the national debt hasn't always been this large.
Looking back 150 years, we can see that its size relative to GDP has fluctuated greatly, hitting multiple peaks and troughs. These movements generally correspond with events such as wars and recessions.
Decade
Gross debt at start
of decade
(USD billions)
Avg. Debt Held By Public
Throughout Decade
(% of GDP)
Major Events
1900
-
4.8%
-
1910
-
10.0%
World War I
1920
-
22.9%
The Great Depression
1930
$16
36.4%
President Roosevelt's New Deal
1940
$40
75.1%
World War II
1950
$257
56.8%
Korean War
1960
$286
37.3%
Vietnam War
1970
$371
26.1%
Stagflation (inflation + high unemployment)
1980
$908
33.7%
President Reagan's tax cuts
1990
$3,233
44.7%
Gulf War
2000
$5,674
36.6%
9/11 attacks & Global Financial Crisis
2010
$13,562
72.4%
Debt ceiling is raised by Congress
2020
$27,748
105.6%
COVID-19 pandemic
2030P
-
121.8%
-
2040P
-
164.7%
-
2050P
-
195.2%
-
Source: CBO, The Balance
To gain further insight into the history of the U.S. national debt, let's review some key economic events in America's history.
The Great Depression
After its WWI victory, the U.S. enjoyed a period of post-war prosperity commonly referred to as the Roaring Twenties.
This led to the creation of a stock market bubble which would eventually burst in 1929, causing massive damage to the U.S. economy. The country's GDP was cut in half (partially due to deflation), while the unemployment rate rose to 25%.
Government revenues dipped as a result, pushing debt held by the public as a % of GDP from its low of 15% in 1929, to a high of 44% in 1934.
World War II
WWII quickly brought the U.S. back to full employment, but it was an incredibly expensive endeavor. The total cost of the war is estimated to be over $4 trillion in today's dollars.
To finance its efforts, the U.S. relied heavily on war bonds, a type of bond that is marketed to citizens during armed conflicts. These bonds were sold in various denominations ranging from $25-$10,000 and had a 2.9% interest rate compounded semiannually.
Over 85 million Americans purchased these bonds, helping the U.S. government to raise $186 billion (not adjusted for inflation). This pushed debt above 100% of GDP for the first time ever, but was also enough to cover 63% of the war's total cost.
The Postwar Period
Following World War II, the U.S. experienced robust economic growth.
Despite involvement in the Korea and Vietnam wars, debt-to-GDP declined to a low of 23% in 1974—largely because these wars were financed by raising taxes rather than borrowing.
The economy eventually slowed in the early 1980s, prompting President Reagan to slash taxes on corporations and high earning individuals. Income taxes on the top bracket, for example, fell from 70% to 50%.
2008 Global Financial Crisis
The Global Financial Crisis served as a precursor for today's debt landscape.
Interest rates were reduced to near-zero levels to speed up the economic recovery, enabling the government to borrow with relative ease. Rates remained at these suppressed levels from 2008 to 2015, and debt-to-GDP grew from 39% to 73%.
It's important to note that even before 2008, the U.S. government had been consistently running annual budget deficits. This means that the government spends more than it earns each year through taxes.
The National Debt Today
The COVID-19 pandemic damaged many areas of the global economy, forcing governments to drastically increase their spending. At the same time, many central banks once again reduced interest rates to zero.
This has resulted in a growing snowball of government debt that shows little signs of shrinking, even though the worst of the pandemic is already behind us.
In the U.S., federal debt has reached or surpassed WWII levels. When excluding intragovernmental holdings, it now sits at 104% of GDP—and including those holdings, it sits at 128% of GDP. But while the debt is expected to grow even further, the cost of servicing this debt has actually decreased in recent years.
This is because existing government bonds, which were originally issued at higher rates, are now maturing and being refinanced to take advantage of today's lower borrowing costs.
The key takeaway from this is that the U.S. national debt will remain manageable for the foreseeable future. Longer term, however, interest expenses are expected to grow significantly—especially if interest rates begin to rise again.
Visualized: A Global Risk Assessment of 2021 And Beyond
Which risks are top of mind in 2021? We visualize the World Economic Forum's risk assessment for top global risks by impact and livelihood.
Visualized: A Global Risk Assessment of 2021 And Beyond
Risk is all around us. After the events of 2020, it's not surprising that the level and variety of risks we face have become more pronounced than ever.
Every year, the World Economic Forum analyzes the top risks in the world in its Global Risks Report. Risks were identified based on 800+ responses of surveyed leaders across various levels of expertise, organizations, and regional distribution.
Which risks are top of mind in 2021?
The World's Top Risks by Likelihood and Impact
According to WEF's risk assessment methodology, all the global risks in 2021 fall into the following broad categories:
🔵 Economic
🟢 Environmental
🟠 Geopolitical
🔴 Societal
🟣 Technological
It goes without saying that infectious diseases have now become one of the top societal risks on both metrics of likelihood and impact.
That said, environmental risks continue to dominate the leaderboard, accounting for five of the top 10 risks by impact, especially when it comes to climate action failure.
Several countries are off-track in meeting emissions goals set by the Paris Climate Agreement in 2015, while the pandemic has also delayed progress in the shift towards a carbon-neutral economy. Meanwhile, biodiversity loss is occurring at unprecedented rates.
| Rank | Top Risks by Likelihood | Top Risks by Impact |
| --- | --- | --- |
| #1 | 🟢Extreme weather | 🔴Infectious diseases |
| #2 | 🟢Climate action failure | 🟢Climate action failure |
| #3 | 🟢Human environmental damage | 🟠Weapons of mass destruction |
| #4 | 🔴Infectious diseases | 🟢Biodiversity loss |
| #5 | 🟢Biodiversity loss | 🟢Natural resource crises |
| #6 | 🟣Digital power concentration | 🟢Human environmental damage |
| #7 | 🟣Digital inequality | 🔴Livelihood crises |
| #8 | 🟠Interstate relations fracture | 🟢Extreme weather |
| #9 | 🟣Cybersecurity failure | 🔵Debt crises |
| #10 | 🔴Livelihood crises | 🟣IT Infrastructure breakdown |
As for other risks, the prospect of weapons of mass destruction ranks in third place for potential impact. In the global arms race, a single misstep would trigger severe consequences on civil and political stability.
New Risks in 2021
While many of the risks included in the Global Risks Report 2021 are familiar to those who have read the editions of years past, there are a flurry of new entries to the list this year.
Here are some of the most interesting ones in the risk assessment, sorted by category:
Societal Risks
COVID-19 has resulted in a myriad of knock-on societal risks, from youth disillusionment and mental health deterioration to livelihood crises. The first two risks in particular go hand-in-hand, as "pandemials" (youth aged 15-24) are staring down a turbulent future. This generation is more likely to report high distress from disrupted educational and economic prospects.
At the same time, as countries prepare for widespread immunization against COVID-19, another related societal risk is the backlash against science. The WEF identifies vaccines and immunization as subjects susceptible to disinformation and denial of scientific evidence.
Economic Risks
As monetary stimulus was kicked into high gear to prop up markets and support many closed businesses and quarantined families, the economic outlook seems more fragile than ever. Debt-to-GDP ratios continue to rise across advanced economies—if GDP growth stagnates for too long, a potential debt crisis could see many businesses and major nations default on their debt.
With greater stress accumulating on a range of major industries such as travel and hospitality, the economy risks a build-up of "zombie" firms that drag down overall productivity. Despite this, market valuations and asset prices continue to rise, with equity markets rewarding investors betting on a swift recovery so far.
Technological Risks
Last but not least, COVID-19 has raised the alert on various technological risks. Despite the accelerated shift towards remote work and digitalization of entire industries, the reality is that digital inequality leaves those with lower digital literacy behind—worsening existing inequalities.
Big Tech is also bloating even further, growing its digital power concentration. The market share some companies hold in their respective sectors, such as Amazon in online retail, threatens to erode the agency of other players.
Assessing the Top 10 Risks On the Horizon
Back in mid-2020, the WEF attempted to quantify the biggest risks over an 18-month period, with a prolonged economic recession emerging on top.
In this report's risk assessment, global risks are further classified by how soon their resulting threats are expected to occur. Weapons of mass destruction remain the top risk, though on a much longer scale of up to 10 years in the future.
| Rank | Risk | % | Time Horizon |
| --- | --- | --- | --- |
| #1 | 🟠Weapons of mass destruction | 62.7 | Long-term (5-10 years) |
| #2 | 🔴Infectious diseases | 58 | Short-term risks (0-2 years) |
| #3 | 🔴Livelihood crises | 55.1 | Short-term risks (0-2 years) |
| #4 | 🔵Asset bubble burst | 53.3 | Medium-term risks (3-5 years) |
| #5 | 🟣 IT infrastructure breakdown | 53.3 | Medium-term risks (3-5 years) |
| #6 | 🔵Price instability | 52.9 | Medium-term risks (3-5 years) |
| #7 | 🟢Extreme weather events | 52.7 | Short-term risks (0-2 years) |
| #8 | 🔵Commodity shocks | 52.7 | Medium-term risks (3-5 years) |
| #9 | 🔵Debt crises | 52.3 | Medium-term risks (3-5 years) |
| #10 | 🟠State collapse | 51.8 | Long-term (5-10 years) |
Through this perspective, COVID-19 (and its variants) remains high in the next two years as the world scrambles to return to normal.
It's also clear that more economic risks are taking center stage, from an asset bubble burst to price instability that could have a profound effect over the next five years.