All Electric Semi Truck Models in One Graphic

Subscribe to the Elements free mailing list for more like this
Every Electric Semi Truck in One Graphic
This was originally posted on Elements. Sign up to the free mailing list to get beautiful visualizations on natural resource megatrends in your email every week.
Electric semi trucks are coming, and they could help to decarbonize the shipping and logistics industry. However, range remains a major limitation.
This presents challenges for long-hauling, where the average diesel-powered semi can travel up to 2,000 miles before refueling. Compare this to the longest range electric model, the Tesla Semi, which promises up to 500 miles. A key word here is "promises"—the Semi is still in development, and nothing has been proven yet.
In this infographic, we've listed all of the upcoming electric semi trucks, complete with range and charge time estimates. Further in the article, we'll explore the potential commercial use cases of this first generation of trucks.
Model Overview
The following table includes all of the models included in the above infographic.
| Company | Truck Name | Range | Charge Time  | Expected Delivery |
| --- | --- | --- | --- | --- |
| 🇺🇸 Tesla | Semi | 300-500 miles | TBD | 2023 |
| 🇺🇸 Freightliner | eCascadia | 250 miles | 80% in as low as 1.5 hrs | 2022 |
| 🇸🇪 Volvo | VNR Electric | 275 miles | 80% in as low as 1 hr | 2022 |
| 🇺🇸 Kenworth | T680E | 150 miles | 100% in as low as 3.3 hrs | TBD |
| 🇺🇸 Peterbilt | 579EV | 150 miles | 100% in as low as 3.3 hrs | 2022 |
| 🇨🇳 BYD | 8TT | 167 miles | 100% in as low as 2.5 hrs | In operation |
| 🇺🇸 Nikola | Tre BEV | 350 miles | 10% to 80% in as low as 2 hrs | 2022 |
Source: US News, CNBC, InsideEVs
With the exception of Tesla's Semi, all of these trucks are currently in operation or expected to begin delivering this year. You may want to take this with a grain of salt, as the electric vehicle industry has become notorious for delays.
In terms of range, Tesla and Nikola are promising the highest figures (300+ miles), while the rest of the competition is targeting between 150 to 275 miles. It's reasonable to assume that the Tesla and Nikola semis will be the most expensive.
Charge times are difficult to compare because of the variables involved. This includes the amount of charge and the type of charger used. Nikola, for example, claims it will take 2 hours to charge its Tre BEV from 10% to 80% when using a 240kW charger.
Charger technology is also improving quickly. Tesla is believed to be rolling out a 1 MW (1,000 kW) charger that could add 400 miles of range in just 30 minutes.
Use Cases of Electric Semi Trucks
Given their relatively lower ranges, electric semis are unlikely to be used for long hauls.
Instead, they're expected to be deployed on regional and urban routes, where the total distance traveled between destinations is much lower. There are many reasons why electric semis are suited for these routes, as listed below:
Smaller batteries can be installed, which keeps the cost of the truck lower
Urban routes provide greater opportunities to use regenerative braking
Quieter and cleaner operation in densely populated areas
An example of a regional route would be delivering containers from the Port of Los Angeles to the Los Angeles Transportation Center Intermodal Facility (LATC). The LATC is where containers are loaded onto trains, and is located roughly 28 miles away.
With a round trip totaling nearly 60 miles, an electric semi with a range of 200 miles could feasibly complete this route three times before needing a charge. The truck could be charged overnight, as well as during off hours in the middle of the day.
Hydrogen for Long Hauls?
We've covered the differences between battery and hydrogen fuel cell vehicles in the past, but this was from a passenger car perspective. The conclusion, in that case, was that battery electric has become the dominant technology. In terms of long-haul trucking, however, hydrogen may have an edge.
If we look at what will become mainstream, probably for smaller mobility it will be EVs, and fuel cells for larger mobility. That is the conclusion so far.
-Toshihiro Mibe, CEO, Honda
There are several reasons for why hydrogen could be beneficial for delivering heavy cargo over long distances. These are listed below:
Refueling a hydrogen fuel cell takes less time than recharging a battery. Note, however, that charge times are still improving.
A fuel cell configuration is typically lighter than an equivalent battery pack. Less drivetrain weight translates to a higher cargo capacity.
Hydrogen-powered trucks could achieve a much higher range.
This last point hasn't been proven yet, but we can reference Nikola, which is developing hydrogen-powered semi trucks. The company has two models in the works, which are the Tre FCEV with a range of 500 miles, and the Two FCEV with a range of 900 miles.
Keep in mind that these numbers are once again estimates and that Nikola has been accused of fraud in the past.
Who's Using Electric Semi Trucks Today?
Although there are very few models available, electric semi trucks are indeed being used today.
In January 2020, Anheuser-Busch announced that it had received its 100th 8TT. The 8TT is produced by China's BYD Motors and was one of the first electric semis to see real-world application. The brewing company uses its 8TTs to deliver products to retail destinations across California (e.g. grocery stores).
Another U.S. company using electric semis is Walmart. The retailer is trialing both the eCascadia from Freightliner and the Tre BEV from Nikola. The trucks are being used to pick up cargo from suppliers and then deliver it to regional consolidation centers.
The Top 10 EV Battery Manufacturers in 2022
Despite efforts from the U.S. and Europe to increase the domestic production of batteries, the market is still dominated by Asian suppliers.
The Top 10 EV Battery Manufacturers in 2022
This was originally posted on Elements. Sign up to the free mailing list to get beautiful visualizations on natural resource megatrends in your email every week.
The global electric vehicle (EV) battery market is expected to grow from $17 billion to more than $95 billion between 2019 and 2028.
With increasing demand to decarbonize the transportation sector, companies producing the batteries that power EVs have seen substantial momentum.
Here we update our previous graphic of the top 10 EV battery manufacturers, bringing you the world's biggest battery manufacturers in 2022.
Chinese Dominance
Despite efforts from the United States and Europe to increase the domestic production of batteries, the market is still dominated by Asian suppliers.
The top 10 producers are all Asian companies.
Currently, Chinese companies make up 56% of the EV battery market, followed by Korean companies (26%) and Japanese manufacturers (10%).
The leading battery supplier, CATL, expanded its market share from 32% in 2021 to 34% in 2022. One-third of the world's EV batteries come from the Chinese company. CATL provides lithium-ion batteries to Tesla, Peugeot, Hyundai, Honda, BMW, Toyota, Volkswagen, and Volvo.
| Rank | Company | 2022 Market Share | Country |
| --- | --- | --- | --- |
| #1 | CATL | 34% | China 🇨🇳 |
| #2 | LG Energy Solution | 14% | Korea 🇰🇷 |
| #3 | BYD | 12% | China 🇨🇳 |
| #4 | Panasonic | 10% | Japan 🇯🇵 |
| #5 | SK Innovation | 7% | Korea 🇰🇷 |
| #6 | Samsung SDI | 5% | Korea 🇰🇷 |
| #7 | CALB | 4% | China 🇨🇳 |
| #8 | Guoxuan | 3% | China 🇨🇳 |
| #9 | Sunwoda | 2% | China 🇨🇳 |
| #10 | SVOLT | 1% | China 🇨🇳 |
| | Other | 8% | ROW 🌐 |
Despite facing strict scrutiny after EV battery-fire recalls in the United States, LG Energy Solution remains the second-biggest battery manufacturer. In 2021, the South Korean supplier agreed to reimburse General Motors $1.9 billion to cover the 143,000 Chevy Bolt EVs recalled due to fire risks from faulty batteries.
BYD took the third spot from Panasonic as it nearly doubled its market share over the last year. The Warren Buffett-backed company is the world's third-largest automaker by market cap, but it also produces batteries sold in markets around the world. Recent sales figures point to BYD overtaking LG Energy Solution in market share the coming months or years.
The Age of Battery Power
Electric vehicles are here to stay, while internal combustion engine (ICE) vehicles are set to fade away in the coming decades. Recently, General Motors announced that it aims to stop selling ICE vehicles by 2035, while Audi plans to stop producing such models by 2033.
Besides EVs, battery technology is essential for the energy transition, providing storage capacity for intermittent solar and wind generation.
As battery makers work to supply the EV transition's increasing demand and improve energy density in their products, we can expect more interesting developments within this industry.
Visualizing the Range of Electric Cars vs. Gas-Powered Cars
With range anxiety being a barrier to EV adoption, how far can an electric car go on one charge, and how do EV ranges compare with gas cars?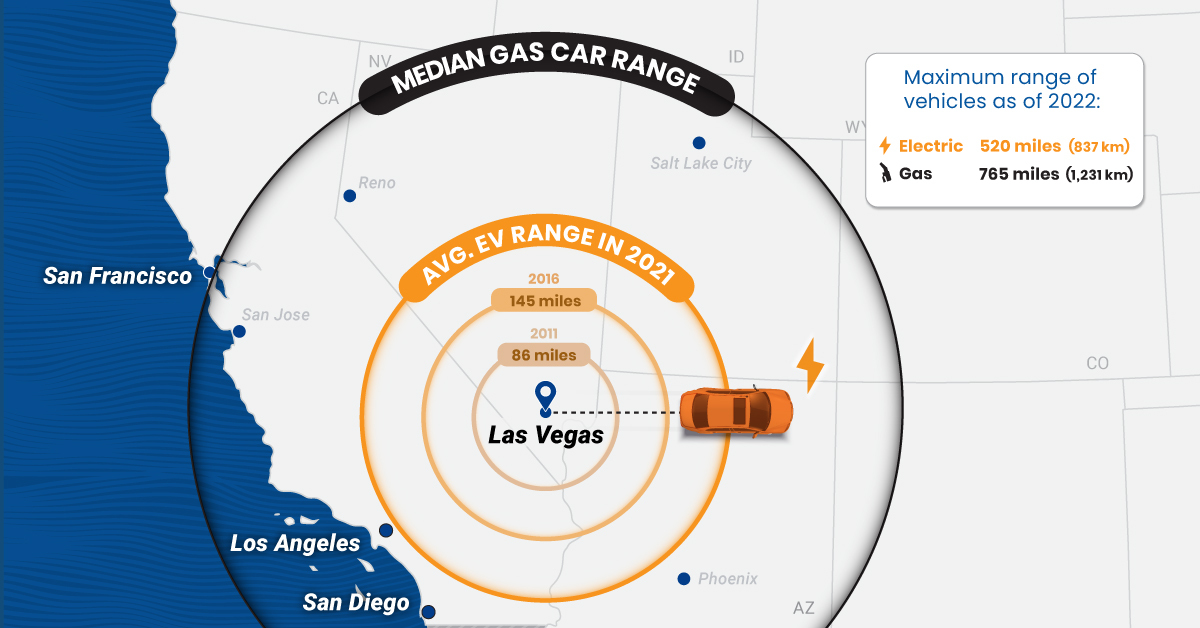 The Range of Electric Cars vs. Gas-Powered Cars
This was originally posted on Elements. Sign up to the free mailing list to get beautiful visualizations on natural resource megatrends in your email every week.
EV adoption has grown rapidly in recent years, but many prospective buyers still have doubts about electric car ranges.
In fact, 33% of new car buyers chose range anxiety—the concern about how far an EV can drive on a full charge—as their top inhibitor to purchasing electric cars in a survey conducted by EY.
So, how far can the average electric car go on one charge, and how does that compare with the typical range of gas-powered cars?
The Rise in EV Ranges
Thanks to improvements in battery technology, the average range of electric cars has more than doubled over the last decade, according to data from the International Energy Agency (IEA).
| Year | Avg. EV Range | Maximum EV Range |
| --- | --- | --- |
| 2010 | 79 miles (127 km) | N/A |
| 2011 | 86 miles (138 km) | 94 miles (151 km) |
| 2012 | 99 miles (159 km) | 265 miles (426 km) |
| 2013 | 117 miles (188 km) | 265 miles (426 km) |
| 2014 | 130 miles (209 km) | 265 miles (426 km) |
| 2015 | 131 miles (211 km) | 270 miles (435 km) |
| 2016 | 145 miles (233 km) | 315 miles (507 km) |
| 2017 | 151 miles (243 km) | 335 miles (539 km) |
| 2018 | 189 miles (304 km) | 335 miles (539 km) |
| 2019 | 209 miles (336 km) | 370 miles (595 km) |
| 2020 | 210 miles (338 km) | 402 miles (647 km) |
| 2021 | 217 miles (349 km) | 520 miles* (837 km) |
*Max range for EVs offered in the United States.
Source: IEA, U.S. DOE
As of 2021, the average battery-powered EV could travel 217 miles (349 km) on a single charge. It represents a 44% increase from 151 miles (243 km) in 2017 and a 152% increase relative to a decade ago.
Despite the steady growth, EVs still fall short when compared to gas-powered cars. For example, in 2021, the median gas car range (on one full tank) in the U.S. was around 413 miles (664 km)—nearly double what the average EV would cover.
As automakers roll out new models, electric car ranges are likely to continue increasing and could soon match those of their gas-powered counterparts. It's important to note that EV ranges can change depending on external conditions.
What Affects EV Ranges?
In theory, EV ranges depend on battery capacity and motor efficiency, but real-world results can vary based on several factors:
Weather: At temperatures below 20℉ (-6.7℃), EVs can lose around 12% of their range, rising to 41% if heating is turned on inside the vehicle.
Operating Conditions: Thanks to regenerative braking, EVs may extend their maximum range during city driving.
Speed: When driving at high speeds, EV motors spin faster at a less efficient rate. This may result in range loss.
On the contrary, when driven at optimal temperatures of about 70℉ (21.5℃), EVs can exceed their rated range, according to an analysis by Geotab.
The 10 Longest-Range Electric Cars in America
Here are the 10 longest-range electric cars available in the U.S. as of 2022, based on Environmental Protection Agency (EPA) range estimates:
| Car | Range On One Full Charge | Estimated Base Price |
| --- | --- | --- |
| Lucid Air | 520 miles (837 km) | $170,500 |
| Tesla Model S | 405 miles (652 km) | $106,190 |
| Tesla Model 3 | 358 miles (576 km) | $59,440 |
| Mercedes EQS | 350 miles (563 km) | $103,360 |
| Tesla Model X | 348 miles (560 km) | $122,440 |
| Tesla Model Y | 330 miles (531 km) | $67,440 |
| Hummer EV | 329 miles (529 km) | $110,295 |
| BMW iX | 324 miles (521 km) | $84,195 |
| Ford F-150 Lightning | 320 miles (515 km) | $74,169 |
| Rivian R1S | 316 miles (509 km) | $70,000 |
Source: Car and Driver
The top-spec Lucid Air offers the highest range of any EV with a price tag of $170,500, followed by the Tesla Model S. But the Tesla Model 3 offers the most bang for your buck if range and price are the only two factors in consideration.