All Electric Semi Truck Models in One Graphic

Subscribe to the Elements free mailing list for more like this
Every Electric Semi Truck in One Graphic
This was originally posted on Elements. Sign up to the free mailing list to get beautiful visualizations on natural resource megatrends in your email every week.
Electric semi trucks are coming, and they could help to decarbonize the shipping and logistics industry. However, range remains a major limitation.
This presents challenges for long-hauling, where the average diesel-powered semi can travel up to 2,000 miles before refueling. Compare this to the longest range electric model, the Tesla Semi, which promises up to 500 miles. A key word here is "promises"—the Semi is still in development, and nothing has been proven yet.
In this infographic, we've listed all of the upcoming electric semi trucks, complete with range and charge time estimates. Further in the article, we'll explore the potential commercial use cases of this first generation of trucks.
Model Overview
The following table includes all of the models included in the above infographic.
| Company | Truck Name | Range | Charge Time  | Expected Delivery |
| --- | --- | --- | --- | --- |
| 🇺🇸 Tesla | Semi | 300-500 miles | TBD | 2023 |
| 🇺🇸 Freightliner | eCascadia | 250 miles | 80% in as low as 1.5 hrs | 2022 |
| 🇸🇪 Volvo | VNR Electric | 275 miles | 80% in as low as 1 hr | 2022 |
| 🇺🇸 Kenworth | T680E | 150 miles | 100% in as low as 3.3 hrs | TBD |
| 🇺🇸 Peterbilt | 579EV | 150 miles | 100% in as low as 3.3 hrs | 2022 |
| 🇨🇳 BYD | 8TT | 167 miles | 100% in as low as 2.5 hrs | In operation |
| 🇺🇸 Nikola | Tre BEV | 350 miles | 10% to 80% in as low as 2 hrs | 2022 |
Source: US News, CNBC, InsideEVs
With the exception of Tesla's Semi, all of these trucks are currently in operation or expected to begin delivering this year. You may want to take this with a grain of salt, as the electric vehicle industry has become notorious for delays.
In terms of range, Tesla and Nikola are promising the highest figures (300+ miles), while the rest of the competition is targeting between 150 to 275 miles. It's reasonable to assume that the Tesla and Nikola semis will be the most expensive.
Charge times are difficult to compare because of the variables involved. This includes the amount of charge and the type of charger used. Nikola, for example, claims it will take 2 hours to charge its Tre BEV from 10% to 80% when using a 240kW charger.
Charger technology is also improving quickly. Tesla is believed to be rolling out a 1 MW (1,000 kW) charger that could add 400 miles of range in just 30 minutes.
Use Cases of Electric Semi Trucks
Given their relatively lower ranges, electric semis are unlikely to be used for long hauls.
Instead, they're expected to be deployed on regional and urban routes, where the total distance traveled between destinations is much lower. There are many reasons why electric semis are suited for these routes, as listed below:
Smaller batteries can be installed, which keeps the cost of the truck lower
Urban routes provide greater opportunities to use regenerative braking
Quieter and cleaner operation in densely populated areas
An example of a regional route would be delivering containers from the Port of Los Angeles to the Los Angeles Transportation Center Intermodal Facility (LATC). The LATC is where containers are loaded onto trains, and is located roughly 28 miles away.
With a round trip totaling nearly 60 miles, an electric semi with a range of 200 miles could feasibly complete this route three times before needing a charge. The truck could be charged overnight, as well as during off hours in the middle of the day.
Hydrogen for Long Hauls?
We've covered the differences between battery and hydrogen fuel cell vehicles in the past, but this was from a passenger car perspective. The conclusion, in that case, was that battery electric has become the dominant technology. In terms of long-haul trucking, however, hydrogen may have an edge.
If we look at what will become mainstream, probably for smaller mobility it will be EVs, and fuel cells for larger mobility. That is the conclusion so far.
-Toshihiro Mibe, CEO, Honda
There are several reasons for why hydrogen could be beneficial for delivering heavy cargo over long distances. These are listed below:
Refueling a hydrogen fuel cell takes less time than recharging a battery. Note, however, that charge times are still improving.
A fuel cell configuration is typically lighter than an equivalent battery pack. Less drivetrain weight translates to a higher cargo capacity.
Hydrogen-powered trucks could achieve a much higher range.
This last point hasn't been proven yet, but we can reference Nikola, which is developing hydrogen-powered semi trucks. The company has two models in the works, which are the Tre FCEV with a range of 500 miles, and the Two FCEV with a range of 900 miles.
Keep in mind that these numbers are once again estimates and that Nikola has been accused of fraud in the past.
Who's Using Electric Semi Trucks Today?
Although there are very few models available, electric semi trucks are indeed being used today.
In January 2020, Anheuser-Busch announced that it had received its 100th 8TT. The 8TT is produced by China's BYD Motors and was one of the first electric semis to see real-world application. The brewing company uses its 8TTs to deliver products to retail destinations across California (e.g. grocery stores).
Another U.S. company using electric semis is Walmart. The retailer is trialing both the eCascadia from Freightliner and the Tre BEV from Nikola. The trucks are being used to pick up cargo from suppliers and then deliver it to regional consolidation centers.
Charted: 40 Years of Global Energy Production, by Country
Here's a snapshot of global energy production, and which countries have produced the most fossil fuels, nuclear, and renewable energy since 1980.

Creator Program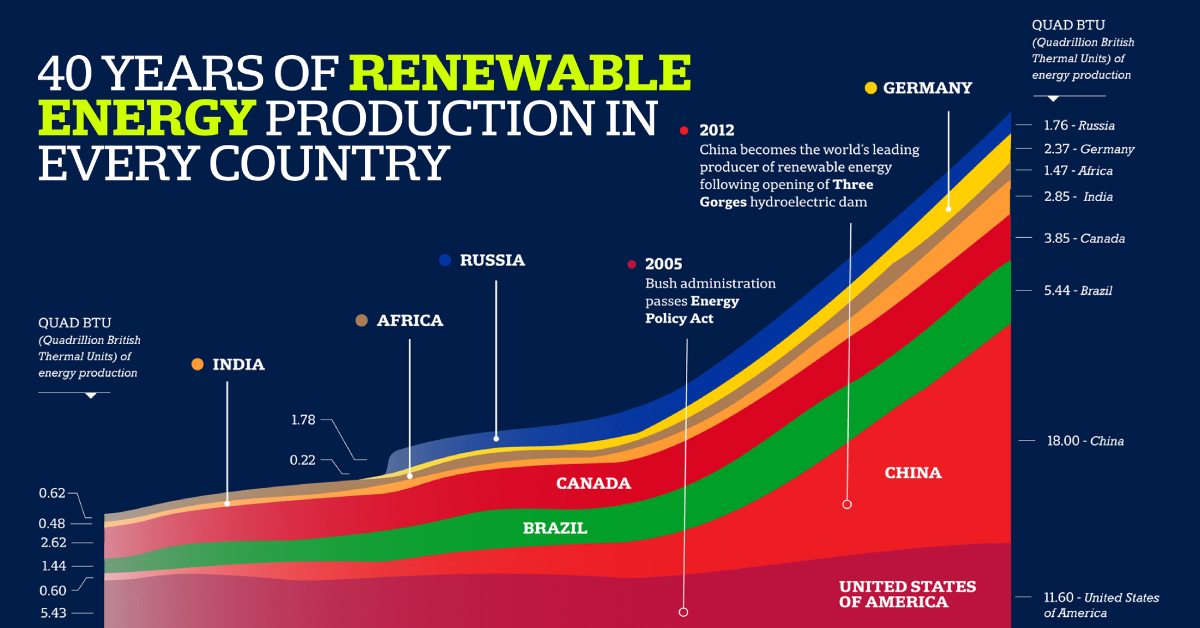 Energy was already a hot topic before 2022, but soaring household energy bills and a cost of living crisis has brought it even more to the forefront.
Which countries are the biggest energy producers, and what types of energy are they churning out? This graphic by 911 Metallurgist gives a breakdown of global energy production, showing which countries have used the most fossil fuels, nuclear, and renewable energy since 1980.
All figures refer to the British thermal unit (BTU), equivalent to the heat required to heat one pound of water by one degree Fahrenheit.
Editor's note: Click on any graphic to see a full-width version that is higher resolution
1. Fossil Fuels
View the full-size infographic
While the U.S. is a dominant player in both oil and natural gas production, China holds the top spot as the world's largest fossil fuel producer, largely because of its significant production and consumption of coal.
Over the last decade, China has used more coal than the rest of the world, combined.
However, it's worth noting that the country's fossil fuel consumption and production have dipped in recent years, ever since the government launched a five-year plan back in 2014 to help reduce carbon emissions.
2. Nuclear Power
View the full-size infographic
The U.S. is the world's largest producer of nuclear power by far, generating about double the amount of nuclear energy as France, the second-largest producer.
While nuclear power provides a carbon-free alternative to fossil fuels, the nuclear disaster in Fukushima caused many countries to move away from the energy source, which is why global use has dipped in recent years.
Despite the fact that many countries have recently pivoted away from nuclear energy, it still powers about 10% of the world's electricity. It's also possible that nuclear energy will play an expanded role in the energy mix going forward, since decarbonization has emerged as a top priority for nations around the world.
3. Renewable Energy
View the full-size infographic
Renewable energy sources (including wind, hydro, and solar) account for about 23% of electricity production worldwide. China leads the front on renewable production, while the U.S. comes in second place.
While renewable energy production has ramped up in recent years, more countries will need to ramp up their renewable energy production in order to reach net-zero targets by 2050.
What is the Cost of Europe's Energy Crisis?
As European gas prices soar, countries are introducing policies to try and curb the energy crisis.
What is the Cost of Europe's Energy Crisis?
This was originally posted on Elements. Sign up to the free mailing list to get beautiful visualizations on natural resource megatrends in your email every week.
Europe is scrambling to cut its reliance on Russian fossil fuels.
As European gas prices soar eight times their 10-year average, countries are introducing policies to curb the impact of rising prices on households and businesses. These include everything from the cost of living subsidies to wholesale price regulation. Overall, funding for such initiatives has reached $276 billion as of August.
With the continent thrown into uncertainty, the above chart shows allocated funding by country in response to the energy crisis.
The Energy Crisis, In Numbers
Using data from Bruegel, the below table reflects spending on national policies, regulation, and subsidies in response to the energy crisis for select European countries between September 2021 and July 2022. All figures in U.S. dollars.
Country
Allocated Funding
Percentage of GDP
Household Energy Spending,
Average Percentage
🇩🇪 Germany
$60.2B
1.7%
9.9%
🇮🇹 Italy
$49.5B
2.8%
10.3%
🇫🇷 France
$44.7B
1.8%
8.5%
🇬🇧 U.K.
$37.9B
1.4%
11.3%
🇪🇸 Spain
$27.3B
2.3%
8.9%
🇦🇹 Austria
$9.1B
2.3%
8.9%
🇵🇱 Poland
$7.6B
1.3%
12.9%
🇬🇷 Greece
$6.8B
3.7%
9.9%
🇳🇱 Netherlands
$6.2B
0.7%
8.6%
🇨🇿 Czech Republic
$5.9B
2.5%
16.1%
🇧🇪 Belgium
$4.1B
0.8%
8.2%
🇷🇴 Romania
$3.8B
1.6%
12.5%
🇱🇹 Lithuania
$2.0B
3.6%
10.0%
🇸🇪 Sweden
$1.9B
0.4%
9.2%
🇫🇮 Finland
$1.2B
0.5%
6.1%
🇸🇰 Slovakia
$1.0B
1.0%
14.0%
🇮🇪 Ireland
$1.0B
0.2%
9.2%
🇧🇬 Bulgaria
$0.8B
1.2%
11.2%
🇱🇺 Luxembourg
$0.8B
1.1%
n/a
🇭🇷 Croatia
$0.6B
1.1%
14.3%
🇱🇻 Lativia
$0.5B
1.4%
11.6%
🇩🇰 Denmark
$0.5B
0.1%
8.2%
🇸🇮 Slovenia
$0.3B
0.5%
10.4%
🇲🇹 Malta
$0.2B
1.4%
n/a
🇪🇪 Estonia
$0.2B
0.8%
10.9%
🇨🇾 Cyprus
$0.1B
0.7%
n/a
Source: Bruegel, IMF. Euro and pound sterling exchange rates to U.S. dollar as of August 25, 2022.
Germany is spending over $60 billion to combat rising energy prices. Key measures include a $300 one-off energy allowance for workers, in addition to $147 million in funding for low-income families. Still, energy costs are forecasted to increase by an additional $500 this year for households.
In Italy, workers and pensioners will receive a $200 cost of living bonus. Additional measures, such as tax credits for industries with high energy usage were introduced, including a $800 million fund for the automotive sector.
With energy bills predicted to increase three-fold over the winter, households in the U.K. will receive a $477 subsidy in the winter to help cover electricity costs.
Meanwhile, many Eastern European countries—whose households spend a higher percentage of their income on energy costs— are spending more on the energy crisis as a percentage of GDP. Greece is spending the highest, at 3.7% of GDP.
Utility Bailouts
Energy crisis spending is also extending to massive utility bailouts.
Uniper, a German utility firm, received $15 billion in support, with the government acquiring a 30% stake in the company. It is one of the largest bailouts in the country's history. Since the initial bailout, Uniper has requested an additional $4 billion in funding.
Not only that, Wien Energie, Austria's largest energy company, received a €2 billion line of credit as electricity prices have skyrocketed.
Deepening Crisis
Is this the tip of the iceberg? To offset the impact of high gas prices, European ministers are discussing even more tools throughout September in response to a threatening energy crisis.
To reign in the impact of high gas prices on the price of power, European leaders are considering a price ceiling on Russian gas imports and temporary price caps on gas used for generating electricity, among others.
Price caps on renewables and nuclear were also suggested.
Given the depth of the situation, the chief executive of Shell said that the energy crisis in Europe would extend beyond this winter, if not for several years.