Energy Sources 101: These Short Videos Explain the Basics
If you've ever searched online for unbiased and fact-driven articles on energy, you've probably noticed that they can be quite rare. Almost every information source seems to be pushing an agenda.
Energy is a touchy subject, and billions of dollars are spent each year to campaign on issues surrounding fossil fuels, renewable energy funding, pipelines, environmental concerns, and fracking.
With so much at stake, special interest groups, governments, and corporations are constantly engaged to "win the war" on information by putting their own spin on facts. This creates a tangled web that is tough to navigate for any inquisitive person.
Energy Sources 101
Well, we have good news – recently, we came across a pretty nifty Youtube channel that is visual, intuitive, and fact-driven. It focuses on providing introductory information on different energy sources.
The Student Energy Movement aims to be a "universal entry point for learning about the energy system" by delivering accurate and unbiased energy information. Here's some of the videos we thought were worthwhile, highlighting both the pros and cons of different energy sources:
Hydro
Explains how hydro power works, but also touches on pumped hydro (energy storage) and pros/cons.
Nuclear
The difference between fission and fusion, as well as the benefits and drawbacks of nuclear energy.
Oil
Explains how oil is formed, and also how it is processed and transported.
Natural Gas
Explains wet and dry gas, as well as how gas is extracted and processed.
Solar
Discusses both photovoltaic and solar thermal. For more information on how each of those types work, go here and here.
Also, here's links to additional videos on energy sources such as geothermal, biofuels, coal, wind, and tidal.
Other Energy Topics
But that's not all – the organization has also produced great videos on topics like fracking, in situ oil sands production, liquefied natural gas, and hydrogen.
Here are those videos in case you want to dive deeper into other energy topics:
Hydraulic Fracturing
Explains how "fracking" works.
In Situ Oil Sands Production
An alternative to mining in the oil sands, this video show how in situ production works.
Liquefied Natural Gas
This video shows how natural gas is liquefied, and transported to other markets.
Hydrogen
Examines the potential of hydrogen, along with the issues surrounding it. Also explains how fuel cells work.
Visualizing U.S. Consumption of Fuel and Materials per Capita
Wealthy countries consume large amounts of natural resources per capita, and the U.S. is no exception. See how much is used per person.
Visualizing U.S. Consumption of Fuel and Materials per Capita
This was originally posted on Elements. Sign up to the free mailing list to get beautiful visualizations on natural resource megatrends in your email every week.
Wealthy countries consume massive amounts of natural resources per capita, and the United States is no exception.
According to data from the National Mining Association, each American needs more than 39,000 pounds (17,700 kg) of minerals and fossil fuels annually to maintain their standard of living.
Materials We Need to Build
Every building around us and every sidewalk we walk on is made of sand, steel, and cement.
As a result, these materials lead consumption per capita in the United States. On average, each person in America drives the demand of over 10,000 lbs of stone and around 7,000 lbs of sand and gravel per year.
| Material/Fossil Fuel | Pounds Per Person |
| --- | --- |
| Stone | 10,643 |
| Natural Gas | 9,456 |
| Sand, Gravel | 7,088 |
| Petroleum Products | 6,527 |
| Coal | 3,290 |
| Cement | 724 |
| Other Nonmetals | 569 |
| Salt | 359 |
| Iron Ore | 239 |
| Phosphate Rock | 166 |
| Sulfur | 66 |
| Potash | 49 |
| Soda Ash | 36 |
| Bauxite (Aluminum) | 24 |
| Other Metals | 21 |
| Copper | 13 |
| Lead | 11 |
| Zinc | 6 |
| Manganese | 4 |
| Total | 39,291 |
The construction industry is a major contributor to the U.S. economy.
Crushed stone, sand, gravel, and other construction aggregates represent half of the industrial minerals produced in the country, resulting in $29 billion in revenue per year.
Also on the list are crucial hard metals such as copper, aluminum, iron ore, and of course many rarer metals used in smaller quantities each year. These rarer metals can make a big economic difference even when their uses are more concentrated and isolated—for example, palladium (primarily used in catalytic converters) costs $54 million per tonne.
Fuels Powering our Lives
Despite ongoing efforts to fight climate change and reduce carbon emissions, each person in the U.S. uses over 19,000 lbs of fossil fuels per year.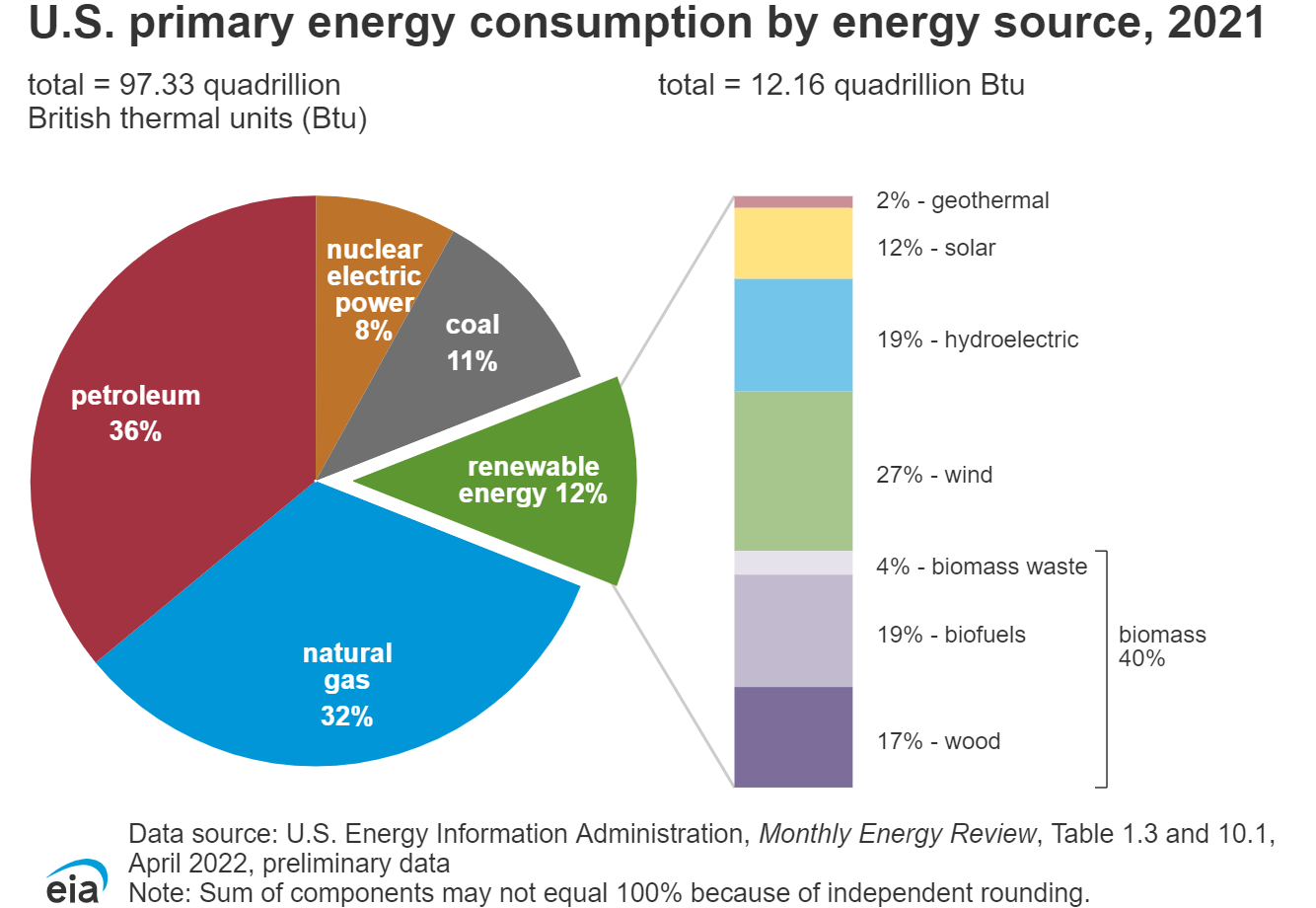 Gasoline is the most consumed petroleum product in the United States.
In 2021, finished motor gasoline consumption averaged about 369 million gallons per day, equal to about 44% of total U.S. petroleum use. Distillate fuel oil (20%), hydrocarbon gas liquids (17%), and jet fuel (7%) were the next most important uses.
Reliance on Other Countries
Over the past three decades, the United States has become reliant on foreign sources to meet domestic demand for minerals and fossil fuels. Today, the country is 100% import-reliant for 17 mineral commodities and at least 50% for 30 others.
In order to reduce the dependency on other countries, namely China, the Biden administration has been working to diversify supply chains in critical minerals. This includes strengthening alliances with other countries such as Australia, India, and Japan.
However, questions still remain about how soon these policies can make an impact, and the degree to which they can ultimately help localize and diversify supply chains.