Banks Hit With Record Fines for Forex Manipulation [Chart]
Banks Hit With Record Fines for Forex Manipulation [Chart]
The Chart of the Week is a weekly feature in Visual Capitalist on Fridays.
Few things in life are guaranteed. There's death and taxes of course, but is anything else inevitable?
We'd say the cat and mouse game between regulators and financial institutions ranks up there. The rodents are usually pretty elusive, but this week the cat had them cornered and made off with their lunch.
On Wednesday, six major banks got more than just their wrists slapped by various authorities including The Fed, the Department of Justice, the Commodity Futures Trading Commission, the New York State Department of Financial Services, and the U.K. Financial Conduct Authority.
The total fines add up to nearly $6 billion for the manipulation of foreign currency rates for the benefit of traders. The biggest hit this week was to Barclays, with the bank getting a $2.5 billion fine in the probe. Barclays, along with three other banks (Citi, JPMorgan, and RBS) had pleaded guilty to criminal charges for forex manipulation with the market prices for US dollars and euros. UBS, the bank that was granted immunity in the antitrust case, did also plead guilty to manipulating LIBOR.
The guilty pleads are no surprise, as the details of these collusion allegations are pretty damning. Evidence of trader conversations in chatrooms have been leaked by authorities and there are pages upon pages of them.
Some of the classics (from above sources):
"If you aint cheating, you aint trying."
"its just amazing how libor fixing can make you that much money"
"give the rate that was most advantageous to the bank, but would not make the customer go away!"
"JUST BE CAREFUL DUDE." "I agree we shouldn't ve been talking about putting fixings for our positions on public chat."
Yes, you probably shouldn't be talking about putting fixings on positions in public chat. Enjoy your new job (probably working for some government agency "teaching" them how forex manipulation works).
Charted: What are Retail Investors Interested in Buying in 2023?
What key themes and strategies are retail investors looking at for the rest of 2023? Preview: AI is a popular choice.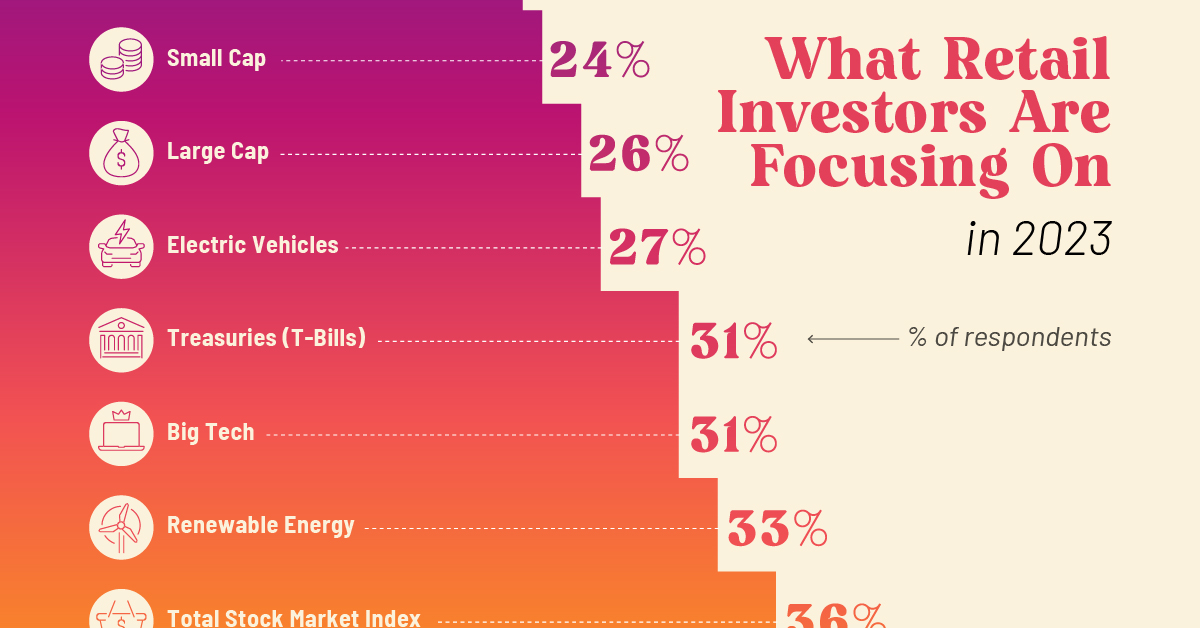 Charted: Retail Investors' Top Picks for 2023
U.S. retail investors, enticed by a brief pause in the interest rate cycle, came roaring back in the early summer. But what are their investment priorities for the second half of 2023?
We visualized the data from Public's 2023 Retail Investor Report, which surveyed 1,005 retail investors on their platform, asking "which investment strategy or themes are you interested in as part of your overall investment strategy?"
Survey respondents ticked all the options that applied to them, thus their response percentages do not sum to 100%.
Where Are Retail Investors Putting Their Money?
By far the most popular strategy for retail investors is dividend investing with 50% of the respondents selecting it as something they're interested in.
Dividends can help supplement incomes and come with tax benefits (especially for lower income investors or if the dividend is paid out into a tax-deferred account), and can be a popular choice during more inflationary times.
| Investment Strategy | Percent of Respondents |
| --- | --- |
| Dividend Investing | 50% |
| Artificial Intelligence | 36% |
| Total Stock Market Index | 36% |
| Renewable Energy | 33% |
| Big Tech | 31% |
| Treasuries (T-Bills) | 31% |
| Electric Vehicles | 27% |
| Large Cap | 26% |
| Small Cap | 24% |
| Emerging Markets | 23% |
| Real Estate | 23% |
| Gold & Precious Metals | 23% |
| Mid Cap | 19% |
| Inflation Protection | 13% |
| Commodities | 12% |
Meanwhile, the hype around AI hasn't faded, with 36% of the respondents saying they'd be interested in investing in the theme—including juggernaut chipmaker Nvidia. This is tied for second place with Total Stock Market Index investing.
Treasury Bills (30%) represent the safety anchoring of the portfolio but the ongoing climate crisis is also on investors' minds with Renewable Energy (33%) and EVs (27%) scoring fairly high on the interest list.
Commodities and Inflation-Protection stocks on the other hand have fallen out of favor.
Come on Barbie, Let's Go Party…
Another interesting takeaway pulled from the survey is how conversations about prevailing companies—or the buzz around them—are influencing trades. The platform found that public investors in Mattel increased 6.6 times after the success of the 'Barbie' movie.
Bud Light also saw a 1.5x increase in retail investors, despite receiving negative attention from their fans after the company did a beer promotion campaign with trans influencer Dylan Mulvaney.
Given the origin story of a large chunk of American retail investors revolves around GameStop and AMC, these insights aren't new, but they do reveal a persisting trend.