12 Brand Archetypes That Marketers Use to Get Your Attention
Every day, we get bombarded with over 5,000 ads or brand messages vying to capture our attention.
Most of them get deflected by our unconscious minds and hold little relevance or appeal to our daily lives. But at the same time, a select few of these messages get through to us, and we may even feel a sense of personal identity with them.
Sure, these brands might sell products that we like – but it's also the storytelling behind the brand's messaging that can resonate with our individual lives.
Brand Archetypes
How do brands craft symbolism and messaging that have consistent appeal?
There are many strategies and techniques used by marketers to accomplish this, but one interesting way to view it is through the lens of archetypes. Brands can anchor their communications to enduring personas or profiles that feed into the human experience, and this allows consumers to identify narratives and symbolism quickly and effectively.
Archetypes are the heartbeat of a brand because they convey a meaning that makes customers relate to a product as if it actually were alive in some way, they have a relationship with it and care about it.
– The Hero and the Outlaw: Building Extraordinary Brands Through the Power of Archetypes
The following 12 archetypes were defined by Swiss psychiatrist Carl Jung and are commonly cited in the fields of marketing, psychology, anthropology, and other social sciences. The graphic comes from a guide put together by Iconic Fox:
Each brand archetype slots in with the common narratives we see and experience regularly in our culture.
Which do you think Harley Davidson matches the best? What about a brand like Apple?
Brand Archetype Examples
Here are two example archetypes – also from Iconic Fox – that will help better demonstrate the concept. It's worth looking closely at the brand voice, strategies, and values exemplified by each archetype, and thinking about how they connect to human storytelling and the types of characters we are familiar with throughout history.
We'll start with "The Outlaw"…
About "The Outlaw"
James Dean. William Wallace. Hermoine Granger. Jack Sparrow.
These are all people or characters that see rules as things that are meant to be broken, especially in the name of liberation. The Outlaw appeals to people and stories driven by independence, righteousness, change, and even revenge – and when used as a brand archetype, The Outlaw conveys a message that one can do better than the status quo.
Harley Davidson is a fantastic example of a brand that fits with this archetype.
Next up is "The Creator"…
About "The Creator"
Tony Stark. Carrie Bradshaw. John Hammond. Nüwa.
These are all people or characters that see the value of creation of new things. The Creator appeals to those that value self-expression, vision, imagination, and inspiration.
Apple is the iconic brand associated with this archetype, but Lego, Adobe, and Etsy could be considered good fits as well.
More Brand Archetypes
In a world with no shortage of media stimuli, brand archetypes enable marketers to pin down specific imagery and ideas that they know can make a direct impact with their audience. Archetypes are enduring, tried-and-true representations of the stories we have told ourselves for centuries, and that some would even say are entrenched in human nature.
For more on archetypes in marketing, including expanded definitions on the other 10 that we did not cover in depth here, we recommend reading the graphical guide put together by Iconic Fox.

A Visual Guide to Human Emotion
For years, humans have attempted to categorize and codify human emotion. Here are those attempts, visualized.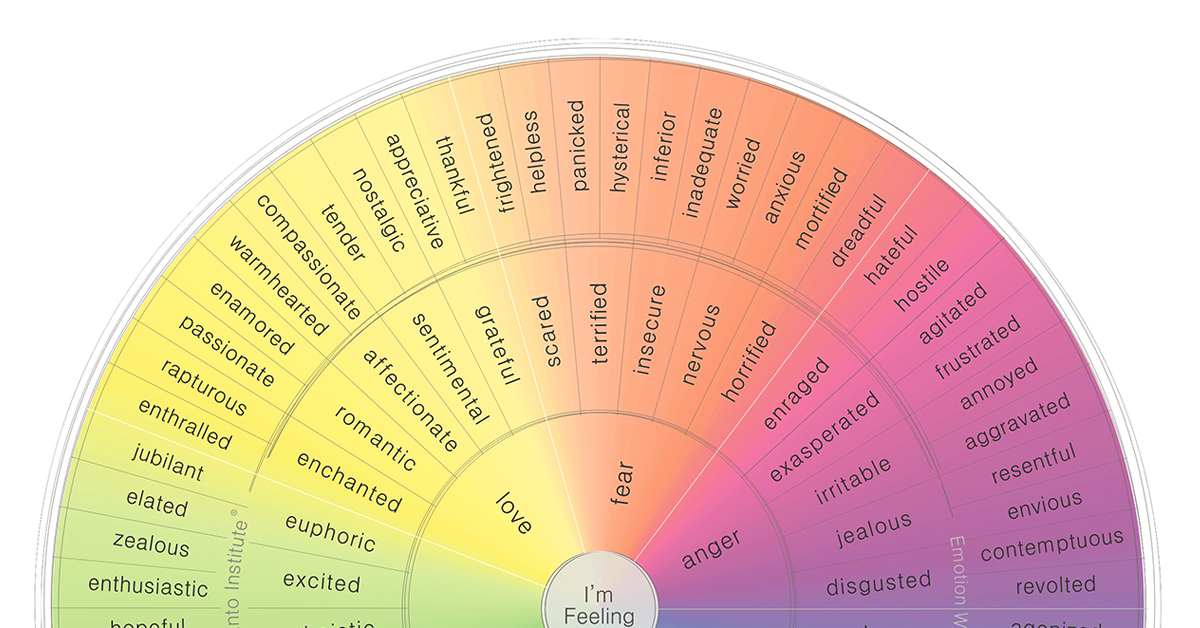 A Visual Guide to Human Emotion
Despite vast differences in culture around the world, humanity's DNA is 99.9% similar.
There are few attributes more central and universal to the human experience than our emotions. Of course, the broad spectrum of emotions we're capable of experiencing can be difficult to articulate. That's where this brilliant visualization by the Junto Institute comes in.
This circular visualization is the latest in an ongoing attempt to neatly categorize the full range of emotions in a logical way.
A Taxonomy of Human Emotion
Our understanding has come a long way since William James proposed four basic emotions – fear, grief, love, and rage—though these core emotions still form much of the foundation for current frameworks.
The wheel visualization above identifies six root emotions:
Fear
Anger
Sadness
Surprise
Joy
Love
From these six emotions, more nuanced descriptions emerge, such as jealousy as a subset of anger, and awe-struck as a subset of surprise. In total, there are 102 second- and third-order emotions listed on this emotion wheel.
Reinventing the Feeling Wheel
The concept of mapping the range of human emotions on a wheel picked up traction in the 1980s, and has evolved ever since.
One of these original concepts was developed by American psychologist Robert Plutchik, who mapped eight primary emotions—anger, fear, sadness, disgust, surprise, anticipation, trust, and joy. These "high survival value" emotions were believed to be the most useful in keeping our ancient ancestors alive.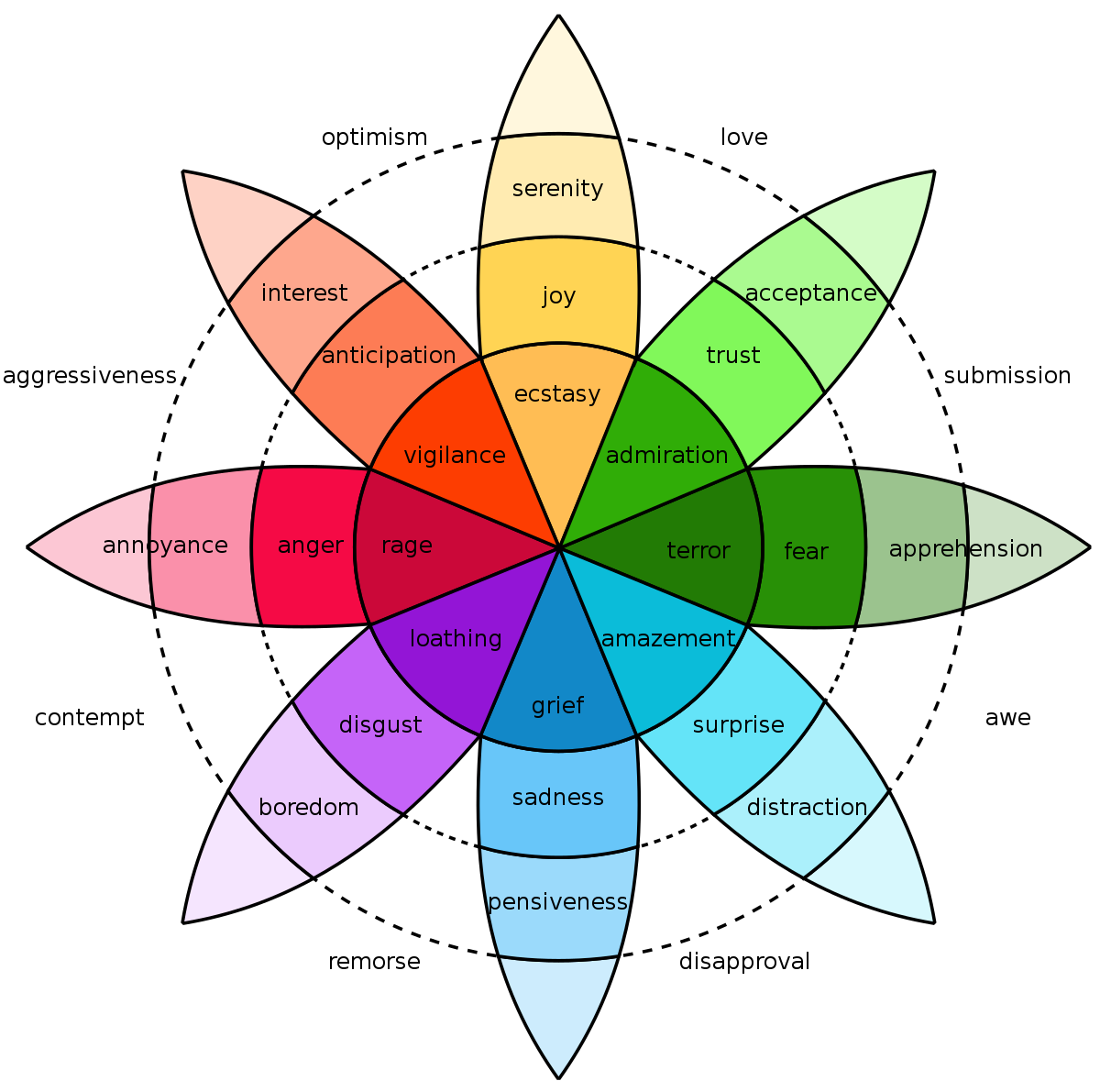 Another seminal graphic concept was developed by author Dr. Gloria Willcox. This version of the emotions wheel has spawned dozens of similar designs, as people continue to try to improve on the concept.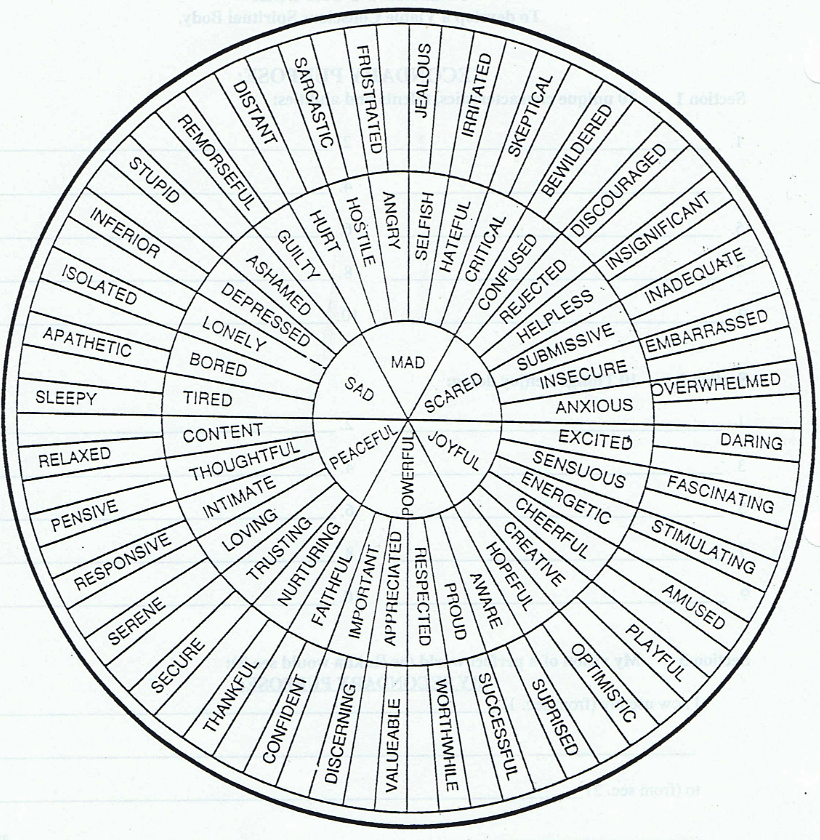 Further Exploration
The more we research human emotion, the more nuanced our understanding becomes in terms of how we react to the world around us.
Researchers at UC Berkeley used 2,185 short video clips to elicit emotions from study participants. Study participants rated the videos using 27 dimensions of self-reported emotional experience, and the results were mapped in an incredible interactive visualization. It is interesting to note that some video clips garnered a wide array of responses, while other clips elicit a near unanimous emotional response.
Here are some example videos and the distribution of responses:
The data visualization clusters these types of videos together, giving us a unique perspective on how people respond to certain types of stimuli.
Much like emotion itself, our desire to understand and classify the world around us is powerful and uniquely human.

Mapping the World's Key Maritime Choke Points
Ocean shipping is the primary mode of international trade. This map identifies maritime choke points that pose a risk to this complex logistic network.
Mapping the World's Key Maritime Choke Points
Maritime transport is an essential part of international trade—approximately 80% of global merchandise is shipped via sea.
Because of its importance, commercial shipping relies on strategic trade routes to move goods efficiently. These waterways are used by thousands of vessels a year—but it's not always smooth sailing. In fact, there are certain points along these routes that pose a risk to the whole system.
Here's a look at the world's most vulnerable maritime bottlenecks—also known as choke points—as identified by GIS.
What's a Choke Point?
Choke points are strategic, narrow passages that connect two larger areas to one another. When it comes to maritime trade, these are typically straits or canals that see high volumes of traffic because of their optimal location.
Despite their convenience, these vital points pose several risks:
Structural risks: As demonstrated in the recent Suez Canal blockage, ships can crash along the shore of a canal if the passage is too narrow, causing traffic jams that can last for days.
Geopolitical risks: Because of their high traffic, choke points are particularly vulnerable to blockades or deliberate disruptions during times of political unrest.
The type and degree of risk varies, depending on location. Here's a look at some of the biggest threats, at eight of the world's major choke points.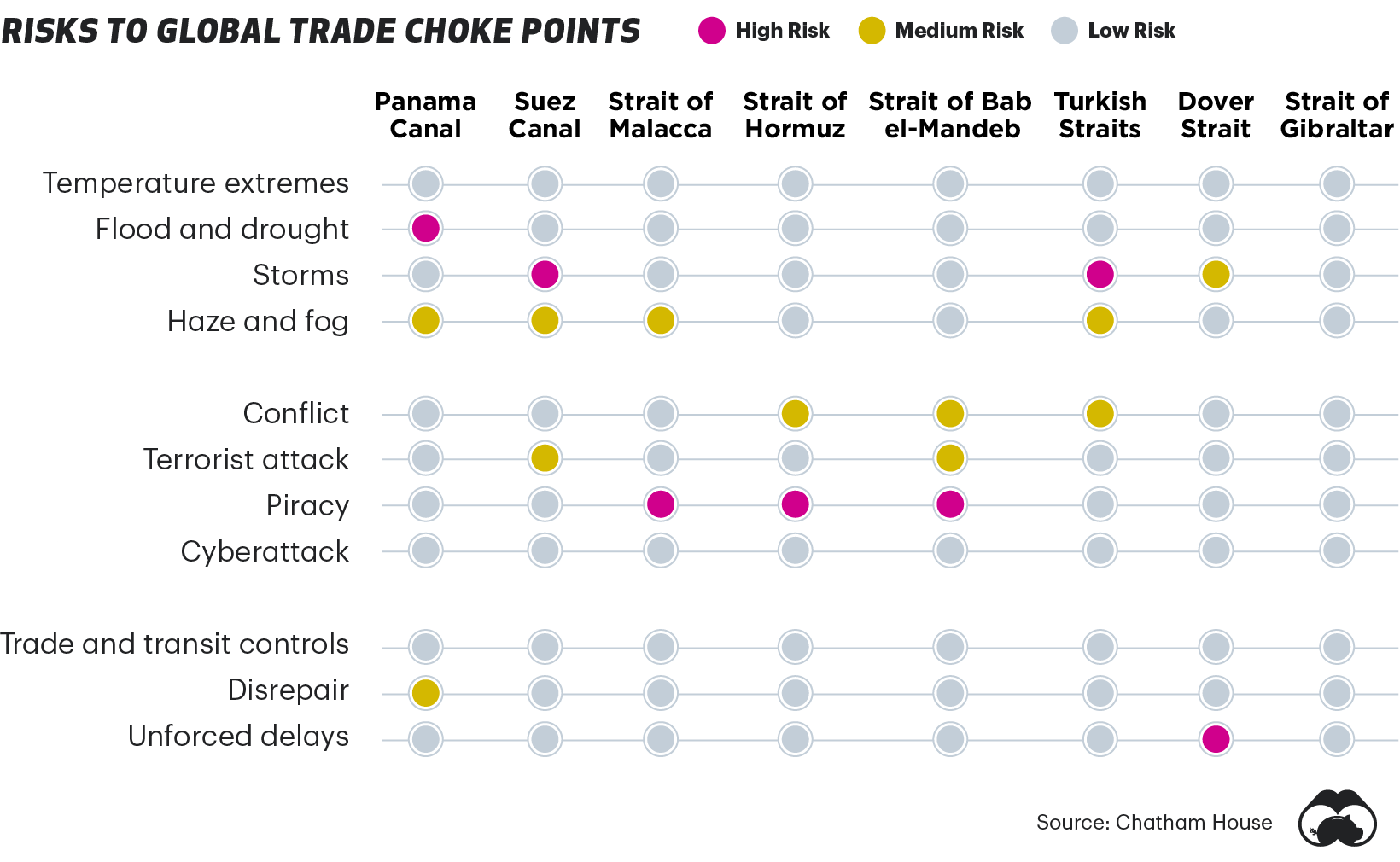 Because of their high risk, alternatives for some of these key routes have been proposed in the past—for instance, in 2013 Nicaraguan Congress approved a $40 billion dollar project proposal to build a canal that was meant to rival the Panama Canal.
As of today, it has yet to materialize.
A Closer Look: Key Maritime Choke Points
Despite their vulnerabilities, these choke points remain critical waterways that facilitate international trade. Below, we dive into a few of the key areas to provide some context on just how important they are to global trade.
The Panama Canal
The Panama Canal is a lock-type canal that provides a shortcut for ships traveling between the Pacific and Atlantic oceans. Ships sailing between the east and west coasts of the U.S. save over 8,000 nautical miles by using the canal—which roughly shortens their trip by 21 days.
In 2019, 252 million long tons of goods were transported through the Panama Canal, which generated over $2.6 billion in tolls.
The Suez Canal
The Suez Canal is an Egyptian waterway that connects Europe to Asia. Without this route, ships would need to sail around Africa, which would add approximately seven days to their trips. In 2019, nearly 19,000 vessels, and 1 billion tons of cargo, traveled through the Suez Canal.
In an effort to mitigate risk, the Egyptian government embarked on a major expansion project for the canal back in 2015. But, given the recent blockage caused by a Taiwanese container ship, it's clear that the waterway is still vulnerable to obstruction.
The Strait of Malacca
At its smallest point, the Strait of Malacca is approximately 1.5 nautical miles, making it one of the world's narrowest choke points. Despite its size, it's one of Asia's most critical waterways, since it provides a critical connection between China, India, and Southeast Asia. This choke point creates a risky situation for the 130,000 or so ships that visit the Port of Singapore each year.
The area is also known to have problems with piracy—in 2019, there were 30 piracy incidents, according to private information group ReCAAP ISC.
The Strait of Hormuz
Controlled by Iran, the Strait of Hormuz links the Persian Gulf to the Gulf of Oman, ultimately draining into the Arabian Sea. It's a primary vein for the world's oil supply, transporting approximately 21 million barrels per day.
Historically, it's also been a site of regional conflict. For instance, tankers and commercial ships were attacked in that area during the Iran-Iraq war in the 1980s.
The Bab el-Mandeb Strait
The Bab el-Mandeb Strait is another primary waterway for the world's oil and natural gas. Nestled between Africa and the Middle East, the critical route connects the Mediterranean Sea (via the Suez Canal) to the Indian Ocean.
Like the Strait of Malacca, it's well known as a high-risk area for pirate attacks. In May 2020, a UK chemical tanker was attacked off the coast of Yemen–the ninth pirate attack in the area that year.
Due to the strategic nature of the region, there is a strong military presence in nearby Djibouti, including China's first ever foreign military base.