12 Brand Archetypes That Marketers Use to Get Your Attention
Every day, we get bombarded with over 5,000 ads or brand messages vying to capture our attention.
Most of them get deflected by our unconscious minds and hold little relevance or appeal to our daily lives. But at the same time, a select few of these messages get through to us, and we may even feel a sense of personal identity with them.
Sure, these brands might sell products that we like – but it's also the storytelling behind the brand's messaging that can resonate with our individual lives.
Brand Archetypes
How do brands craft symbolism and messaging that have consistent appeal?
There are many strategies and techniques used by marketers to accomplish this, but one interesting way to view it is through the lens of archetypes. Brands can anchor their communications to enduring personas or profiles that feed into the human experience, and this allows consumers to identify narratives and symbolism quickly and effectively.
Archetypes are the heartbeat of a brand because they convey a meaning that makes customers relate to a product as if it actually were alive in some way, they have a relationship with it and care about it.
– The Hero and the Outlaw: Building Extraordinary Brands Through the Power of Archetypes
The following 12 archetypes were defined by Swiss psychiatrist Carl Jung and are commonly cited in the fields of marketing, psychology, anthropology, and other social sciences. The graphic comes from a guide put together by Iconic Fox:
Each brand archetype slots in with the common narratives we see and experience regularly in our culture.
Which do you think Harley Davidson matches the best? What about a brand like Apple?
Brand Archetype Examples
Here are two example archetypes – also from Iconic Fox – that will help better demonstrate the concept. It's worth looking closely at the brand voice, strategies, and values exemplified by each archetype, and thinking about how they connect to human storytelling and the types of characters we are familiar with throughout history.
We'll start with "The Outlaw"…
About "The Outlaw"
James Dean. William Wallace. Hermoine Granger. Jack Sparrow.
These are all people or characters that see rules as things that are meant to be broken, especially in the name of liberation. The Outlaw appeals to people and stories driven by independence, righteousness, change, and even revenge – and when used as a brand archetype, The Outlaw conveys a message that one can do better than the status quo.
Harley Davidson is a fantastic example of a brand that fits with this archetype.
Next up is "The Creator"…
About "The Creator"
Tony Stark. Carrie Bradshaw. John Hammond. Nüwa.
These are all people or characters that see the value of creation of new things. The Creator appeals to those that value self-expression, vision, imagination, and inspiration.
Apple is the iconic brand associated with this archetype, but Lego, Adobe, and Etsy could be considered good fits as well.
More Brand Archetypes
In a world with no shortage of media stimuli, brand archetypes enable marketers to pin down specific imagery and ideas that they know can make a direct impact with their audience. Archetypes are enduring, tried-and-true representations of the stories we have told ourselves for centuries, and that some would even say are entrenched in human nature.
For more on archetypes in marketing, including expanded definitions on the other 10 that we did not cover in depth here, we recommend reading the graphical guide put together by Iconic Fox.
Visualizing Population Density Patterns in Six Countries
These maps show the population density of several countries, using 3D spikes to denote where more people live.

Creator Program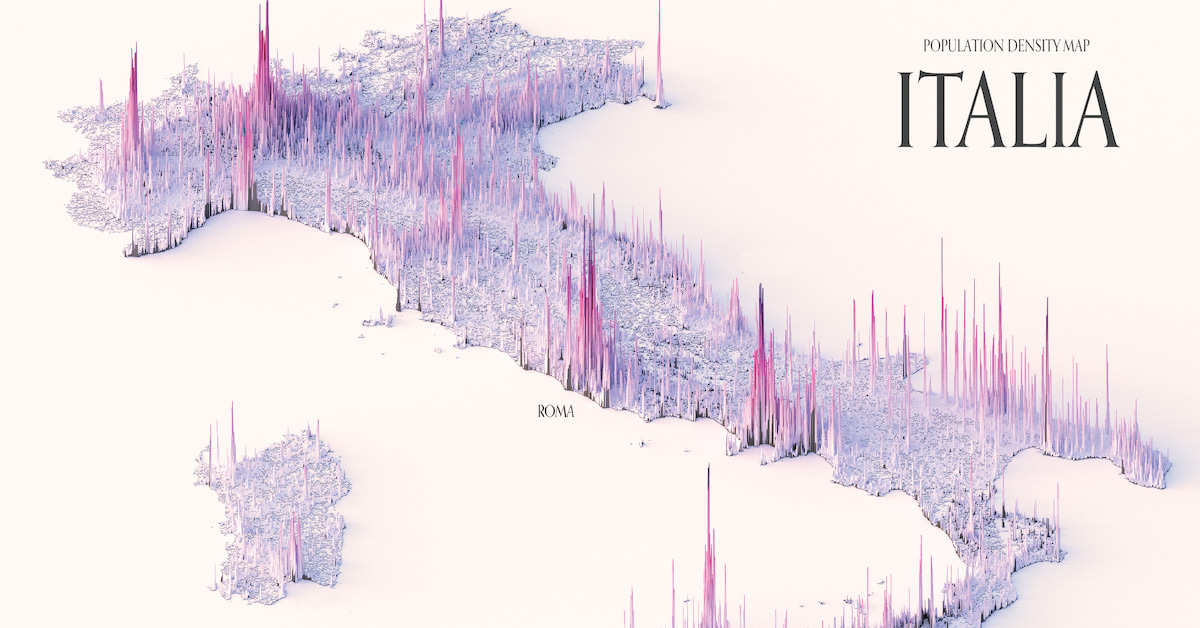 As of 2022, Earth has 8 billion humans. By 2050, the population is projected to grow to 10 billion.
In the last 100 years, the global population more than quadrupled. But none of this growth has been evenly spread out, including within countries.
This series of 3D maps from Terence Teo, an associate professor at Seton Hall University, renders the population density of six countries using open-source data from Kontur Population. He used popular programming language R and a path-tracing package, Rayshader, to create the maps.
France and Germany: Population Density Spikes and Troughs
Let's take a look at how the population spreads out in different countries around the world. Click the images to explore higher-resolution versions.
France is the world's 7th largest economy and second-most-populous country in the EU with 65 million people. But a staggering one-fifth of the French population lives in Paris and its surrounding metro—the most populous urban area in Europe.
Many residents in the Paris metropolitan area are employed in the service sector, which makes up one-third of France's $2.78 trillion gross domestic product.
Unlike France, Germany has many dense cities and regions, with Berlin, Munich, Stuttgart, and Cologne all having over a million residents. Berlin is the most populated at 3.5 million residents in the city proper, and 6 million in the wider urban area.
That said, the relatively recent reunification of West and East Germany in 1991 meant that post-WWII growth was mostly concentrated in West Germany (and West Berlin).
Italy and Chile: Coast to Coast
In Italy, another phenomenon affects population density and urban development—a sprawling coastline.
Despite having a large population of 59 million and large metropolitan areas throughout, Italy's population spikes are closer to the water.
The port cities of Genoa, Napoli, and Palermo all have large spikes relative to the rest of the country, as does the capital, Rome. Despite its city center located 15 miles inland from the sea, it extends to the shore through the district of Ostia, where the ancient port of Rome existed.
Meanwhile in Chile, stuck between the Andes to the east and the Pacific Ocean to the west, population spikes corroborate with its many port towns and cities.
However, the country is more concentrated than Italy, with 40% of its residents congregating around the capital of Santiago.
Turkey and Canada: Marred by Mountains and Climes
Though Chile has difficulties with terrain, it is relatively consistent. Other countries have to attempt to settle many different climes—regions defined by their climates.
Mountains to the south and east, a large, semi-arid plateau, and even a small desert leave few centers of urban growth in Türkiye.
Predictably, further west, as the elevation comes down to the Aegean and Mediterranean Seas, population spikes begin to heighten. The largest of course is the economic and cultural hub of Istanbul, though the capital Ankara is also prominent with more than 5 million residents.
In Canada, the Rocky Mountains to the west and freezing cold temperatures in the center and north account for the large country's relative emptiness.
Though population spikes in Western Canada are growing rapidly, highly populous urban centers are noticeably concentrated along the St. Lawrence River, with the Greater Toronto Area accounting for more than one-sixth of the country's 39 million people.
Increasing Urbanization
According to the World Bank, more than half of the world's population currently lives in cities, and that trend is only growing.
By 2050, 7 out of 10 people are projected to live in cities. This congregation makes cities a beehive of productivity and innovation—with more than 80% of the world's GDP being generated at these population centers.
It's in this context that mapping and studying urban development becomes all the more important, particularly as policymakers try their hand at sustainable urban planning.
As Teo puts it:
"By showing where people are (and are not), they show us where political and economic power is concentrated, and perhaps where and who our governments represent."