Sharpen Your Thinking with These 10 Powerful Cognitive Razors
Improve Your Decision-Making with These 10 Cognitive Razors
The average adult makes about 35,000 conscious decisions each day.
Given this sheer volume of choice, how do we ensure we're making the right decisions, day in and day out, without becoming exhausted?
Using insights from investor and thought leader Sahil Bloom, this graphic shares 10 cognitive razors, or rules of thumb, that can help you simplify your decision-making.
We've organized Bloom's favorite cognitive razors into three overarching categories, which we dive into in further detail below.
Location, Location, Location
The first theme is location, and the importance of being at the right place at the right time.
The Luck Razor falls into this category because it highlights the importance of putting yourself out there. According to the Luck Razor, when choosing between two paths, pick the one with the largest "luck surface area," or the path that offers you the most opportunity to get lucky.
This is because when you're networking, meeting people, and building new relationships, you're much more likely to stumble upon an opportunity than if you were sitting on your couch, not taking action.
The Rooms Razor follows a similar theme because it emphasizes the importance of your surroundings. It stresses that, if you have a choice between two rooms to walk into, choose the one where you're most likely to be the dumbest person in the room.
While it's a bit of an uncomfortable situation, it provides a greater opportunity for growth, as long as you check your ego at the door and listen to what others have to say.
Lastly, the Arena Razor reminds us that when we want something, we need to take the necessary steps to make it happen.
For instance, if you want to become a social media influencer, you need to start creating content and posting it online. It's not easy to put yourself out there and take action, but if you want to play the game, you need to be in the arena.
The Power of Positive Thinking
The next theme is the power of mindset and positive thinking. This relates to how you view your life, the people you choose to surround yourself with, and how you interpret the actions and opinions of others.
According to the Gratitude Razor, when in doubt, don't hesitate to show your gratitude to people who have supported you, or given you advice or opportunities.
Research studies have shown that expressing gratitude and giving thanks can be correlated with greater happiness, improved health, and stronger more meaningful relationships. So make sure to say thank you regularly, and tell your loved ones how much you appreciate their support.
It's not just your mindset that's important, though. The Optimist Razor recommends surrounding yourself with optimists, rather than pessimists. Pessimists may point out everything that could go wrong in a scenario, which might discourage you to break out of your comfort zone.
Optimism, on the other hand, will emphasize everything that could go right—and may even help you problem solve if you encounter problems along the way.
Keep Decision-Making Simple, Silly
The last one is quite simple, really: don't overcomplicate things.
Occam's Razor, which is named after the 14th-century scholar Franciscan friar William of Ockham, is generally interpreted as the following: when faced with a decision between two competing theories that generate the same outcome, the simplest theory is often the best one.
As Bloom says in this blog post, "simple assumptions [over] complex assumptions. If you have to believe a complex, intertwined series of assumptions in order to reach one specific conclusion, always ask whether there is a simple alternative assumption that fits."
The ability to make things simple is also a good indicator of how deeply you understand something. According to the Feynman Razor, if you can't explain a concept simply, then you don't really understand it. So, if someone uses a ton of jargon or complexity to explain something, they could be masking a lack of deeper knowledge on the topic.
Editor's note: For more information on cognitive razors and simplifying your decision-making, check out Sahil Bloom's newsletter, or listen to his podcast episode where he talks about the most powerful razors he's discovered so far in life.
Visualizing Population Density Patterns in Six Countries
These maps show the population density of several countries, using 3D spikes to denote where more people live.

Creator Program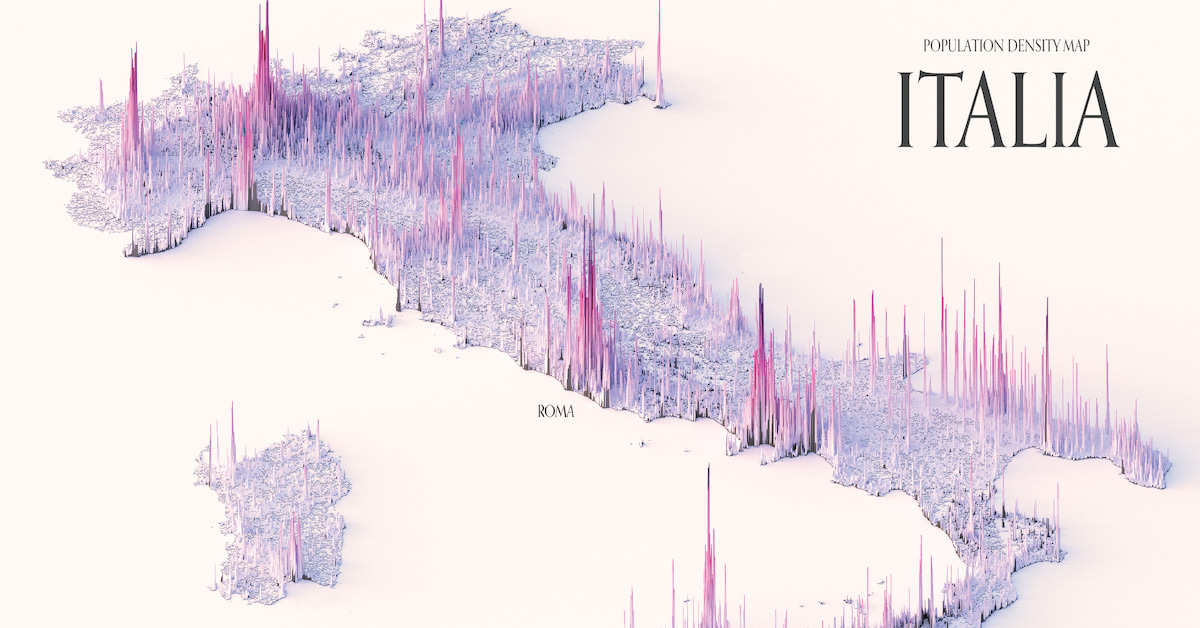 As of 2022, Earth has 8 billion humans. By 2050, the population is projected to grow to 10 billion.
In the last 100 years, the global population more than quadrupled. But none of this growth has been evenly spread out, including within countries.
This series of 3D maps from Terence Teo, an associate professor at Seton Hall University, renders the population density of six countries using open-source data from Kontur Population. He used popular programming language R and a path-tracing package, Rayshader, to create the maps.
France and Germany: Population Density Spikes and Troughs
Let's take a look at how the population spreads out in different countries around the world. Click the images to explore higher-resolution versions.
France is the world's 7th largest economy and second-most-populous country in the EU with 65 million people. But a staggering one-fifth of the French population lives in Paris and its surrounding metro—the most populous urban area in Europe.
Many residents in the Paris metropolitan area are employed in the service sector, which makes up one-third of France's $2.78 trillion gross domestic product.
Unlike France, Germany has many dense cities and regions, with Berlin, Munich, Stuttgart, and Cologne all having over a million residents. Berlin is the most populated at 3.5 million residents in the city proper, and 6 million in the wider urban area.
That said, the relatively recent reunification of West and East Germany in 1991 meant that post-WWII growth was mostly concentrated in West Germany (and West Berlin).
Italy and Chile: Coast to Coast
In Italy, another phenomenon affects population density and urban development—a sprawling coastline.
Despite having a large population of 59 million and large metropolitan areas throughout, Italy's population spikes are closer to the water.
The port cities of Genoa, Napoli, and Palermo all have large spikes relative to the rest of the country, as does the capital, Rome. Despite its city center located 15 miles inland from the sea, it extends to the shore through the district of Ostia, where the ancient port of Rome existed.
Meanwhile in Chile, stuck between the Andes to the east and the Pacific Ocean to the west, population spikes corroborate with its many port towns and cities.
However, the country is more concentrated than Italy, with 40% of its residents congregating around the capital of Santiago.
Turkey and Canada: Marred by Mountains and Climes
Though Chile has difficulties with terrain, it is relatively consistent. Other countries have to attempt to settle many different climes—regions defined by their climates.
Mountains to the south and east, a large, semi-arid plateau, and even a small desert leave few centers of urban growth in Türkiye.
Predictably, further west, as the elevation comes down to the Aegean and Mediterranean Seas, population spikes begin to heighten. The largest of course is the economic and cultural hub of Istanbul, though the capital Ankara is also prominent with more than 5 million residents.
In Canada, the Rocky Mountains to the west and freezing cold temperatures in the center and north account for the large country's relative emptiness.
Though population spikes in Western Canada are growing rapidly, highly populous urban centers are noticeably concentrated along the St. Lawrence River, with the Greater Toronto Area accounting for more than one-sixth of the country's 39 million people.
Increasing Urbanization
According to the World Bank, more than half of the world's population currently lives in cities, and that trend is only growing.
By 2050, 7 out of 10 people are projected to live in cities. This congregation makes cities a beehive of productivity and innovation—with more than 80% of the world's GDP being generated at these population centers.
It's in this context that mapping and studying urban development becomes all the more important, particularly as policymakers try their hand at sustainable urban planning.
As Teo puts it:
"By showing where people are (and are not), they show us where political and economic power is concentrated, and perhaps where and who our governments represent."