Visualizing Google's Search Engine Market Share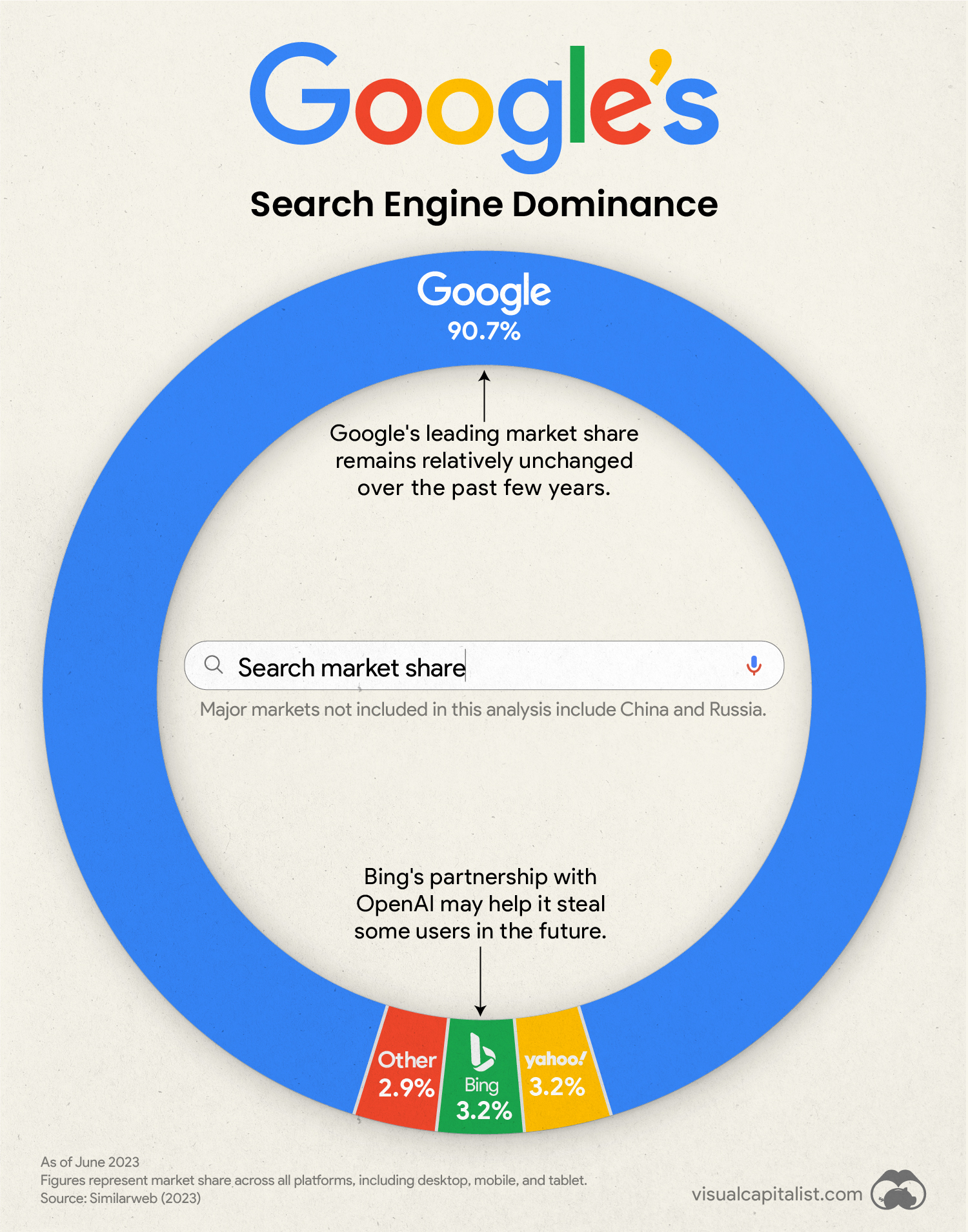 Visualizing Google's Search Engine Dominance
Google is ubiquitous in the daily lives of billions of people around the world, with leading positions in online search, maps, and other services.
In fact, Google's dominance is so far-reaching, it has led the U.S. Justice Department to launch a civil antitrust lawsuit for what it believes are examples of anticompetitive and exclusionary conduct.
This graphic, which uses data from Similarweb, shows the scale of Google's lead over major search engine competitors like Bing and Yahoo.
Global Search Engine Market Share
The data we used to create this graphic is provided in the table below. It is global search engine market share as of June 2023, across all platforms (desktop, mobile, and tablet).
Note that this analysis does not include China, where Google and other American tech firms are currently banned, or Russia, where Google has ceased operations.

| Search Engine | Global Market Share (%) |
| --- | --- |
| Google | 90.7% |
| Bing | 3.2% |
| Yahoo | 3.2% |
| Other | 2.9% |
The largest player included in "Other" is South Korea's Naver (0.48% global market share), which is similar to Google in that it offers a plethora of online services like search, video, and mobile payments.
Google Prepares for its U.S. Lawsuit
In January 2023, the U.S. Justice Department announced a civil antitrust lawsuit against Google for monopolizing digital advertising technologies.
Today's complaint alleges that Google has used anticompetitive, exclusionary, and unlawful conduct to eliminate or severely diminish any threat to its dominance over digital advertising technologies
Merrick B. Garland, Attorney General
The Justice Department originally made several antitrust arguments. Potential actions that were deemed red flags include setting Google as a default mobile browser on Android phones, designing search results to disadvantage competitors, and the company's ongoing partnership with Apple for its Safari browser. That said, some of the less substantial claims have since been dismissed by Judge Amit Mehta.
Google's court case will begin in mid-September, marking the biggest tech monopoly trial since United States v. Microsoft Corp in 2001. Google is expected to argue that it simply offers a superior product.
Can Bing Challenge Google on Home Turf?
To answer this question, let's look at U.S. market share over the past 12 months ending June 2023.
From this chart we can see that Bing maintains a slightly higher 5.5% U.S. market share (versus 3.2% globally).
The biggest takeaway from this chart, though, is that Bing does not appear to have gained any traction in 2023, even after releasing its latest AI-powered version in February.
The new Bing is the result of Microsoft's $10 billion investment into OpenAI at the beginning of 2023, which allows the tech giant to incorporate the immensely popular GPT-4 into its various products and services.
Charted: What are Retail Investors Interested in Buying in 2023?
What key themes and strategies are retail investors looking at for the rest of 2023? Preview: AI is a popular choice.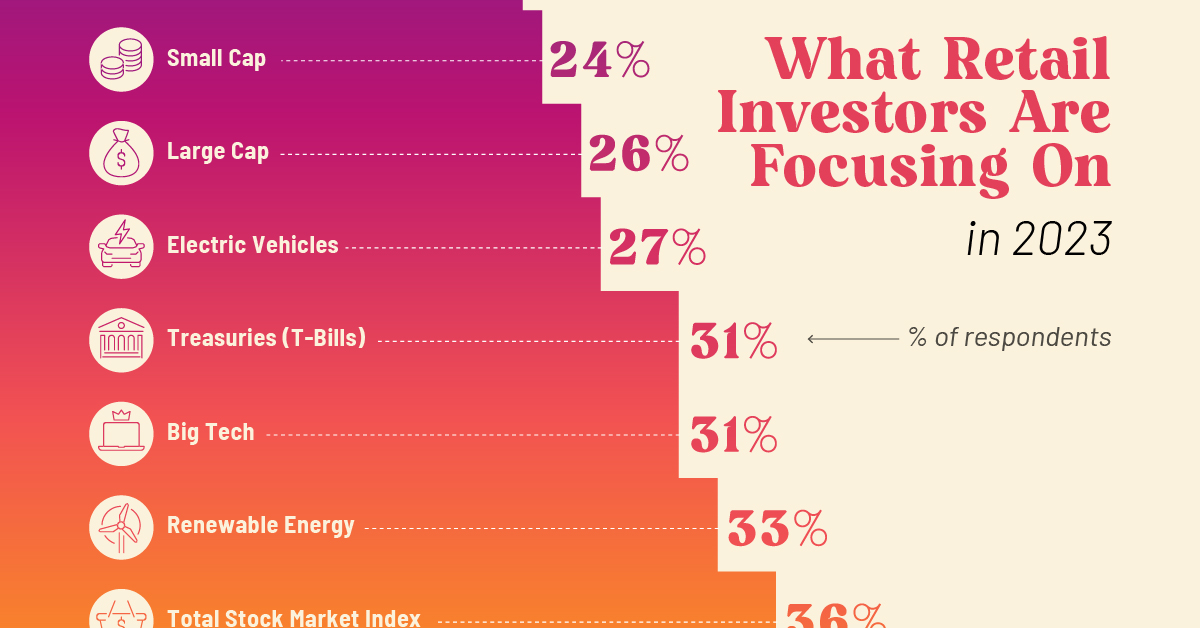 Charted: Retail Investors' Top Picks for 2023
U.S. retail investors, enticed by a brief pause in the interest rate cycle, came roaring back in the early summer. But what are their investment priorities for the second half of 2023?
We visualized the data from Public's 2023 Retail Investor Report, which surveyed 1,005 retail investors on their platform, asking "which investment strategy or themes are you interested in as part of your overall investment strategy?"
Survey respondents ticked all the options that applied to them, thus their response percentages do not sum to 100%.
Where Are Retail Investors Putting Their Money?
By far the most popular strategy for retail investors is dividend investing with 50% of the respondents selecting it as something they're interested in.
Dividends can help supplement incomes and come with tax benefits (especially for lower income investors or if the dividend is paid out into a tax-deferred account), and can be a popular choice during more inflationary times.
| Investment Strategy | Percent of Respondents |
| --- | --- |
| Dividend Investing | 50% |
| Artificial Intelligence | 36% |
| Total Stock Market Index | 36% |
| Renewable Energy | 33% |
| Big Tech | 31% |
| Treasuries (T-Bills) | 31% |
| Electric Vehicles | 27% |
| Large Cap | 26% |
| Small Cap | 24% |
| Emerging Markets | 23% |
| Real Estate | 23% |
| Gold & Precious Metals | 23% |
| Mid Cap | 19% |
| Inflation Protection | 13% |
| Commodities | 12% |
Meanwhile, the hype around AI hasn't faded, with 36% of the respondents saying they'd be interested in investing in the theme—including juggernaut chipmaker Nvidia. This is tied for second place with Total Stock Market Index investing.
Treasury Bills (30%) represent the safety anchoring of the portfolio but the ongoing climate crisis is also on investors' minds with Renewable Energy (33%) and EVs (27%) scoring fairly high on the interest list.
Commodities and Inflation-Protection stocks on the other hand have fallen out of favor.
Come on Barbie, Let's Go Party…
Another interesting takeaway pulled from the survey is how conversations about prevailing companies—or the buzz around them—are influencing trades. The platform found that public investors in Mattel increased 6.6 times after the success of the 'Barbie' movie.
Bud Light also saw a 1.5x increase in retail investors, despite receiving negative attention from their fans after the company did a beer promotion campaign with trans influencer Dylan Mulvaney.
Given the origin story of a large chunk of American retail investors revolves around GameStop and AMC, these insights aren't new, but they do reveal a persisting trend.