Visualizing the Future of Media and Entertainment
View the high resolution version of today's graphic by clicking here.
Over your lifetime, the consumption of media and entertainment has already changed drastically.
For Boomers and Gen Xers, the shift has been earth-shattering. Both generations will remember a time before mainstream computing when TV was dominated by the Big Three TV networks (NBC, ABC, and CBS), and newspapers and magazines were the main way to stay in touch with what was happening.
Even millennials have seen fundamental shifts in consumption of media. After all, they experienced the rise of social media, online news, streaming, and digital video firsthand. Many of them will remember their college getting access to Facebook for the first time, the death of Napster, and the funny sounds their 28.8k modem made as it struggled to successfully download a single image file.
The modern landscape of media is very different than it was back then – and the coming years will see even more prolific changes.
The Future of Media and Entertainment
Today's infographic comes to us from Raconteur, and it showcases multiple sets of data that help to illustrate the direction that media is heading. This includes the growth rates of various media and entertainment sectors, TV viewing trends, and social media use.
Here are some of the key trends that we found to be compelling:
Annualized Media Sector Growth (Minus GDP Growth) from 2016-2021

| Media sector | Annual Growth (minus GDP growth) |
| --- | --- |
| Online Video | 6.0% |
| Online Advertising | 4.3% |
| Video Gaming | 2.7% |
| Out-of home Ads | -1.7% |
| Music | -2.0% |
| TV Advertising | -2.8% |
| Radio | -3.4% |
| Books | -4.5% |
| Magazines | -6.0% |
| Newspapers | -8.3% |
Online video (6.0%), online ads (4.3%), and video gaming (2.7%) are the only sectors growing at a rate faster than GDP growth.
But while digital video use is growing, it's not going to takeover TV anytime soon:
Daily Minutes Watching TV vs. Digital Video

| Year | TV (Minutes watched) | Digital Video (Minutes Watched) |
| --- | --- | --- |
| 2016 | 245 | 49.5 |
| 2017 | 238 | 54.3 |
| 2018 | 230 | 58.7 |
| 2019 | 222 | 62.5 |
| 2020 | 219 | 65.3 |
Lastly, here are some figures on the future of media and entertainment that are particularly interesting:
By 2021, Cisco says that 82% of all internet traffic will stem from digital video
There will be 26.3 million VR headsets shipped in 2022, up from 100,000 in 2016
The eSports market will jump 152% in size by 2021
By 2021, there will be 650 million subscribers to services like Amazon Prime or Netflix
5G latency is expected to be 0.001 seconds, which is 15-60x faster than 4G
It's fair to say that in another decade, media and entertainment will be much less recognizable than what it looks like today.
Charted: What are Retail Investors Interested in Buying in 2023?
What key themes and strategies are retail investors looking at for the rest of 2023? Preview: AI is a popular choice.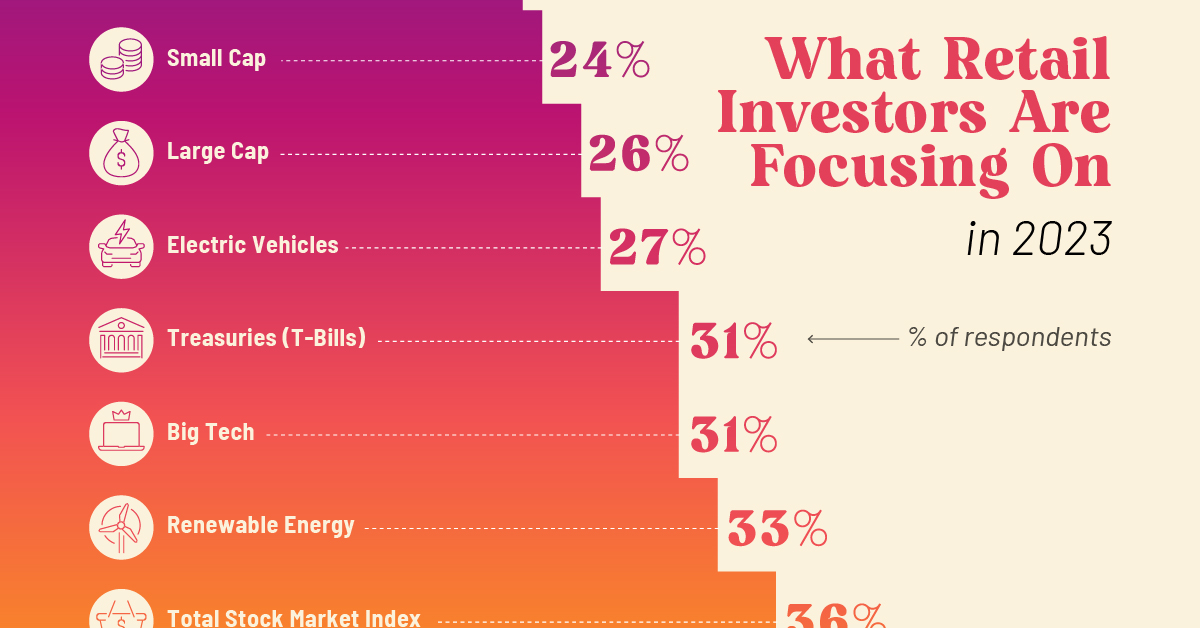 Charted: Retail Investors' Top Picks for 2023
U.S. retail investors, enticed by a brief pause in the interest rate cycle, came roaring back in the early summer. But what are their investment priorities for the second half of 2023?
We visualized the data from Public's 2023 Retail Investor Report, which surveyed 1,005 retail investors on their platform, asking "which investment strategy or themes are you interested in as part of your overall investment strategy?"
Survey respondents ticked all the options that applied to them, thus their response percentages do not sum to 100%.
Where Are Retail Investors Putting Their Money?
By far the most popular strategy for retail investors is dividend investing with 50% of the respondents selecting it as something they're interested in.
Dividends can help supplement incomes and come with tax benefits (especially for lower income investors or if the dividend is paid out into a tax-deferred account), and can be a popular choice during more inflationary times.
| Investment Strategy | Percent of Respondents |
| --- | --- |
| Dividend Investing | 50% |
| Artificial Intelligence | 36% |
| Total Stock Market Index | 36% |
| Renewable Energy | 33% |
| Big Tech | 31% |
| Treasuries (T-Bills) | 31% |
| Electric Vehicles | 27% |
| Large Cap | 26% |
| Small Cap | 24% |
| Emerging Markets | 23% |
| Real Estate | 23% |
| Gold & Precious Metals | 23% |
| Mid Cap | 19% |
| Inflation Protection | 13% |
| Commodities | 12% |
Meanwhile, the hype around AI hasn't faded, with 36% of the respondents saying they'd be interested in investing in the theme—including juggernaut chipmaker Nvidia. This is tied for second place with Total Stock Market Index investing.
Treasury Bills (30%) represent the safety anchoring of the portfolio but the ongoing climate crisis is also on investors' minds with Renewable Energy (33%) and EVs (27%) scoring fairly high on the interest list.
Commodities and Inflation-Protection stocks on the other hand have fallen out of favor.
Come on Barbie, Let's Go Party…
Another interesting takeaway pulled from the survey is how conversations about prevailing companies—or the buzz around them—are influencing trades. The platform found that public investors in Mattel increased 6.6 times after the success of the 'Barbie' movie.
Bud Light also saw a 1.5x increase in retail investors, despite receiving negative attention from their fans after the company did a beer promotion campaign with trans influencer Dylan Mulvaney.
Given the origin story of a large chunk of American retail investors revolves around GameStop and AMC, these insights aren't new, but they do reveal a persisting trend.