For decades, the world's top athletes have competed in illustrious tournaments such as The Masters or the Tour de France.
People tune in from all over to see these athletes in peak form, and tournaments rake in cash from media rights, advertisements, sponsorships, merchandise, and also the live event itself. In turn, these competitions offer millions of dollars in prize pools for the participants.
But what if there was a new type of sport that upped the ante?
While sport purists might scoff at the idea of any type of competition involving video games – the numbers speak for themselves. The realm of eSports already has tournaments that pack stadiums, offering bigger prize pools than either the Tour de France or The Masters.
And soon, eSports will be a billion dollar business with a global audience of over 300 million fans.
The Booming Business of eSports
Today's infographic comes to us from Moneypod, and it dives right into the interesting and possibly unfamiliar arena of eSports, which is seeing double-digit growth in all revenue categories from media rights to merchandise sales.
Gaming has always been popular, but the rise of eSports is something new.
The excitement around these competitions pairs the popularity of gaming with changing demographics, growing buying power for consumers in Asia (where the sport is the most popular), increased levels of connectivity, and new technological advancements.
Perhaps even more interesting is that the business of eSports is flourishing as a result – and with packed stadiums, deals with media giants like ESPN, double-digit revenue growth rates, and hundreds of millions of fans, it has been said that this is the year that eSports hits the mainstream.
Latest Market Projections
In the last few months, new market projections on the business of eSports have come out from NewZoo, a market intelligence company focused on games, eSports, and mobile.
Here are their latest projections for audience growth:
There are 215 million fans today, including 165 million hardcore enthusiasts. The majority of this group, about 53%, resides in the Asia-Pacific region.
Lastly, here is a breakdown of projected revenue streams for 2018:

Impressively, media rights is the fastest growing segment at 72.1% growth. The sponsorship segment isn't far behind at a 53.2% growth rate.
In total, the market is expected to be worth $906 million this year, a solid 38.2% higher than in 2017. This expansion is not expected to stop anytime soon, and in 2019 eSports will be a market in excess of $1 billion in size – a figure that will surely put this emerging space in an even bigger spotlight.
Which Companies Make Up the "Magnificent Seven" Stocks?
FAANG is dead… meet the 'Magnificent Seven' stocks that now make up over 25% of the S&P 500.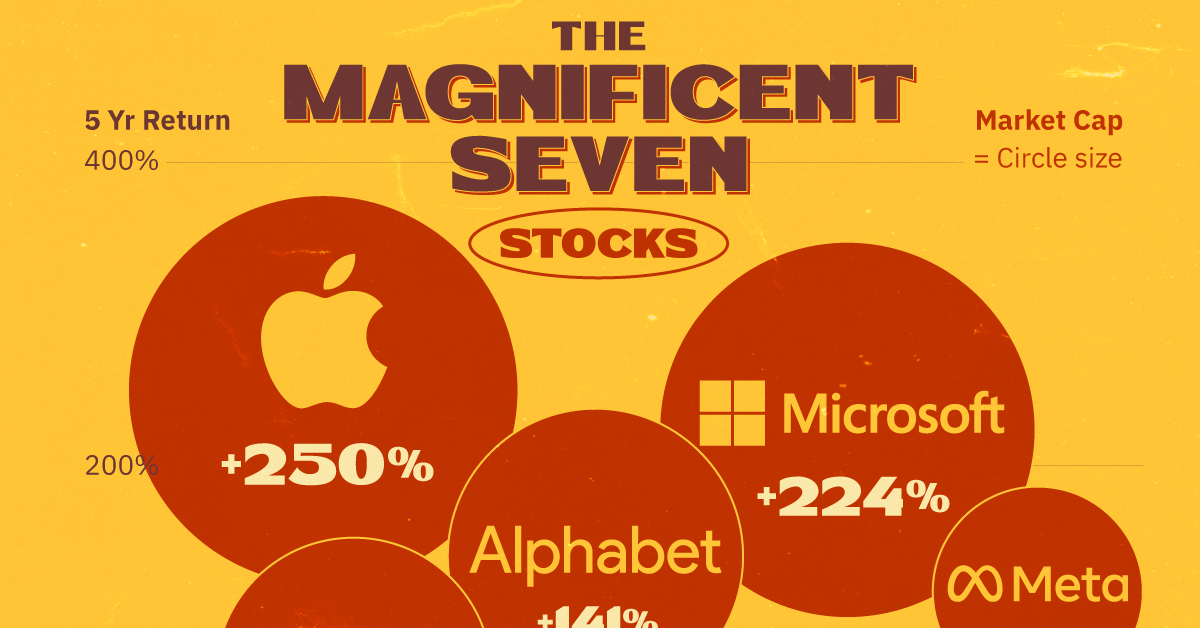 Which Companies Make Up the "Magnificent Seven" Stocks?
In 2013 CNBC analyst Jim Cramer popularized "FANG," comprised of Facebook (now Meta), Amazon, Netflix, and Google (now Alphabet), as a shorthand for the best performing technology stocks on the market. Apple, added in 2017, made it FAANG.
However, over the last year a new moniker given by Bank of America analyst Michael Hartnett highlights the most valuable and popularly-owned companies on the American stock market: the "Magnificent Seven" stocks.
We visualize the Magnificent Seven's market capitalization and 5-year stock performance as of November 2023 using data from Google Finance and CompaniesMarketCap.
The Magnificent Seven Stocks by Market Cap and 5-Year Return
The Magnificent Seven stocks are megacap companies focused and capitalizing on tech growth trends including AI, cloud computing, and cutting-edge hardware and software.
Four of the five FAANG stocks retain their place amongst the Magnificent Seven, with newcomers Nvidia, Tesla, and Microsoft joining the group. Following a poor 2022 performance and having more difficulty capitalizing on tech trends, Netflix is the sole FAANG company not included.
Here's a look at the companies ranked by their market capitalization on November 6, 2023, alongside their 5-year stock performance:
| Rank | Company | Market Cap | 5 Year Performance |
| --- | --- | --- | --- |
| 1 | Apple | $2.8 trillion | +250% |
| 2 | Microsoft | $2.6 trillion | +224% |
| 3 | Alphabet | $1.6 trillion | +141% |
| 4 | Amazon | $1.4 trillion | +63% |
| 5 | Nvidia | $1.1 trillion | +783% |
| 6 | Meta | $811 billion | +118% |
| 7 | Tesla | $690 billion | +829% |
The Magnificent Seven make up more than one-quarter of the S&P 500 and more than half of the Nasdaq 100.
Meanwhile, five of the seven are part of the rare trillion dollar club, with Nvidia being the most recent entry.
A common theme among the Magnificent Seven is their ability to collect vast amounts of customer data, create cutting-edge hardware and software, as well as harness the power of AI.
However, if Netflix gets back on track—recently announcing its new ad-supported membership tier has 15 million subscribers—we could soon see a "Magnificent Eight."