U.S. Military Spending vs Other Top Countries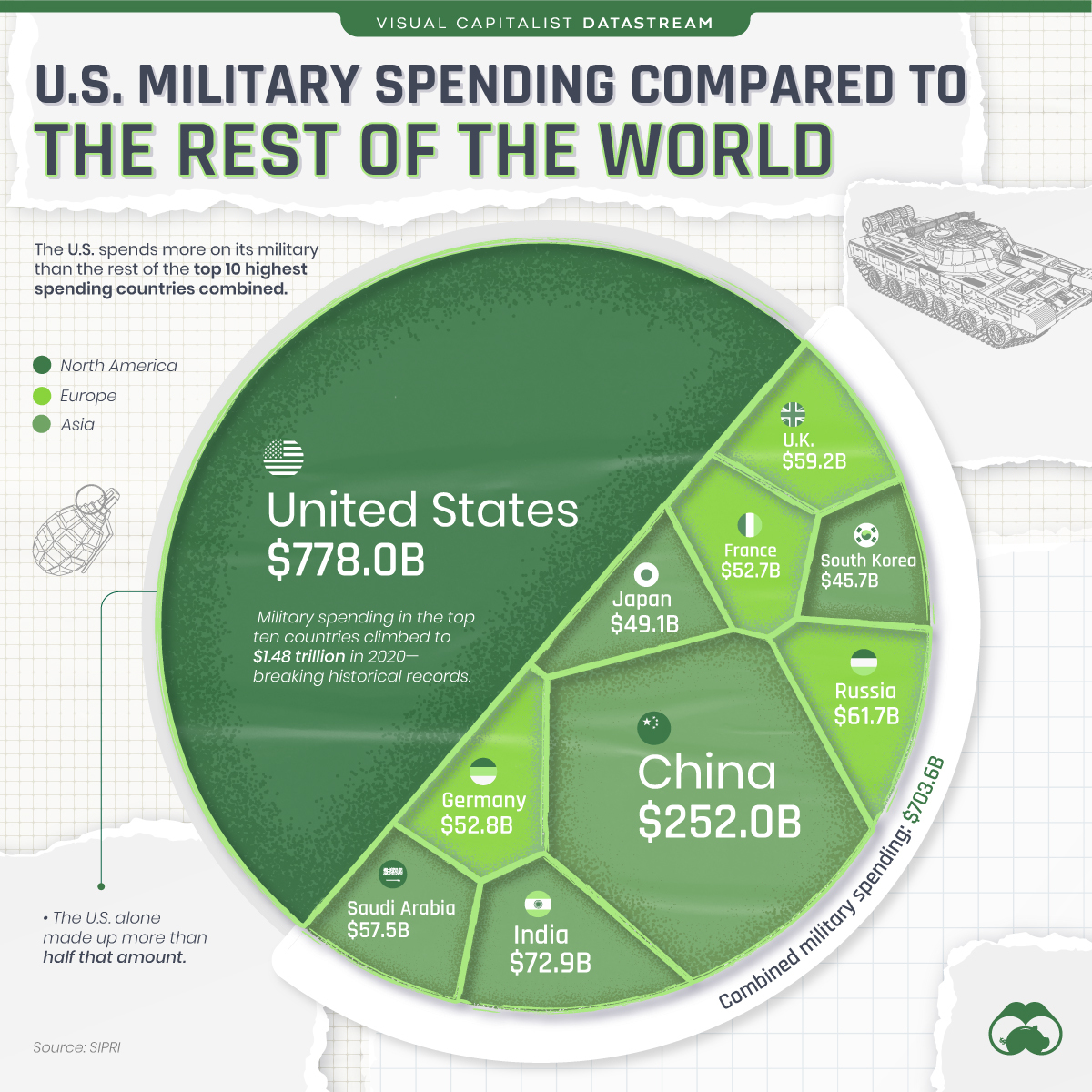 The Briefing
U.S. military spending surpassed $778 billion in 2020.
The U.S. spends more on its military than the next nine highest spending countries combined.
U.S. Military Spending vs Other Top Countries
The U.S. is well known for its immense military and defense spending. In 2020, the nation ranked #1 in the world in terms of military spending at $778 billion outpacing the next nine highest spenders, which came out to $703.6 billion combined.
One factor is the military–industrial complex (MIC) which feeds into the U.S.' defense dominance, with a longstanding tradition of the defense and weapons industries working closely with the U.S. government and armed forces.
A Breakdown of U.S. Military Spending
So what are these billions being spent on?
The U.S. Department of Defense (DoD) laid out the spending plan when they made their 2020 budget proposal. It included a few main areas to invest in, including:
Air – $57.7 billion
Maritime – $34.7 billion
Ground systems – $14.6 billion
Space – $14.1 billion
Cyber – $6.9 billion
This is just the tip of the iceberg. The overall goal of the 2020 budget was to promote innovation and to strengthen competitive advantages to increase the military's 'readiness' factor. Additionally, in an effort to sustain forces, a military pay raise of 3.1% was included.
Military Maintenance
Surprisingly, however, the U.S. actually does not have the largest military in the world in terms of personnel, and some of the other top 10 countries have larger or similarly sized militaries spread across different branches.
| Country | Active Military | Reserve Military | Paramilitary | Total Military |
| --- | --- | --- | --- | --- |
| 🇷🇺 Russia | 1,013,628 | 2,572,500 | 2,310,859 | 5,896,987 |
| 🇺🇸 United States | 1,374,699 | 845,000 | 2,918,161 | 5,137,860 |
| 🇮🇳 India | 1,440,000 | 2,096,000 | 1,585,950 | 5,121,950 |
| 🇰🇷 South Korea | 599,000 | 3,100,000 | 900,000 | 4,599,000 |
| 🇨🇳 China | 2,035,000 | 510,000 | 1,500,000 | 4,045,000 |
| 🇫🇷 France | 202,700 | 72,300 | 103,400 | 378,400 |
| 🇯🇵 Japan | 247,150 | 56,000 | 13,740 | 316,890 |
| 🇸🇦 Saudi Arabia | 227,000 | 0 | 24,500 | 251,500 |
| 🇬🇧 United Kingdom | 150,250 | 82,650 | 0 | 232,900 |
| 🇩🇪 Germany | 178,600 | 27,900 | 500 | 207,000 |
Russia is only the fourth highest spender, but they have the largest military size of any of the top 10, at around 5.9 million personnel.
All of these countries have militaries that number in the hundreds of thousands to millions, and many are a part of treaties and alliances that require them to upkeep their armies and weaponry — but none spend half as much as the U.S.
To this day, the U.S. is actively involved in a number of overseas conflicts and maintains a large military force with millions of personnel. Spending on areas such as weaponry and wages is significant in order to maintain jobs, as well as national defense.
Where does this data come from?
Source: SIPRI.
Charted: The Ukraine War Civilian Death Toll
Using data from the UN, this chart shows civilian death toll figures resulting from Russia's invasion of Ukraine.
The Briefing
In total, since the war began in February there have been over 7,031 Ukrainian civilian deaths
Most of the civilian casualties recorded were caused by the use of explosive weapons, such as missiles and heavy artillery
Charted: The Ukraine War Civilian Death Toll
Russia's war of aggression in Ukraine has wrought suffering and death on a mass scale, with many Russian attacks targeted at civilians.
We've created this visual using data from the UN Office of the High Commissioner for Human Rights (OHCHR) to better understand how many civilians have died in Ukraine as a result of the war, as well as how many were injured and how many were children.
The Numbers
As of early December, it is reported that 7,031 people in Ukraine have died because of the war — 433 of them children. Another 11,327 have been injured, 827 of which are children. In total, this is over 18,000 people killed or injured.
The figures are difficult to verify due to differing reports coming out of both Russia and Ukraine. The UN OHCHR anticipates that the numbers could be even higher.
The State of the Conflict
The war began on February 24th, 2022 and less than a year in, millions of people have been displaced by the conflict, and thousands of civilians have been injured or killed.
According to the UN, most of the civilian deaths have been caused by wide-ranging explosives such as heavy artillery shelling, missiles, and air strikes, and have been concentrated in Donetsk and Luhansk and in other territory still held by Ukraine.
Additionally, new estimates from Kyiv report approximately 13,000 Ukrainian military or soldier deaths, which has yet to be confirmed by the army.
Where does this data come from?
Source: The United Nations Office of the High Commissioner for Human Rights monthly reports on civilian deaths in Ukraine.
Note: Data on deaths and injuries can vary wildly depending on the source.