Can a Shorter Workweek Make People Happier?
Can A Shorter Workweek Make People Happier?
For many people, the concept of a shorter workweek is enticing. After all, it can be difficult to find enough time for the things we love.
Is it reasonable then, in our quest for happiness, to begin working less? Advocates of a shorter workweek would agree, but these policies have yet to be widely-adopted.
Today's chart plots data from the World Happiness Report 2019 and the OECD to determine if there's any correlation between a country's happiness and average hours worked per person.
What Happens When We Work Too Much?
The unhealthy side effects of working long hours are well established. In extreme cases, however, symptoms can extend beyond the usual stress and fatigue.
For example, the American Heart Association found that people under the age of 50 had a higher risk of stroke when working over 10 hours a day for a decade or more. Another study, conducted across 14 countries, concluded that people who worked long hours were 12% more likely to become excessive drinkers.
If working longer days is so harmful to our well-being, what happens if we work fewer hours instead?
Comparing the Numbers
The tables below list the happiest countries as well as the unhappiest countries in the OECD; happiness scores range from 0 to 10, with a 10 representing the best life possible.
Based on the data, there appears to be some degree of correlation between a person's happiness and the amount of hours they work.
Here's how the five happiest countries stack up:
Country
Happiness Score (0-10)
5-Yr Average Annual
Hours Worked
Difference in Hours Worked
from OECD Average (1,682 hrs) 
🇫🇮 Finland
7.769
1,559 hrs
-123 hrs
🇩🇰 Denmark
7.600
1,406 hrs
-276 hrs
🇳🇴 Norway
7.554
1,422 hrs
-260 hrs
🇮🇸 Iceland
7.494
1,491 hrs
-191 hrs
🇳🇱 Netherlands
7.488
1,432 hrs
-250 hrs
The five happiest countries each work over 100 hours less than the OECD average. Compare this to the five least happiest countries:
Country
Happiness Score (0-10)
5-Yr Average Annual
Hours Worked
Difference in Hours Worked
from OECD Average (1,682 hrs) 
🇬🇷 Greece
5.287
1,946 hrs
+264 hrs
🇹🇷 Turkey
5.373
1,832 hrs
+150 hrs
🇵🇹 Portugal
5.693
1,722 hrs
+40 hrs
🇭🇺 Hungary
5.758
1,749 hrs
+67 hrs
🇯🇵 Japan
5.886
1,710 hrs*
+28 hrs
*OECD data includes full- and part-time workers. While this affects the entire data set, Japan's high share of part-time workers (37% as of 2017) suggests it is particularly vulnerable to underestimation.
Coincidentally, all five of the least happiest countries work more hours than the OECD average, up to over 264 hours in the case of Greece.
Happiness is multifaceted, though, and we should avoid drawing conclusions from a single variable. For instance, the World Happiness Report 2019 calculates happiness scores based on eight distinct metrics:

| | Metric | Description |
| --- | --- | --- |
| #1 | Positive Affect | The average of 3 measures: happiness, laughter, and enjoyment |
| #2 | Negative Affect | The average of 3 measures: worry, sadness, and anger |
| #3 | Social Support | Having someone to count on in times of trouble |
| #4 | Freedom | The ability to make life choices |
| #5 | Corruption | The perception of corruption throughout business and government |
| #6 | Generosity | Based on survey results about charity donations |
| #7 | GDP per Capita (Log Scale) | Economic output per person |
| #8 | Healthy Life Expectancy | Years spent in good health |
With these in mind, we can make a few additional observations.
Four of the five happiest OECD countries are located in the Nordics, a region known for low corruption rates and robust social safety nets. On the other end of the scale, economic hardship is a recurring theme among the OECD's least happiest countries. The falling Turkish lira and Greece's debt crisis are two significant examples.
To properly measure the happiness-boosting potential of a shortened workweek, it seems we need to isolate its effects.
Challenging the Status Quo
Employers are now experimenting with shorter work schedules to see if happier employees are in fact better employees.
Case 1: Successful Trial
Perpetual Guardian, a New Zealand-based estate planning firm, trialed a four-day workweek for two months with no changes to compensation.
The trial was hailed as a success. Employee stress levels fell by 7 percentage points while overall life satisfaction rose by 5 percentage points. Perhaps most impressive is the fact that productivity remained the same.
Employees designed a number of innovations and initiatives to work in a more productive and efficient manner.
– Helen Delaney, University of Auckland
Following the trial, the firm's founder expressed interest in implementing the four-day workweek on a permanent basis.
Case 2: Successful Trial with Trade-offs
Filimundus, a Sweden-based software studio, trialed a six-hour workday in 2014. Staff reception was positive, and the company has since adopted it permanently.
There were trade-offs, however. While staff enjoyed more time for their private lives, productivity across different departments saw mixed results.
We did see some decrease in production for some staff, mostly our artists, but an increase in production for our programmers. So money-wise, in costs, it evened out.
– Linus Feldt, CEO
Interestingly, the studio also trialed a seven-hour workday, and saw no positive effects.
Case 3: An Unsustainable Solution
Public healthcare workers in Gothenburg, Sweden, trialed a six-hour workday for two years. Similar to the first case, compensation was unchanged.
While the trial achieved good results—staff experienced lower stress levels and patients received a higher level of care—the policy was unsustainable.
It's far too expensive to carry out a general shortening of working hours within a reasonable time frame.
– Daniel Bernmar
17 additional staff were hired to compensate for the shorter workdays, increasing the local government's payroll by $738,000. The city council did note, however, that lower unemployment costs offset this increase by approximately 10%.
Picking Up Momentum
These experiments are garnering attention from around the world.
Even Japan, a country known for its "overtime culture", is getting in on the action. Microsoft offices in the East Asian country tested a four-day workweek in August 2019, and reported happier staff, as well as an impressive 40% boost in productivity.
While the results of these early experiments are indeed promising, they've exposed the nuances that exist between industries and job types, and the need for further trials. One thing is certain though—shorter workweek policies should not be interpreted as a "one size fits all" solution for happier lives.
Visualizing Population Density Patterns in Six Countries
These maps show the population density of several countries, using 3D spikes to denote where more people live.

Creator Program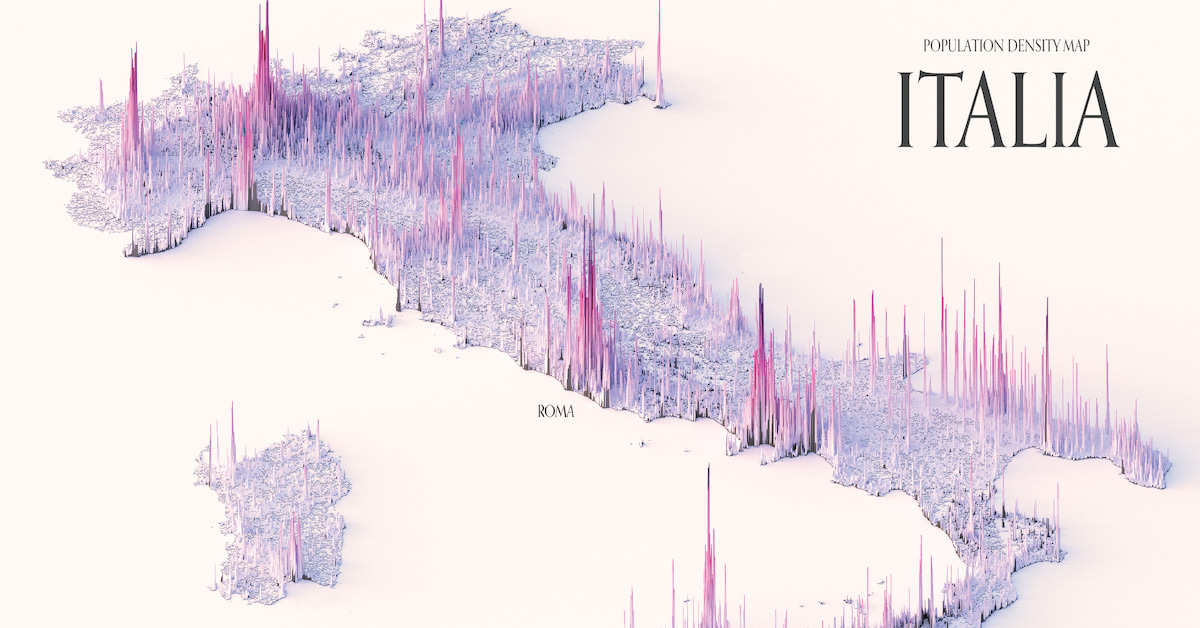 As of 2022, Earth has 8 billion humans. By 2050, the population is projected to grow to 10 billion.
In the last 100 years, the global population more than quadrupled. But none of this growth has been evenly spread out, including within countries.
This series of 3D maps from Terence Teo, an associate professor at Seton Hall University, renders the population density of six countries using open-source data from Kontur Population. He used popular programming language R and a path-tracing package, Rayshader, to create the maps.
France and Germany: Population Density Spikes and Troughs
Let's take a look at how the population spreads out in different countries around the world. Click the images to explore higher-resolution versions.
France is the world's 7th largest economy and second-most-populous country in the EU with 65 million people. But a staggering one-fifth of the French population lives in Paris and its surrounding metro—the most populous urban area in Europe.
Many residents in the Paris metropolitan area are employed in the service sector, which makes up one-third of France's $2.78 trillion gross domestic product.
Unlike France, Germany has many dense cities and regions, with Berlin, Munich, Stuttgart, and Cologne all having over a million residents. Berlin is the most populated at 3.5 million residents in the city proper, and 6 million in the wider urban area.
That said, the relatively recent reunification of West and East Germany in 1991 meant that post-WWII growth was mostly concentrated in West Germany (and West Berlin).
Italy and Chile: Coast to Coast
In Italy, another phenomenon affects population density and urban development—a sprawling coastline.
Despite having a large population of 59 million and large metropolitan areas throughout, Italy's population spikes are closer to the water.
The port cities of Genoa, Napoli, and Palermo all have large spikes relative to the rest of the country, as does the capital, Rome. Despite its city center located 15 miles inland from the sea, it extends to the shore through the district of Ostia, where the ancient port of Rome existed.
Meanwhile in Chile, stuck between the Andes to the east and the Pacific Ocean to the west, population spikes corroborate with its many port towns and cities.
However, the country is more concentrated than Italy, with 40% of its residents congregating around the capital of Santiago.
Turkey and Canada: Marred by Mountains and Climes
Though Chile has difficulties with terrain, it is relatively consistent. Other countries have to attempt to settle many different climes—regions defined by their climates.
Mountains to the south and east, a large, semi-arid plateau, and even a small desert leave few centers of urban growth in Türkiye.
Predictably, further west, as the elevation comes down to the Aegean and Mediterranean Seas, population spikes begin to heighten. The largest of course is the economic and cultural hub of Istanbul, though the capital Ankara is also prominent with more than 5 million residents.
In Canada, the Rocky Mountains to the west and freezing cold temperatures in the center and north account for the large country's relative emptiness.
Though population spikes in Western Canada are growing rapidly, highly populous urban centers are noticeably concentrated along the St. Lawrence River, with the Greater Toronto Area accounting for more than one-sixth of the country's 39 million people.
Increasing Urbanization
According to the World Bank, more than half of the world's population currently lives in cities, and that trend is only growing.
By 2050, 7 out of 10 people are projected to live in cities. This congregation makes cities a beehive of productivity and innovation—with more than 80% of the world's GDP being generated at these population centers.
It's in this context that mapping and studying urban development becomes all the more important, particularly as policymakers try their hand at sustainable urban planning.
As Teo puts it:
"By showing where people are (and are not), they show us where political and economic power is concentrated, and perhaps where and who our governments represent."