Rare Earth Elements: Where in the World Are They?

Subscribe to the Elements free mailing list for more like this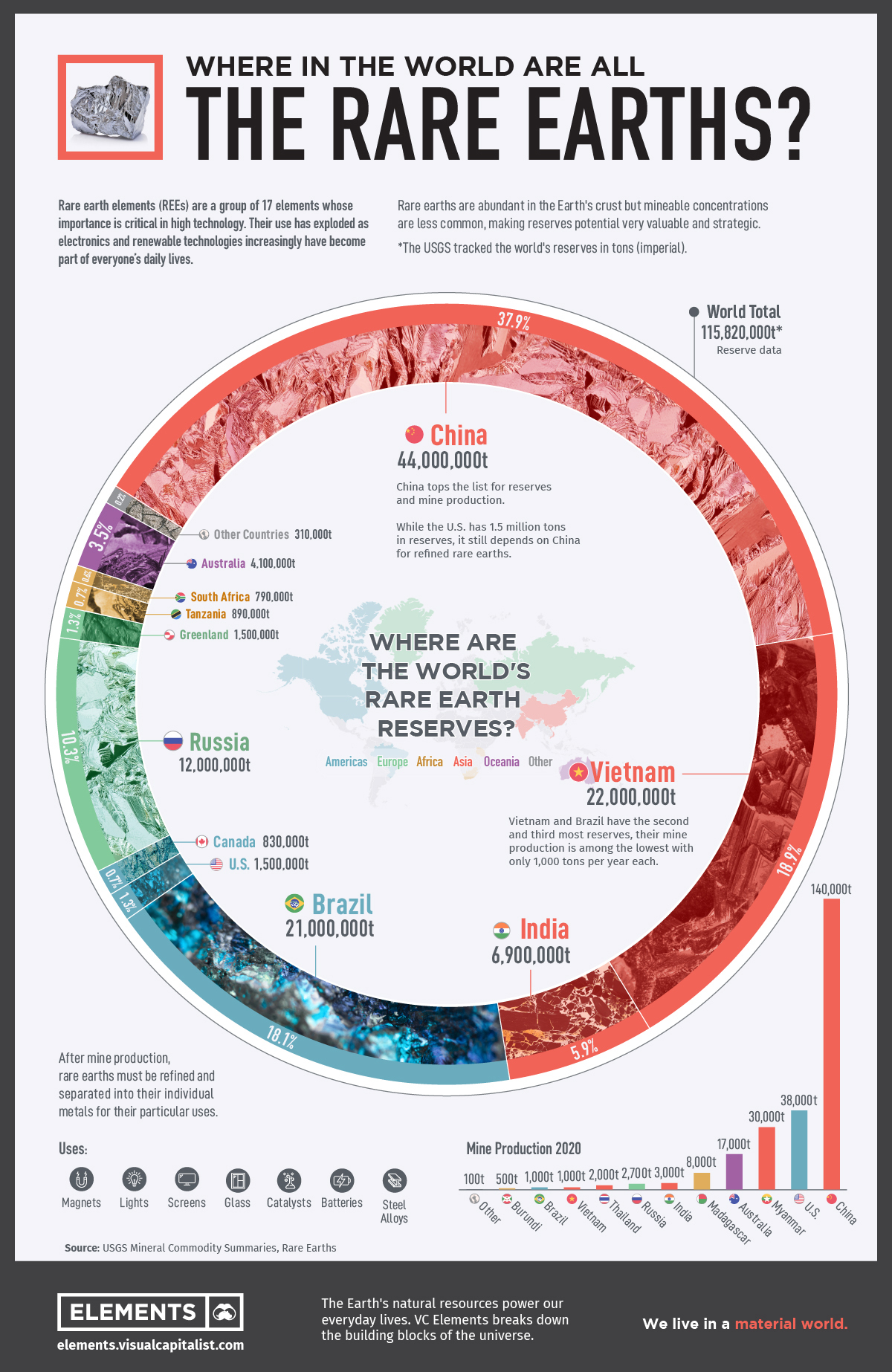 Rare Earths Elements: Where in the World Are They?
This was originally posted on Elements. Sign up to the free mailing list to get beautiful visualizations on natural resource megatrends in your email every week.
Rare earth elements are a group of metals that are critical ingredients for a greener economy, and the location of the reserves for mining are increasingly important and valuable.
This infographic features data from the United States Geological Society (USGS) which reveals the countries with the largest known reserves of rare earth elements (REEs).
What are Rare Earth Metals?
REEs, also called rare earth metals or rare earth oxides, or lanthanides, are a set of 17 silvery-white soft heavy metals.
The 17 rare earth elements are: lanthanum (La), cerium (Ce), praseodymium (Pr), neodymium (Nd), promethium (Pm), samarium (Sm), europium (Eu), gadolinium (Gd), terbium (Tb), dysprosium (Dy), holmium (Ho), erbium (Er), thulium (Tm), ytterbium (Yb), lutetium (Lu), scandium (Sc), and yttrium (Y).
Scandium and yttrium are not part of the lanthanide family, but end users include them because they occur in the same mineral deposits as the lanthanides and have similar chemical properties.
The term "rare earth" is a misnomer as rare earth metals are actually abundant in the Earth's crust. However, they are rarely found in large, concentrated deposits on their own, but rather among other elements instead.
Rare Earth Elements, How Do They Work?
Most rare earth elements find their uses as catalysts and magnets in traditional and low-carbon technologies. Other important uses of rare earth elements are in the production of special metal alloys, glass, and high-performance electronics.
Alloys of neodymium (Nd) and samarium (Sm) can be used to create strong magnets that withstand high temperatures, making them ideal for a wide variety of mission critical electronics and defense applications.
| End-use | % of 2019 Rare Earth Demand |
| --- | --- |
| Permanent Magnets | 38% |
| Catalysts | 23% |
| Glass Polishing Powder and Additives | 13% |
| Metallurgy and Alloys | 8% |
| Battery Alloys | 9% |
| Ceramics, Pigments and Glazes | 5% |
| Phosphors | 3% |
| Other | 4% |
Source
The strongest known magnet is an alloy of neodymium with iron and boron. Adding other REEs such as dysprosium and praseodymium can change the performance and properties of magnets.
Hybrid and electric vehicle engines, generators in wind turbines, hard disks, portable electronics and cell phones require these magnets and elements. This role in technology makes their mining and refinement a point of concern for many nations.
For example, one megawatt of wind energy capacity requires 171 kg of rare earths, a single U.S. F-35 fighter jet requires about 427 kg of rare earths, and a Virginia-class nuclear submarine uses nearly 4.2 tonnes.
Global Reserves of Rare Earth Minerals
China tops the list for mine production and reserves of rare earth elements, with 44 million tons in reserves and 140,000 tons of annual mine production.
While Vietnam and Brazil have the second and third most reserves of rare earth metals with 22 million tons in reserves and 21 million tons, respectively, their mine production is among the lowest of all the countries at only 1,000 tons per year each.
| Country | Mine Production 2020 | Reserves | % of Total Reserves |
| --- | --- | --- | --- |
| China | 140,000 | 44,000,000 | 38.0% |
| Vietnam | 1,000 | 22,000,000 | 19.0% |
| Brazil | 1,000 | 21,000,000 | 18.1% |
| Russia | 2,700 | 12,000,000 | 10.4% |
| India | 3,000 | 6,900,000 | 6.0% |
| Australia | 17,000 | 4,100,000 | 3.5% |
| United States | 38,000 | 1,500,000 | 1.3% |
| Greenland | - | 1,500,000 | 1.3% |
| Tanzania | - | 890,000 | 0.8% |
| Canada | - | 830,000 | 0.7% |
| South Africa | - | 790,000 | 0.7% |
| Other Countries | 100 | 310,000 | 0.3% |
| Burma | 30,000 | N/A | N/A |
| Madagascar | 8,000 | N/A | N/A |
| Thailand | 2,000 | N/A | N/A |
| Burundi | 500 | N/A | N/A |
| World Total | 243,300 | 115,820,000 | 100% |
While the United States has 1.5 million tons in reserves, it is largely dependent on imports from China for refined rare earths.
Ensuring a Global Supply
In the rare earth industry, China's dominance has been no accident. Years of research and industrial policy helped the nation develop a superior position in the market, and now the country has the ability to control production and the global availability of these valuable metals.
This tight control of the supply of these important metals has the world searching for their own supplies. With the start of mining operations in other countries, China's share of global production has fallen from 92% in 2010 to 58%< in 2020. However, China has a strong foothold in the supply chain and produced 85% of the world's refined rare earths in 2020.
China awards production quotas to only six state-run companies:
China Minmetals Rare Earth Co
Chinalco Rare Earth & Metals Co
Guangdong Rising Nonferrous
China Northern Rare Earth Group
China Southern Rare Earth Group
Xiamen Tungsten
As the demand for REEs increases, the world will need tap these reserves. This graphic could provide clues as to the next source of rare earth elements.
Visualized: The EV Mineral Shortage
Demand for mineral supply of lithium, nickel, and cobalt is expected to grow from 10%-20% to over 80% by 2030.
The following content is sponsored by KGP Auto
How Mineral Supply Will Change EV Forecasts
Did you know that EVs need up to six times more minerals than conventional cars?
EVs are mineral-intensive and are pushing up demand for critical battery metals. According to the International Energy Agency (IEA), lithium, nickel, and cobalt demand is expected to grow from 10%-20% to over 80% by 2030.
As countries around the world pledge to go all-electric by 2035 and 2040, do we have enough mineral supply for EV demand?
Factors such as geopolitical concentration of resources, quality of materials, mining industry lead times, and environmental factors will together determine whether we have the minerals we need.
Let's take a look at how critical minerals are affected.
Mineral
Constraints
Copper
Copper mines currently in operation are nearing their peak, suffering from reserve exhaustion, while ore quality in older mines is declining.

South American and Australian mines are located in areas where water availability can be scarce.
This could cause setbacks given the high water requirements needed for the mining process.

Nickel
There are a number of growing concerns related to higher CO2 emissions and waste disposal.

Nickel quality needs to be high (Class 1) for EV batteries. Most nickel in the global supply chain is unusable for EVs.
Cobalt
The Democratic Republic of Congo and China account for around 70% of production.

90% of cobalt produced is a by-product of nickel and copper, making new supply subject to the development of these mines.

Rare Earth Elements
Concerns surrounding negative environmental credentials in processing operations.

The value chain from mining to processing and magnet production is geographically concentrated in China.

Lithium
The world could face severe lithium shortages as early as 2025.

Lithium mines that started operations between 2010-2019 took an average of 16.5 years to develop.

China accounts for 60% of global production and more than 80% of lithium hydroxide.

Over 50% of lithium mines are located in areas that suffer water shortages.
This could cause setbacks, given the high water requirements for mining processes.

Recycling is a partial solution to alleviate critical mineral supply but will fall short of meeting the high levels of demand until around the 2030s.
The EV Supply Chain
Currently, the resources for EV batteries are concentrated in very few countries. This concentration is an increasing concern for supply chain distribution.
China is home to more than half of the world's lithium, cobalt, and graphite processing and refining capacity, as well as three-quarters of all lithium-ion battery production capacity.
Europe accounts for more than one-quarter of worldwide EV assembly, but home to very little of the supply chain, with the region's cobalt processing share accounting for 20% of the mix.
Meanwhile, both Korea and Japan control a sizable portion of the downstream supply chain after raw material processing. Korea accounts for 15% of worldwide cathode material production capacity. Japan produces 14% of cathode and 11% of anode material.
The United States accounts for just 10% of EV production and 7% of battery production capacity.
Suggested Solutions
To reduce setbacks surrounding resource demand, KGP Auto's new report recommends that material supply is accessed and matched to a broader fuel energy mix.
In this scenario, platinum group metals (PGMs) continue to play a leading role in the auto industry by assisting in building cleaner emission vehicles.
These vehicles support more sustainable fuels such as hydrogen, filling the gaps to net-zero targets by allowing EVs to catch up with material supply
>> Read KGP Auto's Powertrain Outlook Report to learn more.