Nvidia vs. AMD vs. Intel: Comparing AI Chip Sales
Nvidia vs. AMD vs. Intel: Comparing AI Chip Sales
Nvidia has become an early winner of the generative AI boom.
The company reported record revenue in its second quarter earnings report, with sales of AI chips playing a large role. If we compare to other American competitors, what do the AI chip sales of Nvidia vs. AMD vs. Intel look like?
In this graphic, we use earnings reports from each company to see their revenue over time.
A Clear Leader Emerges
While the companies don't report revenue for their AI chips specifically, they do share revenue for their Data Center segment.
The Data Center segment includes chips like Central Processing Units (CPUs), Data Processing Units (DPUs), and Graphic Processing Units (GPUs). The latter are preferred for AI because they can perform many simple tasks simultaneously and efficiently.
Below, we show how quarterly Data Center revenue has grown for Nvidia vs. AMD vs. Intel.
| | Nvidia | AMD | Intel |
| --- | --- | --- | --- |
| Q2 2021 | $2.4B | $0.8B | $5.7B |
| Q3 2021 | $2.9B | $1.1B | $5.9B |
| Q4 2021 | $3.3B | $1.2B | $6.7B |
| Q1 2022 | $3.8B | $1.3B | $6.1B |
| Q2 2022 | $3.8B | $1.5B | $4.7B |
| Q3 2022 | $3.8B | $1.6B | $4.4B |
| Q4 2022 | $3.6B | $1.7B | $4.6B |
| Q1 2023 | $4.3B | $1.3B | $3.7B |
| Q2 2023 | $10.3B | $1.3B | $4.0B |
Source: Nvidia, AMD, Intel. Quarters are based on the calendar year. In cases where revenue was revised at a later date, we have used the latest available revision. Intel integrated its Accelerated Computing Systems & Graphics (AXG) group into its Data Center Group in 2023. We have included revenue from the AXG group in the Data Center revenue for quarters prior to 2023 except for Q1 and Q2 2022, where revised Data Center revenue was provided by Intel.
Nvidia's Data Center revenue has quadrupled over the last two years, and it's estimated to have more than 70% of the market share for AI chips.
The company achieved dominance by recognizing the AI trend early, becoming a one-stop shop offering chips, software, and access to specialized computers. After hitting a $1 trillion market cap earlier in 2023, the stock continues to soar.
Competition Between Nvidia vs. AMD vs. Intel
If we compare Nvidia vs. AMD, the latter company has seen slower growth and less revenue. Its MI250 chip was found to be 80% as fast as Nvidia's A100 chip.
However, AMD has recently put a focus on AI, announcing a new MI300X chip with 192GB of memory compared to the 141GB that Nvidia's new GH200 offers. More memory reduces the amount of GPUs needed, and could make AMD a stronger contender in the space.
In contrast, Intel has seen yearly revenue declines and has virtually no market share in AI chips. The company is better known for making traditional CPUs, and its foray into the AI space has been fraught with issues. Its Sapphire Rapids processor faced years of delays due to a complex design and numerous glitches.
Going forward, all three companies have indicated they plan to increase their AI offerings. It's not hard to see why: ChatGPT reportedly runs on 10,000 Nvidia A100 chips, which would carry a total price tag of around $100 million dollars.
As more AI models are developed, the infrastructure that powers them will be a huge revenue opportunity.
Charted: What are Retail Investors Interested in Buying in 2023?
What key themes and strategies are retail investors looking at for the rest of 2023? Preview: AI is a popular choice.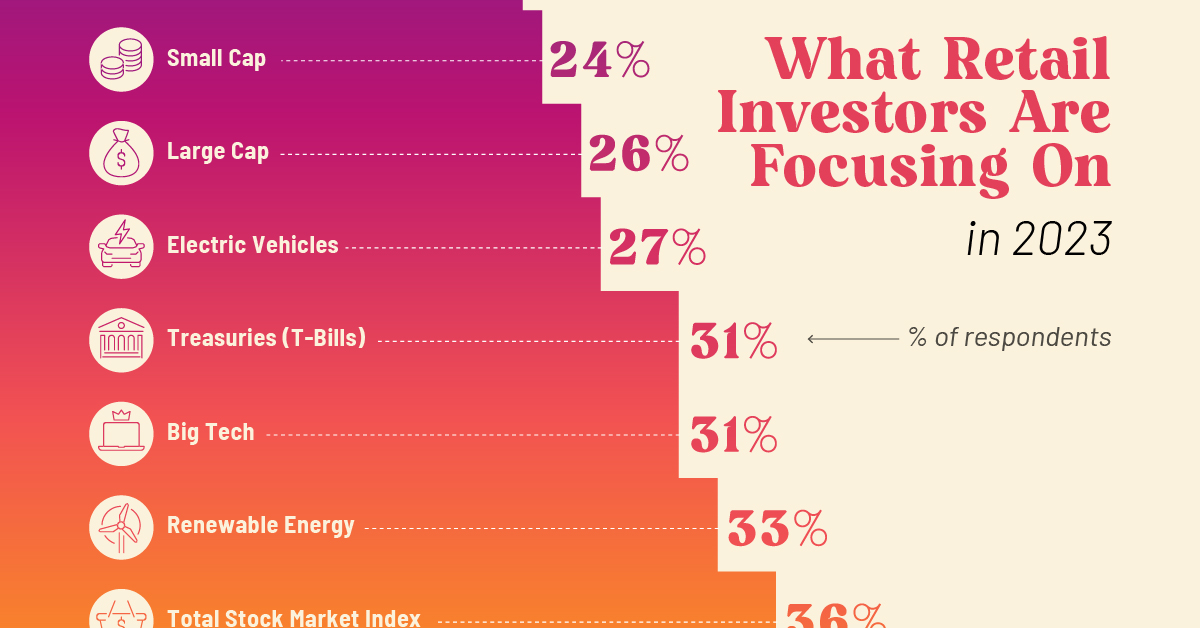 Charted: Retail Investors' Top Picks for 2023
U.S. retail investors, enticed by a brief pause in the interest rate cycle, came roaring back in the early summer. But what are their investment priorities for the second half of 2023?
We visualized the data from Public's 2023 Retail Investor Report, which surveyed 1,005 retail investors on their platform, asking "which investment strategy or themes are you interested in as part of your overall investment strategy?"
Survey respondents ticked all the options that applied to them, thus their response percentages do not sum to 100%.
Where Are Retail Investors Putting Their Money?
By far the most popular strategy for retail investors is dividend investing with 50% of the respondents selecting it as something they're interested in.
Dividends can help supplement incomes and come with tax benefits (especially for lower income investors or if the dividend is paid out into a tax-deferred account), and can be a popular choice during more inflationary times.
| Investment Strategy | Percent of Respondents |
| --- | --- |
| Dividend Investing | 50% |
| Artificial Intelligence | 36% |
| Total Stock Market Index | 36% |
| Renewable Energy | 33% |
| Big Tech | 31% |
| Treasuries (T-Bills) | 31% |
| Electric Vehicles | 27% |
| Large Cap | 26% |
| Small Cap | 24% |
| Emerging Markets | 23% |
| Real Estate | 23% |
| Gold & Precious Metals | 23% |
| Mid Cap | 19% |
| Inflation Protection | 13% |
| Commodities | 12% |
Meanwhile, the hype around AI hasn't faded, with 36% of the respondents saying they'd be interested in investing in the theme—including juggernaut chipmaker Nvidia. This is tied for second place with Total Stock Market Index investing.
Treasury Bills (30%) represent the safety anchoring of the portfolio but the ongoing climate crisis is also on investors' minds with Renewable Energy (33%) and EVs (27%) scoring fairly high on the interest list.
Commodities and Inflation-Protection stocks on the other hand have fallen out of favor.
Come on Barbie, Let's Go Party…
Another interesting takeaway pulled from the survey is how conversations about prevailing companies—or the buzz around them—are influencing trades. The platform found that public investors in Mattel increased 6.6 times after the success of the 'Barbie' movie.
Bud Light also saw a 1.5x increase in retail investors, despite receiving negative attention from their fans after the company did a beer promotion campaign with trans influencer Dylan Mulvaney.
Given the origin story of a large chunk of American retail investors revolves around GameStop and AMC, these insights aren't new, but they do reveal a persisting trend.