Naming Your Business: Lessons Learned the Hard Way
If you're launching a new venture, there's already enough pressure.
The reality is that most businesses end as failures, and early decisions are extremely critical. While it's tempting to downplay the importance of coming up with a business name, the fact is that the first impression made on customers and suppliers has a massive bearing on the success of your enterprise.
Ideally, a business name needs to be short and memorable – but it also needs to stand the test of time, while not limiting future expansion opportunities.
Business Names 101
Today's infographic comes from The Business Backer and it provides points to consider when naming a new business.
Importantly, famous examples of mistakes made by well-known companies are also provided for reference.
Of course, this is just a set of guidelines, and rules can certainly be broken under the right circumstances.
However, it's important to at least keep these guidelines in consideration, otherwise you may end up with a brand that means something quite atrocious in a foreign language!
Lessons Learned the Hard Way
Here are some naming fails orchestrated by major companies, and how they got fixed:
AOL
Originally named Quantum Computer Services back in 1985, the name was far too long and confusing. It was eventually simplified to America Online in 1989, and finally AOL later on.
Amazon
The first name used for what is now the centerpiece of the Jeff Bezos Empire was actually Cadabra. However, it turned out that over the phone most people heard "Cadaver", and so it was eventually tossed.
Sony
Sony was originally named Tokyo Tsushin Kogyo, which translates to Tokyo Telecommunications Engineering Corporation. It turned out to be quite a tongue-twister, so the company came up with a much simpler name.
Hertz
Hertz, the car rental company, was originally named "DrivUrSelf", which wasn't easy to spell for anyone.
Yahoo!
Yahoo! used to be known as "Jerry's Guide to the World Wide Web", which is long, hard to remember, and too different from other web portal or search engine names. Fortunately, Jerry Yang and David Filo changed the name of the company and also bought the yahoo.com domain name in 1995.
Visualizing The World's Largest Sovereign Wealth Funds
To date, only two countries have sovereign wealth funds worth over $1 trillion. Learn more about them in this infographic.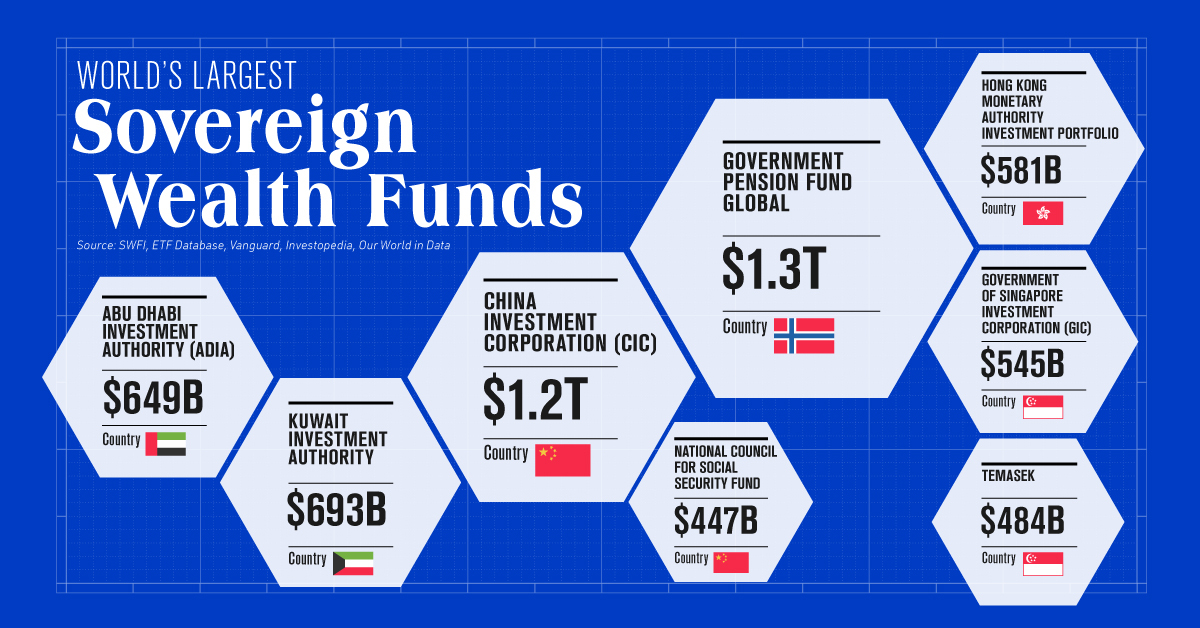 Visualized: The World's Largest Sovereign Wealth Funds
Did you know that some of the world's largest investment funds are owned by national governments?
Known as sovereign wealth funds (SWF), these vehicles are often established with seed money that is generated by government-owned industries. If managed responsibly and given a long enough timeframe, an SWF can accumulate an enormous amount of assets.
In this infographic, we've detailed the world's 10 largest SWFs, along with the largest mutual fund and ETF for context.
The Big Picture
Data collected from SWFI in October 2021 ranks Norway's Government Pension Fund Global (also known as the Norwegian Oil Fund) as the world's largest SWF.
The world's 10 largest sovereign wealth funds (with fund size benchmarks) are listed below:
Country
Fund Name
Fund Type
Assets Under Management (AUM) 
🇳🇴 Norway 
Government Pension Fund Global
SWF
$1.3 trillion
🇺🇸

U.S.

Vanguard Total Stock Market Index Fund

Mutual fund

$1.3 trillion

🇨🇳 China
China Investment Corporation
SWF
$1.2 trillion
🇰🇼 Kuwait 
Kuwait Investment Authority
SWF
$693 billion
🇦🇪 United Arab Emirates
Abu Dhabi Investment Authority
SWF
$649 billion
🇭🇰 Hong Kong SAR
Hong Kong Monetary Authority Investment Portfolio
SWF
$581 billion
🇸🇬 Singapore
Government of Singapore Investment Corporation
SWF
$545 billion
🇸🇬 Singapore
Temasek
SWF
$484 billion
🇨🇳 China
National Council for Social Security Fund
SWF
$447 billion
🇸🇦 Saudi Arabia
Public Investment Fund of Saudi Arabia
SWF
$430 billion
🇺🇸

U.S.

State Street SPDR S&P 500 ETF Trust

ETF

$391 billion

🇦🇪 United Arab Emirates
Investment Corporation of Dubai
SWF
$302 billion 
SWF AUM gathered on 10/08/2021. VTSAX and SPY AUM as of 09/30/2021.
So far, just two SWFs have surpassed the $1 trillion milestone. To put this in perspective, consider that the world's largest mutual fund, the Vanguard Total Stock Market Index Fund (VTSAX), is a similar size, investing in U.S. large-, mid-, and small-cap equities.
The Trillion Dollar Club
The world's two largest sovereign wealth funds have a combined $2.5 trillion in assets. Here's a closer look at their underlying portfolios.
1. Government Pension Fund Global – $1.3 Trillion (Norway)
Norway's SWF was established after the country discovered oil in the North Sea. The fund invests the revenue coming from this sector to safeguard the future of the national economy. Here's a breakdown of its investments.
| Asset Class | % of Total Assets | Country Diversification | Number of Securities |
| --- | --- | --- | --- |
| Public Equities | 72.8% | 69 countries | 9,123 companies |
| Fixed income | 24.7% | 45 countries | 1,245 bonds |
| Real estate | 2.5% | 14 countries | 867 properties |
As of 12/31/2020
Real estate may be a small part of the portfolio, but it's an important component for diversification (real estate is less correlated to the stock market) and generating income. Here are some U.S. office towers that the fund has an ownership stake in.
As of 12/31/2020
Overall, the fund has investments in 462 properties in the U.S. for a total value of $14.9 billion.
2. China Investment Corporation (CIC) – $1.2 Trillion (China)
The CIC is the largest of several Chinese SWFs, and was established to diversify the country's foreign exchange holdings.
Compared to the Norwegian fund, the CIC invests in a greater variety of alternatives. This includes real estate, of course, but also private equity, private credit, and hedge funds.
| Asset Class | % of Total Assets |
| --- | --- |
| Public equities | 38% |
| Fixed income | 17% |
| Alternative assets | 43% |
| Cash | 2% |
As of 12/31/2020
A primary focus of the CIC has been to increase its exposure to American infrastructure and manufacturing. By the end of 2020, 57% of the fund was invested in the United States.
"According to our estimate, the United States needs at least $8 trillion in infrastructure investments. There's not sufficient capital from the U.S. government or private sector. It has to rely on foreign investments."
– Ding Xuedong, Chairman, China Investment Corporation
This has drawn suspicion from U.S. regulators given the geopolitical tensions between the two countries. For further reading on the topic, consider this 2017 paper by the United States-China Economic and Security Review Commission.
Preparing for a Future Without Oil
Many of the countries associated with these SWFs are known for their robust fossil fuel industries. This includes Middle Eastern nations like Kuwait, Saudi Arabia, and the United Arab Emirates.
Oil has been an incredible source of wealth for these countries, but it's unlikely to last forever. Some analysts believe that we could even see peak oil demand before 2030—though this doesn't mean that oil will stop being an important resource.
Regardless, oil-producing countries are looking to hedge their reliance on fossil fuels. Their SWFs play an important role by taking oil revenue and investing it to generate returns and/or bolster other sectors of the economy.
An example of this is Saudi Arabia's Public Investment Fund (PIF), which supports the country's Vision 2030 framework by investing in clean energy and other promising sectors.
Pandemic Recovery: Have North American Downtowns Bounced Back?
All North American downtowns are facing a sluggish recovery, but some are still seeing more than 80% less foot traffic than pre-pandemic times
Pandemic Recovery: Have Downtowns Bounced Back?
As we continue on our journey towards recovery from the impacts of the pandemic, North American offices that sat empty for months have started to welcome back in-person workers.
This small step towards normalcy has sparked questions around the future of office life—will office culture eventually bounce back to pre-pandemic levels, or is remote work here to stay?
It's impossible to predict the future, but one way to gauge the current state of office life is by looking at foot traffic across city centers in North America. This graphic measures just that, using data from Avison Young.
Change in Downtown Office Traffic
According to the data, which measures foot traffic in major office buildings in 23 different metropolitan hubs across North America, remains drastically below pre-pandemic levels.
Across all major cities included in the index, average weekday visitor volume has fallen by 73.7% since the early months of 2020. Here's a look at each individual city's change in foot traffic, from March 2, 2020 to Oct 11, 2021:
| City | Country | Change in Foot Traffic |
| --- | --- | --- |
| Austin | 🇺🇸 | -51.70% |
| Calgary | 🇨🇦 | -54.50% |
| Boston | 🇺🇸 | -54.90% |
| New York | 🇺🇸 | -60.50% |
| San Francisco | 🇺🇸 | -60.80% |
| Edmonton | 🇨🇦 | -62.20% |
| Houston | 🇺🇸 | -67.90% |
| Chicago | 🇺🇸 | -68.10% |
| Vancouver | 🇨🇦 | -68.20% |
| Los Angeles | 🇺🇸 | -68.60% |
| Philadelphia | 🇺🇸 | -69.00% |
| Washington, DC | 🇺🇸 | -69.40% |
| San Francisco Peninsula | 🇺🇸 | -70.00% |
| Denver | 🇺🇸 | -73.50% |
| Nashville | 🇺🇸 | -75.60% |
| East Bay/Oakland | 🇺🇸 | -76.10% |
| Atlanta | 🇺🇸 | -77.50% |
| Dallas | 🇺🇸 | -79.80% |
| Montreal | 🇨🇦 | -80.30% |
| Toronto | 🇨🇦 | -81.20% |
| Miami | 🇺🇸 | -82.20% |
| Silicon Valley | 🇺🇸 | -82.60% |
| Ottawa | 🇨🇦 | -87.70% |
The Canadian city of Calgary is a somewhat unique case. On one hand, foot traffic has bounced back stronger than many other downtowns across North America. On the other hand, the city has one of the highest commercial vacancy rates in North America, and there are existential questions about what comes next for the city.
Interestingly, a number of cities with a high proportion of tech jobs, such as Austin, Boston, and San Francisco bounced back the strongest post-pandemic. Of course, there is one noteworthy exception to that rule.
A Tale of Two Cities
Silicon Valley has experienced one of the most significant drops in foot traffic, at -82.6%. Tech as an industry has seen one of the largest increases in remote work, as Bay Area workers look to escape high commuter traffic and high living expenses. A recent survey found that 53% of tech workers in the region said they are considering moving, with housing costs being the primary reason most respondents cited.
Meanwhile, in a very different part of North America, another city is experienced a sluggish rebound in foot traffic, but for very different reasons. Ottawa, Canada's capital, is facing empty streets and struggling small businesses that rely on the droves of government workers that used to commute to downtown offices. Unlike Silicon Valley, where tech workers are taking advantage of flexible work options, many federal workers in Ottawa are still working from home without a clear plan on returning to the workplace.
It's also worth noting that these two cities are home to a lot of single-occupant office buildings, which is a focus of this data set.
Some Businesses Remain Hopeful
Despite a slow return to office life, some employers are snapping up commercial office space in preparation for a potential mass return to the office.
Back in March 2021, Google announced it was planning to spend over $7 billion on U.S. office space and data centers. The tech giant held true to its promise—in September, Google purchased a Manhattan commercial building for $2.1 billion.
Other tech companies like Alphabet and Facebook have also been growing their office spaces throughout the pandemic. In August 2021, Amazon leased new office space in six major U.S. cities, and in September 2020, Facebook bought a 400,000 square foot complex in Bellevue, Washington.
Will More Employees Return or Stay Remote?
It's important to note that we're still in the midst of pandemic recovery, which means the jury's still out on what our post-pandemic world will look like.
Will different cities and industries eventually recover in different ways, or are we approaching the realities of "new normal" foot traffic in North American city centers?