This Fascinating City Within Hong Kong Was Lawless For Decades
View the full version of this graphic.

This Fascinating City Within Hong Kong was Lawless For Decades
There are very few places on Earth that remain ungoverned, and even the tiniest islands and city-states tend to have rules in place for things like taxation and citizenship.
Government control is an established reality for most of the world, but what would happen if a neighborhood in your city suddenly became a lawless free-for-all? What type of industries would emerge, and how would people cooperate within that environment to ensure basic services continued to operate?
One example from recent history sheds light on just how such a situation could work: Kowloon Walled City.
Kowloon Walled City
Today's infographic is a fantastic editorial illustration from South China Morning Post from 2013 that takes a detailed look at the inner workings of Kowloon Walled City (KWC).
Often described as one of the most remarkable social anomalies in recent history, this bizarre enclave was more dense than any other urban area on the face of the planet.
The story of the KWC site begins in the Song Dynasty (960-1297) when a small fort was constructed to house soldiers who helped safeguard the salt trade. In the latter half of the 19th century, the small fort was expanded into a full garrison town as the threat of a British invasion hung over China.
In 1898, the 99-year lease of Kowloon and the New Territories was established with one exception: the 2.7 hectare walled fortress. Because China never dropped its claim on the site and the British took a hands-off approach, the site became a sort of lawless enclave.
After WWII, squatters began to fill the site and more permanent structures followed. By 1950, the population had grown to 17,000, and by 1990 over 50,000 people lived within a property the size of two rugby fields.
From Squatter Camps to Functioning Neighborhood
There was a tendency to view KWC is an isolated bubble of vice within the city, but the sheer volume of business activity within the informal settlement shows that outside customers were more than happy to benefit from lower priced goods and services. This symbiosis has few parallels in modern history, and it makes KWC a fascinating situation to look back on.
KWC is best known as an enclave of criminal activity and illicit businesses such as brothels and gambling dens, but that only tells one side of the story. Despite the lack of space and formal links to utilities, the neighborhood was remarkably productive. In fact, KWC was often been described as Hong Kong's shadow economy because the hundreds of tiny workshops and factories scattered throughout the site provided products for businesses across Hong Kong.
People moved to KWC for many reasons, including bankruptcy, poverty, or to avoid deportation. Others went there to take advantage of the lack of law enforcement and regulations.
One prominent example of skirting regulation was the high concentration of dental and medical practitioners operating within KWC. In addition to lower rents, doctors who immigrated to Hong Kong from China could avoid expensive licensing and retraining required by the colonial government. Industrial businesses were free to ignore fire, labor, and safety codes to produce goods at a lower cost, or to sell items that were considered taboo in the formal economy (e.g. restaurants serving dog meat).
Law and Order
Triads acted as a de facto city council by resolving civil conflicts, creating a volunteer fire brigade, and organizing garbage disposal. The tight-knit community within the settlement would also coordinate among themselves to conserve electricity and make repairs to shared infrastructure.
Despite the lack of formally recognized land ownership, people still bought and sold property within KWC. In one example, a construction company struck an exchange deal with the owner of a four-story building. The owner would retain a ground floor flat in a newly constructed thirteen-story building on the site.
The Bitter End
In 1993, after intense rounds of buy-out offers and forced relocations, Kowloon Walled City was demolished and converted into a park. Many of the businesses were forced to close forever as rents in the rest of Hong Kong were not affordable for most of the owners.
All this intensity of random human effort and activity, vice and sloth and industry, exempted from all the controls we take for granted, resulted in an environment as richly varied and as sensual as anything in the heart of the tropical rainforest. The only drawback is that it was obviously toxic.
– Greg Girard, author of City of Darkness
Animated Map: Visualizing Earth's Seasons
This map visualizes Earth's seasons, showing how our planet's Arctic sea ice and vegetation changes throughout the year.

Creator Program
Animated Map: Visualizing Earth's Seasons
Why does Earth have seasons?
Many people think the seasons are dictated by Earth's proximity to the Sun, but this isn't the case. It's the Earth's tilt, not its closeness to the Sun, that influences our seasons.
This animated map by Eleanor Lutz visualizes Earth's seasons, showing how the temperature changes impact ice levels in the Arctic as well as vegetation more broadly. It also highlights the cloud cover and sunlight each hemisphere receives throughout the year, with each frame in the animation representing a month of time.
Why is Earth Tilted?
Unlike some of the planets that sit completely upright and rotate perpendicularly, Earth rotates on a 23.5-degree axis.
But why? A commonly accepted theory among the scientific community is the giant impact hypothesis. According to this theory, a celestial object called Theia collided with Earth many years ago, when the planet was still forming. This collision not only knocked Earth into its tilted position—some believe that the dust and debris from this impact ended up forming our moon.
Ever since, our planet has been rotating with a slight tilt (which itself is not fixed, as it "wobbles" in cycles), giving us our varying seasons throughout the year.
How Earth's Tilt Influences our Seasons
As our planet orbits the Sun, it's always leaning in the same direction. Because of its tilt, the different hemispheres receive varying amounts of sunlight at different times of the year.
In December, Earth is technically closer to the Sun than it is in June or July. However, because the Northern Hemisphere is tilted away from the Sun during December, that part of the planet experiences winter during that time.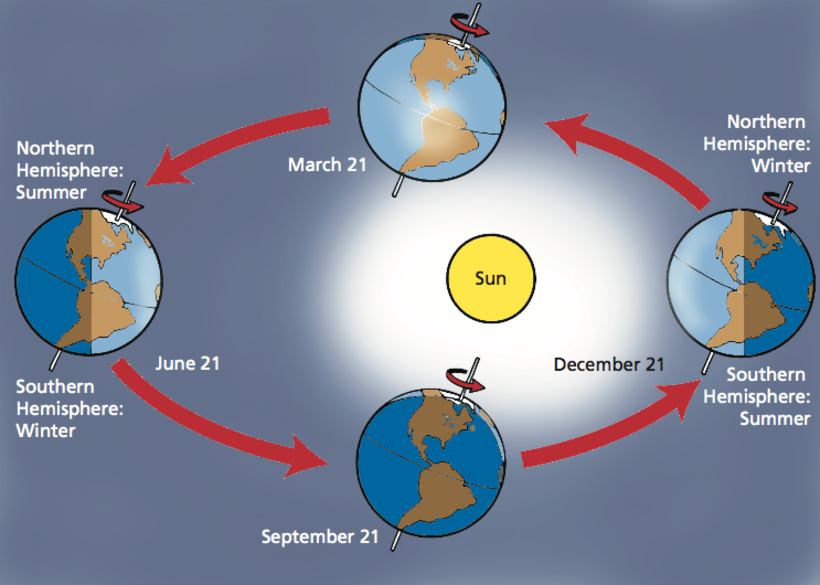 The graphic above by the Smithsonian Science Education Center (SSEC) visualizes Earth's orbit throughout the year, showing when each hemisphere receives the most direct sunlight (and thus, experiences summer).
The Climate Change Impact
While our seasons have always varied, it's worth noting that climate change has impacted our seasons, and changed how much Arctic ice we lose each summer.
In the past, millions of miles of ice remained frozen throughout the summer months. In the 1980s, there were 3.8 million square miles of ice in July—that's roughly the same size as Australia.
Over the years, Arctic ice cover has steadily declined. In July 2020, the ice cover was only 2.8 million square miles—a million less than the amount four decades ago.
Some scientists are predicting that we could lose our summer sea ice entirely by 2035, which would have a devastating impact on the Artic's wildlife and the indigenous people who live there.
10 Travel Destinations for Post-Pandemic Life
Excited to get back to travelling the world? This infographic highlights the 10 most popular tourist destinations.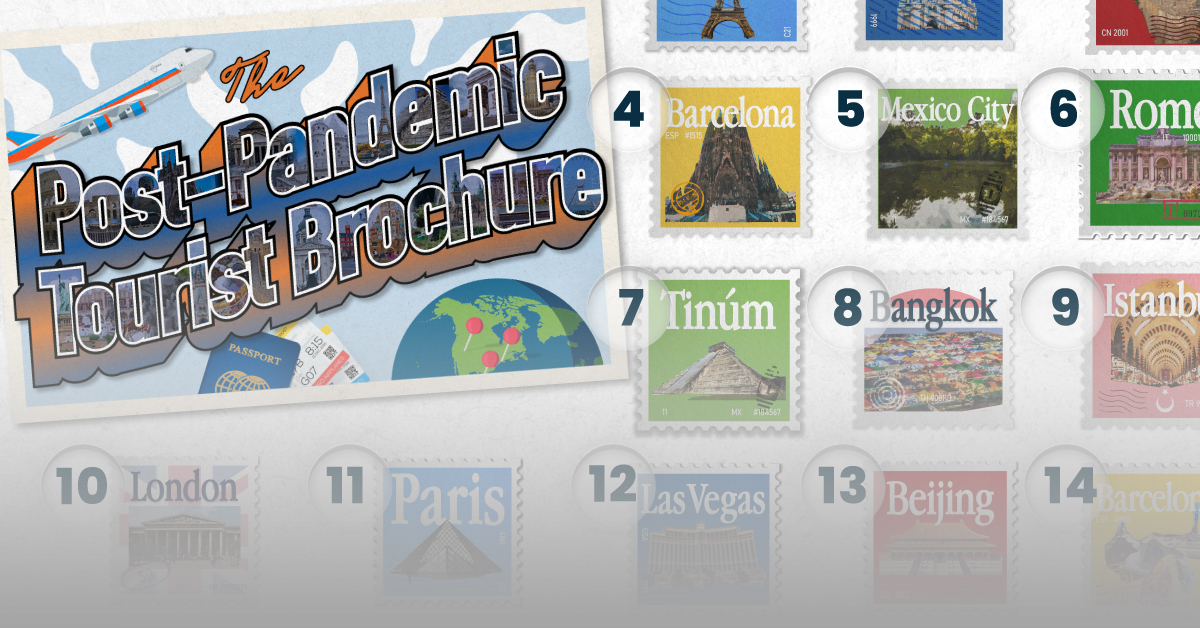 10 Travel Destinations for Post-Pandemic Life
On March 11, 2020, the World Health Organization formally classified the COVID-19 outbreak as a pandemic. The resulting travel bans decimated the tourism industry, and international air travel initially fell by as much as 98%.
Almost two years later, travel is finally back on the table, though there are many restrictions to consider. Regardless, a survey conducted in September 2021 found that, as things revert to normalcy, 82% of Americans are looking forward to international travel more than anything else.
To give inspiration for your next vacation (whenever that may be), this infographic lists the 10 most visited countries in 2019, as well as three of their top attractions according to Google Maps.
Bon Voyage
Here were the 10 most popular travel destinations in 2019, measured by their number of international arrivals.
| Country | Number of international arrivals in 2019 (millions) |
| --- | --- |
| 🇫🇷 France* | 90.0 |
| 🇪🇸 Spain | 83.5 |
| 🇺🇸 U.S. | 79.3 |
| 🇨🇳 China | 65.7 |
| 🇮🇹 Italy | 64.5 |
| 🇹🇷 Turkey | 51.2 |
| 🇲🇽 Mexico | 45.0 |
| 🇹🇭 Thailand | 39.8 |
| 🇩🇪 Germany | 39.6 |
| 🇬🇧 United Kingdom | 39.4 |
*Estimate | Source: World Bank
France was the most popular travel destination by a significant margin, and it's easy to see why. The country is home to many of the world's most renowned sights, including the Arc de Triomphe and Louvre Museum.
The Arc de Triomphe was built in the early 1800s, and honors those who died in the French Revolutionary and Napoleonic Wars. In 1944, Allied soldiers marched through the monument after Paris was liberated from the Nazis.
The Louvre Museum, on the other hand, is often recognized by its giant glass pyramid. The museum houses over 480,000 works of art, including Leonardo da Vinci's Mona Lisa.
Art isn't the only thing that France has to offer. The country has a reputation for culinary excellence, and is home to 632 Michelin-starred restaurants, the most out of any country. Japan comes in at second, with 413.
While You're There…
After seeing the sights in Paris, you may want to consider a visit to Spain. The country is the southern neighbor of France and is known for its beautiful villages and beaches.
One of its most impressive sights is the Sagrada Familia, a massive 440,000 square feet church which began construction in 1882, and is still being worked on today (139 years in the making). The video below shows the structure's striking evolution.
At a height of 172 meters, the Sagrada Familia is approximately 52 stories tall.
Another popular spot is Ibiza, an island off the coast of Spain that is famous for its robust nightlife scene. The island is frequently mentioned in pop culture—Netflix released an adventure/romance movie titled Ibiza in 2018, and the remix of Mike Posner's song I Took a Pill in Ibiza has over 1.4 billion views on YouTube.
Beaches Galore
If you're looking for something outside of Europe, consider Mexico or Thailand, which are the 7th and 8th most popular travel destinations. Both offer hot weather and an abundance of white sand beaches.
If you need even more convincing, check out these links:
Expect Turbulence
Under normal circumstances, hundreds of billions of dollars are spent each year by international tourists. According to the World Travel & Tourism Council (WTCC), this spending accounted for an impressive 10.4% of global GDP in 2019.
Travel restrictions introduced in 2020 dealt a serious blow to the industry, reducing its share of global GDP to 5.5%, and wiping out an estimated 62 million jobs. While the WTCC believes these jobs could return by 2022, the emerging Omicron variant has already prompted many countries to tighten restrictions once again.
To avoid headaches in the future, make sure you fully understand the rules and restrictions of where you're heading.