How the Internet of Things is Building Smarter Cities
How the Internet of Things is Building Smart Cities
Urban populations are rising around the world, but cities are struggling to keep up.
As the silent force that has revolutionized our world, technology is now being leveraged to manage rapid urbanization and to create smarter cities.
Today's infographic from Raconteur explores how the Internet of Things (IoT) has become a vital component in the creation of more efficient, sustainable, and resilient cities, and illustrates the growing impact this will have on both people and the planet.
The Growth of Smart Cities
Since 1950, the amount of people living in cities has risen almost six-fold, from 751 million to over 4 billion in 2018—more than half of the planet's population. Over the next three decades, cities are projected to add yet another 2.5 billion more people.
This continuing migration to urban areas puts greater pressure on public services as well as urban planning. As a result, cities are implementing solutions driven by technology and data to reduce the added strain created by this growth.
Smart City Innovations
With spending on smart city development to reach $158 billion by 2022, significant growth is expected from emerging innovations such as:
Officer wearables:
Devices that equip police officers with real-time information to improve awareness and make better decisions
Global CAGR (2017-2022): 62%
Vehicle to everything (V2X) connectivity:
Allows cars to communicate with other cars, transport infrastructure, and pedestrians
Global CAGR (2017-2022): 49%
Open data:
Data that anyone can access that contributes to the transparency of government and smart city initiatives
Global CAGR (2017-2022): 25%
Smart trash collection:
Solar powered, sensor-equipped smart bins allow waste collectors to track waste levels and optimize their fuel usage
Global CAGR (2017-2022): 23%
Smart city platforms:
Systems that collect data from different areas such as pollution levels and traffic density to better manage smart cities
Global CAGR (2017-2022): 23%
These technologies could lead to a wide-range of transformative effects for cities that are willing to embrace them.
Measuring the Impact
Smart city technologies have the power to improve the health and well-being of citizens, while also providing new avenues for economic development.
Safety
To enhance public safety, cities are adopting real-time crime mapping, gunshot detection, and predictive policing tools to help identify potential hotspots and prevent crimes from happening.
According to McKinsey, tapping into these technologies could reduce crime rates and fatalities by 8-10%, potentially saving up to 300 lives each year in cities with a population size and crime rate similar to Rio de Janeiro.
Transport
As more vehicles join the IoT ecosystem, the bigger the IoT logistics and transportation industry grows, with spending estimated to reach over $43 billion by the end of this year.
New innovations like smart roads that support automated vehicles are beginning to get more investment from cities. These roads will be able to communicate with automated vehicles to ensure the safety of drivers, and better optimize traffic—potentially decreasing the average commute time by 30 minutes.
Health
Technology is providing new strategies for the prevention and treatment of chronic diseases.
In China, drones with facial recognition technology are being used to track those affected with coronavirus to ensure they do not break quarantine and risk spreading the virus.
The most effective use of technology however, is data-based health interventions for maternal and child health, which rely on the use of analytics to identity new mothers and to direct prenatal and postnatal educational campaigns to them. Using interventions to prevent diseases before they occur has proven to be particularly effective in cities with a high disease burden and low access to care, such as Lagos in Nigeria.
These new technologies are reducing cities' burden of chronic disease. This is measured across the WHO's central metric disability-adjusted life years (DALY), which is equal to one year of "healthy" life lost due to contracting a disease. For example, using data-based interventions for maternal care could reduce DALYs by more than 5%.
Environment
While a significant portion of greenhouse gas emissions come from cities, these can be cut by up to 15% with smart city solutions by reducing electricity and heat production.
Smart cities will also play a pivotal role in reducing water consumption. Applications such as smart irrigation systems, water leakage, and quality and consumption monitoring could save a city between 25-80 liters of water per person, per day.
Citizen-Led Smart Cities
The growing uptake of 5G can help fuel these economic and social benefits. With its high-speed connectivity and ability to support more devices, 5G could empower smart cities to scale—making it a defining feature in the next generation of innovative smart city projects. However, this is not the only model that can be leveraged.
Some newer iterations of smart cities are grounded in the principles of equity and social inclusion. For instance, Vienna regularly tops the Smart Cities Index for its inclusive and collaborative way of approaching smart city initiatives. The city advocates for socially-balanced solutions that consider citizens from all socio-economic backgrounds and age groups.
Vienna is just one of many European hubs that are leading the way in the sheer volume of smart city project investments. In fact, the continent is expected to have as many as 53 million active IoT connections by 2025.
While every city has a different strategy, citizens will prove to be their most important asset. With a flurry of exciting new smart city applications becoming the new normal over the next decade, it is clear that humans will be at the heart of actualizing their true potential.

Which Streaming Service Has the Most Subscriptions?
From Netflix and Disney+ to Spotify and Apple Music, we rank the streaming services with the most monthly paid subscriptions.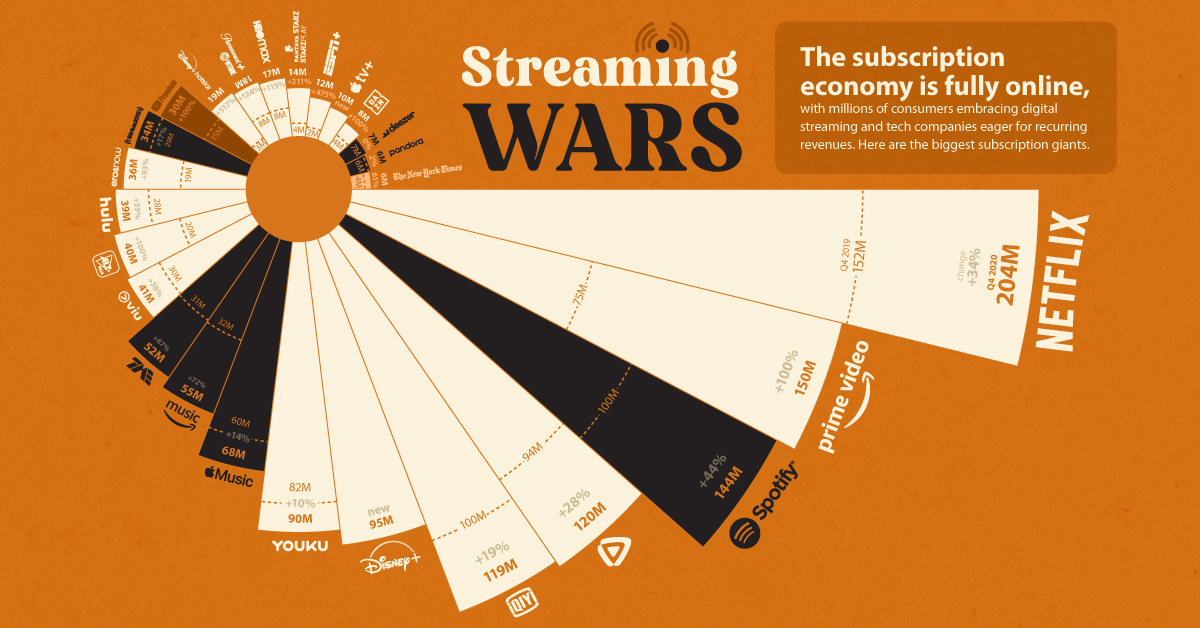 Which Streaming Service Has The Most Subscriptions?
Many companies have launched a streaming service over the past few years, trying to capitalize on the digital media shift and launching the so-called "streaming wars."
After Netflix grew from a small DVD-rental company to a household name, every media company from Disney to Apple saw recurring revenues ripe for the taking. Likewise, the audio industry has long-since accepted Spotify's rise to prominence, as streaming has become the de facto method of consumption for many.
But it was actually the unexpected COVID-19 pandemic that solidified the foothold of digital streaming, with subscription services seeing massive growth over the last year. Although it was expected that many new services would flounder along the way, media subscription services saw wide scale growth and adoption almost across the board.
We've taken the video, audio, and news subscription services with 5+ million subscribers to see who came out on top—and who has grown the most quickly—over the past year. Data comes from the FIPP media association as well as individual company reports.
Streaming Service Giants: Netflix and Amazon
The top of the streaming giant pantheon highlights two staples of business: the first-mover advantage and the power of conglomeration.
With 200+ million global subscribers, Netflix has capitalized on its position as the first and primary name in digital video streaming. Though its consumer base in the Americas has begun to plateau, the company's growth in reach (190+ countries) and content (70+ original movies slated for 2021) has put it more than 50 million subscribers ahead of its closest competition.
The story is the same in the audio market, where Spotify's 144 million subscriber base is more than double that of Apple Music, the next closest competitor with 68 million subscribers.
Meanwhile, Amazon's position as the second most popular video streaming service with 150 million subscribers might be surprising. However, Prime Video subscriptions are included with membership to Amazon Prime, which saw massive growth in usage during the pandemic.
| Service | Type | Subscribers (Q4 2020) |
| --- | --- | --- |
| Netflix | Video | 203.7M |
| Amazon Prime Video | Video | 150.0M |
| Spotify | Audio | 144.0M |
| Tencent Video | Video | 120.0M |
| iQIYI | Video | 119.0M |
| Disney+ | Video | 94.9M |
| Youku | Video | 90.0M |
| Apple Music | Audio | 68.0M |
| Amazon Prime Music | Audio | 55.0M |
| Tencent Music (Group) | Audio | 51.7M |
| Viu | Video | 41.4M |
| Alt Balaji | Video | 40M |
| Hulu | Video | 38.8M |
| Eros Now | Video | 36.2M |
| Sirius Xm | Audio | 34.4M |
| YouTube Premium | Video/Audio | 30M |
| Disney+ Hotstar | Video | 18.5M |
| Paramount+ | Video | 17.9M |
| HBO Max | Video | 17.2M |
| Starz/StarzPlay/Pantaya | Video | 13.7M |
| ESPN+ | Video | 11.5M |
| Apple TV+ | Video | 10M |
| DAZN | Video | 8M |
| Deezer | Audio | 7M |
| Pandora | Audio | 6.3M |
| New York Times | News | 6.1M |
Another standout is the number of large streaming services based in Asia. China-based Tencent Video (also known as WeTV) and Baidu's iQIYI streaming services both crossed 100 million paid subscribers, with Alibaba's Youku not far behind with 90 million.
Disney Leads in Streaming Growth
But perhaps most notable of all is Disney's rapid ascension to the upper echelons of streaming service giants.
Despite Disney+ launching in late 2019 with a somewhat lackluster content library (only one original series with one episode at launch), it has quickly rocketed both in terms of content and its subscriber base. With almost 95 million subscribers, it has amassed more subscribers in just over one year than Disney expected it could reach by 2024.
| Service | Type | Percentage Growth (2019) |
| --- | --- | --- |
| Disney+ | Video | New |
| Apple TV+ | Video | New |
| Disney+ Hotstar | Video | 516.7% |
| ESPN+ | Video | 475.0% |
| Starz/StarzPlay/Pantaya | Video | 211.4% |
| Paramount+ | Video | 123.8% |
| HBO Max | Video | 115.0% |
| Amazon Prime Video | Video | 100.0% |
| Alt Balaji | Video | 100.0% |
| YouTube Premium | Video/Audio | 100.0% |
| DAZN | Video | 100.0% |
| Eros Now | Video | 92.6% |
| Amazon Prime Music | Audio | 71.9% |
| Tencent Music (Group) | Audio | 66.8% |
| New York Times | News | 60.5% |
| Spotify | Audio | 44.0% |
| Hulu | Video | 38.6% |
| Viu | Video | 38.0% |
| Netflix | Video | 34.4% |
| Tencent Video | Video | 27.7% |
| iQiyi | Video | 19.0% |
| Sirius Xm | Audio | 17.4% |
| Apple Music | Audio | 13.3% |
| Youku | Video | 9.6% |
| Pandora | Audio | 1.6% |
| Deezer | Audio | 0% |
The Disney+ wave also spurred growth in partner streaming services like Hotstar and ESPN+, while other services with smaller subscriber bases saw large growth rates thanks to the COVID-19 pandemic.
The lingering question is how the landscape will look when the pandemic starts to wind down, and when all the new players are accounted for. NBCUniversal's Peacock, for example, has reached over 30 million subscribers as of January 2021, but the company hasn't yet disclosed how many are paid subscribers.
Likewise, competitors are investing in content libraries to try and make up ground on Netflix and Disney. HBO Max is slated to start launching internationally in June 2021, and ViacomCBS rebranded and expanded CBS All Access into Paramount+.
And international growth is vital. Three of the top six video streaming services by subscribers are based in China, while Indian services Hotstar, ALTBalaji, and Eros Now all saw surges in subscriber bases, with more room left to grow.

How Do Esports Companies Compare with Sports Teams?
With some esports companies more valuable than traditional sports teams, we visualize esports vs sports in franchise value.
How Do Esports Companies Compare with Sports Teams?
Are esports on the same level as "real" sports? These comparisons range from tricky to subjective, but the monetary value of companies speak for themselves.
The world's largest esports companies have definitely risen to the occasion. Valued at almost half-a-billion dollars, they've started to pass some sports franchises in value.
In the above graphic, we compare Forbes' valuation of the top 10 esports companies in 2020 against median franchises in the "Big Four" major leagues (NFL, MLB, NBA, and NHL). Despite competitive gaming's rapid growth, there's still a long way left to go.
Esports Impress but NFL Teams Reign Supreme
The world's top esports companies have grown quickly, and impressively.
As of 2018, there was only one esports company worth more than $300 million in valuation. By 2020, four of the top 10 were valued at more than $300 million.
| Esports Company | Games with Franchises | Value (2020) |
| --- | --- | --- |
| TSM | League of Legends | $410M |
| Cloud9 | League of Legends, Overwatch | $350M |
| Team Liquid | League of Legends | $310M |
| FaZe Clan | Call of Duty | $305M |
| 100 Thieves | League of Legends, Call of Duty | $190M |
| Gen.G | League of Legends, Overwatch, NBA 2K | $185M |
| Enthusiast Gaming | Call of Duty, Overwatch | $180M |
| G2 Esports | League of Legends | $175M |
| NRG Esports | Call of Duty, Overwatch | $155M |
| T1 | League of Legends | $150M |
When compared to traditional sports valuations, esports companies have already reached major league hockey status.
TSM, the world's most valuable esports company in 2020, has a higher valuation than five NHL franchises. In fact, four esports companies were estimated to be more valuable than two NHL franchises, the Florida Panthers and Arizona Coyotes.
But other sports leagues are further away. While the median value of an NHL franchise in 2020 was $520 million, the MLB, NBA, and NFL all saw median values of over $1.6 billion.
| Esports vs. Sports Franchises | Lowest Valued Team | Highest Valued Team | Median |
| --- | --- | --- | --- |
| NFL | $2.0B | $5.7B | $3.0B |
| NBA | $1.3B | $4.6B | $1.8B |
| MLB | $980M | $5.0B | $1.6B |
| NHL | $285M | $1.6B | $520M |
| Esports (Top 10) | $150M | $410M | $188M |
Differences in Esports vs Sports Structures and Growth
Try as we might to make a clean apples-to-apples comparison between esports and traditional sports teams, there are significant differences in the business models to consider.
For starters, major esports companies own multiple franchises and non-franchise teams across many games. Cloud9 owns both the eponymous Cloud9 League of Legends franchise and the London Spitfire Overwatch franchise, for example, as well as non-franchise teams in Halo, Counter Strike: Global Offensive, Fortnite, and other games.
The revenue streams for esports companies are also extremely varied. Companies like TSM, 100 Thieves, FaZe Clan and Enthusiast Gaming made 50% or more of their revenue from outside of esports, having instead expanded into diverse companies with an equal focus on content creation and apps.
But it's this greater ability to diversify, and the still-increasing size of esports fandom, that continues to grow esports valuations. In fact, TSM's estimated 2020 revenue of $45 million is less than half of the Arizona Coyotes' estimated revenue of $95 million, despite a $100+ million valuation difference in favor of TSM.
That's why the continued maturation of esports is only going to make traditional sports comparisons easier, and closer. Instead of having to pit companies against franchises, direct league-to-league comparisons will be possible, and the differences will likely shrink from billions to millions.