How Technology is Shaping the Future of Education
Technology has transformed almost every aspect of our lives, and now it seems that education systems around the world are due for an update.
Educators are tapping into the digital revolution and adopting new technologies to help students reach their full potential, but can they adapt quickly enough to prepare children for the changing future of work?
The Growing Role of Tech in Classrooms
Today's infographic from Best Education Degrees explores the different ways technology is transforming classrooms, and disrupting education as we know it.
The Next Generation
Although some might view technology as pervasive, for younger generations, it is ever-present.
Children and young adults make up one-third of all internet users, so it's no surprise that they are more hyper-connected and digitally savvy than their parents.
The combination of evolving educational needs for children and a more uncertain future of work means that updating what children learn, and how they learn it, has become a crucial issue for schools and colleges—but what should be prioritized?
Classrooms 2.0
In a survey of 1,400 educators, the majority of them say they believe that classrooms of the future will be centered around self-paced and personalized learning.
This student-centric approach would allow children to choose their own pace and learning objectives based on individual interests—all of which could be guided by artificial intelligence, chatbots, and video-based learning.
Artificial Intelligence
Artificial intelligence in education typically focuses on identifying what a student does or doesn't know, and then subsequently developing a personalized curricula for each student.
The AI-powered language learning platform Duolingo is one of the most downloaded education apps globally, with more than 50 million installs in 2018. The platform single-handedly challenges the notion of traditional learning, with a study showing that spending just 34 hours on the app equates to an entire university semester of language education.
AI-driven applications in education are still in their infancy, but Duolingo's success demonstrates the growth potential in the sector. In fact, the nascent market for AI in education is expected to reach $6 billion by the year 2025. Over half of this will come from China and the U.S., with China leading globally.
Chatbots
Chatbots are also quickly becoming a fundamental tool in next generation education. Designed to simplify the interaction between student and computer, chatbots provide a wide range of benefits, including:
Spaced interval learning: Uses algorithms and repetition to optimize memorization
Immediate feedback: Papers can be graded with 92% accuracy and in a faster time than teachers
Self-paced learning: Tracks a student's performance and guides them based on their individual needs
This innovative technology is arming educators with new strategies for more engaged learning, whilst simultaneously reducing their workload.
Video Learning
Although video-based learning may not necessarily be considered as innovative as artificial intelligence or chatbots, 98% of educators view it as a vital component in personalized learning experiences. Most institutions report incorporating video into their curriculums in some way, but even higher demand for video-based learning may come from students in the near future.
This is due to the fact that video learning increases student satisfaction by 91%, and student achievements by 82%, which could be why educators are increasingly using video for tasks like:
Providing material for student assignments
Giving feedback on assignments
Flipped instruction (blended learning) exercises
A flipped classroom overturns conventional learning by focusing on practical content that is delivered online and often outside the classroom.
The Battle Between Traditional and Tech
Flipping classrooms is a trend that has gained momentum in recent years—and may be considered to be a radical change in how students absorb information. The relatively new model also eliminates homework, by empowering students to work collaboratively on their tasks during class time.
Although new models of learning are disrupting the status quo of traditional learning, could the increasing amount of time children spend in front of screens be detrimental?
Research has shown that children are more likely to absorb information from books rather than screens. There has also been an evident increase in low-tech or tech-free schools that believe that human interaction is paramount when it comes to keeping children engaged and excited to learn.
Creating First-Class Humans
Although we may not be in the era of iTeachers just yet, the benefits of technology as teaching aids are undeniable. However, what is more important is that these aids are used in tandem with developmental and educational psychology—ultimately keeping students rather than technology at the core of education.
The future will be about pairing the artificial intelligence of computers with the cognitive, social and emotional capabilities of humans, so that we educate first-class humans, not second-class robots"
—OECD, Trends Shaping Education report
After all, how children develop these skills is perhaps less important than their ability to navigate change, as that is the only thing that will remain constant.

Which Streaming Service Has the Most Subscriptions?
From Netflix and Disney+ to Spotify and Apple Music, we rank the streaming services with the most monthly paid subscriptions.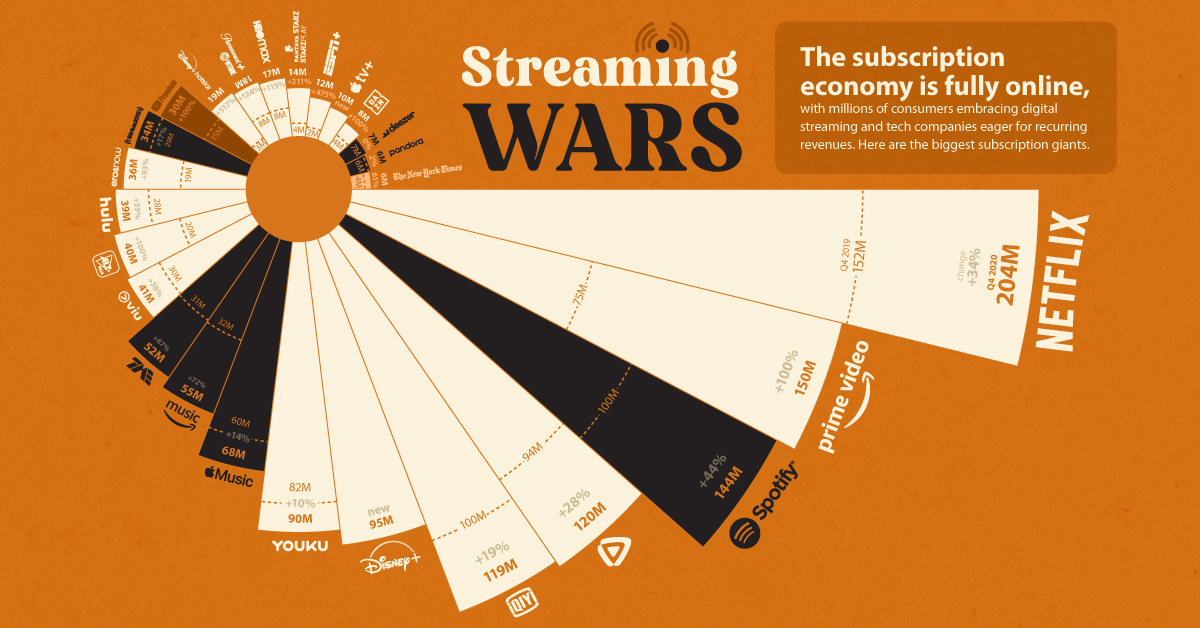 Which Streaming Service Has The Most Subscriptions?
Many companies have launched a streaming service over the past few years, trying to capitalize on the digital media shift and launching the so-called "streaming wars."
After Netflix grew from a small DVD-rental company to a household name, every media company from Disney to Apple saw recurring revenues ripe for the taking. Likewise, the audio industry has long-since accepted Spotify's rise to prominence, as streaming has become the de facto method of consumption for many.
But it was actually the unexpected COVID-19 pandemic that solidified the foothold of digital streaming, with subscription services seeing massive growth over the last year. Although it was expected that many new services would flounder along the way, media subscription services saw wide scale growth and adoption almost across the board.
We've taken the video, audio, and news subscription services with 5+ million subscribers to see who came out on top—and who has grown the most quickly—over the past year. Data comes from the FIPP media association as well as individual company reports.
Streaming Service Giants: Netflix and Amazon
The top of the streaming giant pantheon highlights two staples of business: the first-mover advantage and the power of conglomeration.
With 200+ million global subscribers, Netflix has capitalized on its position as the first and primary name in digital video streaming. Though its consumer base in the Americas has begun to plateau, the company's growth in reach (190+ countries) and content (70+ original movies slated for 2021) has put it more than 50 million subscribers ahead of its closest competition.
The story is the same in the audio market, where Spotify's 144 million subscriber base is more than double that of Apple Music, the next closest competitor with 68 million subscribers.
Meanwhile, Amazon's position as the second most popular video streaming service with 150 million subscribers might be surprising. However, Prime Video subscriptions are included with membership to Amazon Prime, which saw massive growth in usage during the pandemic.
| Service | Type | Subscribers (Q4 2020) |
| --- | --- | --- |
| Netflix | Video | 203.7M |
| Amazon Prime Video | Video | 150.0M |
| Spotify | Audio | 144.0M |
| Tencent Video | Video | 120.0M |
| iQIYI | Video | 119.0M |
| Disney+ | Video | 94.9M |
| Youku | Video | 90.0M |
| Apple Music | Audio | 68.0M |
| Amazon Prime Music | Audio | 55.0M |
| Tencent Music (Group) | Audio | 51.7M |
| Viu | Video | 41.4M |
| Alt Balaji | Video | 40M |
| Hulu | Video | 38.8M |
| Eros Now | Video | 36.2M |
| Sirius Xm | Audio | 34.4M |
| YouTube Premium | Video/Audio | 30M |
| Disney+ Hotstar | Video | 18.5M |
| Paramount+ | Video | 17.9M |
| HBO Max | Video | 17.2M |
| Starz/StarzPlay/Pantaya | Video | 13.7M |
| ESPN+ | Video | 11.5M |
| Apple TV+ | Video | 10M |
| DAZN | Video | 8M |
| Deezer | Audio | 7M |
| Pandora | Audio | 6.3M |
| New York Times | News | 6.1M |
Another standout is the number of large streaming services based in Asia. China-based Tencent Video (also known as WeTV) and Baidu's iQIYI streaming services both crossed 100 million paid subscribers, with Alibaba's Youku not far behind with 90 million.
Disney Leads in Streaming Growth
But perhaps most notable of all is Disney's rapid ascension to the upper echelons of streaming service giants.
Despite Disney+ launching in late 2019 with a somewhat lackluster content library (only one original series with one episode at launch), it has quickly rocketed both in terms of content and its subscriber base. With almost 95 million subscribers, it has amassed more subscribers in just over one year than Disney expected it could reach by 2024.
| Service | Type | Percentage Growth (2019) |
| --- | --- | --- |
| Disney+ | Video | New |
| Apple TV+ | Video | New |
| Disney+ Hotstar | Video | 516.7% |
| ESPN+ | Video | 475.0% |
| Starz/StarzPlay/Pantaya | Video | 211.4% |
| Paramount+ | Video | 123.8% |
| HBO Max | Video | 115.0% |
| Amazon Prime Video | Video | 100.0% |
| Alt Balaji | Video | 100.0% |
| YouTube Premium | Video/Audio | 100.0% |
| DAZN | Video | 100.0% |
| Eros Now | Video | 92.6% |
| Amazon Prime Music | Audio | 71.9% |
| Tencent Music (Group) | Audio | 66.8% |
| New York Times | News | 60.5% |
| Spotify | Audio | 44.0% |
| Hulu | Video | 38.6% |
| Viu | Video | 38.0% |
| Netflix | Video | 34.4% |
| Tencent Video | Video | 27.7% |
| iQiyi | Video | 19.0% |
| Sirius Xm | Audio | 17.4% |
| Apple Music | Audio | 13.3% |
| Youku | Video | 9.6% |
| Pandora | Audio | 1.6% |
| Deezer | Audio | 0% |
The Disney+ wave also spurred growth in partner streaming services like Hotstar and ESPN+, while other services with smaller subscriber bases saw large growth rates thanks to the COVID-19 pandemic.
The lingering question is how the landscape will look when the pandemic starts to wind down, and when all the new players are accounted for. NBCUniversal's Peacock, for example, has reached over 30 million subscribers as of January 2021, but the company hasn't yet disclosed how many are paid subscribers.
Likewise, competitors are investing in content libraries to try and make up ground on Netflix and Disney. HBO Max is slated to start launching internationally in June 2021, and ViacomCBS rebranded and expanded CBS All Access into Paramount+.
And international growth is vital. Three of the top six video streaming services by subscribers are based in China, while Indian services Hotstar, ALTBalaji, and Eros Now all saw surges in subscriber bases, with more room left to grow.

How Do Esports Companies Compare with Sports Teams?
With some esports companies more valuable than traditional sports teams, we visualize esports vs sports in franchise value.
How Do Esports Companies Compare with Sports Teams?
Are esports on the same level as "real" sports? These comparisons range from tricky to subjective, but the monetary value of companies speak for themselves.
The world's largest esports companies have definitely risen to the occasion. Valued at almost half-a-billion dollars, they've started to pass some sports franchises in value.
In the above graphic, we compare Forbes' valuation of the top 10 esports companies in 2020 against median franchises in the "Big Four" major leagues (NFL, MLB, NBA, and NHL). Despite competitive gaming's rapid growth, there's still a long way left to go.
Esports Impress but NFL Teams Reign Supreme
The world's top esports companies have grown quickly, and impressively.
As of 2018, there was only one esports company worth more than $300 million in valuation. By 2020, four of the top 10 were valued at more than $300 million.
| Esports Company | Games with Franchises | Value (2020) |
| --- | --- | --- |
| TSM | League of Legends | $410M |
| Cloud9 | League of Legends, Overwatch | $350M |
| Team Liquid | League of Legends | $310M |
| FaZe Clan | Call of Duty | $305M |
| 100 Thieves | League of Legends, Call of Duty | $190M |
| Gen.G | League of Legends, Overwatch, NBA 2K | $185M |
| Enthusiast Gaming | Call of Duty, Overwatch | $180M |
| G2 Esports | League of Legends | $175M |
| NRG Esports | Call of Duty, Overwatch | $155M |
| T1 | League of Legends | $150M |
When compared to traditional sports valuations, esports companies have already reached major league hockey status.
TSM, the world's most valuable esports company in 2020, has a higher valuation than five NHL franchises. In fact, four esports companies were estimated to be more valuable than two NHL franchises, the Florida Panthers and Arizona Coyotes.
But other sports leagues are further away. While the median value of an NHL franchise in 2020 was $520 million, the MLB, NBA, and NFL all saw median values of over $1.6 billion.
| Esports vs. Sports Franchises | Lowest Valued Team | Highest Valued Team | Median |
| --- | --- | --- | --- |
| NFL | $2.0B | $5.7B | $3.0B |
| NBA | $1.3B | $4.6B | $1.8B |
| MLB | $980M | $5.0B | $1.6B |
| NHL | $285M | $1.6B | $520M |
| Esports (Top 10) | $150M | $410M | $188M |
Differences in Esports vs Sports Structures and Growth
Try as we might to make a clean apples-to-apples comparison between esports and traditional sports teams, there are significant differences in the business models to consider.
For starters, major esports companies own multiple franchises and non-franchise teams across many games. Cloud9 owns both the eponymous Cloud9 League of Legends franchise and the London Spitfire Overwatch franchise, for example, as well as non-franchise teams in Halo, Counter Strike: Global Offensive, Fortnite, and other games.
The revenue streams for esports companies are also extremely varied. Companies like TSM, 100 Thieves, FaZe Clan and Enthusiast Gaming made 50% or more of their revenue from outside of esports, having instead expanded into diverse companies with an equal focus on content creation and apps.
But it's this greater ability to diversify, and the still-increasing size of esports fandom, that continues to grow esports valuations. In fact, TSM's estimated 2020 revenue of $45 million is less than half of the Arizona Coyotes' estimated revenue of $95 million, despite a $100+ million valuation difference in favor of TSM.
That's why the continued maturation of esports is only going to make traditional sports comparisons easier, and closer. Instead of having to pit companies against franchises, direct league-to-league comparisons will be possible, and the differences will likely shrink from billions to millions.