Visualized: The Biggest Ponzi Schemes in Modern History
The Biggest Ponzi Schemes in Modern History
Some things simply sound too good to be true, but when money is involved, our judgement can become clouded.
This is often the case with Ponzi schemes, a type of financial fraud that lures investors by promising abnormally high returns. Money brought in by new members is used to pay the scheme's founders, as well as its earlier investors.
The scheme is named after Charles Ponzi, an Italian who became infamous in the 1920s for claiming he could double his clients' money within 90 days. Since then, numerous Ponzi schemes have been orchestrated around the globe.
To help you learn more about these sophisticated crimes, this infographic examines some of the biggest Ponzi schemes in modern history.
Ponzi Schemes in the 20th Century
The 1990s saw a number of large Ponzi schemes worth upwards of $500 million.
| Country | Date Ended | Name of Scheme and Founder | Value (USD) |
| --- | --- | --- | --- |
| Belgium | 1991 | Moneytron, Jean-Pierre Van Rossem | $860M |
| Romania | 1994 | Caritas, Ioan Stoica | $1B - $5B |
| Russia | 1994 | MMM, Sergei Mavrodi | $10B |
| U.S. | 1997 | Great Ministries International, Geral Payne | $500M |
In many cases, these schemes thrived by taking advantage of the unsuspecting public who often lacked any knowledge of investing. Caritas, for example, was a Ponzi scheme based in Romania that marketed itself as a "self-help game" for the poor.
The scheme was initially very successful, tricking millions of people into making deposits by offering the chance to earn an 800% return after three months. This was not sustainable, and Caritas was eventually unable to distribute further winnings.
Caritas operated for only two years, but its "success" was undeniable. In 1993, it was estimated that a third of the country's money was circulating through the scheme.
Ponzi Schemes in the 21st Century
The American public has fallen victim to numerous multi-billion dollar Ponzi schemes since the beginning of the 21st century.
| Country | Date Ended | Name of Scheme and Founder | Value (USD) |
| --- | --- | --- | --- |
| U.S. | 2003 | Mutual Benefits Company, Joel Steinger | $1B |
| U.S. | 2003 | Petters Group Worldwide, Tom Petters | $4B |
| U.S. | 2008 | Madoff Investment Scandal, Bernie Madoff | $65B |
| U.S. | 2012 | Stanford Financial Group, Allen Stanford | $7B |
Many of these schemes have made major headlines, but much less is said about the thousands of everyday Americans that were left in financial ruin.
For victims of the Madoff Investment Scandal, receiving any form of compensation has been a drawn-out process. In 2018, 10 years after the scheme was uncovered, a court-appointed trustee managed to recover $13 billion by liquidating Madoff's firm and personal assets.
As NPR reported, investors may recover up to 60 to 70 percent of their initial investment only. For victims who had to delay retirement or drastically alter their lifestyles, this compensation likely provides little solace.
Do the Crime, Pay the Time
Running a Ponzi scheme is likely to land you in jail for a long time, at least in the U.S.
In 2009, for example, 71-year-old Bernie Madoff pled guilty to 11 federal felonies and was sentenced to 150 years in prison. That's 135 years longer than the average U.S. murder conviction.
Outside of the U.S., it's a much different story. Weaker regulation and enforcement, particularly in developing countries, means a number of schemes are ongoing today.
Sergei Mavrodi, known for running the Russian Ponzi scheme MMM, started a new organization named MMM Global after being released from prison in 2011. Although he died in March 2018, his self-described "social financial network" has established a base in several Southeast Asian and African countries.
If you or someone you know is worried about falling victim to a Ponzi scheme, this checklist from the U.S. Securities and Exchange Commission (SEC) may be a useful resource.

Mapped: What Did the World Look Like in the Last Ice Age?
A map of the Earth 20,000 years ago, at the peak of the last ice age, when colder temperatures transformed the planet we know so well.

Creator Program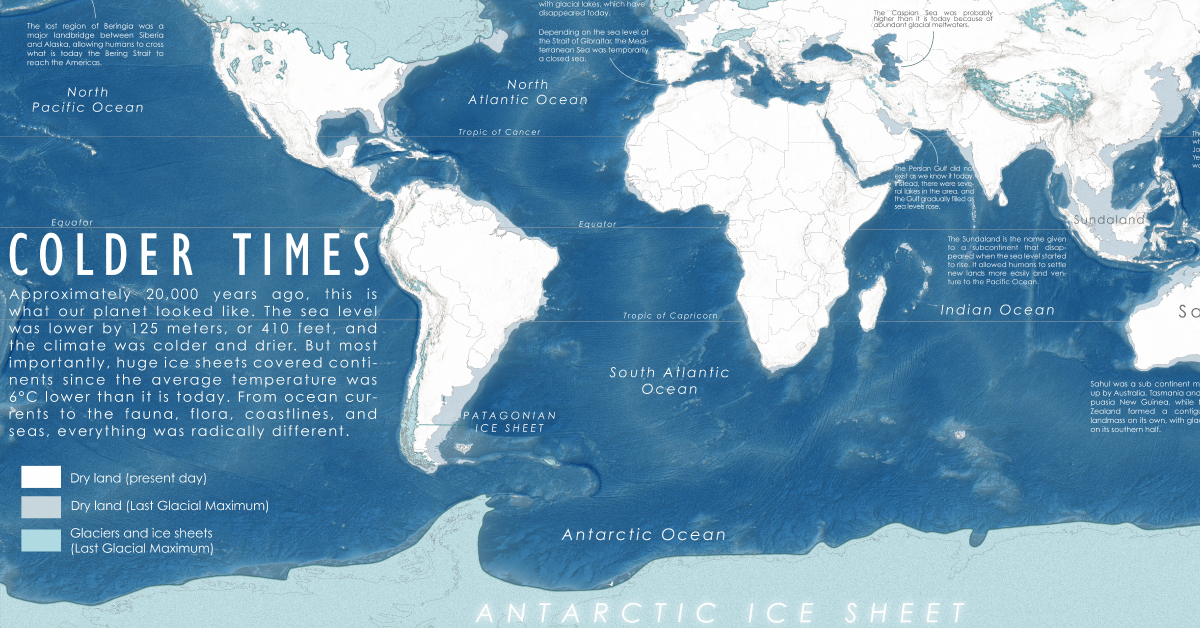 What Did the World Look Like in the Last Ice Age?
What did the world look like during the last ice age? Was it all endless glaciers and frozen ice? The answer is a partial yes—with some interesting caveats.
The Last Glacial Maximum (LGM), colloquially called the last ice age, was a period in Earth's history that occurred roughly 26,000 to 19,000 years ago.
This map by cartographer Perrin Remonté offers a snapshot of the Earth from that time, using data of past sea levels and glaciers from research published in 2009, 2014, and 2021, alongside modern-day topographical data.
Let's dive into the differences between the two Earths below.
The Last Ice Age: Low Seas, Exposed Landmasses
During an ice age, sea levels fall as ocean water that evaporates is stored on land on a large scale (ice sheets, ice caps, glaciers) instead of returning to the ocean.
| Earth's Ice Cover | 20,000 Years Ago | Today |
| --- | --- | --- |
| Surface | 8% | 3% |
| Land | 25% | 11% |
At the time of the LGM, the climate was cold and dry with temperatures that were 6 °C (11 °F) lower on average. Water levels in the ocean were more than 400 feet below what they are now, exposing large areas of the continental shelf.
In the map above, these areas are represented as the gray, dry land most noticeable in a few big patches in Southeast Asia and between Russia and Alaska. Here are a few examples of regions of dry land from 20,000 years ago that are now under water:
A "lost continent" called Sundaland, a southeastern extension of Asia which forms the island regions of Indonesia today. Some scholars see a connection with this location and the mythical site of Atlantis, though there are many other theories.
The Bering land bridge, now a strait, connecting Asia and North America. It is central to the theory explaining how ancient humans crossed between the two continents.
Another land bridge connected the island of Great Britain with the rest of continental Europe. The island of Ireland is in turn connected to Great Britain by a giant ice sheet.
In Japan, the low water level made the Sea of Japan a lake, and a land bridge connected the region to the Asian mainland. The Yellow Sea—famous as a modern-day fishing location—was completely dry.
The cold temperatures also caused the polar parts of continents to be covered by massive ice sheets, with glaciers forming in mountainous areas.
Flora and Fauna in the Last Ice Age
The dry climate during the last ice age brought about the expansion of deserts and the disappearance of rivers, but some areas saw increased precipitation from falling temperatures.
Most of Canada and Northern Europe was covered with large ice sheets. The U.S. was a mix of ice sheets, alpine deserts, snow forests, semi-arid scrubland and temperate grasslands. Areas that are deserts today—like the Mojave—were filled with lakes. The Great Salt Lake in Utah is a remnant from this time.
Africa had a mix of grasslands in its southern half and deserts in the north—the Sahara Desert existed then as well—and Asia was a mix of tropical deserts in the west, alpine deserts in China, and grasslands in the Indian subcontinent.
Several large animals like the woolly mammoth, the mastodon, the giant beaver, and the saber-toothed tiger roamed the world in extremely harsh conditions, but sadly all are extinct today.
However, not all megafauna from the LGM disappeared forever; many species are still alive, including the Bactrian camel, the tapir, the musk ox, and the white rhinoceros—though the latter is now an endangered species.
Will There Be Another Ice Age?
In a technical sense, we're still in an "ice age" called the Quaternary Glaciation, which began about 2.6 million years ago. That's because a permanent ice sheet has existed for the entire time, the Antarctic, which makes geologists call this entire period an ice age.
We are currently in a relatively warmer part of that ice age, described as an interglacial period, which began 11,700 years ago. This geological epoch is known as the Holocene.
Over billions of years, the Earth has experienced numerous glacial and interglacial periods and has had five major ice ages:
| Major Ice Ages | Name | Time Period (Years Ago) |
| --- | --- | --- |
| 1 | Huronian Glaciation | 2.4 billion - 2.1 billion |
| 2 | Cryogenian Glaciation | 720 million - 635 million |
| 3 | Andean-Saharan Glaciation | 450 million - 420 million |
| 4 | Late Paleozoic ice age | 335 million - 260 million |
| 5 | Quaternary Glaciation | 2.6 million - present |
It is predicted that temperatures will fall again in a few thousand years, leading to expansion of ice sheets. However there are a dizzying array of factors that are still not understood well enough to say comprehensively what causes (or ends) ice ages.
A popular explanation says the degree of the Earth's axial tilt, its wobble, and its orbital shape, are the main factors heralding the start and end of this phenomenon.
The variations in all three lead to a change in how much prolonged sunlight parts of the world receive, which in turn can cause the creation or melting of ice sheets. But these take thousands of years to coincide and cause a significant change in climate.
Furthermore, current industrial activities have warmed the climate considerably and may in fact delay the next ice age by 50,000-100,000 years.