The Best and Worst Performing Wealth Markets in the Last 10 Years
The Best and Worst Performing Wealth Markets
A lot can change in a decade.
Ten years ago, the collapse of Lehman Brothers sent the world's financial markets into a tailspin, a catalyst for years of economic uncertainty.
At the same time, China's robust GDP growth was reaching a fever pitch. The country was turning into a wealth creation machine, creating millions of newly-minted millionaires who would end up having a huge impact on wealth markets around the world.
The Ups and Downs of Wealth Markets (2008-2018)
Today's graphic, using data from the Global Wealth Migration Review, looks at national wealth markets, and how they've changed since 2008.
Each wealth market is calculated from the sum of individual assets within the jurisdiction, accounting for the value of cash, property, equity, and business interests owned by people in the country. Just like other kinds of markets, wealth can grow or shrink over time.
Here are a few countries and regions that stand out in the report:
Developing Asian Economies
In terms of sheer wealth growth, nothing comes close to countries like China and India. The size of these markets, combined with rapid economic growth, have resulted in triple-digit gains over the last 10 years.
For the world's two most populous countries, it's a trend that is expected to continue into the next decade, despite the fact that many millionaire residents are migrating to different jurisdictions.
Mediterranean Malaise
European nations saw very little growth over the past decade, but the Mediterranean region was particularly hard-hit. In fact, eight of the 20 worst performing wealth markets over the last decade are located along the Mediterranean coast:
| Rank (Out of 90) | Country | % Growth (2008-2018) |
| --- | --- | --- |
| 89 | 🇬🇷 Greece | -37% |
| 87 | 🇨🇾 Cyprus | -21% |
| 86 | 🇮🇹 Italy | -14% |
| 85 | 🇪🇸 Spain | -13% |
| 84 | 🇹🇷 Turkey | -11% |
| 82 | 🇪🇬 Egypt | -10% |
| 80 | 🇫🇷 France | -7% |
| 76 | 🇭🇷 Croatia | -6% |
European Bright Spots
There were some bright spots in Europe during this same time period. Malta, Ireland, and Monaco all achieved positive wealth growth at rates higher than 30% over the last 10 years.
Australia
While it's expected to see rapidly-growing economies as prolific producers of wealth, it is much more surprising when mature markets perform so strongly. Singapore and New Zealand fall under that category, as does Australia, which was already a large, mature wealth market.
Australia recently surpassed both Canada and France to become the seventh largest wealth market in the world, and last year alone, over 12,000 millionaires migrated there.
Venezuela
The long-term economic slide of Venezuela has been well documented, and it comes as no surprise that the country saw extreme contraction of wealth over the last decade. Since war-torn countries are not included in the report, Venezuela ranked 90th, which is dead-last on a global basis.
Short Term, Long Term
In 2018, global wealth actually slumped by 5%, dropping from $215 trillion to $204 trillion.
All 90 countries tracked by the report experienced negative growth in wealth, as global stock and property markets dipped. Here's a look at the wealth markets that were the hardest hit over the past year:
| Wealth Market | Wealth growth (2017 -2018) |
| --- | --- |
| 🇻🇪 Venezuela | -25% |
| 🇹🇷 Turkey | -23% |
| 🇦🇷 Argentina | -20% |
| 🇵🇰 Pakistan | -15% |
| 🇦🇴 Angola | -15% |
| 🇺🇦 Ukraine | -13% |
| 🇫🇷 France | -12% |
| 🇷🇺 Russia | -12% |
| 🇮🇷 Iran | -12% |
| 🇶🇦 Qatar | -12% |
The future outlook is rosier. Global wealth is expected to rise by 43% over the next decade, reaching $291 trillion by 2028. If current trends play out as expected, Vietnam could likely top this list a decade from now with a staggering 200% growth rate.
How Does Your Personality Type Affect Your Income?
Can your Myers–Briggs personality type impact how much you make? See for yourself with this breakdown of average income for all 16 personality types.
How Does Your Personality Type Affect Your Income?
You've just finished giving a presentation at work, and an outspoken coworker challenges your ideas. Do you:
a) Engage in a friendly debate about the merits of each argument, or
b) Avoid a conflict by agreeing or changing the subject?
The way you approach this type of situation may influence how much money you earn.
Today's infographic comes to us from Truity, and it outlines the potential relationship between personality type and income.
Through the Myers-Briggs Lens
The Myers-Briggs personality test serves as a robust framework for analyzing the connection between personality and income, in a way that is easily understood and familiar to many people.
The theory outlines four personality dimensions that are described using opposing traits.
Extraversion vs. Introversion: Extroverts gain energy by interacting with others, while introverts draw energy from spending time alone.
Sensing vs. Intuition: Sensors prefer concrete and factual information, while intuitive types use their imagination or wider patterns to interpret information.
Thinking vs. Feeling: Thinkers make rational decisions based on logic, while feelers make empathetic decisions considering the needs of others.
Judging vs. Perceiving: Judging types organize their life in a structured manner, while perceiving types are more flexible and spontaneous.
For example, someone who aligns with extraversion, sensing, thinking, and judging would be described as an ESTJ type.
The researchers surveyed over 72,000 people to measure these four personality preferences, as well as 23 unique facets of personality, income levels, and career-related data.
Traits With the Highest Earning Potential
Based on the above four dimensions, extroverts, sensors, thinkers, and judgers tend to be the most financially successful. Diving into specific personality characteristics, certain traits are more closely correlated with higher income.

| Personality Type | Average Income Advantage (Annual) | Trait(s) Most Correlated With Income Advantage |
| --- | --- | --- |
| Extroverts | $9,347 | Expressive, Energetic, Prominent |
| Sensors | $1,910 | Conceptual |
| Thinkers | $8,411 | Challenging, Objective, Rational |
| Judgers | $6,903 | Ambitious |
For instance, extroverts are much more likely to have higher incomes if they are quick to share thoughts, have high energy, and like being in the public eye. Thinkers also score high on income potential, especially if they enjoy debates, make rational decisions, and moderate their emotions.
The Top Earners
Which personality types earn the highest incomes of all? Extroverted thinking types dominate the ranks again.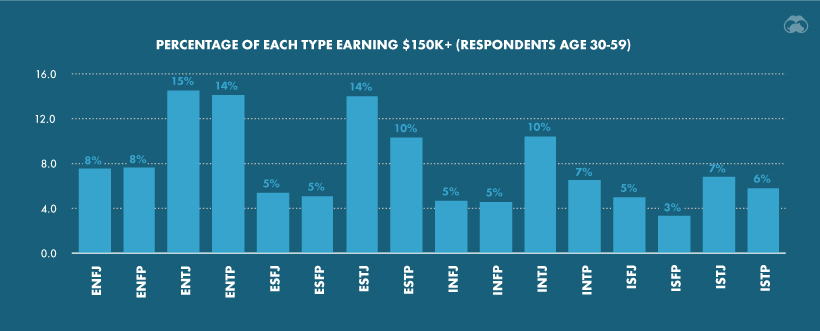 [>
Source: Truity
The one exception is INTJs, with 10% earning an annual salary of $150K or more in their peak earning years.
Personality and the Gender Pay Gap
With all these factors in mind, the researchers analyzed whether personality differences would affect the gender pay gap.
When the average salaries were separated for men and women, the results were clear: men of almost all personality types earn more than the average income for the sample overall, while all but two personality types of women earned less than the average.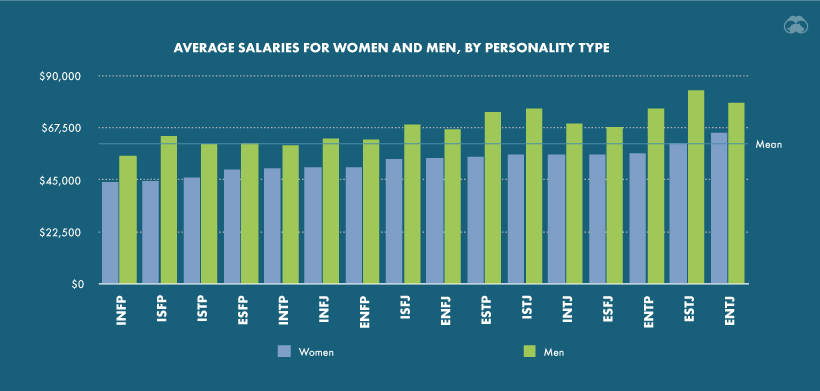 Source: Truity
In fact, women with high-earning personality types still earn less than men who do not possess those traits. For example, extroverted women earn about $55,000 annually, while introverted men earn an average of over $64,000.
Maximizing Your Potential
Are the introverted personalities of the world doomed to lower salaries? Not necessarily—while personality does play a role, many other factors contribute to income levels:
Level of education
Years of experience
Local job market
Type of industry
The particular career
Not only that, anyone can work on the two specific personality traits most aligned with higher incomes: set ambitious goals, and face conflict head-on to ensure your voice is heard.
Interactive Map: Tracking Global Hunger and Food Insecurity
Every day, hunger affects more than 700 million people. This live map from the UN highlights where hunger is hitting hardest around the world.
Interactive Map: Tracking Global Hunger and Food Insecurity
Hunger is still one the biggest—and most solvable—problems in the world.
Every day, more than 700 million people (8.8% of the world's population) go to bed on an empty stomach, according to the UN World Food Programme (WFP).
The WFP's HungerMap LIVE displayed here tracks core indicators of acute hunger like household food consumption, livelihoods, child nutritional status, mortality, and access to clean water in order to rank countries.
After sitting closer to 600 million from 2014 to 2019, the number of people in the world affected by hunger increased during the COVID-19 pandemic.
In 2020, 155 million people (2% of the world's population) experienced acute hunger, requiring urgent assistance.
The Fight to Feed the World
The problem of global hunger isn't new, and attempts to solve it have making headlines for decades.
On July 13, 1985, at Wembley Stadium in London, Prince Charles and Princess Diana officially opened Live Aid, a worldwide rock concert organized to raise money for the relief of famine-stricken Africans.
The event was followed by similar concerts at other arenas around the world, globally linked by satellite to more than a billion viewers in 110 nations, raising more than $125 million ($309 million in today's dollars) in famine relief for Africa.
But 35+ years later, the continent still struggles. According to the UN, from 12 countries with the highest prevalence of insufficient food consumption in the world, nine are in Africa.
| Country | % Population Affected by Hunger | Population (millions) | Region |
| --- | --- | --- | --- |
| Afghanistan 🇦🇫 | 93% | 40.4 | Asia |
| Somalia 🇸🇴 | 68% | 12.3 | Africa |
| Burkina Faso 🇧🇫 | 61% | 19.8 | Africa |
| South Sudan 🇸🇸 | 60% | 11.0 | Africa |
| Mali 🇲🇱 | 60% | 19.1 | Africa |
| Sierra Leone 🇸🇱 | 55% | 8.2 | Africa |
| Syria 🇸🇾 | 55% | 18.0 | Middle East |
| Niger 🇳🇪 | 55% | 22.4 | Africa |
| Lesotho 🇱🇸 | 50% | 2.1 | Africa |
| Guinea 🇬🇳 | 48% | 12.2 | Africa |
| Benin 🇧🇯 | 47% | 11.5 | Africa |
| Yemen 🇾🇪 | 44% | 30.0 | Middle East |
Approximately 30 million people in Africa face the effects of severe food insecurity, including malnutrition, starvation, and poverty.
Wasted Leftovers
Although many of the reasons for the food crisis around the globe involve conflicts or environmental challenges, one of the big contributors is food waste.
According to the United Nations, one-third of food produced for human consumption is lost or wasted globally. This amounts to about 1.3 billion tons of wasted food per year, worth approximately $1 trillion.
All the food produced but never eaten would be sufficient to feed two billion people. That's more than twice the number of undernourished people across the globe. Consumers in rich countries waste almost as much food as the entire net food production of sub-Saharan Africa each year.
Solving Global Hunger
While many people may not be "hungry" in the sense that they are suffering physical discomfort, they may still be food insecure, lacking regular access to enough safe and nutritious food for normal growth and development.
Estimates of how much money it would take to end world hunger range from $7 billion to $265 billion per year.
But to tackle the problem, investments must be utilized in the right places. Specialists say that governments and organizations need to provide food and humanitarian relief to the most at-risk regions, increase agricultural productivity, and invest in more efficient supply chains.