Visualized: A Breakdown of Amazon's Revenue Model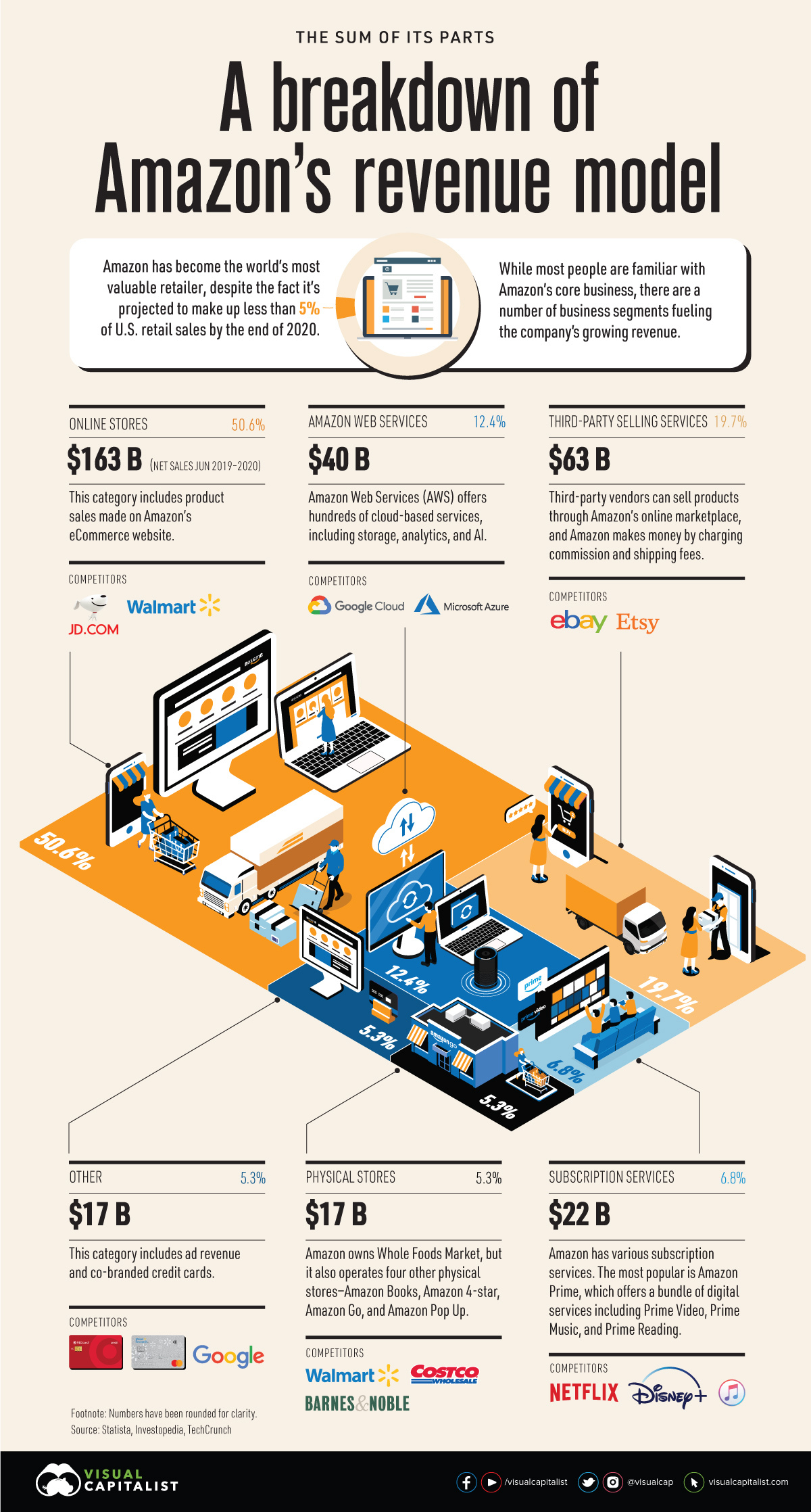 Visualized: A Breakdown of Amazon's Revenue Model
Amazon has evolved into more than just an online store. While ecommerce makes up a significant portion of the company's overall sales, its diverse revenue model generates billions through various business segments.
This visualization provides an overview of the different parts that make up Amazon, showing each business unit's net sales from June 2019 to 2020.
A Diverse Revenue Model
With a market cap of $1.7 trillion, Amazon is currently the most valuable retailer in the world. The company is expected to account for 4.6% of total U.S. retail sales by the end of 2020—but the tech giant is more than just a one-trick pony.
A key factor in the company's success is its diversification into other areas. Here's a breakdown of Amazon's revenue mix:

| Business Segment | Net Sales (June 2019 - 2020) |
| --- | --- |
| Online stores | $163 B |
| Third-party selling services | $63 B |
| Amazon Web Services | $40 B |
| Subscription services | $22 B |
| Physical stores | $17 B |
| Other | $17 B |
| Total Revenue | $322 billion |
While Amazon is truly more than an online store, it's worth noting that online sales account for a significant amount of the company's overall revenue mix. Over the period of June 2019 to 2020, product sales from Amazon's website generated $163 billion, which is more than the company's other business units combined.
A significant day for online sales is Prime Day, which has grown into a major shopping event comparable to Black Friday and Cyber Monday. In 2020, Prime Day is projected to generate almost $10 billion in global revenue.
While ecommerce makes up a large portion of Amazon's overall sales, there are many other segments that each generate billions in revenue to create immense value for the tech giant. For instance, enabling third-party sellers on the platform is the company's second-largest unit in terms of net sales, racking up $63 billion over the course of a year.
This segment has shown tremendous growth over the last two decades. In 2018, it accounted for 58% of gross merchandise sales on Amazon, compared to just 3% in 2000. While third-party sellers technically outsold Amazon itself, the company still makes money through commission and shipping fees.
Amazon is Not Alone: Diversification is Common
Amazon isn't the only major tech company to benefit from diverse revenue streams.
Other tech giants generate revenue through a range of products, services, and applications—for instance, while a healthy portion of Apple's revenue comes from iPhone sales, the company captures 17% of revenue from a mix of services, ranging from Apple Pay to Apple Music. Microsoft is another example of this, considering it owns a wide range of hardware, cloud services, and platforms.
While there are several reasons to build a diverse business portfolio, a key benefit that comes from diversification is having a buffer against market crashes. This has proven to be particularly important in 2020, given the economic devastation caused by the global pandemic.
The Sum of its Parts
Despite varying levels of sales, each business unit brings unique value to Amazon.
For instance, while Amazon Web Services (AWS) falls behind online sales and third-party sellers in net sales, it's one of the most profitable segments of the company. In the fourth quarter of 2019, more than half of Amazon's operating income came from AWS.
In short, when looking at the many segments of Amazon, one thing is clear—the company is truly the sum of its parts.
Nvidia Joins the Trillion Dollar Club
America's biggest chipmaker Nvidia has joined the trillion dollar club as advancements in AI move at lightning speed.
Nvidia Joins the Trillion Dollar Club
Chipmaker Nvidia is now worth nearly as much as Amazon.
America's largest semiconductor company has vaulted past the $1 trillion market capitalization mark, a milestone reached by just a handful of companies including Apple, Amazon, and Microsoft. While many of these are household names, Nvidia has only recently gained widespread attention amid the AI boom.
The above graphic compares Nvidia to the seven companies that have reached the trillion dollar club.
Riding the AI Wave
Nvidia's market cap has more than doubled in 2023 to over $1 trillion.
The company designs semiconductor chips that are made of silicon slices that contain specific patterns. Just like you flip an electrical switch by turning on a light at home, these chips have billions of switches that process complex information simultaneously.
Today, they are integral to many AI functions—from OpenAI's ChatGPT to image generation. Here's how Nvidia stands up against companies that have achieved the trillion dollar milestone:
Joined Club
Market Cap
in trillions
Peak Market Cap
in trillions
Apple
Aug 2018
$2.78
$2.94
Microsoft
Apr 2019
$2.47
$2.58
Aramco
Dec 2019
$2.06
$2.45
Alphabet
Jul 2020
$1.58
$1.98
Amazon
Apr 2020
$1.25
$1.88
Meta
Jun 2021
$0.68
$1.07
Tesla
Oct 2021
$0.63
$1.23
Nvidia
May 2023
$1.02
$1.02
Note: Market caps as of May 30th, 2023
After posting record sales, the company added $184 billion to its market value in one day. Only two other companies have exceeded this number: Amazon ($191 billion), and Apple ($191 billion).
As Nvidia's market cap reaches new heights, many are wondering if its explosive growth will continue—or if the AI craze is merely temporary. There are cases to be made on both sides.
Bull Case Scenario
Big tech companies are racing to develop capabilities like OpenAI. These types of generative AI require vastly higher amounts of computing power, especially as they become more sophisticated.
Many tech giants, including Google and Microsoft use Nvidia chips to power their AI operations. Consider how Google plans to use generative AI in six products in the future. Each of these have over 2 billion users.
Nvidia has also launched new products days since its stratospheric rise, spanning from robotics to gaming. Leading the way is the A100, a powerful graphics processing unit (GPU) well-suited for machine learning. Additionally, it announced a new supercomputer platform that Google, Microsoft, and Meta are first in line for. Overall, 65,000 companies globally use the company's chips for a wide range of functions.
Bear Case Scenario
While extreme investor optimism has launched Nvidia to record highs, how do some of its fundamental valuations stack up to other giants?
As the table below shows, its price to earnings (P/E) ratio is second-only to Amazon, at 214.4. This shows how much a shareholder pays compared to the earnings of a company. Here, the company's share price is over 200 times its earnings on a per share basis.
| | P/E Ratio | Net Profit Margin (Annual) |
| --- | --- | --- |
| Apple | 30.2 | 25.3% |
| Microsoft | 36.1 | 36.7% |
| Aramco | 13.5 | 26.4% |
| Alphabet | 28.2 | 21.2% |
| Amazon | 294.2 | -0.5% |
| Meta | 33.9 | 19.9% |
| Tesla | 59.0 | 15.4% |
| Nvidia | 214.4 | 16.19% |
Consider how this looks for revenue of Nvidia compared to other big tech names:
$NVDA $963 billion market cap, 38x Revenue
$MSFT $2.5 trillion market cap, 12x Revenue$TSLA $612 billion market cap, 7.8x Revenue$AAPL $2.75 trillion market cap, 7.3x Revenue$GOOG $1.6 trillion market cap, 6.1x Revenue$META $672 billion market cap, 6x Revenue pic.twitter.com/VgkKAfiydx

— Martin Pelletier (@MPelletierCIO) May 29, 2023
For some, Nvidia's valuation seems unrealistic even in spite of the prospects of AI. While Nvidia has $11 billion in projected revenue for the next quarter, it would still mean significantly higher multiples than its big tech peers. This suggests the company is overvalued at current prices.
Nvidia's Growth: Will it Last?
This is not the first time Nvidia's market cap has rocketed up.
During the crypto rally of 2021, its share price skyrocketed over 100% as demand for its GPUs increased. These specialist chips help mine cryptocurrency, and a jump in demand led to a shortage of chips at the time.
As cryptocurrencies lost their lustre, Nvidia's share price sank over 46% the following year.
By comparison, AI advancements could have more transformative power. Big tech is rushing to partner with Nvidia, potentially reshaping everything from search to advertising.