Santa's New Home: The North Pole is Moving to Russia
Santa's New Home: The North Pole is Moving to Russia
The North Pole is moving and quickly. Is someone stealing Christmas?
It is not the Grinch or Vladimir Putin that is stealing Santa's workshop, but instead it's the natural processes of the Earth that are moving the North Pole. In fact, since scientists have been tracking the anomaly in the Arctic, the North Magnetic Pole has been shifting towards Russia.
So why exactly is the pole moving, and what does it mean?
Charting a Course: Magnetic North
A compass always points towards the North Magnetic Pole. Maritime and airplane navigation systems, defense systems, and even smartphones depend on accurate magnetic readings.
This magnetism has been long known, but the true origins of this force were poorly understood. In one of the first maps of the Arctic by Gerardus Mercator, the centerpiece of it was massive rock located exactly at the pole, Rupus Nigra et Altissima, or "Black, Very High Cliff."
Most people thought that this rock formation was magnetic, which provided an easy explanation for why compasses point north. This did not convince Mercator, so he included a different rock, which he labeled the "Magnetic Pole."
Mercator was right about the general location of Magnetic North, but he did not have the tools we have today to understand how the anomaly moves. The North Magnetic Pole is a spot on the top of the planet where the Earth's magnetic field lines converge and drive straight into its core.
As it turns out, the Earth's physical structure is behind all this magnetic shifting. The planet's inner core is made of solid iron, while surrounding that is a molten metallic outer core. It's from here that heat escapes, creating electric currents in the conductive iron alloys in the core.
In other words, the processes that create the magnetic effect are far more complex — and occur way deeper in the planet — than Mercator could have ever imagined.
The Dynamo Effect
The Earth itself spins on its axis. The inner core spins as well, and it spins at a different rate than the outer core. This creates a dynamo effect that enables the Earth's magnetic field.
Satellite data tracking the Earth's magnetic field indicate that the pole is moving faster across the Arctic than previously recorded. While it's hard to estimate an exact date by which the North Pole will lie in Russia (due to contested geographic claims in the Arctic), it will eventually get there.
What surprises scientists is the rate at which the movement has increased in recent history:
This is happening because of a push and pull between two unusually strong magnetic patches in the Earth's outer core. One patch is under Canada while the other is beneath Siberia.
The North Magnetic Pole has historically lain within Canadian borders because of stronger pull of the Canadian magnetic patch, but that is changing rapidly.
The Evidence: How Do We Know What We Know?
Scientists can study the phenomenon of moving poles by examining the rocks lying on the ocean floor that captured magnetic traces of previous orientations of the Earth's magnetic field.
According to the geological record, the last time the poles switched was ~780,000 years ago, and it has happened about 400 times in 330 million years. Each reversal takes roughly a thousand years to complete. The field has weakened about 10% in the last 150 years. Some scientists think this is a sign of a flip in progress.
Technology is advancing and providing new tools for scientists to study this phenomenon. In 2013, the European Space Agency (ESA) launched the SWARM mission to study the Earth's magnetic field using satellites. This will provide data for modeling the geomagnetic field and its interaction with other physical aspects of Earth, offering a look inside the Earth from space.
Happy Holidays from Visual Capitalist
Just like Santa going down the chimney of every home to deliver presents to all the girls and boys, Visual Capitalist wants to deliver a better understanding of the world we live in, so we can better appreciate how amazing it is. This is our small present to the world.
Happy Holidays to all, and a prosperous New Year.
Ranked: The Best Selling Video Games in History
This chart shows the top ten best selling video games, ranked by software units sold. Six of them have been released in the last 12 years.

Creator Program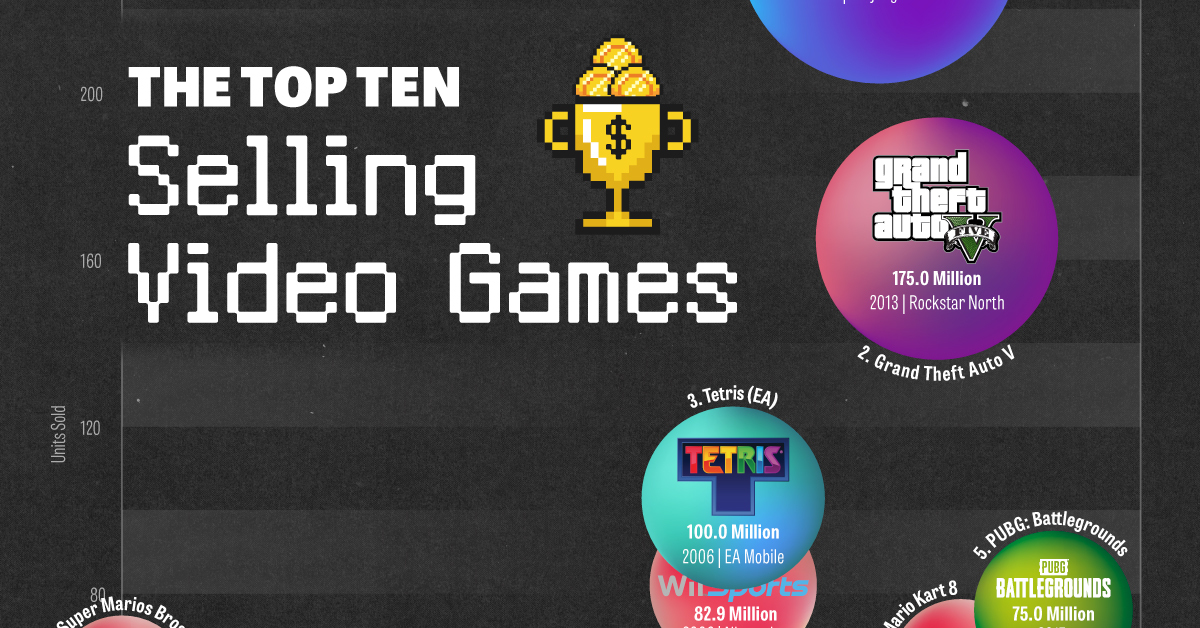 Ranked: The Best Selling Video Games in History
It's a good time to be a video game fan. Not only is the gaming industry booming and projected to grow to $320 billion by 2026, but every year is bringing new evolutions in the medium.
2022 saw massive launches in both games (Elden Ring and God of War Ragnarök) and media based on games (the films Uncharted and Sonic the Hedgehog 2). 2023 has already seen the release of major flagship TV series based on a game, HBO's The Last of Us, and the much-anticipated The Super Mario Bros. Movie is slated to release in April.
But which game is the best, or most successful? That debate may never end, but from company reports and sales data aggregated by Wikipedia, Samuel Parker's chart of the most-sold video games as of March 3, 2023 can at least tell us which ones have been the most popular.
Top Ten Video Games Sold in History
The best selling video game didn't need multimillion dollar budgets, sixty-hour narratives, or celebrity voice actors and ad spots. The independently-developed (indie) Minecraft, with its pixelated blocks, takes the top spot on this list.
| Rank | Game | Sales (units) | Year Released | Developer |
| --- | --- | --- | --- | --- |
| 1 | Minecraft | 238.0M | 2011 | Mojang Studios |
| 2 | GTA 5 | 175.0M | 2013 | Rockstar |
| 3 | Tetris (EA) | 100.0M | 2006 | EA Mobile |
| 4 | Wii Sport | 82.9M | 2006 | Nintendo |
| 5 | PUBG: Battlegrounds | 75.0M | 2017 | PUBG Corp |
| 6 | Mario Kart 8 | 60.5M | 2014 | Nintendo |
| 7 | Super Mario Bros. | 58.0M | 1985 | Nintendo |
| 8 | Read Dead Redemption 2 | 50.0M | 2018 | Rockstar |
| 9 | Pokémon Red/Green/Blue/Yellow | 47.5M | 1996 | GameFreak |
| 10 | Terraria | 44.5M | 2011 | Re-Logic |
Minecraft sold more units than the combined forces of Grand Theft Auto 5 (#2) and Red Dead Redemption 2 (#8), both made by industry giant Rockstar. Its immense popularity has been credited to its simple gameplay (no goals), creative structure (build anything), and engaged community with player-run servers and additional feature creations (known as mods).
Another simple favorite, Tetris, comes in at third place with 100 million units sold of its 2006 re-release. Millennials continue to make up a large chunk of the video game playing demographic which might explain Tetris' sales.
But newer games are making up the majority of sales records. PUBG: Battlegrounds, a battle-royale shooter game which helped popularize the genre (and eventually its competitor Fortnite) asserts its popularity at #5. That puts it well ahead of the better-known shooter Call of Duty, even despite PUBG being banned in a number of countries for the alleged impact on the mental health of gamers.
The oldest game to make the list is Super Mario Bros. (#7), apt considering it is credited with reviving the video game industry after it crashed in 1983. The original staple side-scroller has sold 58 million copies worldwide.
Developer Dominance
Though the top selling games span various series of games, a few developers managed to repeatedly find success.
| Developer | Top 20 Best-Selling Games |
| --- | --- |
| Nintendo | 11 |
| Rockstar | 2 |
| Others | 7 |
Japanese video game titan Nintendo developed three games (Super Mario Bros., Mario Kart, Wii Sport/Fitness) in the top 10 and another eight in the top 20. That's not including its co-ownership of Pokémon, the world's highest-grossing media franchise.
American publisher Rockstar Games also managed to score multiple hits, though its longer development cycle necessary to create cinematic games gives it fewer potential candidates. That might change with the much-anticipated GTA 6 reportedly in production.
Best Selling Genres
The most popular genres in the top 10 give players the freedom to impose their will upon the world and pursue objectives at their leisure:
| Genre | Games |
| --- | --- |
| Sandbox/Open World | 4 |
| Simulation | 2 |
| Others | 4 |
Two games (Minecraft, Terraria) are classic sandbox games, where worlds are procedurally generated and there are no gameplay goals. Another two (GTA 5, Red Dead Redemption 2) are in the adjacent open-world genre, with a combination of sandbox elements and a narrative structure.
However, with new games launching and selling millions of units every year, new entrants to the top 10 list of best selling video games of all-time seems likely. How will these developers, genres, and games fare over time?