A Visual History of the Largest Companies by Market Cap (1999-Today)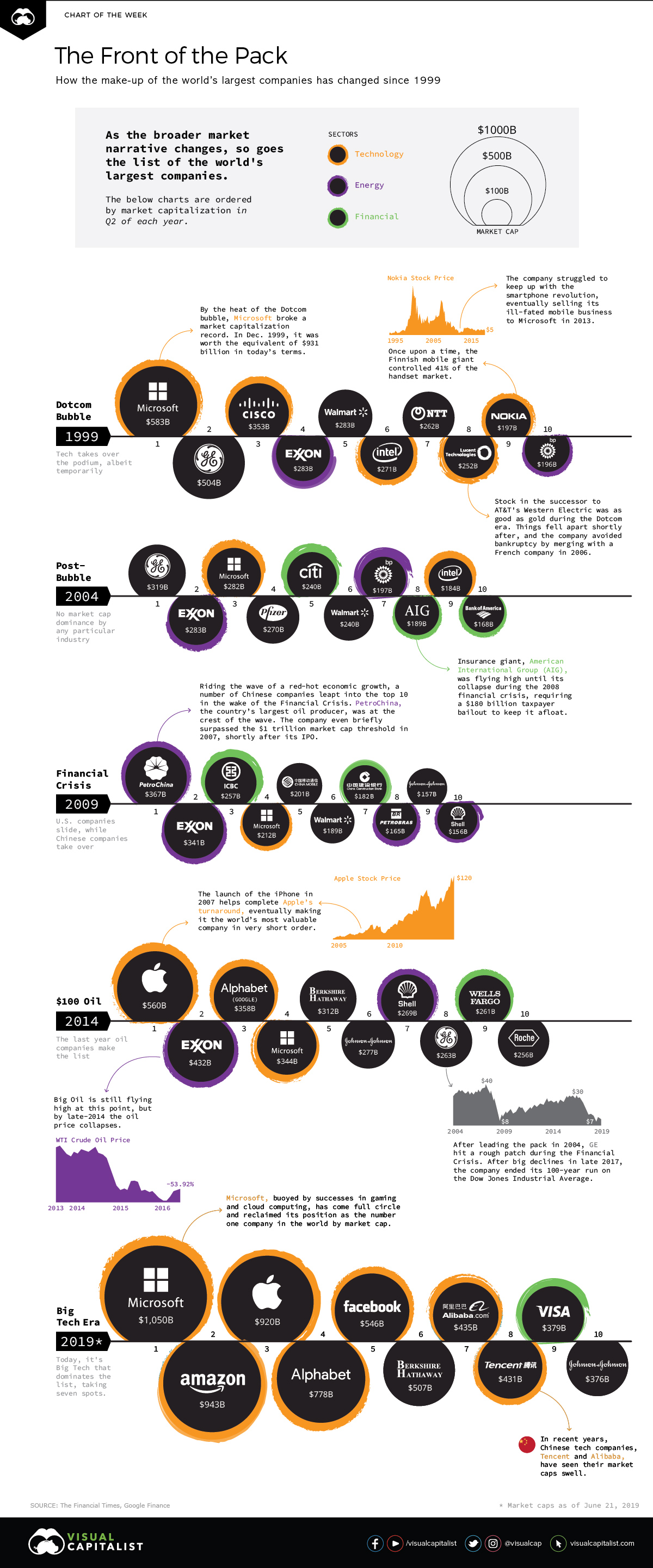 A Visual History of the Largest Companies by Market Cap
The macro narrative that underlies the market is constantly under revision.
While this is partially a function of shifts in investor sentiment, it's also driven by game-changing events as well as much more structural market forces.
For example, how does the macro narrative change after a commodity price crash? What about when the unprecedented scale of technology is truly understood by the market?
An Evolving Narrative
In this week's chart, we look at how the big picture narrative has changed over time by using a very simple approach.
We have visualized the market capitalizations of the 10 largest public companies in the world over five-year intervals from 1999 until today, and it gives us a series of snapshots of what the market was "thinking" during these specific periods.
Not only is it evident as certain industries rise to prominence, but there are also some interesting individual stories to follow. We can see iconic companies – such as Apple – ascend into the public consciousness, while others fall off the radar completely.
| Year | Description | Top Company | Who Dominates Top 10? |
| --- | --- | --- | --- |
| 1999 | Dotcom Bubble | Microsoft ($583B) | Five tech companies in the mix |
| 2004 | Post-Bubble | GE ($319B) | Diverse mix of companies by industry |
| 2009 | Financial Crisis | PetroChina ($367B) | Six non-U.S. companies make list |
| 2014 | $100 Oil | Apple ($560B) | Last year for oil companies, tech starts ascending |
| 2019 | Big Tech Era | Microsoft ($1,050B) | Seven companies are tech |
The composition of the top 10 changes in each of the snapshots above, and this simple approach helps capture the market narrative for each timeframe.
During the Dotcom Bubble, you can see that half of the list was dominated by tech companies. This was short-lived, and the years 2004, 2009, and 2014 have much more diverse lists.
You can also see the impact of the financial crisis on U.S. company valuations. In 2009, there is an equal distribution of Chinese and American companies. Royal Dutch Shell (UK/Netherlands) and Petrobras (Brazil) help round out the top 10.
Finally, over the last five years, you can see the impact of lower oil prices and the growing scale of tech. Back in 2014, Exxon Mobil was the second largest company in the world by a solid margin, but today it's been displaced by companies like Facebook, Amazon, Tencent, and Alibaba.
The Big Tech Era
Here is the current top 10 list of the world's largest companies by market cap:
| Rank | Company | Industry | Market Cap |
| --- | --- | --- | --- |
| #1 | 🇺🇸 Microsoft | Tech | $1,050 billion |
| #2 | 🇺🇸 Amazon | Tech | $943 billion |
| #3 | 🇺🇸 Apple | Tech | $920 billion |
| #4 | 🇺🇸 Alphabet | Tech | $778 billion |
| #5 | 🇺🇸 Facebook | Tech | $546 billion |
| #6 | 🇺🇸 Berkshire Hathaway | Diversified | $507 billion |
| #7 | 🇨🇳 Alibaba | Tech | $435 billion |
| #8 | 🇨🇳 Tencent | Tech | $431 billion |
| #9 | 🇺🇸 Visa | Financial | $379 billion |
| #10 | 🇺🇸 Johnson & Johnson | Consumer Goods | $376 billion |
In total, the five biggest tech giants brought in a combined $801.5 billion in revenue last year, and $139 billion in net income.
The Staying Power of Microsoft
With a valuation today of just over $1 trillion, Microsoft is again the world's largest company by market capitalization.
In this way, the above lists come full circle, since Microsoft was also the biggest company in 1999.
While the software giant experienced short periods where it did drop out of favor, Microsoft was the only company to make the list in our five snapshots above.
Ranked: Big Tech CEO Insider Trading During the First Half of 2021
Big Tech is worth trillions, but what are insiders doing with their stock? We breakdown Big Tech CEO insider trading during the first half of 2021.
Big Tech CEO Insider Trading During The First Half of 2021
When CEOs of major companies are selling their shares, investors can't help but notice.
After all, these decisions have a direct effect on the personal wealth of these insiders, which can say plenty about their convictions with respect to the future direction of the companies they run.
Considering that Big Tech stocks are some of the most popular holdings in today's portfolios, and are backed by a collective $5.3 trillion in institutional investment, how do the CEOs of these organizations rank by their insider selling?
| CEO | Stock | Shares Sold H1 2021 | Value of Shares ($M) |
| --- | --- | --- | --- |
| Jeff Bezos | Amazon (AMZN) | 2.0 million | $6,600 |
| Mark Zuckerberg | Facebook (FB) | 7.1 million | $2,200 |
| Satya Nadella | Microsoft (MSFT) | 278,694 | $65 |
| Sundar Pichai | Google (GOOGL) | 27,000 | $62 |
| Tim Cook | Apple (AAPL) | 0 | $0 |
Breaking Down Insider Trading, by CEO
Let's dive into the insider trading activity of each Big Tech CEO:
Jeff Bezos
During the first half of 2021, Jeff Bezos sold 2 million shares of Amazon worth $6.6 billion.
This activity was spread across 15 different transactions, representing an average of $440 million per transaction. Altogether, this ranks him first by CEO insider selling, by total dollar proceeds. Bezos's time as CEO of Amazon came to an end shortly after the half way mark for the year.
Mark Zuckerberg
In second place is Mark Zuckerberg, who has been significantly busier selling than the rest.
In the first half of 2021, he unloaded 7.1 million shares of Facebook onto the open market, worth $2.2 billion. What makes these transactions interesting is the sheer quantity of them, as he sold on 136 out of 180 days. On average, that's $12 million worth of stock sold every day.
Zuckerberg's record year of selling in 2018 resulted in over $5 billion worth of stock sold, but over 90% of his net worth still remains in the company.
Satya Nadella
Next is Satya Nadella, who sold 278,694 shares of Microsoft, worth $234 million. Despite this, the Microsoft CEO still holds an estimated 1.6 million shares, which is the largest of any insider.
Microsoft's stock has been on a tear for a number of years now, and belongs to an elite trillion dollar club, which consists of only six public companies.
Sundar Pichai
Fourth on the list is Sundar Pichai who has been at the helm at Google for six years now. Since the start of 2021, he's sold 27,000 shares through nine separate transactions, worth $62.5 million. However, Pichai still has an estimated 6,407 Class A and 114,861 Class C shares.
Google is closing in on a $2 trillion valuation and is the best performing Big Tech stock, with shares rising 60% year-to-date. Their market share growth from U.S. ad revenues is a large contributing factor.
Tim Cook
Last, is Tim Cook, who just surpassed a decade as Apple CEO.
During this time, shares have rallied over 1,000% and annual sales have gone from $100 billion to $347 billion. That said, Cook has sold 0 shares of Apple during the first half of 2021. That doesn't mean he hasn't sold shares elsewhere, though. Cook also sits on the board of directors for Nike, and has sold $6.9 million worth of shares this year.
Measuring Insider Selling
All things equal, it's desirable for management to have skin in the game, and be invested alongside shareholders. It can also be seen as aligning long-term interests.
A good measure of insider selling activity is in relation to the existing stake in the company. For example, selling $6.6 billion worth of shares may sound like a lot, but when there are 51.7 million Amazon shares remaining for Jeff Bezos, it actually represents a small portion and is probably not cause for panic.
If, however, executives are disclosing large transactions relative to their total stakes, it might be worth digging deeper.
The World's Most Used Apps, by Downstream Traffic
Of the millions of apps available around the world, just a small handful of the most used apps dominate global internet traffic.
The World's Most Used Apps, by Downstream Traffic
Of the millions of apps available around the world, just a small handful of the most used apps dominate global internet traffic.
Everything connected to the internet takes bandwidth to view. When you look at something on your smartphone—whether it's a new message on Instagram or the next few seconds of a YouTube video—your device is downloading the data in the background.
And the bigger the files, the more bandwidth is utilized. In this chart, we break down of the most used apps by category, using Sandvine's global mobile traffic report for 2021 Q1.
Video Drives Global Mobile Internet Traffic
The biggest files use the most data, and video files take the cake.
According to Android Central, streaming video ranges from about 0.7GB per hour of data for a 480p video to 1.5GB per hour for 1080. A 4K stream, the highest resolution currently offered by most providers, uses around 7.2GB per hour.
That's miles bigger than audio files, where high quality 320kbps music streams use an average of just 0.12GB per hour. Social network messages are usually just a few KB, while the pictures found on them can range from a few hundred KB for a low resolution image to hundreds of MB for high resolution.
Understandably, breaking down mobile downstream traffic by app category shows that video is on top by a long shot:
| Category | Downstream Traffic Share (2021 Q1) |
| --- | --- |
| Video Streaming | 48.9% |
| Social Networking | 19.3% |
| Web | 13.1% |
| Messaging | 6.7% |
| Gaming | 4.3% |
| Marketplace | 4.1% |
| File Sharing | 1.3% |
| Cloud | 1.1% |
| VPN and Security | 0.9% |
| Audio | 0.2% |
Video streaming accounts for almost half of mobile downstream traffic worldwide at 49%. Audio streaming, including music and podcasts, accounts for just 0.2%.
Comparatively, social network and web browsing combined make up one third of downstream internet traffic. Games, marketplace apps, and file sharing, despite their large file sizes, only require one-time downloads that don't put as big of a strain on traffic as video does.
A Handful of Companies Own the Most Used Apps
Though internet traffic data is broken down by category, it's worth noting that many apps consume multiple types of bandwidth.
For example, messaging and social network apps, like WhatsApp, Instagram, and Snapchat, allow consumers to stream video, social network, and message.
Even marketplace apps like iTunes and Google Play consume bandwidth for video and audio streaming, and together account for 6.3% of total mobile downstream traffic.
But no single app had a bigger footprint than YouTube, which accounts for 20.4% of total global downstream bandwidth.
| Category | Top Apps (Category Traffic) | Category Traffic Share |
| --- | --- | --- |
| Video Streaming | YouTube | 47.9% |
| Video Streaming | TikTok | 16.1% |
| Video Streaming | Facebook Video | 14.6% |
| Video Streaming | Instagram | 12.1% |
| Video Streaming | Netflix | 4.3% |
| Video Streaming | Other | 5.0% |
| Social Networking | Facebook | 50.5% |
| Social Networking | Instagram | 41.9% |
| Social Networking | Twitter | 2.4% |
| Social Networking | Odnoklassniki | 1.9% |
| Social Networking | QQ | 0.7% |
| Social Networking | Other | 2.9% |
| Messaging | WhatsApp | 31.4% |
| Messaging | Snapchat | 16.5% |
| Messaging | Facebook VoIP | 14.3% |
| Messaging | LINE | 12.1% |
| Messaging | Skype | 4.1% |
| Messaging | Other | 21.6% |
| Web | Google | 41.2% |
| Web | Other | 58.8% |
The world's tech giants had the leading app in the four biggest data streaming categories. Alphabet's YouTube and Google made up almost half of all video streaming and web browsing traffic, while Facebook's own app, combined with Instagram and WhatsApp, accounted for 93% of global social networking traffic and 45% of messaging traffic.
Traffic usage by app highlights the data monopoly of tech giants and internet providers. Since just a few companies account for a majority of global smartphone internet traffic, they have a lot more bartering power (and responsibility) when it comes to our general internet consumption.