A Visual History of the Largest Companies by Market Cap (1999-Today)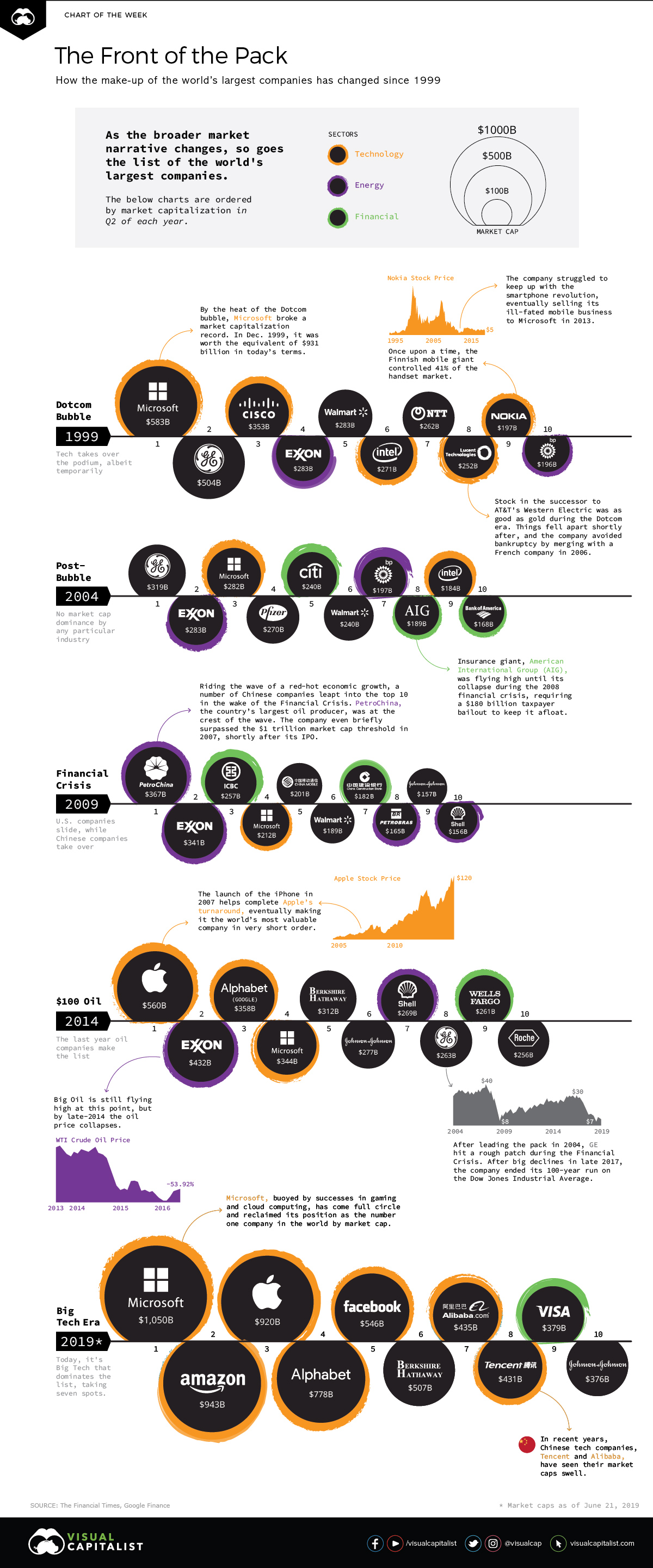 A Visual History of the Largest Companies by Market Cap
The macro narrative that underlies the market is constantly under revision.
While this is partially a function of shifts in investor sentiment, it's also driven by game-changing events as well as much more structural market forces.
For example, how does the macro narrative change after a commodity price crash? What about when the unprecedented scale of technology is truly understood by the market?
An Evolving Narrative
In this week's chart, we look at how the big picture narrative has changed over time by using a very simple approach.
We have visualized the market capitalizations of the 10 largest public companies in the world over five-year intervals from 1999 until today, and it gives us a series of snapshots of what the market was "thinking" during these specific periods.
Not only is it evident as certain industries rise to prominence, but there are also some interesting individual stories to follow. We can see iconic companies – such as Apple – ascend into the public consciousness, while others fall off the radar completely.
| Year | Description | Top Company | Who Dominates Top 10? |
| --- | --- | --- | --- |
| 1999 | Dotcom Bubble | Microsoft ($583B) | Five tech companies in the mix |
| 2004 | Post-Bubble | GE ($319B) | Diverse mix of companies by industry |
| 2009 | Financial Crisis | PetroChina ($367B) | Six non-U.S. companies make list |
| 2014 | $100 Oil | Apple ($560B) | Last year for oil companies, tech starts ascending |
| 2019 | Big Tech Era | Microsoft ($1,050B) | Seven companies are tech |
The composition of the top 10 changes in each of the snapshots above, and this simple approach helps capture the market narrative for each timeframe.
During the Dotcom Bubble, you can see that half of the list was dominated by tech companies. This was short-lived, and the years 2004, 2009, and 2014 have much more diverse lists.
You can also see the impact of the financial crisis on U.S. company valuations. In 2009, there is an equal distribution of Chinese and American companies. Royal Dutch Shell (UK/Netherlands) and Petrobras (Brazil) help round out the top 10.
Finally, over the last five years, you can see the impact of lower oil prices and the growing scale of tech. Back in 2014, Exxon Mobil was the second largest company in the world by a solid margin, but today it's been displaced by companies like Facebook, Amazon, Tencent, and Alibaba.
The Big Tech Era
Here is the current top 10 list of the world's largest companies by market cap:
| Rank | Company | Industry | Market Cap |
| --- | --- | --- | --- |
| #1 | 🇺🇸 Microsoft | Tech | $1,050 billion |
| #2 | 🇺🇸 Amazon | Tech | $943 billion |
| #3 | 🇺🇸 Apple | Tech | $920 billion |
| #4 | 🇺🇸 Alphabet | Tech | $778 billion |
| #5 | 🇺🇸 Facebook | Tech | $546 billion |
| #6 | 🇺🇸 Berkshire Hathaway | Diversified | $507 billion |
| #7 | 🇨🇳 Alibaba | Tech | $435 billion |
| #8 | 🇨🇳 Tencent | Tech | $431 billion |
| #9 | 🇺🇸 Visa | Financial | $379 billion |
| #10 | 🇺🇸 Johnson & Johnson | Consumer Goods | $376 billion |
In total, the five biggest tech giants brought in a combined $801.5 billion in revenue last year, and $139 billion in net income.
The Staying Power of Microsoft
With a valuation today of just over $1 trillion, Microsoft is again the world's largest company by market capitalization.
In this way, the above lists come full circle, since Microsoft was also the biggest company in 1999.
While the software giant experienced short periods where it did drop out of favor, Microsoft was the only company to make the list in our five snapshots above.
Ranked: Largest Semiconductor Foundry Companies by Revenue
Most of the 10 largest semiconductor foundries in the world, are headquartered in just three Asian countries, accounting for 90% of the entire industry's revenue.
Ranked: Largest Semiconductor Foundry Companies by Revenue
They're in our phones, cars, planes, and even fridges.
Semiconductor chips have become critical for the modern way of life, and the biggest semiconductor foundry companies rake in billions of dollars from widespread demand.
This chart shows the largest semiconductor foundry companies by their percentage of global revenues in Q1 2023, using data sourced from Trendforce.
ℹ️ We highlight data for companies that only operate foundries (fabrication plants) that manufacture chips for clients, also known as a "pure-play" foundries, as well as companies that design and manufacture their own chips, known as integrated device manufacturers. "Fabless" manufacturers that only design and don't manufacture their own chips are not included.
Semiconductor Foundry Companies by Revenue
At the top of the list and dwarfing every other company by revenue share is TSMC which earned 60% (or nearly $17 billion) of the entire industry's revenue in Q1 2023.
Founded in 1987, TSMC is a pure-play foundry that has become Taiwan's largest company and manufactures products for a host of clients including Apple, NVIDIA, and AMD.
Rank
Company
Country
Revenue
(Q1 2023, USD)
1
TSMC
🇹🇼 Taiwan
$16,735M
2
Samsung
🇰🇷 South Korea
$3,446M
3
GlobalFoundries
🇺🇸 US
$1,841M
4
UMC
🇹🇼 Taiwan
$1,784M
5
SMIC
🇨🇳 China
$1,462M
6
HuaHong Group
🇨🇳 China
$845M
7
Tower Semiconductor
🇮🇱 Israel
$356M
8
PSMC
🇹🇼 Taiwan
$332M
9
VIS
🇹🇼 Taiwan
$269M
10
DB Hitek
🇰🇷 South Korea
$234M
Other
$556M
Global Total
$27,860M
Note: Revenue based on the following conversion rates: USD 1 = WON 1,276; USD 1 = NTD 30.4.
Well behind TSMC in foundry revenues is integrated device manufacturer Samsung, the biggest company in South Korea, which made $3.4 billion (12.4% of the industry's revenue) from its semiconductor manufacturing business.
GlobalFoundries from the U.S., UMC from Taiwan and SMIC from China round out the top five, with each taking home around 6% of industry's revenue share in Q1 2023. The former spun out from AMD's manufacturing arm when the company went fabless in 2009.
Industry concentration is apparent in semiconductors. For example, the top 10 semiconductor foundry companies account for 98% of the entire industry's revenue. Furthermore, 90% of the market is dominated by companies in just three Asian countries: Taiwan, South Korea, and China.