The World's "Hot" Money [Chart]
The World's "Hot" Money [Chart]
Over $7.8 trillion of illicit money has flowed out of developing countries in last decade
The Chart of the Week is a weekly Visual Capitalist feature on Fridays.
Every year, roughly $1 trillion flows illegally out of developing and emerging economies due to crime, corruption, and tax evasion. This amount is more than these countries receive in foreign direct investment and foreign aid combined.
This week, a new report was released that highlights the latest data available on this "hot" money. Assembled by Global Financial Integrity, a research and advisory organization based in Washington, DC, the report details illicit financial flows of money from developing countries using the latest information available, which is up until the end of 2013.
The cumulative amount of this "hot money" coming out of developing countries totaled just over $7.8 trillion between 2004 and 2013. On an annual basis, it breached the $1 trillion mark each of the last three years of data available, which is good for a growth rate of 6.5% rate annually.
In Asia, illicit financial outflows are growing even quicker at an 8.6% clip. It's also on the continent that five of the ten largest source economies for these flows can be found, including the largest offender, which is Mainland China.
How does this "hot" money leave these countries? Global Financial Integrity has calculated that 83% of illicit financial flows are due to what it calls "trade misinvoicing".
It's defined as the following:
The misinvoicing of trade is accomplished by misstating the value or volume of an export or import on a customs invoice. Trade misinvoicing is a form of trade-based money laundering made possible by the fact that trading partners write their own trade documents, or arrange to have the documents prepared in a third country (typically a tax haven), a method known as re-invoicing. Fraudulent manipulation of the price, quantity, or quality of a good or service on an invoice allows criminals, corrupt government officials, and commercial tax evaders to shift vast amounts of money across international borders quickly, easily, and nearly always undetected.
Trade misinvoicing accounted for an average of $654.7 billion per year of lost trade in developing markets over the data set covered by the report.
Timeline: 150 Years of U.S. National Debt
This interactive visual shows how the U.S. national debt has fluctuated since 1900, as well as projections all the way to 2050.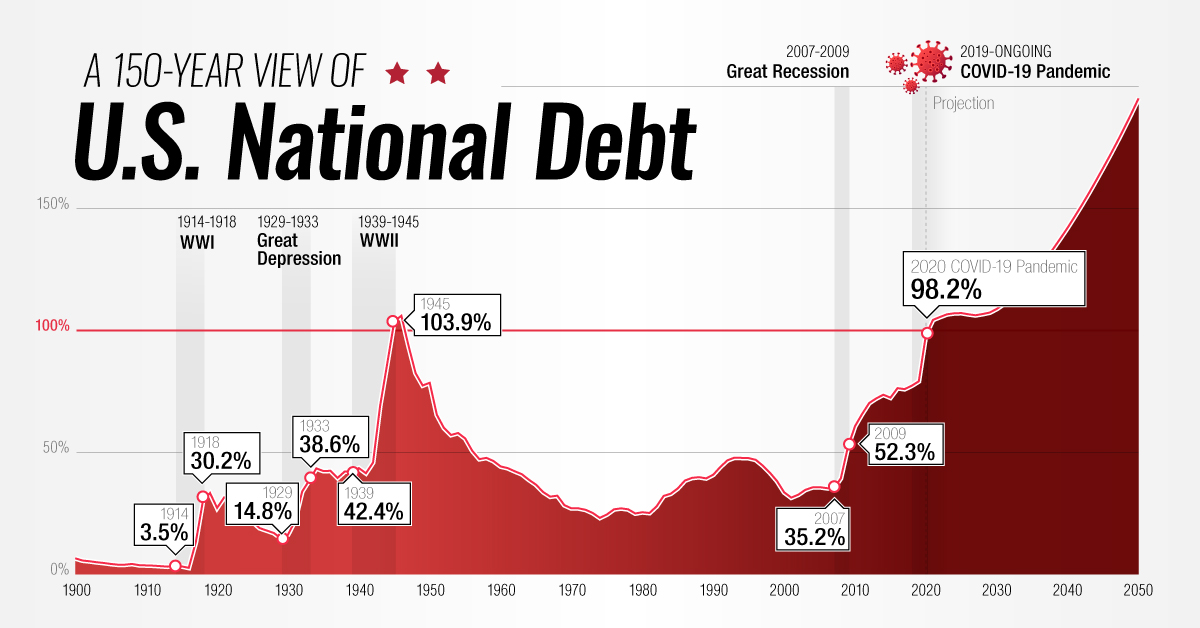 Looking Back at 150 Years of U.S. Debt
The total U.S. national debt reached an all-time high of $28 trillion* in March 2021, the largest amount ever recorded.
Recent increases to the debt have been fueled by massive fiscal stimulus bills like the CARES Act ($2.2 trillion in March 2020), the Consolidated Appropriations Act ($2.3 trillion in December 2020), and most recently, the American Rescue Plan ($1.9 trillion in March 2021).
To see how America's debt has gotten to its current point, we've created an interactive timeline using data from the Congressional Budget Office (CBO). It's crucial to note that the data set uses U.S. national debt held by the public, which excludes intergovernmental holdings.
*Editor's note: This top level figure includes intragovernmental holdings, or the roughly $6 trillion of debt owed within the government to itself.
What Influences U.S. Debt?
It's worth pointing out that the national debt hasn't always been this large.
Looking back 150 years, we can see that its size relative to GDP has fluctuated greatly, hitting multiple peaks and troughs. These movements generally correspond with events such as wars and recessions.
Decade
Gross debt at start
of decade
(USD billions)
Avg. Debt Held By Public
Throughout Decade
(% of GDP)
Major Events
1900
-
4.8%
-
1910
-
10.0%
World War I
1920
-
22.9%
The Great Depression
1930
$16
36.4%
President Roosevelt's New Deal
1940
$40
75.1%
World War II
1950
$257
56.8%
Korean War
1960
$286
37.3%
Vietnam War
1970
$371
26.1%
Stagflation (inflation + high unemployment)
1980
$908
33.7%
President Reagan's tax cuts
1990
$3,233
44.7%
Gulf War
2000
$5,674
36.6%
9/11 attacks & Global Financial Crisis
2010
$13,562
72.4%
Debt ceiling is raised by Congress
2020
$27,748
105.6%
COVID-19 pandemic
2030P
-
121.8%
-
2040P
-
164.7%
-
2050P
-
195.2%
-
Source: CBO, The Balance
To gain further insight into the history of the U.S. national debt, let's review some key economic events in America's history.
The Great Depression
After its WWI victory, the U.S. enjoyed a period of post-war prosperity commonly referred to as the Roaring Twenties.
This led to the creation of a stock market bubble which would eventually burst in 1929, causing massive damage to the U.S. economy. The country's GDP was cut in half (partially due to deflation), while the unemployment rate rose to 25%.
Government revenues dipped as a result, pushing debt held by the public as a % of GDP from its low of 15% in 1929, to a high of 44% in 1934.
World War II
WWII quickly brought the U.S. back to full employment, but it was an incredibly expensive endeavor. The total cost of the war is estimated to be over $4 trillion in today's dollars.
To finance its efforts, the U.S. relied heavily on war bonds, a type of bond that is marketed to citizens during armed conflicts. These bonds were sold in various denominations ranging from $25-$10,000 and had a 2.9% interest rate compounded semiannually.
Over 85 million Americans purchased these bonds, helping the U.S. government to raise $186 billion (not adjusted for inflation). This pushed debt above 100% of GDP for the first time ever, but was also enough to cover 63% of the war's total cost.
The Postwar Period
Following World War II, the U.S. experienced robust economic growth.
Despite involvement in the Korea and Vietnam wars, debt-to-GDP declined to a low of 23% in 1974—largely because these wars were financed by raising taxes rather than borrowing.
The economy eventually slowed in the early 1980s, prompting President Reagan to slash taxes on corporations and high earning individuals. Income taxes on the top bracket, for example, fell from 70% to 50%.
2008 Global Financial Crisis
The Global Financial Crisis served as a precursor for today's debt landscape.
Interest rates were reduced to near-zero levels to speed up the economic recovery, enabling the government to borrow with relative ease. Rates remained at these suppressed levels from 2008 to 2015, and debt-to-GDP grew from 39% to 73%.
It's important to note that even before 2008, the U.S. government had been consistently running annual budget deficits. This means that the government spends more than it earns each year through taxes.
The National Debt Today
The COVID-19 pandemic damaged many areas of the global economy, forcing governments to drastically increase their spending. At the same time, many central banks once again reduced interest rates to zero.
This has resulted in a growing snowball of government debt that shows little signs of shrinking, even though the worst of the pandemic is already behind us.
In the U.S., federal debt has reached or surpassed WWII levels. When excluding intragovernmental holdings, it now sits at 104% of GDP—and including those holdings, it sits at 128% of GDP. But while the debt is expected to grow even further, the cost of servicing this debt has actually decreased in recent years.
This is because existing government bonds, which were originally issued at higher rates, are now maturing and being refinanced to take advantage of today's lower borrowing costs.
The key takeaway from this is that the U.S. national debt will remain manageable for the foreseeable future. Longer term, however, interest expenses are expected to grow significantly—especially if interest rates begin to rise again.
Visualized: The Power of a Sustainable Investment Dollar
Do sustainable investments make a difference? From carbon emissions to board diversity, we break down their impact across three industries.
Visualizing the Power of a Sustainable Investment Dollar
Sustainable investments are booming.
Between January and November 2020 alone, investments in sustainable ETF and mutual funds grew 96%. The UN Principles of Responsible Investment now has over 3,000 signatories representing over $100 trillion in assets. The U.S. Commodity Futures Trading Commission established a Climate Risk Unit to analyze climate risk across derivative markets, and as of March 2021, new sustainability disclosures have come into effect in Europe.
But how do we know if sustainable investments have made a difference?
To answer this question, the above infographic from MSCI examines the effect of a sustainable investment dollar by looking at real-world examples.
A Sustainable vs. Unsustainable Dollar
To start, investing legend Benjamin Graham has compared the stock market to a "voting machine." Just as consumers vote with their purchasing decisions, investors vote with their investment dollars. Especially in the short term, as more dollars flow to sustainable companies, this builds their exposure and access to capital.
In the long term, meanwhile, the market can be compared to a weighing machine. The market recognizes companies with profitable business models that improve their intrinsic value over time. Ultimately, this allows sustainable companies to expand and continue operating.
Given the rising momentum in both green assets and climate targets, here is how investment dollars have influenced and driven change across three industries.
1. Clean Energy vs. Fossil Fuel
Over the last several years, the energy sector has been associated with many of the problems causing climate change. For this reason, many investors are seeking out greener energy alternatives. But how does moving investment dollars from an ESG laggard to an ESG leader support the environment and society?
First, here is a brief explainer of ESG laggards and leaders:
ESG laggards: companies with the weakest environmental, social, and governance (ESG) performance in their sector.
ESG leaders: companies with the strongest environmental, social, and governance (ESG) performance in their sector.
| Industry laggard: U.S. oil & gas company | Industry leader: U.S. utilities company |
| --- | --- |
| Scale of carbon-intensive business lines equal to 73% of its operation | 47% lower CO2 emissions than the industry average |
| This is the equivalent of adding 26 million cars on the road annually | This is the equivalent of removing 9.9 million cars off the road annually |
| 1 of 20 oil and gas companies are responsible for contributing to one third of GHG emissions since 1965 | Uses 3X as many renewable sources than industry average |
| 3X fewer jobs are created vs. energy efficient sector, resulting in lower productivity | This is roughly the same as saving over 9 million pounds of coal burned |
| MSCI ESG Rating: CCC | MSCI ESG Rating: AAA |
Source: MSCI ESG Research
Based on the above example, investors have the ability to finance powerful green initiatives that reduce emissions by almost half, relative to their peers.
2. Safe vs. Unsafe Working Conditions
Weak safety protocols are a key sustainability issue for the industrial sector. Here's how two companies compare:
Industry laggard: South African mining company
Industry leader: U.S. mining company
11 fatalities in 2019
Zero fatalities in 2019
Faced lawsuits from miners surrounding lung diseases contracted from dust exposure in gold mines
Settlement cost: $350 million
Board-level oversight monitors health and safety performance
Lags behind peers in high incident rates
Leads peers in low incident rates
Lags behind peers in setting incident reduction targets
Leads industry in lost time incident rate & total recordable injury rate
MSCI ESG Rating: CCC
MSCI ESG Rating: A
Source: MSCI ESG Research
Despite the risks involved in the sector, investors can choose to support companies that take greater precautions to protect their workers.
3. Building Trust vs. Losing Trust
Over the last several years, the financial sector has faced increased scrutiny over fraudulent activities. Moving investment dollars from an ESG laggard to ESG leader may make a difference:
| Industry laggard: U.S. bank | Industry leader: Dutch bank |
| --- | --- |
| $3 billion settlement in creating fictitious accounts to meet aggressive sales targets | Sustainable finance portfolio valued at over $20 billion |
| Drop in top-tier bank ratings | 13% annual increase in climate finance |
| Board effectiveness questioned | Includes over 60 green loans, mobilizing environmentally friendly projects |
| Resignation of board members | Over 55% of board is female |
| MSCI ESG Rating: CCC | MSCI ESG Rating: A |
Source: MSCI ESG Research
From board diversity to green loans, a sustainable investment dollar supports companies that are actively advancing society and the environment.
Sustainable Investment: The Time to Act
Recently, investor dollars and shareholder activism have been closely linked.
Between 2018 and 2020, large institutional investors filed 217 shareholder proposals on climate change alone, putting increased pressure on companies. Meanwhile, 270 proposals were filed on corporate political activity and 228 on fair labor and equal employment opportunity over the same timeframe. Across all ESG proposals, $2 trillion in assets were pushing for more equitable corporate action.
Through the power of a dollar, investors can send a clear signal to companies: the time for sustainable investing is now.