Charted: The Rise of Mobile Device Subscriptions Worldwide
Charting The Rise of Mobile Device Subscriptions Worldwide
There were approximately 8.6 billion mobile device subscriptions worldwide as of 2021, more than there are people on the planet.
Yet, while mobile phones, tablets, and other devices have become extremely common across the globe, access still varies greatly from country to country.
Using data from Our World in Data, this chart by Pablo Alvarez tracks the rise of mobile phones across the globe, showing the discrepancies in mobile phone subscriptions in select countries.
The Evolution of the Mobile Market
Before diving into the present-day divide, it's worth quickly explaining how the overall cell phone market and mobile devices in general have evolved over the last three decades.
Below is a summary of the history of the mobile market since its onset in the early 90s.
The 90s and Early 2000s: The Beginning
The first mobile device hit the market in 1983, with Motorola's launch of the DynaTAC 8000X. This clunky analog phone cost nearly $4,000 and needed to be recharged after 30 minutes of use.
By the early 1990s, innovation in the industry had somewhat taken off, with various manufacturers like Nokia and Sony starting to launch their own devices.
While this gave consumers more product options to choose from, the technology was still fairly new, and mobile adoption was relatively low compared to today's figures.
2007 and Onwards: Apple Opens Up the Market
Though many companies introduced mobile phones, and a few launched early tablet devices like the PalmPilot and the Nokia 770, it was Apple's foray into the market that shook things up.
The iPhone's launch in 2007, and the iPad's debut in 2010, ushered in a new era of mobile devices. Their touch-screen design was revolutionary at the time, and they were also exceptionally more functional through the App Store, since users could download hundreds of different mobile applications and games quickly.
This is when the rise of mobile really started to pick up across the globe. In 2007, there were nearly 3.4 billion mobile device subscriptions worldwide or about 50% of the global population.
Present Day: Mobile Devices Are Common, But Not Ubiquitous
In many parts of the world, millions of people rely on their mobile phones and tablets every day for work, social life, or simple day-to-day activities like figuring out directions or deciding what to make for dinner.
Yet, while overall mobile subscriptions have surpassed the global population, adoption hasn't been equally spread across the globe.
Here's a look at mobile device subscriptions per 100 people, in 12 different regions:
| Country | Mobile Subscriptions Per 100 People (2020) |
| --- | --- |
| 🇲🇴 Macau | 430 |
| 🇭🇰 Hong Kong | 291 |
| 🇿🇦 South Africa | 161 |
| 🇨🇱 Chile | 131 |
| 🇵🇱 Poland | 130 |
| 🇩🇪 Germany | 128 |
| 🇨🇳 China | 119 |
| 🇺🇸 United States | 106 |
| 🇨🇦 Canada | 85 |
| 🇮🇳 India | 83 |
| 🇨🇺 Cuba | 58 |
| 🇸🇸 South Sudan | 12 |
| Global Average | 106 |
As the table above shows, some regions have a lot more mobile phone subscriptions than people, while other places are lagging behind.
In regions with a surplus, people likely have multiple devices and SIM-enabled gadgets like smartwatches and connected cars. This explains how in Macao, mobile subscriptions are more than 300% higher than the country's population.
On the flip side, in South Sudan, there are just 12 mobile phone subscriptions for every 100 people in the country. Poverty is widespread across the country, which helps explain its relatively low number of mobile subscriptions. According to the World Bank, only 7.2% of the South Sudan's population has access to electricity.

This article was published as a part of Visual Capitalist's Creator Program, which features data-driven visuals from some of our favorite Creators around the world.
Charted: What are Retail Investors Interested in Buying in 2023?
What key themes and strategies are retail investors looking at for the rest of 2023? Preview: AI is a popular choice.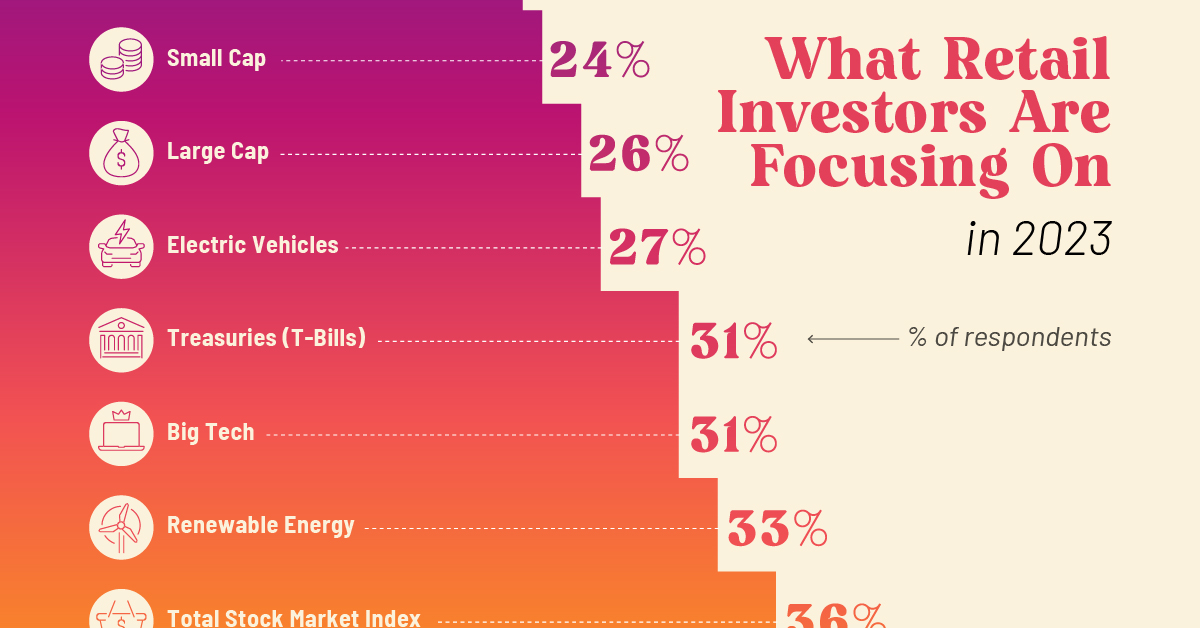 Charted: Retail Investors' Top Picks for 2023
U.S. retail investors, enticed by a brief pause in the interest rate cycle, came roaring back in the early summer. But what are their investment priorities for the second half of 2023?
We visualized the data from Public's 2023 Retail Investor Report, which surveyed 1,005 retail investors on their platform, asking "which investment strategy or themes are you interested in as part of your overall investment strategy?"
Survey respondents ticked all the options that applied to them, thus their response percentages do not sum to 100%.
Where Are Retail Investors Putting Their Money?
By far the most popular strategy for retail investors is dividend investing with 50% of the respondents selecting it as something they're interested in.
Dividends can help supplement incomes and come with tax benefits (especially for lower income investors or if the dividend is paid out into a tax-deferred account), and can be a popular choice during more inflationary times.
| Investment Strategy | Percent of Respondents |
| --- | --- |
| Dividend Investing | 50% |
| Artificial Intelligence | 36% |
| Total Stock Market Index | 36% |
| Renewable Energy | 33% |
| Big Tech | 31% |
| Treasuries (T-Bills) | 31% |
| Electric Vehicles | 27% |
| Large Cap | 26% |
| Small Cap | 24% |
| Emerging Markets | 23% |
| Real Estate | 23% |
| Gold & Precious Metals | 23% |
| Mid Cap | 19% |
| Inflation Protection | 13% |
| Commodities | 12% |
Meanwhile, the hype around AI hasn't faded, with 36% of the respondents saying they'd be interested in investing in the theme—including juggernaut chipmaker Nvidia. This is tied for second place with Total Stock Market Index investing.
Treasury Bills (30%) represent the safety anchoring of the portfolio but the ongoing climate crisis is also on investors' minds with Renewable Energy (33%) and EVs (27%) scoring fairly high on the interest list.
Commodities and Inflation-Protection stocks on the other hand have fallen out of favor.
Come on Barbie, Let's Go Party…
Another interesting takeaway pulled from the survey is how conversations about prevailing companies—or the buzz around them—are influencing trades. The platform found that public investors in Mattel increased 6.6 times after the success of the 'Barbie' movie.
Bud Light also saw a 1.5x increase in retail investors, despite receiving negative attention from their fans after the company did a beer promotion campaign with trans influencer Dylan Mulvaney.
Given the origin story of a large chunk of American retail investors revolves around GameStop and AMC, these insights aren't new, but they do reveal a persisting trend.