Mapped: The Most Popular Video Streaming Service by Country
Mapped: The Most Popular Video Streaming Service by Country
In recent years, video streaming has become an integral part of global entertainment. From Netflix and Amazon Prime to HBO Max and Apple TV, consumers today have many choices when it comes to streaming services.
While some prefer services with their favorite shows and movies, others opt for the most affordable or content-packed options. Often, users band together friends and family and subscribe to multiple streaming services, though some services like Netflix have started to clamp down on the practice.
This graphic by theWORLDMAPS uses data from FlixPatrol to highlight the streaming services with the most subscriptions by country in February 2023.
Most Subscribed Streaming Services in 2023
With the highest number of subscribers in 78 countries and over 220 million customers globally, Netflix was the most popular video streaming service in the most countries.
| Streaming Service | Top in Number of Countries |
| --- | --- |
| Netflix | 78 |
| Canal Plus | 17 |
| Shahid | 16 |
| Showmax | 15 |
| Amazon Prime | 5 |
| KinoPoisk | 5 |
| iFlix | 4 |
| GO3 | 3 |
| ivi TV | 3 |
| Tencent Video | 2 |
| Globoplay | 1 |
| BluTV | 1 |
| Disney+ | 1 |
| Viu | 1 |
| WatchIT | 1 |
In many countries including the UK, Brazil, Germany, France, and Mexico, Netflix had the most subscribers of any service. That's more than delivery subscription and streaming service Amazon Prime and its 200 million global subscribers.
Because of its large userbase, however, Prime can claim more subscribers than Netflix in five countries: Afghanistan, Canada, Japan, Taiwan, and the U.S..
Other streaming services found success catering to specific regions. The French premium television channel Canal Plus had the highest subscriber count in 17 francophone countries across Central and West Africa. Likewise, the Arabic free video streaming service Shahid topped the list of 16 countries including Egypt, Saudi Arabia, UAE, and Yemen.
And despite having over 160 million global subscribers, Disney+ only made it to the top of India's subscriber base. Likewise, Tencent Video was the most-subscribed platform in China with 124 million customers.
Honorable Mentions and Turning Tides
Only 11 video streaming channels made it to the top of the 134 countries tracked by this data.
And while many others did not make the cut, they continue to attract millions of subscribers worldwide.
They include the Chinese platform iQIYI with 106 million subscribers, as well as four American streaming services: HBO Max (79.9M), Hulu (48M), Paramount+ (46M), and Apple TV (40M).
But with both Netflix and Disney+ wrestling with slowing (and declining) subscriber growth, how will the map evolve over the next few years?

This article was published as a part of Visual Capitalist's Creator Program, which features data-driven visuals from some of our favorite Creators around the world.
Charted: What are Retail Investors Interested in Buying in 2023?
What key themes and strategies are retail investors looking at for the rest of 2023? Preview: AI is a popular choice.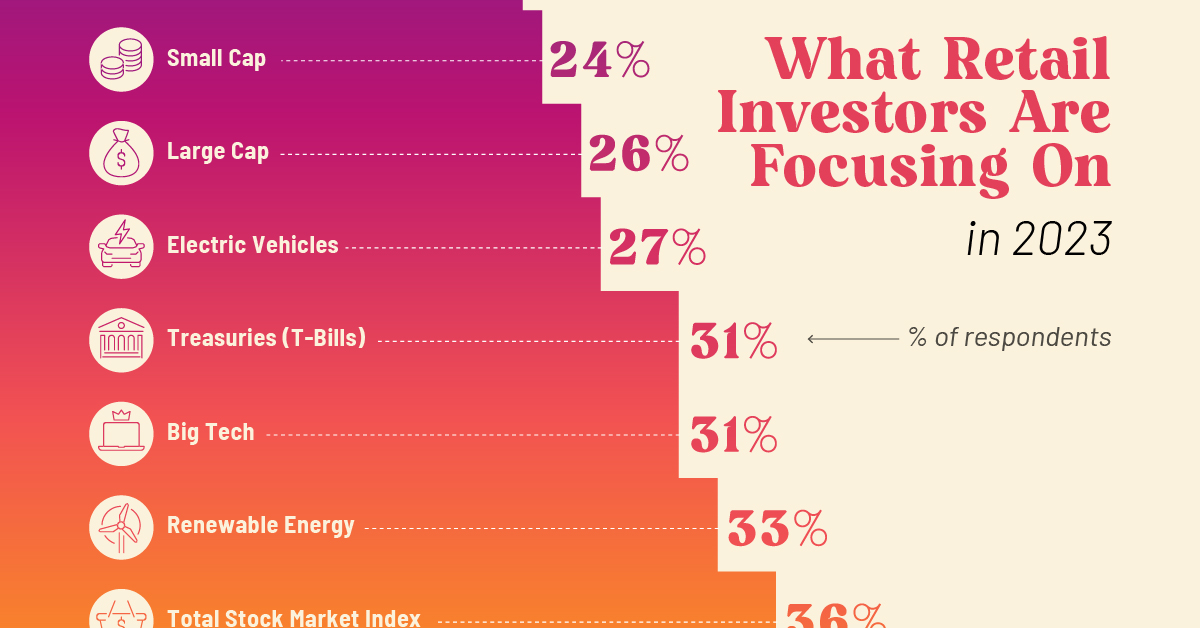 Charted: Retail Investors' Top Picks for 2023
U.S. retail investors, enticed by a brief pause in the interest rate cycle, came roaring back in the early summer. But what are their investment priorities for the second half of 2023?
We visualized the data from Public's 2023 Retail Investor Report, which surveyed 1,005 retail investors on their platform, asking "which investment strategy or themes are you interested in as part of your overall investment strategy?"
Survey respondents ticked all the options that applied to them, thus their response percentages do not sum to 100%.
Where Are Retail Investors Putting Their Money?
By far the most popular strategy for retail investors is dividend investing with 50% of the respondents selecting it as something they're interested in.
Dividends can help supplement incomes and come with tax benefits (especially for lower income investors or if the dividend is paid out into a tax-deferred account), and can be a popular choice during more inflationary times.
| Investment Strategy | Percent of Respondents |
| --- | --- |
| Dividend Investing | 50% |
| Artificial Intelligence | 36% |
| Total Stock Market Index | 36% |
| Renewable Energy | 33% |
| Big Tech | 31% |
| Treasuries (T-Bills) | 31% |
| Electric Vehicles | 27% |
| Large Cap | 26% |
| Small Cap | 24% |
| Emerging Markets | 23% |
| Real Estate | 23% |
| Gold & Precious Metals | 23% |
| Mid Cap | 19% |
| Inflation Protection | 13% |
| Commodities | 12% |
Meanwhile, the hype around AI hasn't faded, with 36% of the respondents saying they'd be interested in investing in the theme—including juggernaut chipmaker Nvidia. This is tied for second place with Total Stock Market Index investing.
Treasury Bills (30%) represent the safety anchoring of the portfolio but the ongoing climate crisis is also on investors' minds with Renewable Energy (33%) and EVs (27%) scoring fairly high on the interest list.
Commodities and Inflation-Protection stocks on the other hand have fallen out of favor.
Come on Barbie, Let's Go Party…
Another interesting takeaway pulled from the survey is how conversations about prevailing companies—or the buzz around them—are influencing trades. The platform found that public investors in Mattel increased 6.6 times after the success of the 'Barbie' movie.
Bud Light also saw a 1.5x increase in retail investors, despite receiving negative attention from their fans after the company did a beer promotion campaign with trans influencer Dylan Mulvaney.
Given the origin story of a large chunk of American retail investors revolves around GameStop and AMC, these insights aren't new, but they do reveal a persisting trend.