The Yukon: Where Mineral Potential is Coming of Age
In a remote corner of Canada's north lies the Yukon – a territory that is renowned for both its legendary mineral potential and its storied mining history.
But while the Yukon only produced 2.2% of Canada's gold in 2016, the territory's considerable potential may finally be getting realized in a big way. In the last few years, globally significant discoveries have been made, and now mining giants such as Barrick, Goldcorp, and Agnico Eagle are making their move into the Yukon to get in on the action.
A Coming of Age Story
Today's infographic comes from Strikepoint Gold, and it showcases some of the reasons on why the most important chapter in the Yukon's mining story may just be beginning.
Although the Yukon has been known to possess incredible mineral potential for a long time, it is only in the last few years that signs have been pointing towards this being realized in the form of globally significant discoveries, investment from major players, and mines being built.
A New Era in the Yukon
For gold to be produced, it must first be discovered.
The Yukon has been home to many of some of Canada's most exciting discoveries in the last 10 years. The new project pipeline contains impressive deposits, but even more importantly – it contains some impressive names.
White Gold
Famously found by prospector Shawn Ryan and Underworld Resources in 2008, the White Gold discovery triggered much of the modern interest in the Yukon. Kinross purchased Underworld Resources for C$139.2 million at the height of the gold market. More recently, major Agnico Eagle has bought into the district for C$14.52 million.
Coffee Project
Discovered in 2010, this project is just kilometers away from the White Gold project. It too is based off of Shawn Ryan's claims. Most recently, Goldcorp bought the project for C$520 million through its acquisition of Kaminak Gold. It currently has 5.2 million oz of gold (M&I + Inf.) in resources.
Casino Project
Currently under environmental review, this massive porphyry deposit owned by Western Copper and Gold could be the largest mine in Yukon history, if constructed. Right now, the deposit has reserves of 4.5 billion lbs of copper, and 8.9 million oz of gold.
Rackla
The only Carlin-style district in Canada, this project is being advanced by ATAC Resources. Recently, ATAC Resources generated headlines with an investment from major Barrick Gold, who put in C$8.3 million while also committing up to a further C$55 million to earn-in 70% of the property's Orion project.
Eagle Gold
Eagle Gold is on track to become the Yukon's largest gold-only mine in history. Victoria Gold, the project's owner, expects its first gold pour in 2019. Currently the mine has 2.66 million oz of gold in reserves.
Major Arrivals
In the last year or so, some of the world's most prolific gold miners such as Barrick, Goldcorp, and Agnico Eagle have set up shop in the Yukon – and it could be a sign that the territory is close to reaching its ultimate potential as a top tier mining destination.
Here are some of the other reasons that miners and investors are looking northwards:
1. Government Support
The Yukon Government is well-known for supporting prospectors and miners developing projects. Current programs include the Yukon Mineral Exploration Program, which provides a portion of risk capital to help explorers locate and grow deposits, as well as the Fuel Tax Exemption, which makes miners and other off-road industries exempt from fuel taxes.
2. A Rich Mining History
From the placer mining of the famous Klondike Gold Rush, to the mining today in the Yukon – the territory has always welcomed mining. In fact, mining is still the most important private industry today in the Yukon by GDP share (19%).
3. First Nations Approach
First Nations and the Yukon Government have recently championed a new "government-to-government" relationship to ensure that industry, the territorial government, and First Nations are on the same page for mineral projects.
4. Momentum
From Shawn Ryan's discoveries to the arrival of majors in the region, it has been an eventful decade for Yukon miners. Many expect the best is yet to come.
Visualizing Mining's Footprint in British Columbia
Mining represents 7% of British Columbia's GDP despite only accounting for 0.04% of the land use.
The following content is sponsored by BCRMA
Visualizing Mining's Footprint in British Columbia
British Columbia is considered a global leader in the development of socially and environmentally responsible resources.
An estimated 54% of the province's total land is protected, making it one of the world's greenest mining hubs.
This graphic by the B.C. Regional Mining Alliance (BCRMA) details mining's footprint in the province.
A Tier 1 Jurisdiction for Mining
British Columbia covers almost 95 million hectares (234 million acres), more than any European country except Russia, and more than any U.S. state except Alaska.
As the largest mining province in Canada, BC registered $18 billion in revenue from the industry in 2022.
British Columbia stands as Canada's sole producer of molybdenum, which finds applications in metallurgy and chemistry. Additionally, B.C. is the country's leader producer of copper and steelmaking coal, besides gold and silver.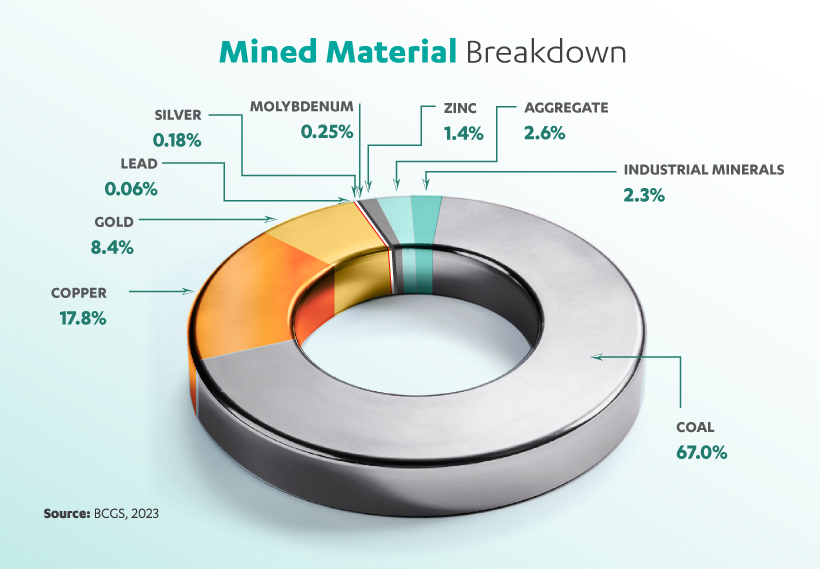 At the heart of British Columbia's mining industry lies the Golden Triangle, one of the hottest mineral exploration districts in the world.
More than 150 mines have operated in the area since prospectors first arrived at the end of the 19th century. The region alone is endowed with minerals worth more than $800 billion.
How Green is B.C. Mining
Mining represents 7% of the province's Gross Domestic Product (GDP), despite only accounting for 0.04% of the land use. In comparison, farmland demands 3% of the land, bringing $2.1 billion (0.8%) per year.
| | Land Use in B.C. | Revenue (2022, CAD $) |
| --- | --- | --- |
| Mining | 0.04% | $18.0 billion |
| Oil & Gas | 0.4% | $9.5 billion |
| Infrastructure | 1% | $25.0 billion |
| Farmland | 3% | $2.1 billion |
| Forest | 62% | $13.3 billion |
Mining operations are also supported by a stable, transparent, and effective policy environment. The province ranked as the world's least risky for mining in 2017 and 2018.
In addition, mineral exploration has received ample support from local Indigenous communities. Today, mining accounts for over two-thirds of all indigenous people employed in the extractives sector.
According to the International Energy Agency, up to six times more minerals and metals will be needed by 2040 to accelerate the energy transition.
In this scenario, British Columbia is well positioned to support the transition to a low-carbon future and make a significant contribution to climate action.
The BCRMA is a strategic partnership between indigenous groups, industry, and government representatives that aims to promote B.C.'s mining opportunities internationally.