The Year in Review: 2020 in 20 Visualizations
Can you remember a year more life-changing than 2020?
Over a million lives were lost in the pandemic, oil prices turned negative, and protests swept the streets. At the same time, 10 years of technology advancements seemed to happen in mere months—and now vaccinations are rolling out at a record speed.
Below, we round up some of the year's biggest news events with charts and visualizations.
---
The Year in Review: 2020 in 20 Visualizations
Graphic #1 ⟩⟩ January 2020
Australian Bushfires
For some in the Southern Hemisphere who ushered in the new year first, it started on fire.
Reuters assessed the scale of the damage caused by bushfires across Australia. In fact, total burned areas reached 18.6 million hectares (186,000km²) by March, bigger than the total land mass of entire countries like Cuba.
Here's the damage done in the state of New South Wales alone, compared to previous years:
While bushfires are common in Australia, this year, dry conditions fueled the flames. The fires raged for nearly 80 days, displacing or killing nearly 3 billion animals—a devastating biodiversity loss for the country.
Graphic #2 ⟩⟩ January 2020
Rising Iran–U.S. Tensions
In early January, a U.S. air strike incinerated the car of General Qassim Suleimani, a security mastermind and one of Iran's most powerful military strategists. U.S. officials claimed that Iran was planning an "imminent" attack.
In retaliation, Iran fired two rockets at U.S. military bases located in Iraq. No one was killed. As tensions escalated, the U.S. House of Representatives passed a bill to try and restrict President Trump's use of military power against Iran without approval.
Later, in mid-January, Iran's Revolutionary Guard admitted that it mistakenly shot down a Ukrainian passenger jet, responsible for the death of 176 people.
Graphic #3 ⟩⟩ March 2020
The Spread of the "Novel Coronavirus"
You've heard of Patient Zero, but what about Patient 31?
Before February, cases of the still unnamed virus were largely contained within China, with the rest of the world cautiously observing the country's containment efforts. Slowly, but surely, the virus began to spread beyond China's borders.
South Korea's 31st confirmed COVID-19 case—which was behind the rapid spread of the virus to potentially up to 1,160 contacts in the country—served as a warning to the rest of the world of how fast the virus could spread.

» See the full graphic by Reuters
Reuters' unique graphic explainer uncovers how just one typical day of multiple "normal" interactions had significant super-spreader effects.
Graphic #4 ⟩⟩ March 2020
The Coronavirus Crash
The S&P 500 erased over a third of its value in under a month—the fastest 30% decline ever recorded on the benchmark index.
As a result, the global tourism industry suffered dramatic losses, with countless cruise ships docked and passenger flights traveling at half-capacity.
This graphic shows the BEACH stocks—booking, entertainment & live events, airlines, cruises & casinos, hotels & resorts—that were most impacted by worldwide travel bans.
While some of these stocks have since recovered, the ongoing impact of COVID-19 is still most widely being felt among companies in these types of industries.
Graphic #5 & 6 ⟩⟩ March 2020
Lockdown Life Begins
From toilet paper hoarding to limits on gatherings, the pandemic's immediate effects on our surrounding environment became clear as early as March. As daily life came to a standstill, commuter activity in major cities plummeted throughout the month.
One unintended positive consequence of these shutdowns? Air pollution, such as nitrogen dioxide (NO₂) emissions also steeply dropped alongside these restrictions on movement.
Possibly the most well-known diagram of the pandemic is the one that introduced the world to the phrase "flatten the curve", showing why it was important to prevent and delay the spread of the virus so that large portions of the population aren't sick at the same time.
Graphic #7 ⟩⟩ April 2020
Historic U.S. Job Losses
After the World Health Organization declared COVID-19 a global pandemic on March 11, unemployment figures soon hit historic proportions.
Within a month, 22 million in the U.S. had filed jobless claims.
To put this in perspective, U.S. unemployment levels in 2020 were roughly 10 times higher than previous peak unemployment levels in absolute terms. Or, to look at it another way, this is equivalent to the entire population of Chile or Taiwan.
Graphic #8 ⟩⟩ April 2020
Stimulus Announced in the U.S.
On March 27, the $2 trillion CARES Act came into law after facing minimal resistance from the House and Senate. We broke down the historic relief package in the Sankey diagram below.
The relief package included $1,200 direct deposits to individuals, over $350 billion in relief for small businesses, and an excess of $100 billion for the U.S. health system.
Graphic #9 ⟩⟩ April 2020
Oil Prices Go Negative
In another historic event, oil prices went negative for the first time in history. Futures contracts for WTI oil fell to a stunning -$37.63 on April 20th, with producers actually paying traders to take oil off their hands.
Oil has since recovered from this shock, cruising back to more typical price levels.
Graphic #10 ⟩⟩ May 2020
Black Lives Matter Protests
"I can't breathe." These few words sparked the ongoing flames of a significant movement this summer: Black Lives Matter (BLM).
After the killing of George Floyd on May 25, by police, the Armed Conflict Location & Event Data Project (ACLED) recorded over 7,750 BLM-linked demonstrations over a three month span.
The nationwide pattern of civil unrest is well-documented, but there's been no time like the present to demand change. Though images of burning cars and police clashes dominated the headlines, in the end, 93% of the protests were peaceful.
There's also been a ripple effect, with thousands of similar rallies reported in countries around the world.
Graphic #11 & 12 ⟩⟩ May 2020
The World Works from Home
The dramatic shift to staying at home has resulted in a much higher reliance on technology for many people. Nowhere were these trends exemplified more than the rise of video conferencing software Zoom—the platform was used for work, education, and socializing alike.
As monthly users swelled, those who typically take to the skies also declined in a steep fashion. In this graphic from May, we noted that Zoom's market capitalization had skyrocketed to eclipse the top seven airlines by revenue, combined.
As remote work became the new normal for significant shares of the workforce, unique benefits of this adjusted lifestyle arose, but it didn't come without its challenges.
Perhaps the most significant lasting change from the COVID-19 pandemic might be the adoption of flexible work, even by firms that resisted the trend in the past.
If many employees continue to work remotely, even part of the time, then that will have a big impact on everything from the commercial office market to the bottom line of SaaS companies that help facilitate remote collaboration among teams.
Graphic #13 ⟩⟩ July 2020
Tesla becomes World's Most Valuable Automaker
2020 was a hallmark year for Tesla. In June, it became the most valuable automaker in the world—surpassing the likes of Toyota, Volkswagen, and Honda.
Tesla's market valuation climbed over 375% since June 2019. While these soaring figures are one factor behind its rise, others include record Model 3 sales, which prompted market euphoria.
But Tesla's story is far from over.
The company is now worth more than the largest nine automakers combined, and is set to enter the S&P 500 officially on December 21, 2020. Tesla will be the most valuable company to ever enter the index, ranking as the eighth-largest overall.
Graphic #14 ⟩⟩ July 2020
Big Tech's Dominance
In many ways, COVID-19 only accentuated differences in market share, earnings, and wealth.
For one, Big Tech's market cap share of the S&P 500 soared. In the seven years preceding July, the market cap of the six stocks—Facebook, Apple, Amazon, Netflix, Alphabet, and Microsoft—grew over 500%. By contrast, the S&P 500 rose just 110%.
At the same time, Big Tech's concentration reached record levels, with the five largest companies accounting for over 20% of the index's total value.
Graphic #15 ⟩⟩ August 2020
Beirut Explosion
While the world grappled with numerous biological and natural disasters, human-error led to a deadly explosion that rocked Beirut's port. The blast was broadcast around the world in real time as people filmed the fire on their devices.
Using satellite data, NASA and NYT mapped the extent of the damage, which claimed 135 lives and affected 305,000 more.

» See the full interactive explainer by NYT
This explosion was the biggest accident of its kind in modern history, triggered by the exposure of combustible ammonium nitrate—a key ingredient in fertilizers—to an open flame due to poor storage. Beyond the human toll, the financial cost of this explosion is estimated at above $15 billion.
Graphic #16 ⟩⟩ August 2020
Shortest Bear Market in History Ends
In a stunning reversal, the bear market of 2020 ended on August 18 when the S&P 500 exceeded previous February highs. As trillions of dollars in stimulus response got injected into global economies, markets recovered in record time.
Just two weeks before the shortest bear market in history ended, we published a graphic comparing previous stock crashes—from 1987's Black Monday to the Nixon Shock of 1973—exposing the duration and intensity of market downturns since 1929.
Graphic #17 ⟩⟩ August 2020
U.S. Wildfire Season
Reddish-orange skies might seem otherworldly, but this fall, they were a common sight across the West Coast of North America, where air quality reached the "hazardous" category for long stretches of time.
2020 was the most active year on record for wildfires yet, with California and Oregon being particularly hard-hit. While some wildfires are caused by natural occurrences like lightning strikes, an overwhelming majority (85-90%) happen because of human causes such as discarded cigarettes and campfire debris.
This is an unprecedented event. We now have the largest wildfire in [California's] history, as well as the third largest and the fourth largest and five of the Top 10.
– Noah Diffenbaugh, professor and senior fellow at Stanford University
Graphic #18 ⟩⟩ November 2020
The 2020 U.S. Presidential Election
In 2020, U.S. election spending hit over $13 billion, more than twice the amount spent on the entire 2016 election.
Of this total, congressional spending topped $7 billion, with Democrats spending 64% more than Republican candidates for the House and Senate.
President Biden was the first candidate ever to raise $1 billion, while Trump raised $596 million.
Graphic #19 ⟩⟩ December 2020
COVID-19's Third Wave
Like history tells us, pandemics come in waves. The third wave of COVID-19 escalated in November, when cases began to surge.
On November 8, the seven-day average of new daily cases hit 100,000 in America. By the end of November, global cases soared to 60 million. Since then, cases have trended upward, leading local governments worldwide to enforce social distancing requirements for the winter holiday season.
The below graphic from Reddit helps show the latest surge in cases in the U.S.:
Graphic #20 ⟩⟩ December 2020
Global Vaccination Effort Kicks Off
In more recent news, Pfizer made waves when it announced it was rolling out a 95% effective COVID-19 vaccine. Then followed Moderna, at 94.5% in mid-November. As the global vaccination race intensifies, Bloomberg tracks the progress of nine vaccines and 80 publicly disclosed distribution deals representing 7.95 billion vaccination doses.
However, even with viable vaccines, challenges still exist. All around the world, perceptions of vaccine safety have dropped significantly, which may complicate an economic recovery.
On to the Next One
After the wild ride that was 2020, many people are wondering what 2021 will have in store.
In the first half of the year, vaccine distribution will surely take center stage. As well, economic recovery will be in focus as physical businesses resume more typical activity and regions slowly open up travel and tourism again.
Much like the financial crisis of 2008 was an inflection point for the economy, the COVID-19 pandemic has changed the course of human history. Chaos can breed opportunity, and even though unemployment spiked to record highs in the U.S., new business applications did as well.
Will things return to "normal"? As the many twists and turns of the past year have demonstrated, our complex, interconnected world is far from static. The next black swan is always just around the corner.

The World's Top Car Manufacturers by Market Capitalization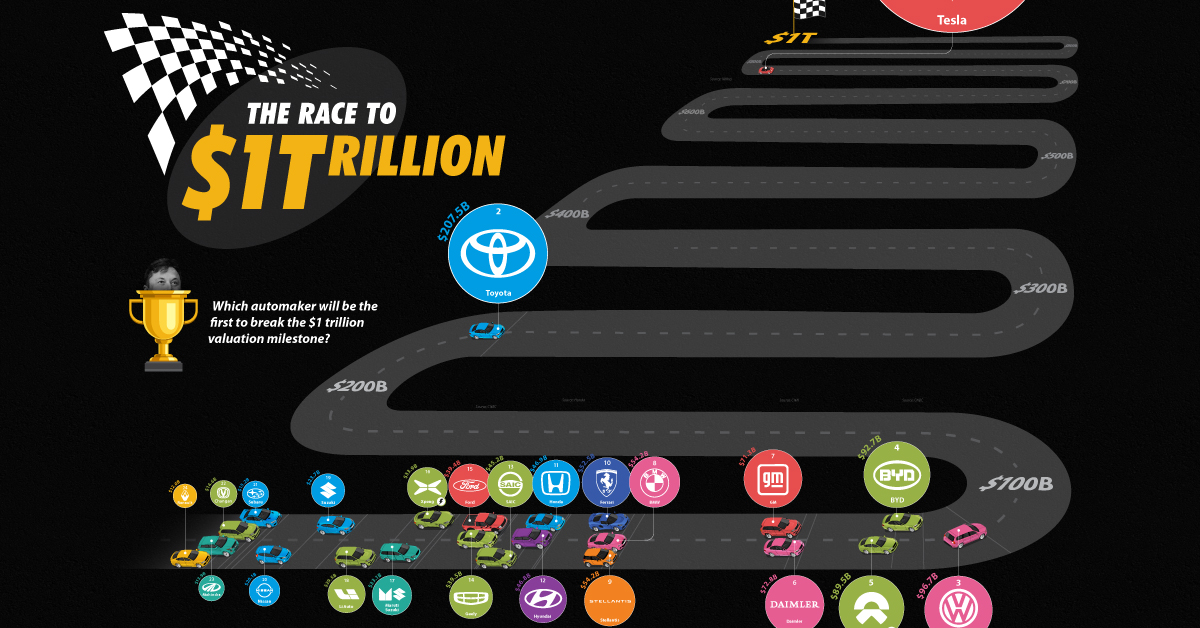 The World's Top Car Manufacturers by Market Cap
View the high-resolution of the infographic by clicking here.
Ever since Apple and other Big Tech companies hit a market capitalization of $1 trillion, many sectors are revving to follow suit—including the automotive industry.
But among those car brands racing to reach this total valuation, some are closer to the finish line than others. This visualization uses data from Yahoo Finance to rank the world's top car manufacturers by market capitalization.
What could this spell for the future of the automotive industry?
A special hat-tip to Brandon Knoblauch for compiling the original, regularly-updated spreadsheet.
The World's Top Car Manufacturers
It's clear one company is pulling far ahead of the pack. In the competition to clinch this coveted title, Tesla is the undoubted favorite so far.
The electric vehicle (EV) and clean energy company first became the world's most valuable car manufacturer in June 2020, and shows no signs of slowing its trajectory.
| Rank | Company | Market Cap (US$B) | Country |
| --- | --- | --- | --- |
| #1 | Tesla | $795.8 | 🇺🇸 U.S. |
| #2 | Toyota | $207.5 | 🇯🇵 Japan |
| #3 | Volkswagen | $96.7 | 🇩🇪 Germany |
| #4 | BYD | $92.7 | 🇨🇳 China |
| #5 | NIO | $89.5 | 🇨🇳 China |
| #6 | Daimler | $72.8 | 🇩🇪 Germany |
| #7 | General Motors | $71.3 | 🇺🇸 U.S. |
| #8 | BMW | $54.2 | 🇩🇪 Germany |
| #9 | Stellantis | $54.2 | 🇳🇱 Netherlands |
| #10 | Ferrari | $52.5 | 🇮🇹 Italy |
| #11 | Honda | $46.9 | 🇯🇵 Japan |
| #12 | Hyundai | $46.8 | 🇰🇷 South Korea |
| #13 | SAIC | $45.2 | 🇨🇳 China |
| #14 | Geely | $39.5 | 🇨🇳 China |
| #15 | Ford | $39.4 | 🇺🇸 U.S. |
| #16 | Xpeng | $33.9 | 🇨🇳 China |
| #17 | Maruti Suzuki | $33.1 | 🇮🇳 India |
| #18 | Li Auto | $29.5 | 🇨🇳 China |
| #19 | Suzuki | $23.7 | 🇯🇵 Japan |
| #20 | Nissan | $20.1 | 🇯🇵 Japan |
| #21 | Subaru | $15.2 | 🇯🇵 Japan |
| #22 | Changan | $14.6 | 🇨🇳 China |
| #23 | Mahindra | $13.9 | 🇮🇳 India |
| #24 | Renault | $12.0 | 🇫🇷 France |
All data as of January 15, 2021 (9:30AM PST)
Tesla's competitive advantage comes as a result of its dedicated emphasis on research and development (R&D). In fact, many of its rivals have admitted that Tesla's electronics far surpass their own—a teardown revealed that its batteries and AI chips are roughly six years ahead of other industry giants such as Toyota and Volkswagen.
The Green Revolution is Underway
The sheer growth of Tesla may spell the inevitability of a green revolution in the industry. Already, many major brands have followed in the company's tracks, announcing their own ambitious plans to add more EVs to their vehicle line-ups.
Here's how a selection of car manufacturers are embracing the electric future:
Toyota: Ranked #2
The second-most valuable car manufacturer in the world, Toyota is steadily ramping up its EV output. In 2020, it produced 10,000 EVs and plans to increase this to 30,000 in 2021.
Through this gradual increase, the company hopes to hit an expected target of 500,000 EVs by 2025. Toyota also aims to debut 10 new models internationally to achieve this goal.
Volkswagen: Ranked #3
By 2025, Volkswagen plans to invest $86 billion into digital and EV technologies. Considering the car manufacturer generates the most gross revenue per second of all automakers, it's no wonder Volkswagen is looking to the future in order to keep such numbers up.
The company is also well-positioned to ride the wave of a potential consumer shift towards EVs in Europe. In response to the region's strict emissions targets, Volkswagen upped its planned sales proportions for European hybrid and EV sales from 40% to 60% by 2030.
BYD and Nio: Ranked #4-5
China jumped on the electric bandwagon early. Eager to make its mark as a global leader in the emerging technology of lithium ion batteries (an essential component of any EV), the Chinese government handed out billions of dollars in subsidies—fueling the growths of domestic car manufacturers BYD and Nio alike.
BYD gained the interest and attention of its billionaire backer Warren Buffett, while Nio is China's response to Tesla and an attempt to capture the EV market locally.
General Motors: Ranked #7
Also with a 2025 target year in mind, General Motors is investing $27 billion into electric and fully autonomous vehicles. That's just the tip of the iceberg, too—the company also hopes to launch 30 new fully electric vehicles by the same year.
One particular factor is giving GM confidence: its new EV battery creations. They will be able to extend the range of its new EVs to 400 miles (644km) on a single charge, at a rate that rivals Tesla's Model S.
Stellantis: Ranked #9
In a long-anticipated move, Fiat Chrysler and Peugeot S.A. finalized their merger into Stellantis N.V. on January 16, 2021.
With the combined forces and funds of a $52 billion deal, the new Dutch-based car manufacturer hopes to rival bigger brands and race even more quickly towards the electric shift.
Honda: Ranked #11
Speaking of fast-paced races, Honda has decided to bow out of future Formula One (F1) World Championships. As these competitions were usually a way for the company to show off its engineering prowess, the move was a surprising one.
However, there's a noble reason behind this decision. Honda is choosing instead to focus on its commitment to become carbon neutral by 2050. To do so, it'll be shifting its financial resources away from F1 and towards R&D into fuel cell vehicle (FCV) and battery EV (BEV) technologies.
Ford: Ranked #15
Ford knows exactly what its fans want. In that regard, its electrification plans begin with its most popular commercial cars, such as the Mustang Mach-E SUV. This is Ford's major strategy for attracting new EV buyers, part of a larger $11.5 billion investment agenda into EVs through 2022.
While the car's specs compare to Tesla's Model Y, its engineers also drew from the iPhone and Netflix to incorporate an infotainment system and driver profiles to create a truly tech-first specimen.
Speeding into the Horizon
As more and more companies enter the racetrack, EV innovation across the entire industry may power the move to lower overall costs, extend the total range of vehicles, and put any other concerns by potential buyers to rest.
While Tesla is currently in the best position to become the first car manufacturer to reach the $1 trillion milestone, how long will it be for the others to catch up?

The Periodic Table of Commodity Returns (2021 Edition)
Which commodity had the best returns in 2020? From gold to oil, we show how commodity price performance stacks up over the last decade.
The Periodic Table of Commodity Returns (2011-2020)
Being a commodity investor can feel like riding a roller coaster.
Take silver. Typically known for sharp, idiosyncratic price movements, it faced double-digit declines in the first half of the decade, falling over 35% in just 2013 alone. By contrast, it jumped over 47% in 2020. Similarly, oil, corn, and others witnessed either steep declines or rapid gains.
The above graphic from U.S. Global Investors traces 10 years of commodity price performance, highlighting 14 different commodities and their annual ranking over the years.
Commodity Price Performance, From Best to Worst
Which commodities were the top performers in 2020?
The aforementioned silver tripled its returns year-over-year, climbing 47.9% in 2020. In July, the metal actually experienced its strongest month since 1979.
| Rank | Commodity | Return (2020) | Return (2019) | Return (2018) |
| --- | --- | --- | --- | --- |
| 1 | Silver | 47.9% | 15.2% | -8.5% |
| 2 | Copper | 26.0% | 3.4% | -17.5% |
| 3 | Palladium | 25.9% | 54.2% | 18.6% |
| 4 | Gold | 25.1% | 18.3% | -1.6% |
| 5 | Corn | 24.8% | 3.4% | 6.9% |
| 6 | Zinc | 19.7% | -9.5% | -24.5% |
| 7 | Nickel | 18.7% | 31.6% | -16.5% |
| 8 | Gas | 16.0% | -25.5% | -0.4% |
| 9 | Wheat | 14.6% | 11.0% | 17.9% |
| 10 | Platinum | 10.9% | 21.5% | -14.5% |
| 11 | Aluminum | 10.8% | -4.4% | -17.4% |
| 12 | Lead | 3.3% | -4.7% | -19.2% |
| 13 | Coal | -1.3% | -18.0% | -22.2% |
| 14 | Oil | -20.5% | 34.5% | -24.8% |
Along with silver, at least seven other commodities had stronger returns than the S&P 500 in 2020, which closed off the year with 16.3% gains. This included copper (26.0%), palladium (25.9%), gold (25.1%) and corn (24.8%).
Interestingly, copper prices moved in an unconventional pattern compared to gold in 2020. Often, investors rush to gold in uncertain economic climates, while sectors such as construction and manufacturing—which both rely heavily on copper—tend to decline. Instead, both copper and gold saw their prices rise in conjunction.
Nowadays, copper is also a vital material in electric vehicles (EVs), with recent demand for EVs also influencing the price of copper.
Silver Linings
As investors flocked to safety, silver's price reached heights not seen since 2010.
The massive scale of monetary and fiscal stimulus led to inflationary fears, also boosting the price of silver. How does this compare to its returns over the last decade?
In 2013, silver crashed over 35% as confidence grew in global markets. By contrast, in 2016, the Brexit referendum stirred uncertainty in global markets. Investors allocated money in silver, and prices shifted upwards.
As Gold as the Hills
Like silver, market uncertainty has historically boosted the price of gold.
What else contributed to gold's rise?
U.S. debt continues to climb, pushing down confidence in the U.S. dollar
A weaker U.S. dollar makes gold cheaper for other countries to buy
Low interest rates kept the returns of other safe haven assets low, making gold more attractive by comparison
Here's how the price of gold has changed in recent years.
Gold faced its steepest recent declines in 2013, when the Federal Reserve bank discussed tapering down its quantitative easing program in light of economic recovery.
Hitting the Brakes On Oil
Oil suffered the worst commodity price performance in 2020, with -20.5% returns.
For the first time in history, oil prices went negative as demand plummeted. To limit its oversupply, oil producers shrunk investment, closed wells, and turned off valves. Unfortunately, many companies still faced bankruptcies. By November, 45 oil producers had proceeded with bankruptcy filings year-to-date.
This stood in stark contrast to 2019, when prices soared 34.5%.
As is custom for oil, prices see-sawed over the decade. In 2016 and 2019, it witnessed gains of over 30%. However, like 2020, in 2014 it saw huge losses due to an oversupply of global petroleum.
In 2020, total production cuts hit 7.2 million barrels a day in December, equal to 7% of global demand, in response to COVID-19.