The Year in Review: 2020 in 20 Visualizations
Can you remember a year more life-changing than 2020?
Over a million lives were lost in the pandemic, oil prices turned negative, and protests swept the streets. At the same time, 10 years of technology advancements seemed to happen in mere months—and now vaccinations are rolling out at a record speed.
Below, we round up some of the year's biggest news events with charts and visualizations.
---
The Year in Review: 2020 in 20 Visualizations
Graphic #1 ⟩⟩ January 2020
Australian Bushfires
For some in the Southern Hemisphere who ushered in the new year first, it started on fire.
Reuters assessed the scale of the damage caused by bushfires across Australia. In fact, total burned areas reached 18.6 million hectares (186,000km²) by March, bigger than the total land mass of entire countries like Cuba.
Here's the damage done in the state of New South Wales alone, compared to previous years:
While bushfires are common in Australia, this year, dry conditions fueled the flames. The fires raged for nearly 80 days, displacing or killing nearly 3 billion animals—a devastating biodiversity loss for the country.
Graphic #2 ⟩⟩ January 2020
Rising Iran–U.S. Tensions
In early January, a U.S. air strike incinerated the car of General Qassim Suleimani, a security mastermind and one of Iran's most powerful military strategists. U.S. officials claimed that Iran was planning an "imminent" attack.
In retaliation, Iran fired two rockets at U.S. military bases located in Iraq. No one was killed. As tensions escalated, the U.S. House of Representatives passed a bill to try and restrict President Trump's use of military power against Iran without approval.
Later, in mid-January, Iran's Revolutionary Guard admitted that it mistakenly shot down a Ukrainian passenger jet, responsible for the death of 176 people.
Graphic #3 ⟩⟩ March 2020
The Spread of the "Novel Coronavirus"
You've heard of Patient Zero, but what about Patient 31?
Before February, cases of the still unnamed virus were largely contained within China, with the rest of the world cautiously observing the country's containment efforts. Slowly, but surely, the virus began to spread beyond China's borders.
South Korea's 31st confirmed COVID-19 case—which was behind the rapid spread of the virus to potentially up to 1,160 contacts in the country—served as a warning to the rest of the world of how fast the virus could spread.

» See the full graphic by Reuters
Reuters' unique graphic explainer uncovers how just one typical day of multiple "normal" interactions had significant super-spreader effects.
Graphic #4 ⟩⟩ March 2020
The Coronavirus Crash
The S&P 500 erased over a third of its value in under a month—the fastest 30% decline ever recorded on the benchmark index.
As a result, the global tourism industry suffered dramatic losses, with countless cruise ships docked and passenger flights traveling at half-capacity.
This graphic shows the BEACH stocks—booking, entertainment & live events, airlines, cruises & casinos, hotels & resorts—that were most impacted by worldwide travel bans.
While some of these stocks have since recovered, the ongoing impact of COVID-19 is still most widely being felt among companies in these types of industries.
Graphic #5 & 6 ⟩⟩ March 2020
Lockdown Life Begins
From toilet paper hoarding to limits on gatherings, the pandemic's immediate effects on our surrounding environment became clear as early as March. As daily life came to a standstill, commuter activity in major cities plummeted throughout the month.
One unintended positive consequence of these shutdowns? Air pollution, such as nitrogen dioxide (NO₂) emissions also steeply dropped alongside these restrictions on movement.
Possibly the most well-known diagram of the pandemic is the one that introduced the world to the phrase "flatten the curve", showing why it was important to prevent and delay the spread of the virus so that large portions of the population aren't sick at the same time.
Graphic #7 ⟩⟩ April 2020
Historic U.S. Job Losses
After the World Health Organization declared COVID-19 a global pandemic on March 11, unemployment figures soon hit historic proportions.
Within a month, 22 million in the U.S. had filed jobless claims.
To put this in perspective, U.S. unemployment levels in 2020 were roughly 10 times higher than previous peak unemployment levels in absolute terms. Or, to look at it another way, this is equivalent to the entire population of Chile or Taiwan.
Graphic #8 ⟩⟩ April 2020
Stimulus Announced in the U.S.
On March 27, the $2 trillion CARES Act came into law after facing minimal resistance from the House and Senate. We broke down the historic relief package in the Sankey diagram below.
The relief package included $1,200 direct deposits to individuals, over $350 billion in relief for small businesses, and an excess of $100 billion for the U.S. health system.
Graphic #9 ⟩⟩ April 2020
Oil Prices Go Negative
In another historic event, oil prices went negative for the first time in history. Futures contracts for WTI oil fell to a stunning -$37.63 on April 20th, with producers actually paying traders to take oil off their hands.
Oil has since recovered from this shock, cruising back to more typical price levels.
Graphic #10 ⟩⟩ May 2020
Black Lives Matter Protests
"I can't breathe." These few words sparked the ongoing flames of a significant movement this summer: Black Lives Matter (BLM).
After the killing of George Floyd on May 25, by police, the Armed Conflict Location & Event Data Project (ACLED) recorded over 7,750 BLM-linked demonstrations over a three month span.
The nationwide pattern of civil unrest is well-documented, but there's been no time like the present to demand change. Though images of burning cars and police clashes dominated the headlines, in the end, 93% of the protests were peaceful.
There's also been a ripple effect, with thousands of similar rallies reported in countries around the world.
Graphic #11 & 12 ⟩⟩ May 2020
The World Works from Home
The dramatic shift to staying at home has resulted in a much higher reliance on technology for many people. Nowhere were these trends exemplified more than the rise of video conferencing software Zoom—the platform was used for work, education, and socializing alike.
As monthly users swelled, those who typically take to the skies also declined in a steep fashion. In this graphic from May, we noted that Zoom's market capitalization had skyrocketed to eclipse the top seven airlines by revenue, combined.
As remote work became the new normal for significant shares of the workforce, unique benefits of this adjusted lifestyle arose, but it didn't come without its challenges.
Perhaps the most significant lasting change from the COVID-19 pandemic might be the adoption of flexible work, even by firms that resisted the trend in the past.
If many employees continue to work remotely, even part of the time, then that will have a big impact on everything from the commercial office market to the bottom line of SaaS companies that help facilitate remote collaboration among teams.
Graphic #13 ⟩⟩ July 2020
Tesla becomes World's Most Valuable Automaker
2020 was a hallmark year for Tesla. In June, it became the most valuable automaker in the world—surpassing the likes of Toyota, Volkswagen, and Honda.
Tesla's market valuation climbed over 375% since June 2019. While these soaring figures are one factor behind its rise, others include record Model 3 sales, which prompted market euphoria.
But Tesla's story is far from over.
The company is now worth more than the largest nine automakers combined, and is set to enter the S&P 500 officially on December 21, 2020. Tesla will be the most valuable company to ever enter the index, ranking as the eighth-largest overall.
Graphic #14 ⟩⟩ July 2020
Big Tech's Dominance
In many ways, COVID-19 only accentuated differences in market share, earnings, and wealth.
For one, Big Tech's market cap share of the S&P 500 soared. In the seven years preceding July, the market cap of the six stocks—Facebook, Apple, Amazon, Netflix, Alphabet, and Microsoft—grew over 500%. By contrast, the S&P 500 rose just 110%.
At the same time, Big Tech's concentration reached record levels, with the five largest companies accounting for over 20% of the index's total value.
Graphic #15 ⟩⟩ August 2020
Beirut Explosion
While the world grappled with numerous biological and natural disasters, human-error led to a deadly explosion that rocked Beirut's port. The blast was broadcast around the world in real time as people filmed the fire on their devices.
Using satellite data, NASA and NYT mapped the extent of the damage, which claimed 135 lives and affected 305,000 more.

» See the full interactive explainer by NYT
This explosion was the biggest accident of its kind in modern history, triggered by the exposure of combustible ammonium nitrate—a key ingredient in fertilizers—to an open flame due to poor storage. Beyond the human toll, the financial cost of this explosion is estimated at above $15 billion.
Graphic #16 ⟩⟩ August 2020
Shortest Bear Market in History Ends
In a stunning reversal, the bear market of 2020 ended on August 18 when the S&P 500 exceeded previous February highs. As trillions of dollars in stimulus response got injected into global economies, markets recovered in record time.
Just two weeks before the shortest bear market in history ended, we published a graphic comparing previous stock crashes—from 1987's Black Monday to the Nixon Shock of 1973—exposing the duration and intensity of market downturns since 1929.
Graphic #17 ⟩⟩ August 2020
U.S. Wildfire Season
Reddish-orange skies might seem otherworldly, but this fall, they were a common sight across the West Coast of North America, where air quality reached the "hazardous" category for long stretches of time.
2020 was the most active year on record for wildfires yet, with California and Oregon being particularly hard-hit. While some wildfires are caused by natural occurrences like lightning strikes, an overwhelming majority (85-90%) happen because of human causes such as discarded cigarettes and campfire debris.
This is an unprecedented event. We now have the largest wildfire in [California's] history, as well as the third largest and the fourth largest and five of the Top 10.
– Noah Diffenbaugh, professor and senior fellow at Stanford University
Graphic #18 ⟩⟩ November 2020
The 2020 U.S. Presidential Election
In 2020, U.S. election spending hit over $13 billion, more than twice the amount spent on the entire 2016 election.
Of this total, congressional spending topped $7 billion, with Democrats spending 64% more than Republican candidates for the House and Senate.
President Biden was the first candidate ever to raise $1 billion, while Trump raised $596 million.
Graphic #19 ⟩⟩ December 2020
COVID-19's Third Wave
Like history tells us, pandemics come in waves. The third wave of COVID-19 escalated in November, when cases began to surge.
On November 8, the seven-day average of new daily cases hit 100,000 in America. By the end of November, global cases soared to 60 million. Since then, cases have trended upward, leading local governments worldwide to enforce social distancing requirements for the winter holiday season.
The below graphic from Reddit helps show the latest surge in cases in the U.S.:
Graphic #20 ⟩⟩ December 2020
Global Vaccination Effort Kicks Off
In more recent news, Pfizer made waves when it announced it was rolling out a 95% effective COVID-19 vaccine. Then followed Moderna, at 94.5% in mid-November. As the global vaccination race intensifies, Bloomberg tracks the progress of nine vaccines and 80 publicly disclosed distribution deals representing 7.95 billion vaccination doses.
However, even with viable vaccines, challenges still exist. All around the world, perceptions of vaccine safety have dropped significantly, which may complicate an economic recovery.
On to the Next One
After the wild ride that was 2020, many people are wondering what 2021 will have in store.
In the first half of the year, vaccine distribution will surely take center stage. As well, economic recovery will be in focus as physical businesses resume more typical activity and regions slowly open up travel and tourism again.
Much like the financial crisis of 2008 was an inflection point for the economy, the COVID-19 pandemic has changed the course of human history. Chaos can breed opportunity, and even though unemployment spiked to record highs in the U.S., new business applications did as well.
Will things return to "normal"? As the many twists and turns of the past year have demonstrated, our complex, interconnected world is far from static. The next black swan is always just around the corner.

Which Asian Economies Have the Most Sustainable Trade Policies?
The Sustainable Trade Index ranks 19 Asian economies and the U.S. across three categories of trade sustainability.
Which Asian Economies Have the Most Sustainable Trade Policies?
To say that Asia has benefited from international trade is an understatement. By opening its economies to the rest of the world, the region has become a leading exporter in many of today's most important industries.
Trade has also improved Asia's quality of life, lifting over one billion people out of poverty since 1990. Without the proper controls, however, such rapid growth could have harmful effects on Asia's environment and society.
In this infographic from The Hinrich Foundation, we break down the results of their 2020 Sustainable Trade Index (STI). Since 2016, this index has ranked 19 Asian economies and the U.S. across three categories of trade sustainability: economic, social, and environmental.
What Exactly is Sustainable Trade?
International trade is an important source of economic growth, enabling domestic businesses to expand, reach new customers, and gain exposure to foreign markets.
At the same time, countries that focus too heavily on exports put themselves at greater long-term risk. For example, an aggressive expansion into manufacturing is likely to impair the quality of a country's air, while overdependence on a single product or sector can create an economy that is susceptible to demand shocks.
"The primary principle which underpins sustainable trade is balance. Trade cannot be pursued solely for economic gains, without considering environmental and social outcomes."
– Merle A. Hinrich
Thus, sustainable trade supports not only economic growth, but also environmental protection and strengthened social capital. It involves finding a balance between short-term incentives and long-term resilience.
Measuring Sustainable Trade
The Sustainable Trade Index (STI) is based on three underlying pillars of trade sustainability. Every economy in the STI receives a score between 0 and 100 for each pillar.
Pillar
Number of Indicators
Examples of Indicators
Economic pillar
21

Use of trade tariffs
Logistics performance
Growth in labor force

Social pillar
12

Level of economic inequality
Presence of child labor
Educational attainment

Environmental pillar
14

Level of air pollution
Reliance on natural resources
Environmental standards
The economic pillar measures a country's ability to to grow its economy through trade, while the social pillar measures a population's tolerance for trade expansion, given the costs and benefits of economic growth.
Last but not least, the environmental pillar measures a country's proficiency at managing climate-related risks. Individual pillar scores are then aggregated to arrive at an overall ranking, which also has a maximum possible score of 100.
The Sustainable Trade Index 2020: Overall Rankings
For the first time in the STI's history, Japan and South Korea have tied for first place. Both countries have placed in the top five previously, but 2020 marks the first time for either to take the top spot.
| Rank | Economy | Overall Score |
| --- | --- | --- |
| 1 (tied) | 🇯🇵 Japan | 75.1 |
| 1 (tied) | 🇰🇷 South Korea | 75.1 |
| 3 | 🇸🇬 Singapore | 70.2 |
| 4 | 🇭🇰 Hong Kong | 68.3 |
| 5 | 🇹🇼 Taiwan | 67.0 |
| 6 | 🇺🇸 U.S. | 66.2 |
| 7 | 🇨🇳 China | 56.5 |
| 8 | 🇵🇭 Philippines | 55.9 |
| | 🌏 Average | 55.1 |
| 9 | 🇹🇭 Thailand | 50.5 |
| 10 | 🇱🇰 Sri Lanka | 50.4 |
| 11 | 🇲🇾 Malaysia | 49.5 |
| 12 | 🇧🇩 Bangladesh | 49.4 |
| 13 | 🇧🇳 Brunei | 48.5 |
| 14 | 🇰🇭 Cambodia | 47.8 |
| 15 (tied) | 🇮🇳 India | 46.9 |
| 15 (tied) | 🇻🇳 Vietnam | 46.9 |
| 17 | 🇮🇩 Indonesia | 46.3 |
| 18 | 🇱🇦 Laos | 46.1 |
| 19 | 🇵🇰 Pakistan | 43.9 |
| 20 | 🇲🇲 Myanmar | 40.3 |
Advanced economies like Singapore, Hong Kong, and Taiwan were also strong performers, each scoring in the high 60s. At the other end of the spectrum, developing countries such as India and Vietnam were tightly packed within the 40 to 50 range.
To learn more, here's how each country performed in the three underlying pillars.
1. Economic Pillar Rankings
Hong Kong topped the economic pillar for the first time thanks to its low trade costs and well-developed financial sector. Financial services have increased their contribution to Hong Kong's GDP from 13% in 2004 to 20% in 2018.
The region's recently initiated national security law—which has resulted in greater political instability—may have a negative effect on future rankings.
| Rank | Economy | Economic Score |
| --- | --- | --- |
| 1 | 🇭🇰 Hong Kong | 69.6 |
| 2 | 🇸🇬 Singapore | 68.7 |
| 3 | 🇨🇳 China | 64.9 |
| 4 | 🇰🇷 South Korea | 63.3 |
| 5 (tied) | 🇲🇾 Malaysia | 61.2 |
| 5 (tied) | 🇺🇸 U.S. | 61.2 |
| 7 | 🇹🇼 Taiwan | 60.3 |
| 8 | 🇧🇳 Brunei | 59.3 |
| 9 (tied) | 🇯🇵 Japan | 58.6 |
| 9 (tied) | 🇵🇭 Philippines | 58.6 |
| | 🌏 Average | 56.9 |
| 11 | 🇧🇩 Bangladesh | 56.3 |
| 12 | 🇰🇭 Cambodia | 56 |
| 13 | 🇱🇰 Sri Lanka | 54.7 |
| 14 | 🇻🇳 Vietnam | 53.9 |
| 15 | 🇮🇩 Indonesia | 52.1 |
| 16 | 🇮🇳 India | 51.4 |
| 17 | 🇲🇲 Myanmar | 49.5 |
| 18 | 🇹🇭 Thailand | 47.4 |
| 19 | 🇵🇰 Pakistan | 46.9 |
| 20 | 🇱🇦 Laos | 44.0  |
China was also a strong performer, climbing to third for the first time. Asia's largest economy benefits from a well-diversified group of trading partners, meaning it doesn't rely too heavily on a single market.
The bottom five countries—India (16th), Myanmar (17th), Thailand (18th), Pakistan (19th) and Laos (20th)—suffered from issues such as payment risk, which is measured as the difficulty of getting money in and out of a country. This risk is especially damaging to trade because it discourages foreign direct investment.
2. Social Pillar Rankings
The social pillar features the highest average score, but also the largest gap from top to bottom. This gap has expanded over recent years, growing from 43.9 points in 2018 to 52.3 in 2020.
| Rank | Economy | Social Score |
| --- | --- | --- |
| 1 | 🇹🇼 Taiwan | 88 |
| 2 | 🇯🇵 Japan | 87.3 |
| 3 | 🇰🇷 South Korea | 86.9 |
| 4 | 🇺🇸 U.S. | 83.1 |
| 5 | 🇸🇬 Singapore | 63.1 |
| 6 | 🇵🇭 Philippines | 62.4 |
| 7 | 🇹🇭 Thailand | 60.9 |
| | 🌏 Average | 59.1 |
| 8 | 🇭🇰 Hong Kong | 57.8 |
| 9 | 🇧🇩 Bangladesh | 55.8 |
| 10 | 🇲🇾 Malaysia | 53.6 |
| 11 | 🇱🇦 Laos | 53.0 |
| 12 | 🇮🇳 India | 52.5 |
| 13 | 🇮🇩 Indonesia | 52.4 |
| 14 | 🇧🇳 Brunei | 51.6 |
| 15 | 🇻🇳 Vietnam | 50.4 |
| 16 | 🇨🇳 China | 50.2 |
| 17 | 🇰🇭 Cambodia | 46.2 |
| 18 | 🇱🇰 Sri Lanka | 46.1 |
| 19 | 🇵🇰 Pakistan | 45.6 |
| 20 | 🇲🇲 Myanmar | 35.7 |
Taiwan claimed the top spot for the second time, solidifying its reputation as Asia's leader in human capital development. It performed well in the educational attainment indicator, with 93.6% of its population receiving a tertiary education.
China, despite its success in other pillars, only managed 16th. This was partly due to the effects of its now defunct one-child policy, which has been responsible for creating gender imbalances and a shrinking population.
3. Environmental Pillar Rankings
The environmental pillar has the lowest average score of the three. Japan, Singapore, Hong Kong, and South Korea were the only countries to score above 75.
| Rank | Economy | Environmental Score |
| --- | --- | --- |
| 1 | 🇯🇵 Japan | 80.0 |
| 2 | 🇸🇬 Singapore | 78.7 |
| 3 | 🇭🇰 Hong Kong | 77.4 |
| 4 | 🇰🇷 South Korea | 75.2 |
| 5 | 🇨🇳 China | 54.5 |
| 6 | 🇺🇸 U.S. | 54.3 |
| 7 | 🇹🇼 Taiwan | 52.8 |
| 8 | 🇱🇰 Sri Lanka | 50.4 |
| | 🌏 Average | 49.1 |
| 9 | 🇵🇭 Philippines | 46.6 |
| 10 | 🇹🇭 Thailand | 43.2 |
| 11 | 🇰🇭 Cambodia | 41.2 |
| 12 | 🇱🇦 Laos | 41.1 |
| 13 | 🇵🇰 Pakistan | 39.3 |
| 14 | 🇮🇳 India | 36.7 |
| 15 | 🇻🇳 Vietnam | 36.3 |
| 16 | 🇧🇩 Bangladesh | 36.0 |
| 17 | 🇲🇲 Myanmar | 35.6 |
| 18 | 🇧🇳 Brunei | 34.6 |
| 19 | 🇮🇩 Indonesia | 34.3 |
| 20 | 🇲🇾 Malaysia | 33.8 |
The top four performed well in areas such as air quality and water pollution, and with the exception of Hong Kong, have all introduced carbon pricing schemes in the past decade. This doesn't mean these countries are without their flaws, however.
Land-constrained Singapore, for instance, ranked 16th in the deforestation indicator. The city-state is one of the densest population centers in the world, and has cut down forests to clear space for further settlement and urbanization.
Building Back Better From COVID-19
Despite the damage that COVID-19 has caused, there are some silver linings. This includes the environmental benefits experienced by China, where lockdowns reduced carbon emissions by 200 million tonnes in a single month. It's been estimated that after two months, China's reduced pollution levels saved the lives of 77,000 people.
These temporary improvements are an explicit reminder of the environmental and social costs associated with economic growth. In response, governments in Asia are taking steps to ensure the long-term sustainability of their nations. Japan and South Korea both announced their commitments to achieving carbon neutrality by 2050, while China set a similar goal for 2060.

Mapping the World's Key Maritime Choke Points
Ocean shipping is the primary mode of international trade. This map identifies maritime choke points that pose a risk to this complex logistic network.
Mapping the World's Key Maritime Choke Points
Maritime transport is an essential part of international trade—approximately 80% of global merchandise is shipped via sea.
Because of its importance, commercial shipping relies on strategic trade routes to move goods efficiently. These waterways are used by thousands of vessels a year—but it's not always smooth sailing. In fact, there are certain points along these routes that pose a risk to the whole system.
Here's a look at the world's most vulnerable maritime bottlenecks—also known as choke points—as identified by GIS.
What's a Choke Point?
Choke points are strategic, narrow passages that connect two larger areas to one another. When it comes to maritime trade, these are typically straits or canals that see high volumes of traffic because of their optimal location.
Despite their convenience, these vital points pose several risks:
Structural risks: As demonstrated in the recent Suez Canal blockage, ships can crash along the shore of a canal if the passage is too narrow, causing traffic jams that can last for days.
Geopolitical risks: Because of their high traffic, choke points are particularly vulnerable to blockades or deliberate disruptions during times of political unrest.
The type and degree of risk varies, depending on location. Here's a look at some of the biggest threats, at eight of the world's major choke points.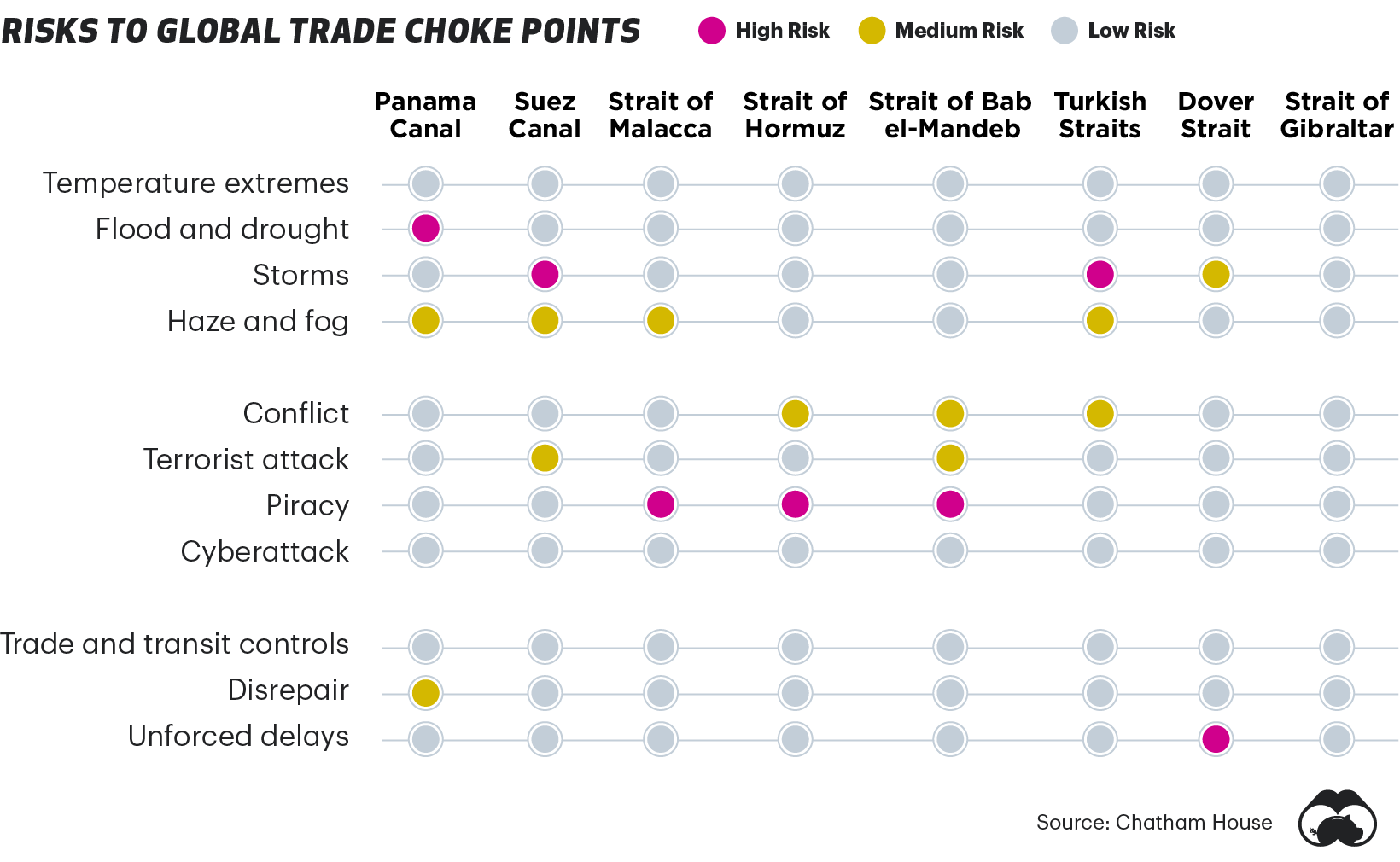 Because of their high risk, alternatives for some of these key routes have been proposed in the past—for instance, in 2013 Nicaraguan Congress approved a $40 billion dollar project proposal to build a canal that was meant to rival the Panama Canal.
As of today, it has yet to materialize.
A Closer Look: Key Maritime Choke Points
Despite their vulnerabilities, these choke points remain critical waterways that facilitate international trade. Below, we dive into a few of the key areas to provide some context on just how important they are to global trade.
The Panama Canal
The Panama Canal is a lock-type canal that provides a shortcut for ships traveling between the Pacific and Atlantic oceans. Ships sailing between the east and west coasts of the U.S. save over 8,000 nautical miles by using the canal—which roughly shortens their trip by 21 days.
In 2019, 252 million long tons of goods were transported through the Panama Canal, which generated over $2.6 billion in tolls.
The Suez Canal
The Suez Canal is an Egyptian waterway that connects Europe to Asia. Without this route, ships would need to sail around Africa, which would add approximately seven days to their trips. In 2019, nearly 19,000 vessels, and 1 billion tons of cargo, traveled through the Suez Canal.
In an effort to mitigate risk, the Egyptian government embarked on a major expansion project for the canal back in 2015. But, given the recent blockage caused by a Taiwanese container ship, it's clear that the waterway is still vulnerable to obstruction.
The Strait of Malacca
At its smallest point, the Strait of Malacca is approximately 1.5 nautical miles, making it one of the world's narrowest choke points. Despite its size, it's one of Asia's most critical waterways, since it provides a critical connection between China, India, and Southeast Asia. This choke point creates a risky situation for the 130,000 or so ships that visit the Port of Singapore each year.
The area is also known to have problems with piracy—in 2019, there were 30 piracy incidents, according to private information group ReCAAP ISC.
The Strait of Hormuz
Controlled by Iran, the Strait of Hormuz links the Persian Gulf to the Gulf of Oman, ultimately draining into the Arabian Sea. It's a primary vein for the world's oil supply, transporting approximately 21 million barrels per day.
Historically, it's also been a site of regional conflict. For instance, tankers and commercial ships were attacked in that area during the Iran-Iraq war in the 1980s.
The Bab el-Mandeb Strait
The Bab el-Mandeb Strait is another primary waterway for the world's oil and natural gas. Nestled between Africa and the Middle East, the critical route connects the Mediterranean Sea (via the Suez Canal) to the Indian Ocean.
Like the Strait of Malacca, it's well known as a high-risk area for pirate attacks. In May 2020, a UK chemical tanker was attacked off the coast of Yemen–the ninth pirate attack in the area that year.
Due to the strategic nature of the region, there is a strong military presence in nearby Djibouti, including China's first ever foreign military base.