The World's Top Coffee Producing Countries
The World's Top Coffee Producing Countries
In many cities around the world, there's a café on every corner, so it comes as no surprise that coffee is one of the globes' top commodities. As the third most consumed beverage globally, after water and tea, coffee beans are in high demand almost everywhere.
The top producing nations each produce billions of kilograms of coffee beans that find their way into the hands of eager consumers. According to the International Coffee Organization, a total of 169.6 million 60-kilogram bags of coffee were produced worldwide in 2020.
So, why does the world universally love coffee so much?
For The Love of Coffee
As most coffee lovers would tell you, drinking coffee is a complex and nuanced experience—there's the rich aroma, the comforting warmth, and the loveliness of the ritual of sitting down with a fresh cup.
With the variety of ways it can be served and the jolt of caffeine it provides us, it's not hard to see why the world loves its coffee. In fact, we love the beverage so much that humans have conditioned themselves to associate the bitter taste of coffee with a bout of energy and positive reinforcement.
So, where does the journey of each cup of joe originate? Let's get to know the world's top coffee producing countries.
The World's Coffee Production Leaders
At the end of 2020, the top 10 biggest coffee-producing nations held 87% of the commodity's market share.
Here is a list of the top 20 largest coffee-producing nations in the world:
Rank
Country
Production in 2020
(Million 60-kg Bags)
Total Market Share
1
🇧🇷 Brazil
63.4
37.4%
2
🇻🇳 Vietnam
29.0
17.1%
3
🇨🇴 Colombia
14.3
8.4%
4
🇮🇩 Indonesia
12.0
7.1%
5
🇪🇹 Ethiopia
7.3
4.3%
6
🇭🇳 Honduras
6.1
3.6%
7
🇮🇳 India
5.7
3.4%
8
🇺🇬 Uganda
5.6
3.3%
9
🇲🇽 Mexico
4.0
2.4%
10
🇵🇪 Peru
3.8
2.2%
11
🇬🇹 Guatemala
3.7
2.2%
12
🇳🇮 Nicaragua
2.7
1.6%
13
🇨🇮 Côte d'Ivoire
1.8
1.1%
14
🇨🇷 Costa Rica
1.5
0.9%
15
🇹🇿 Tanzania
0.9
0.5%
16
🇰🇪 Kenya
0.7
0.4%
17
🇵🇬 Papua New Guinea
0.7
0.4%
18
🇱🇦 Laos
0.6
0.4%
19
🇸🇻 El Salvador
0.6
0.4%
20
🇹🇭 Thailand
0.6
0.4%
While some of the world's top coffee-producing nations are well known, others may come as a surprise. More than 70 countries produce coffee, but the majority of global output comes from just the top five producers: Brazil, Vietnam, Colombia, Indonesia, and Ethiopia.
Meet the Top Coffee Producing Countries
1. Brazil
Brazil is a true powerhouse of coffee production. The country single-highhandedly produces nearly 40% of the world's coffee supply.
Many areas in Brazil have a climate perfectly conducive to coffee farming. Coffee plantations cover about 27,000 square kilometers of Brazil, with the majority located in Minas Gerais, São Paulo, and Parana.
Brazil distinguishes itself from most other coffee-producing nations by drying the coffee cherries in the sun (unwashed coffee) rather than washing them.
The country is so influential to coffee production that the 60-kilogram burlap bags historically used to export beans from Brazil are still the worldwide standard for measuring production and trade.
2. Vietnam
Vietnam found a niche in the international market by focusing primarily on the less-expensive Robusta bean. Robusta beans can have up to twice as much caffeine as Arabica beans, giving the coffee a more bitter taste.
Though coffee has been grown in the region for well over a century, production skyrocketed through the 1990s after Vietnam's communist government introduced economic reforms (known as Đổi Mới).
Today, Vietnam accounts for more than 40% of the world's Robusta bean production.
Coffee cultivation in Vietnam is also extremely productive. The country's coffee yields are considerably higher than other top coffee-producing countries.
3. Colombia
A popular advertising campaign featuring a fictional coffee farmer named Juan Valdez helped brand Colombia as one of the most famous coffee-producing nations. A coveted drink of choice, Colombian coffee is prized for its aromatic, mild, and fruity flavors.
4. Indonesia
Some of the rarest coffees in the Western world originate in Indonesia, including Kopi Luwak—a type of bean that has been eaten and defecated by the Asian palm civet. Coffee made from these coffee beans might cost you anywhere between $35 to $100 per cup.
5. Ethiopia
Known for its full-flavored, down-to-earth, and full-bodied coffee beans, Ethiopia is the country that gave us the Arabica coffee plant. Today this type of coffee is considered to be the most widely sold in cafes and restaurants across the world.
All of these top producing countries are found in the so-called "Bean Belt", which is located between the Tropic of Cancer and the Tropic of Capricorn.
The Future of Coffee Production
With global temperatures on the rise, good coffee may become increasingly challenging to grow. To future-proof good and continued growth of coffee beans, finding newer and hybrid blends of coffee beans is essential.
Several studies and research missions have found wild species of coffee growing off the coast of Côte d'Ivoire and in certain regions of Sierra Leone, which could be the answer to our coffee production problems. Coffee from these coffee plants tasted similar to the famous Arabica bean and also grew at higher temperatures.
Though the future of coffee production around the world is somewhat uncertain, our collective love of the morning cup of coffee will drive innovative solutions, even in the face of changing climate patterns.
Ranked: World's Biggest Wine Producers by Country
We break down the major wine producers of the world by country and how much they contribute to world wine supply.

Creator Program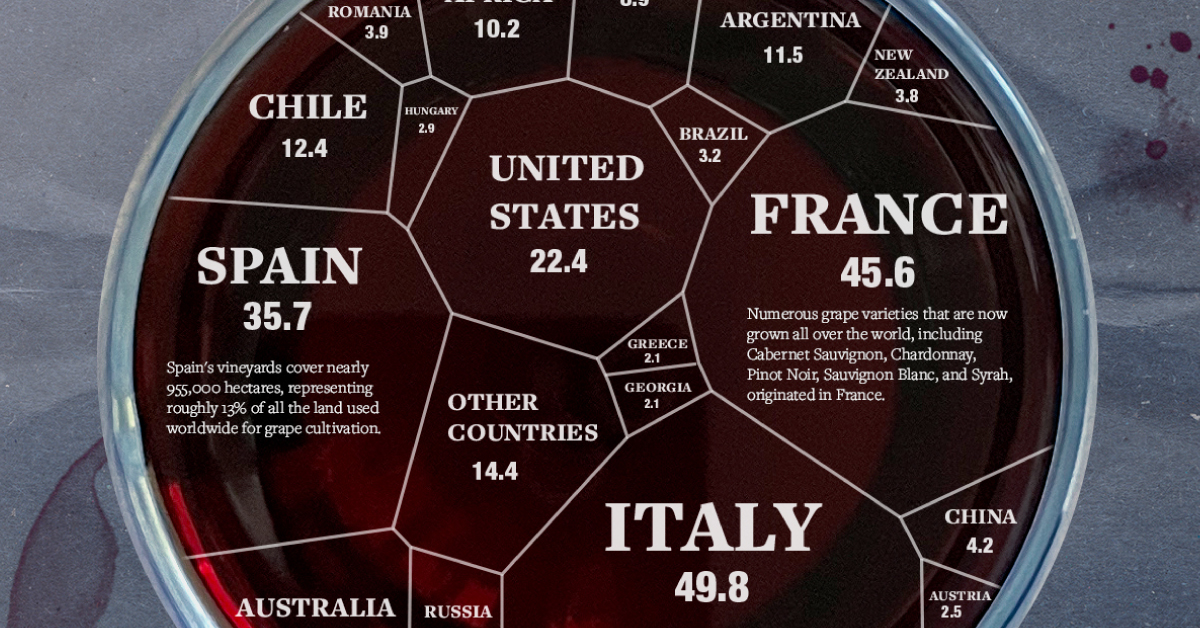 Ranked: World's Biggest Wine Producers By Country
"Wine gives a man fresh strength when he is wearied"—Homer, The Iliad
Wine has been in our cups, in our thoughts, and in our poems for many a millennia, from the antics of Dionysus, the Greek god of wine, to its symbolism in the Last Supper. But breaking down the biggest wine producers by country in the modern era leads to some interesting surprises.
This infographic by Alberto Rojo Moro uses data from the International Organization of Vine and Wine (OIV) to visualize where wine production is concentrated in the world.
We take a quick look below.
The Top Wine Producers By Country in 2022
At the top of the list, Italy produced nearly 50 million hectoliters—or about 1,994 Olympic-sized swimming pools—of wine in 2022, accounting for nearly one-fifth of total production in the year. Less than half of that wine was sent to overseas markets, also making Italy the biggest exporter of the beverage by volume.
ℹ️ One hectoliter is equal to 100 liters and is used as a unit of measure for wine, beer, and other agricultural produce.
The country's long coastline results in a moderate climate, allowing winemaking to occur in 20 different regions in Italy, with Veneto, Apulia, Emilia-Romagna, and Sicily leading in production.
Other known wine connoisseur countries—France (45.6 hectoliters) and Spain (35.8 million hectoliters)—rank second and third in wine production respectively. Together these three countries make up half of the world's wine supply.
Here's a full list of the world's biggest wine producers by country.
Rank
Country
Continent
Quantity
(1,000 hl)
% of Total
Production
1
🇮🇹 Italy
Europe
49,843
19.30%
2
🇫🇷 France
Europe
45,590
17.65%
3
🇪🇸 Spain
Europe
35,703
13.82%
4
🇺🇸 U.S.
America
22,385
8.67%
5
🇦🇺 Australia
Oceania
12,745
4.93%
6
🇨🇱 Chile
America
12,444
4.82%
7
🇦🇷 Argentina
America
11,451
4.43%
8
🇿🇦 South Africa
Africa
10,155
3.93%
9
🇩🇪 Germany
Europe
8,940
3.46%
10
🇵🇹 Portugal
Europe
6,777
2.62%
11
🇷🇺 Russia
Europe
4,700
1.82%
12
🇨🇳 China
Asia
4,182
1.62%
13
🇳🇿 New Zealand
Oceania
3,830
1.48%
14
🇷🇴 Romania
Europe
3,788
1.47%
15
🇧🇷 Brazil
America
3,200
1.24%
16
🇭🇺 Hungary
Europe
2,900
1.12%
17
🇦🇹 Austria
Europe
2,527
0.98%
18
🇬🇪 Georgia
Europe
2,135
0.83%
19
🇬🇷 Greece
Europe
2,127
0.82%
20
🇲🇩 Moldova
Europe
1,400
0.54%
21
🇨🇭 Switzerland
Europe
992
0.38%
22
🇲🇰 North Macedonia
Europe
936
0.36%
23
🇯🇵 Japan
Asia
830
0.32%
24
🇵🇪 Peru
America
810
0.31%
25
🇺🇾 Uruguay
America
756
0.29%
26
🇧🇬 Bulgaria
Europe
747
0.29%
27
🇨🇦 Canada
America
692
0.27%
28
🇺🇦 Ukraine
Europe
660
0.26%
29
🇹🇷 Türkiye
Asia
622
0.24%
30
🇨🇿 Czech Republic
Europe
586
0.23%
31
🇭🇷 Croatia
Europe
561
0.22%
32
🇸🇮 Slovenia
Europe
546
0.21%
33
🇰🇿 Kazakhstan
Asia
445
0.17%
34
🇮🇱 Israel
Asia
430
0.17%
35
🇲🇦 Morocco
Africa
418
0.16%
36
🇹🇲 Turkmenistan
Asia
400
0.15%
37
🇲🇽 Mexico
America
396
0.15%
38
🇹🇳 Tunisia
Africa
370
0.14%
39
🇧🇾 Belarus
Europe
340
0.13%
40
🇸🇰 Slovakia
Europe
334
0.13%
41
🇦🇱 Albania
Europe
228
0.09%
42
🇺🇿 Uzbekistan
Asia
216
0.08%
43
🇩🇿 Algeria
Africa
193
0.07%
44
🇮🇳 India
Asia
180
0.07%
45
🇬🇧 UK
Europe
91
0.04%
46
🇱🇺 Luxembourg
Europe
85
0.03%
47
🇨🇾 Cyprus
Europe
79
0.03%
48
🇱🇹 Lithuania
Europe
32
0.01%
49
🇧🇪 Belgium
Europe
30
0.01%
50
🇲🇹 Malta
Europe
13
0.01%
51
🇳🇱 Netherlands
Europe
10
0.00%
52
🇵🇱 Poland
Europe
5
0.00%
53
🇩🇰 Denmark
Europe
1
0.00%
🌎 World
All
258,265
100%
Note: Percentages may not sum to 100% due to rounding.
The U.S., ranked 4th, is the top wine producer from the Americas, beating out other wine-producing countries like Chile (6th) and Argentina (7th).
South Africa, ranked 8th, is one of only four African countries in the dataset as winemaking isn't as widespread on the continent as other regions in the world.
Meanwhile, China (ranked 12th) is the top wine producer from Asia. The region's preference for other distilled spirits helps explain why the next two biggest Asian wine producers, Japan (23rd) and Türkiye (29th) occupy the middle ranks.
Unsurprisingly, European countries account for two-thirds of the world's wine supply, followed by the Americas (20%) and then Oceania (6%).
Climate Concerns for Future Wine Production
Wine production has stayed relatively stable for the last decade but climate change is coming for this industry as well.
According to the New York Times, warmer temperatures are both a blessing and curse for winemakers. Some areas once deemed too inhospitable for grapevines (like England) are starting to show potential for certain varietals and wines. At the same time, in some traditional regions, prolonged warmer weather is leading to overripening, forcing winemakers to limit the grapes' exposure to sunlight.
And the general weather anomalies caused by climate change—floods, droughts, wildfires—all make wine production just a little more difficult than it already is.
Which prompts a question worth pouring a glass of wine over to ponder: which wine producing countries will survive, adapt, languish or thrive in the coming decades?