The World's Top Coffee Producing Countries
The World's Top Coffee Producing Countries
In many cities around the world, there's a café on every corner, so it comes as no surprise that coffee is one of the globes' top commodities. As the third most consumed beverage globally, after water and tea, coffee beans are in high demand almost everywhere.
The top producing nations each produce billions of kilograms of coffee beans that find their way into the hands of eager consumers. According to the International Coffee Organization, a total of 169.6 million 60-kilogram bags of coffee were produced worldwide in 2020.
So, why does the world universally love coffee so much?
For The Love of Coffee
As most coffee lovers would tell you, drinking coffee is a complex and nuanced experience—there's the rich aroma, the comforting warmth, and the loveliness of the ritual of sitting down with a fresh cup.
With the variety of ways it can be served and the jolt of caffeine it provides us, it's not hard to see why the world loves its coffee. In fact, we love the beverage so much that humans have conditioned themselves to associate the bitter taste of coffee with a bout of energy and positive reinforcement.
So, where does the journey of each cup of joe originate? Let's get to know the world's top coffee producing countries.
The World's Coffee Production Leaders
At the end of 2020, the top 10 biggest coffee-producing nations held 87% of the commodity's market share.
Here is a list of the top 20 largest coffee-producing nations in the world:
Rank
Country
Production in 2020
(Million 60-kg Bags)
Total Market Share
1
🇧🇷 Brazil
63.4
37.4%
2
🇻🇳 Vietnam
29.0
17.1%
3
🇨🇴 Colombia
14.3
8.4%
4
🇮🇩 Indonesia
12.0
7.1%
5
🇪🇹 Ethiopia
7.3
4.3%
6
🇭🇳 Honduras
6.1
3.6%
7
🇮🇳 India
5.7
3.4%
8
🇺🇬 Uganda
5.6
3.3%
9
🇲🇽 Mexico
4.0
2.4%
10
🇵🇪 Peru
3.8
2.2%
11
🇬🇹 Guatemala
3.7
2.2%
12
🇳🇮 Nicaragua
2.7
1.6%
13
🇨🇮 Côte d'Ivoire
1.8
1.1%
14
🇨🇷 Costa Rica
1.5
0.9%
15
🇹🇿 Tanzania
0.9
0.5%
16
🇰🇪 Kenya
0.7
0.4%
17
🇵🇬 Papua New Guinea
0.7
0.4%
18
🇱🇦 Laos
0.6
0.4%
19
🇸🇻 El Salvador
0.6
0.4%
20
🇹🇭 Thailand
0.6
0.4%
While some of the world's top coffee-producing nations are well known, others may come as a surprise. More than 70 countries produce coffee, but the majority of global output comes from just the top five producers: Brazil, Vietnam, Colombia, Indonesia, and Ethiopia.
Meet the Top Coffee Producing Countries
1. Brazil
Brazil is a true powerhouse of coffee production. The country single-highhandedly produces nearly 40% of the world's coffee supply.
Many areas in Brazil have a climate perfectly conducive to coffee farming. Coffee plantations cover about 27,000 square kilometers of Brazil, with the majority located in Minas Gerais, São Paulo, and Parana.
Brazil distinguishes itself from most other coffee-producing nations by drying the coffee cherries in the sun (unwashed coffee) rather than washing them.
The country is so influential to coffee production that the 60-kilogram burlap bags historically used to export beans from Brazil are still the worldwide standard for measuring production and trade.
2. Vietnam
Vietnam found a niche in the international market by focusing primarily on the less-expensive Robusta bean. Robusta beans can have up to twice as much caffeine as Arabica beans, giving the coffee a more bitter taste.
Though coffee has been grown in the region for well over a century, production skyrocketed through the 1990s after Vietnam's communist government introduced economic reforms (known as Đổi Mới).
Today, Vietnam accounts for more than 40% of the world's Robusta bean production.
Coffee cultivation in Vietnam is also extremely productive. The country's coffee yields are considerably higher than other top coffee-producing countries.
3. Colombia
A popular advertising campaign featuring a fictional coffee farmer named Juan Valdez helped brand Colombia as one of the most famous coffee-producing nations. A coveted drink of choice, Colombian coffee is prized for its aromatic, mild, and fruity flavors.
4. Indonesia
Some of the rarest coffees in the Western world originate in Indonesia, including Kopi Luwak—a type of bean that has been eaten and defecated by the Asian palm civet. Coffee made from these coffee beans might cost you anywhere between $35 to $100 per cup.
5. Ethiopia
Known for its full-flavored, down-to-earth, and full-bodied coffee beans, Ethiopia is the country that gave us the Arabica coffee plant. Today this type of coffee is considered to be the most widely sold in cafes and restaurants across the world.
All of these top producing countries are found in the so-called "Bean Belt", which is located between the Tropic of Cancer and the Tropic of Capricorn.
The Future of Coffee Production
With global temperatures on the rise, good coffee may become increasingly challenging to grow. To future-proof good and continued growth of coffee beans, finding newer and hybrid blends of coffee beans is essential.
Several studies and research missions have found wild species of coffee growing off the coast of Côte d'Ivoire and in certain regions of Sierra Leone, which could be the answer to our coffee production problems. Coffee from these coffee plants tasted similar to the famous Arabica bean and also grew at higher temperatures.
Though the future of coffee production around the world is somewhat uncertain, our collective love of the morning cup of coffee will drive innovative solutions, even in the face of changing climate patterns.
Ranked: The World's Top Cotton Producers
As the most-used natural fiber, cotton has become the most important non-food agricultural product.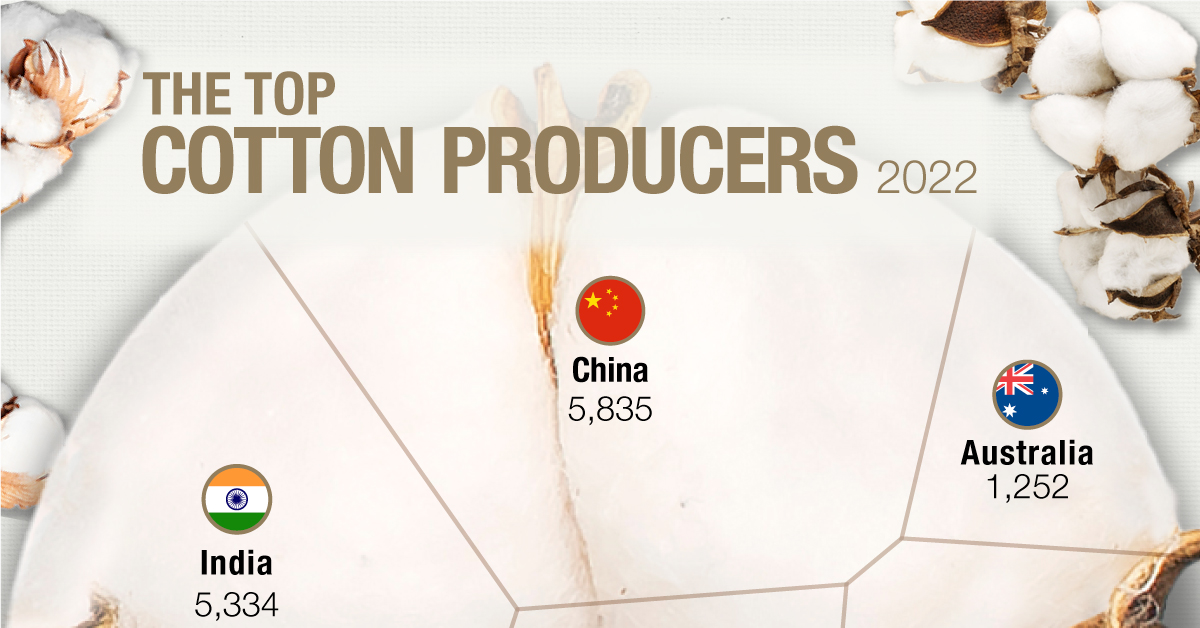 Ranked: The World's Top Cotton Producers
This was originally posted on Elements. Sign up to the free mailing list to get beautiful visualizations on natural resource megatrends in your email every week.
Cotton is present in our everyday life, from clothes to coffee strainers, and more recently in masks to control the spread of COVID-19.
As the most-used natural fiber, cotton has become the most important non-food agricultural product. Currently, approximately half of all textiles require cotton fibers.
The above infographic lists the world's top cotton producers, using data from the United States Department of Agriculture.
Fancy Fabric
Originating from the Arabic word "quton," meaning fancy fabric, cotton is a staple fiber made up of short fibers twisted together to form yarn.
The earliest production of cotton was around 5,000 B.C. in India, and today, around 25 million tons of cotton are produced each year.
Currently, five countries make up around 75% of global cotton production, with China being the world's biggest producer. The country is responsible for over 23% of global production, with approximately 89 million cotton farmers and part-time workers. Cotton's importance cannot be understated, as it is the primary input for the Chinese textile industry along with many other nations' textile industries.
| Top Cotton Producers | 2020/2021 (metric tons) | 2021/2022 (metric tons) |
| --- | --- | --- |
| 🇨🇳 China | 6,445,000 | 5,835,000 |
| 🇮🇳 India | 6,009,000 | 5,334,000 |
| 🇺🇸 United States | 3,181,000 | 3,815,000 |
| 🇧🇷 Brazil | 2,356,000 | 2,504,000 |
| 🇦🇺 Australia | 610,000 | 1,252,000 |
| 🇵🇰 Pakistan | 980,000 | 1,306,000 |
| 🇹🇷 Turkey | 631,000 | 827,000 |
| 🌐 Other | 4,059,000 | 4,282,000 |
| Total | 24,271,000 | 25,155,000 |
The United States is the leading global exporter of cotton, exporting three-fourths of its crop with China as the top buyer.
Despite its importance for the global economy, cotton production faces significant sustainability challenges.
The Controversy Over Cotton
Cotton is one of the largest users of water among all agricultural commodities, and production often involves applying pesticides that threaten soil and water quality.
Along with this, production often involves forced and child labor. According to the European Commission, child labor in the cotton supply chain is most common in Africa and Asia, where it comes from small-holder farmers.
In 2020, U.S. apparel maker Patagonia stopped sourcing cotton from the autonomous territory of Xinjiang because of reports about forced labor and other human rights abuses against Uighurs and other ethnic minorities.
L Brands, the parent company of Victoria's Secret, has also committed to eliminating Chinese cotton from its supply chain. Whether these changes in supply chains impact China's cotton production and its practices, cotton remains essential to materials found across our daily lives.
Mapped: Where Does Our Food Come From?
Did you know that over two-thirds of national crops originated from somewhere else? Over time the food that built national diets has evolved.
Where Does Our Food Come From?
Did you know that over two-thirds of national crops originated from somewhere else?
Humans have been selecting and growing crops for specific traits since the origins of agriculture some 10,000 years ago, shaping where and what crops are grown today.
Now our food system is completely global and many of the world's top producers of staple crops are in countries far from their historical origin. For example, Brazil is now the largest soybean producer in the world, though the crop is originally from East Asia.
The above infographic by Brazil Potash shows the historical origins of crops before they were domesticated across the globe and the main producers of our staple crops today.
Producers Of Staple Crops Today
Staple crops are those that are the most routinely grown and consumed. These can vary between countries depending on availability.
In 2020, sugarcane, maize, wheat, and rice made up around 50% of global crop production.
But when the production and distribution of staple crops are threatened, the consequences can be felt globally. Let's take a look at the countries that were the top three producers of some of our staple crops in 2020.
| Crop | Country | Percentage of Global Production |
| --- | --- | --- |
| Sugar Cane | 🇧🇷Brazil | 40.5% |
| Sugar Cane | 🇮🇳India | 19.9% |
| Sugar Cane | 🇨🇳China | 5.8% |
| Maize | 🇺🇸U.S. | 30.9% |
| Maize | 🇨🇳China | 22.4% |
| Maize | 🇧🇷Brazil | 8.9% |
| Wheat | 🇨🇳China | 17.6% |
| Wheat | 🇮🇳India | 14.1% |
| Wheat | 🇷🇺Russia | 11.3% |
As you can see from the data above, Brazil is the world's largest producer of sugarcane and one of the top three producers of maize.
The Future of Food Security
Global food security depends on staple crops and the countries that produce them. As the global population increases, so does the need to grow more crops.
The FAO estimates that by 2050 the world will need to increase its food output by around 70% in order to feed an ever-growing population.
Early food security solutions were transplanting crops from other regions to supplement diets. Now crop yields must increase as the next evolution in strengthening our food security. Fertilizers are a vital step in this process and are an essential ingredient in the future of global food security. They provide vital nutrients that increase crop production and strengthen nutrition security.
Brazil Potash extracts vital potash ore from the earth for it to return to the earth as fertilizer, fortifying food and helping to maintain continuous growth in the agricultural sector.
Click here to learn more about fertilizer and food production in Brazil.