The World's Top 50 Influencers Across Social Media Platforms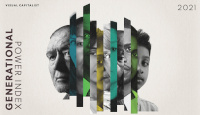 The Generational Power Index
Introducing our new index, which ranks U.S. generations on their economic, political, and cultural influence.
Visualizing the World's Top 50 Influencers
In the modern digital world, social media reach is power.
The people with the most followers on Twitter, for example, have a massive platform to spread their messages, while those with large, engaged followings on Instagram are an advertiser's dream sponsor partner.
Social media can also be an equalizer of power. It's true that many celebrities boast large followings across platforms, but social media has also enabled previously unknown personalities to turn YouTube or TikTok fame into veritable star power and influence.
Who has the biggest reach across the entire social media universe? Instead of looking at who has the most followers on Instagram, Twitter, or other networks, we ranked the most-followed personalities across all major platforms combined.
Who Has the Most Overall Followers on Social Media?
We parsed through hundreds of the most-followed accounts on multiple platforms to narrow down the top influencers across social media as of April 2021.
Sources include trackers of the most followers on Twitter, Instagram, Facebook, YouTube, Twitch, and TikTok, verified directly on site and with social media tracker Socialblade.
The results? A top 50 list of social media influencers consisting of athletes, musicians, politicians, and other personalities.
| Rank | Name | Category | Total Followers | Biggest Platform |
| --- | --- | --- | --- | --- |
| #1 | Cristiano Ronaldo | Sports | 517M | Instagram |
| #2 | Justin Bieber | Music | 455M | Instagram |
| #3 | Ariana Grande | Music | 429M | Instagram |
| #4 | Selena Gomez | Music | 425M | Instagram |
| #5 | Taylor Swift | Music | 361M | Instagram |
| #6 | Dwayne Johnson | Film & TV | 342M | Instagram |
| #7 | Katy Perry | Music | 338M | Instagram |
| #8 | Kylie Jenner | Other | 333M | Instagram |
| #9 | Rihanna | Music | 332M | Twitter |
| #10 | Kim Kardashian | Other | 319M | Instagram |
| #11 | Lionel Messi | Sports | 298M | Instagram |
| #12 | Neymar | Sports | 283M | Instagram |
| #13 | Shakira | Music | 282M | Facebook |
| #14 | Jennifer Lopez | Music | 277M | Instagram |
| #15 | Beyoncé | Music | 267M | Instagram |
| #16 | Ellen DeGeneres | Film & TV | 260M | Instagram |
| #17 | Miley Cyrus | Music | 235M | Instagram |
| #18 | Nicki Minaj | Music | 232M | Instagram |
| #19 | Barack Obama | Politics | 221M | Twitter |
| #20 | Will Smith | Film & TV | 217M | Facebook |
| #21 | Kendall Jenner | Other | 212M | Instagram |
| #22 | Demi Lovato | Music | 211M | Instagram |
| #23 | Lady Gaga | Music | 210M | Twitter |
| #24 | Kevin Hart | Film & TV | 201M | Instagram |
| #25 | Virat Kohli | Sports | 195M | Instagram |
| #26 | Eminem | Music | 194M | Facebook |
| #27 | Drake | Music | 192M | Instagram |
| #28 | Khloé Kardashian | Other | 191M | Instagram |
| #29 | Bruno Mars | Music | 191M | Facebook |
| #30 | Chris Brown | Music | 187M | Instagram |
| #31 | Vin Diesel | Film & TV | 177M | Facebook |
| #32 | Narendra Modi | Politics | 175M | Twitter |
| #33 | Justin Timberlake | Music | 175M | Twitter |
| #34 | Billie Eilish | Music | 171M | Instagram |
| #35 | Charli D'Amelio | Other | 169M | TikTok |
| #36 | Kourtney Kardashian | Other | 165M | Instagram |
| #37 | Cardi B | Music | 160M | Instagram |
| #38 | LeBron James | Sports | 157M | Instagram |
| #39 | Adele | Music | 156M | Facebook |
| #40 | Priyanka Chopra | Film & TV | 144M | Instagram |
| #41 | Germán Garmendia | Gaming | 143M | Youtube |
| #42 | Wiz Khalifa | Music | 142M | Facebook |
| #43 | Felix "PewDiePie" Kjellberg | Gaming | 141M | Youtube |
| #44 | Akshay Kumar | Film & TV | 140M | Instagram |
| #45 | Snoop Dogg | Music | 138M | Instagram |
| #46 | Deepika Padukone | Film & TV | 138M | Instagram |
| #47 | Britney Spears | Music | 137M | Twitter |
| #48 | Shawn Mendes | Music | 136M | Instagram |
| #49 | Whindersson Nunes Batista | Other | 135M | Instagram |
| #50 | Salman Khan | Film & TV | 134M | Facebook |
Unsurprisingly, celebrities reign supreme on social media. As of April 2021, soccer superstar Cristiano Ronaldo was the most-followed person on social media with more than 500 million total followers.
But there are other illuminating highlights, such as the global reach of music. With large and diverse fanbases, artists account for half of the top 50 largest social media followings.
Also notable is the power of Instagram, which was the biggest platform for 67% of the top 50 social media influencers. This includes hard-to-categorize celebrities like the Kardashians and Jenners, which turned reality TV and social media fame into business and media empires.
Download the Generational Power Report (.pdf)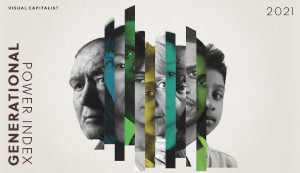 The Most Followers on Twitter, TikTok, and YouTube
However, it's not only celebrities that dominate social media.
Personalities that started on one social media platform and developed massive followings include TikTok's most-followed star Charli D'Amelio and YouTubers Germán Garmendia, Felix "PewDiePie" Kjellberg, and Whindersson Nunes Batista.
Politicians were also prominent influencers. Former U.S. President Barack Obama has the most followers on Twitter, and India's Prime Minister Narendra Modi has more than 175 million followers across social media.
Former U.S. President Donald Trump would have also made the list with more than 140 million followers across social media before being banned from multiple platforms on January 8, 2021.
A Generational Look at Social Media Influence
While older generations have had to adapt to social media platforms, younger generations have grown up alongside them. As a measure of cultural importance, this gives Gen X, Millennials, and Gen Z a rare leg-up on older generations.
Millennials, in particular, hold the lion's share of spots in this top 50 list:
| Generation | # of Influencers in Generation | Top Influencer in Generation |
| --- | --- | --- |
| Gen Z | 4 | Kylie Jenner |
| Millennial | 33 | Cristiano Ronaldo |
| Gen X | 10 | Dwayne (The Rock) Johnson |
| Baby Boomer | 3 | Ellen DeGeneres |
The average age of the top 50 influencers was just over 37.
In our Generational Power Index (GPI), which measures the share of power generations hold in various categories, digital platforms were a key area where Millennials derived their power and influence. Overall, Baby Boomers—and to a lesser extent, Gen X—still run the show in most areas of society today.
Social Media Influence, Going Forward
As most fans and advertisers know, not all social media accounts and followings are homogenous.
Many influencers with relatively small followings have more consistent engagement, and are often able to demand high advertising fees as a result.
Conversely, most social media platforms are reckoning with a severe glut of fake accounts or bots that inflate follower counts, impacting everything from celebrities and politicians to personalities and businesses.
Regardless, social media has become a mainstay platform (or soapbox) for today's cultural influencers. Billions of people turn to social media for news, engagement, recommendations, and entertainment, and new platforms are always on the rise.
Editor's Note: An earlier version of the data used for this story incorrectly counted Facebook likes instead of followers for some personalities. The content has since been corrected and updated."
Infographic: 11 Tech Trends to Watch in 2023
This infographic highlights eleven exciting areas within the world of technology worth keeping an eye on in 2023.
Infographic: 11 Tech Trends to Watch in 2023
It can be tough to keep up with the rapid pace of innovation.
Each new year delivers the full spectrum of progress from game-changing breakthroughs to incremental advancements in a wide variety of fields.
In a noisy media landscape fueled by hype and speculation, it can be tough to know where true value is being created. The infographic above, which draws from CB Insights' recent report on 11 Tech Trends To Watch Closely in 2023, helps narrow down some areas of focus:
Immortality-as-a-service
The secret invasion of super apps
Fintech's rapid regeneration
Bots in the house
Virtual power plants
Healthcare's invisibility trick
Smell goes digital
Femtech turns to menopause
The bio-based materials boom
India's tech ascent
Regenerative agtech takes root
The report draws information from earnings transcripts, media mentions, investment activity, patents, and more to arrive at the trends listed.
We'll examine three of these trends below in a bit more detail.
Setting the Stage: Clash of the Super Apps
The concept of a super app⁠—an all-in-one smartphone application that integrates a wide range of services⁠—is far from new. In fact, for years now, WeChat has been the go-to app for many Chinese citizens to chat, order services, pay bills, and more.
A natural question comes to mind: why doesn't an app like that exist in Western countries yet? Well, there are a couple of key reasons:
Consumers and regulators alike are wary of providers holding so much personal information and power. In China, WeChat actually had government support, integrating public services into the app. As well, expectations of personal privacy are completely different in China than in Western countries
Unlike China, which rapidly adopted digital payments, North America and Europe had preexisting near-ubiquitous financial networks in place. Super apps were a game changer for millions of unbanked consumers in China and beyond.
The situation is changing rapidly though, and 2023 could be the year that the foundations are laid for a clash of various Big Tech incarnations of the super app.
In late 2022, Microsoft was rumored to be building a super app using Bing as the foundation, and recent investment into ChatGPT adds fuel to that fire. Even Elon Musk hinted at his ambitions to turn Twitter into a one-stop-shop for just about everything.
There are still significant barriers to bundling a plethora of services into a single app, but that isn't stopping companies from racing to be the one to do it. To the victor go the spoils.
The Resiliency of Life Extension
The concepts of immortality and age reversal have been a preoccupation of mankind since the dawn of time, so it stands to reason that technology that promises extra lifespan and quality of life continues to be compelling for individuals and investors alike.
Players in this space can approach life extension and anti-aging from a number of different angles, from supplements to tinkering at the cellular level.
Two high-profile examples in this space are Calico, which is a subsidiary of Alphabet, and the Jeff Bezos-backed Altos Labs. Other billionaires have expressed an interest in life extension as well, including Peter Thiel, who has definitive views on mortality.
I believe if we could enable people to live forever, we should do that. […] I think it is against human nature not to fight death. – Peter Thiel
In 2023, look for more investment and news from startups focused on gene therapy, genome analysis, regenerative medicine, or "longevity in a pill".
Beyond Plastic: The Bio-Based Materials Boom
Public pressure is mounting for producers of consumer goods to change the way they manufacture their products.
The good news is that many of the largest producers of consumer packaged goods and apparel have some kind of plan in place to use more post-consumer recycled plastic in their products. The bad news is that not enough plastic is recycled globally for companies to source enough material to produce their products more sustainably. As a result, many companies are exploring the option of ditching plastic entirely.
For example, materials derived from seaweed are an active area of innovation right now. Mushrooms and algae are also commonly-used materials from nature that are being used to create biodegradable products. In one particularly interesting example, a company called MycoWorks recently began working with GM Ventures to explore the use of mycelium-based leather alternatives in GM's vehicles.
While researchers and companies are just scratching the surface of what's possible, consumers are likely to see more tangible examples of bio-based materials popping up in stores. After all, brands will be very eager to talk about their increasingly plastic-free product lines.