The Safest Source of Energy Will Surprise You
The World's Safest Source of Energy Will Surprise You
When it comes to conversations on energy, it's hard to leave your feelings at the door.
It's arguable that energy is the single most important driver of human progress – it's a multi-trillion dollar industry that powers our daily lives, technological advancements, and even the economic development of entire countries. At the same time, our choices around energy can have significant consequences. How we decide to generate energy can decimate the environment, fuel political conflicts, and even cause human deaths as unwelcome side effects.
The outcomes from our choices around energy are so vivid, that we've developed strong and polarized associations with the subject at hand.
The Empirical Perspective
Today's visualization on the safest sources of energy comes to us from Cambridge House, the company hosting the International Mining Investment Conference 2018 on May 15-16 in Vancouver, BC, and it uses an empirical approach to compare different energy sources with one another.
Based on the data, this comparison provides a perspective that will be surprising to many viewers. Despite its perceived dangers, nuclear is actually the safest type of energy.
| Energy Source | Deaths per 1,000 TWh | % of Global Primary Energy Supply (2015) |
| --- | --- | --- |
| Coal | 100,000 | 28.1% |
| Oil | 36,000 | 31.7% |
| Natural Gas | 4,000 | 21.6% |
| Hydro | 1,400 | 2.5% |
| Solar | 440* | <1% |
| Wind | 150 | <1% |
| Nuclear | 90 | 4.9% |
That's right – even when including seemingly catastrophic incidents such as Chernobyl and Fukushima in the calculations, the math says that the amount of energy generated by nuclear is so vast that it more than outweighs these incidents over the long-term.
The reality is that nuclear energy is much more comparable to renewables like solar or wind, in terms of safety. More importantly, it's on the polar opposite of the spectrum from coal, which manages to kill 4,400 people daily in China alone.
The Nuclear Option
Interestingly, multiple studies have come to this exact same conclusion, including the ones used in an analysis by economist Max Roser's project called Our World in Data.
Even though the conclusion on nuclear is pretty cut and dry, it's still hard to absorb. After all, the relative safety of nuclear ends up being extremely counter-intuitive to our human brains, which are seemingly wired to put more weight on big, memorable events (i.e. Chernobyl) rather than slow, consistent deaths that occur over time with other energy sources.
Today, nuclear provides about 11% of the world's electricity from about 450 power reactors, generating about 2,500 TWh of electricity each year.
And while there are still questions that remain – specifically revolving around how to store certain types of nuclear waste – the above data explains why the majority of scientists classify nuclear as a sustainable and safe energy source, along with other renewables.
This post originally appeared on Visual Capitalist's new VC Metals channel, home to data-driven visual content on metals, commodities, and energy.
Visualizing U.S. Consumption of Fuel and Materials per Capita
Wealthy countries consume large amounts of natural resources per capita, and the U.S. is no exception. See how much is used per person.
Visualizing U.S. Consumption of Fuel and Materials per Capita
This was originally posted on Elements. Sign up to the free mailing list to get beautiful visualizations on natural resource megatrends in your email every week.
Wealthy countries consume massive amounts of natural resources per capita, and the United States is no exception.
According to data from the National Mining Association, each American needs more than 39,000 pounds (17,700 kg) of minerals and fossil fuels annually to maintain their standard of living.
Materials We Need to Build
Every building around us and every sidewalk we walk on is made of sand, steel, and cement.
As a result, these materials lead consumption per capita in the United States. On average, each person in America drives the demand of over 10,000 lbs of stone and around 7,000 lbs of sand and gravel per year.
| Material/Fossil Fuel | Pounds Per Person |
| --- | --- |
| Stone | 10,643 |
| Natural Gas | 9,456 |
| Sand, Gravel | 7,088 |
| Petroleum Products | 6,527 |
| Coal | 3,290 |
| Cement | 724 |
| Other Nonmetals | 569 |
| Salt | 359 |
| Iron Ore | 239 |
| Phosphate Rock | 166 |
| Sulfur | 66 |
| Potash | 49 |
| Soda Ash | 36 |
| Bauxite (Aluminum) | 24 |
| Other Metals | 21 |
| Copper | 13 |
| Lead | 11 |
| Zinc | 6 |
| Manganese | 4 |
| Total | 39,291 |
The construction industry is a major contributor to the U.S. economy.
Crushed stone, sand, gravel, and other construction aggregates represent half of the industrial minerals produced in the country, resulting in $29 billion in revenue per year.
Also on the list are crucial hard metals such as copper, aluminum, iron ore, and of course many rarer metals used in smaller quantities each year. These rarer metals can make a big economic difference even when their uses are more concentrated and isolated—for example, palladium (primarily used in catalytic converters) costs $54 million per tonne.
Fuels Powering our Lives
Despite ongoing efforts to fight climate change and reduce carbon emissions, each person in the U.S. uses over 19,000 lbs of fossil fuels per year.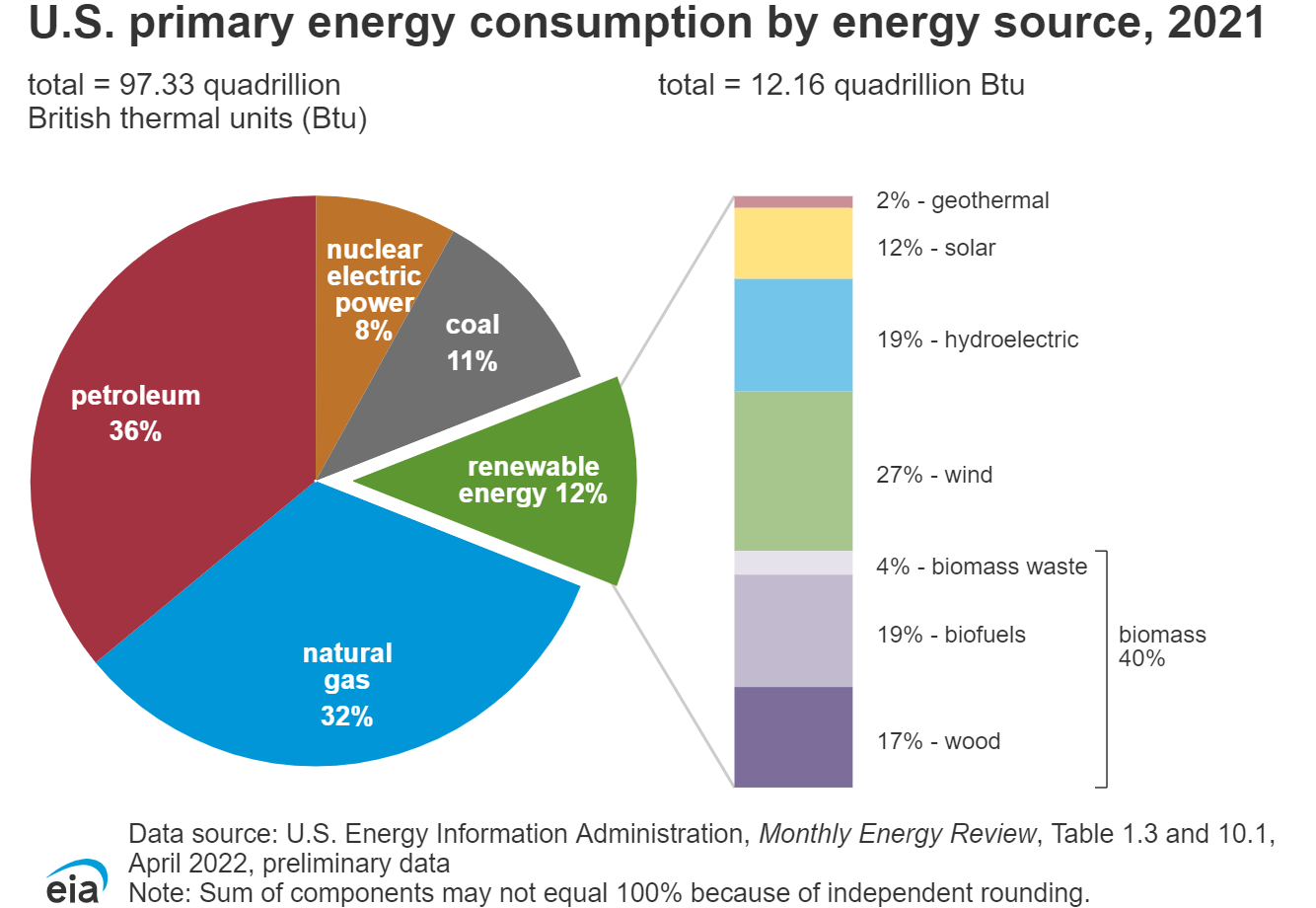 Gasoline is the most consumed petroleum product in the United States.
In 2021, finished motor gasoline consumption averaged about 369 million gallons per day, equal to about 44% of total U.S. petroleum use. Distillate fuel oil (20%), hydrocarbon gas liquids (17%), and jet fuel (7%) were the next most important uses.
Reliance on Other Countries
Over the past three decades, the United States has become reliant on foreign sources to meet domestic demand for minerals and fossil fuels. Today, the country is 100% import-reliant for 17 mineral commodities and at least 50% for 30 others.
In order to reduce the dependency on other countries, namely China, the Biden administration has been working to diversify supply chains in critical minerals. This includes strengthening alliances with other countries such as Australia, India, and Japan.
However, questions still remain about how soon these policies can make an impact, and the degree to which they can ultimately help localize and diversify supply chains.