Charting the World's Major Stock Markets on the Same Scale (1990-2019)
Charting the World's Major Stock Markets
Most investors around the world are familiar with the S&P 500 index.
Not only is it the most widely accepted barometer of U.S. stock market performance, but it's also been on a 10-year bull run, now sitting at all-time highs near 3,170.
This week, we chart those historical returns, and then use the U.S. benchmark as a backdrop to compare other major stock markets around the world, such as those in Europe, Asia, and Canada.
Putting Them All at Scale
One challenge in comparing global markets directly is that all indices are on arbitrary scales.
To directly compare them, the most natural option would be to transform the data to percentage terms. While that's all fine and dandy, it's also a little boring.
To make things more interesting, we've collected historical data that goes back nearly 30 years for each index. This was mostly done using Macrotrends, a fantastic resource for historical data. We used November 26th, 1990 as a cut-off date, since that was the earliest data point available for some of the country indices used.
We then transformed all of this data to be on the same scale of the S&P 500, so performance can be directly compared to the common American stock market benchmark.
Comparing Markets Using the S&P 500
Alright, now that we have the same scale for each market, let's dive into the data:
| Country | Benchmark | Current Value (in S&P 500 terms) | Gain since Nov 26, 1990 |
| --- | --- | --- | --- |
| 🇺🇸 United States | S&P 500 | 3,168 | +901% |
| 🇭🇰 Hong Kong | Hang Seng Comp. | 2,926 | +824% |
| 🇩🇪 Germany | DAX 30 | 2,913 | +820% |
| 🇨🇦 Canada | S&P/TSX Comp. | 1,717 | +444% |
| 🇫🇷 France | CAC 40 | 1,160 | +268% |
| 🇬🇧 United Kingdom | FTSE 100 | 1,072 | +238% |
| 🇯🇵 Japan | Nikkei 225 | 315 | +1% |
Note: Data has been transformed to match the scale of the S&P 500, and is current as of December 13, 2019
If you invested $100 in the U.S. market on November 26, 1990, you'd have over $1,000 today.
Over nearly 30 years, the S&P 500 has increased by 901%, which is the most out any of these major indices. If you invested in the German or Hong Kong markets, you'd have fairly similar results as well — each gained more than 800% over the same time period.
Meanwhile, the markets in Canada, France, and the United Kingdom have all increased, but at a far slower pace:
In S&P 500 terms, Canada would be sitting at 1,717 — which is where the U.S. market was back in 2013.
France would be at 1,160, a mark the S&P 500 last hit in 2010.
The United Kingdom would sit at 1,072, also equivalent to 2010 for the U.S. market.
Finally, in S&P 500 terms, the Japanese stock market would be at a lowly 315 points today — roughly where it started 30 years ago. In other words, if you had invested $100 in Japanese stocks in 1990, you'd have gained just $1 over a period of three decades.
Visualizing California's GDP Compared to Countries
California's GDP makes the state one of the most powerful economies in the world. This graphic compares it to the GDP of 10 select countries.

Creator Program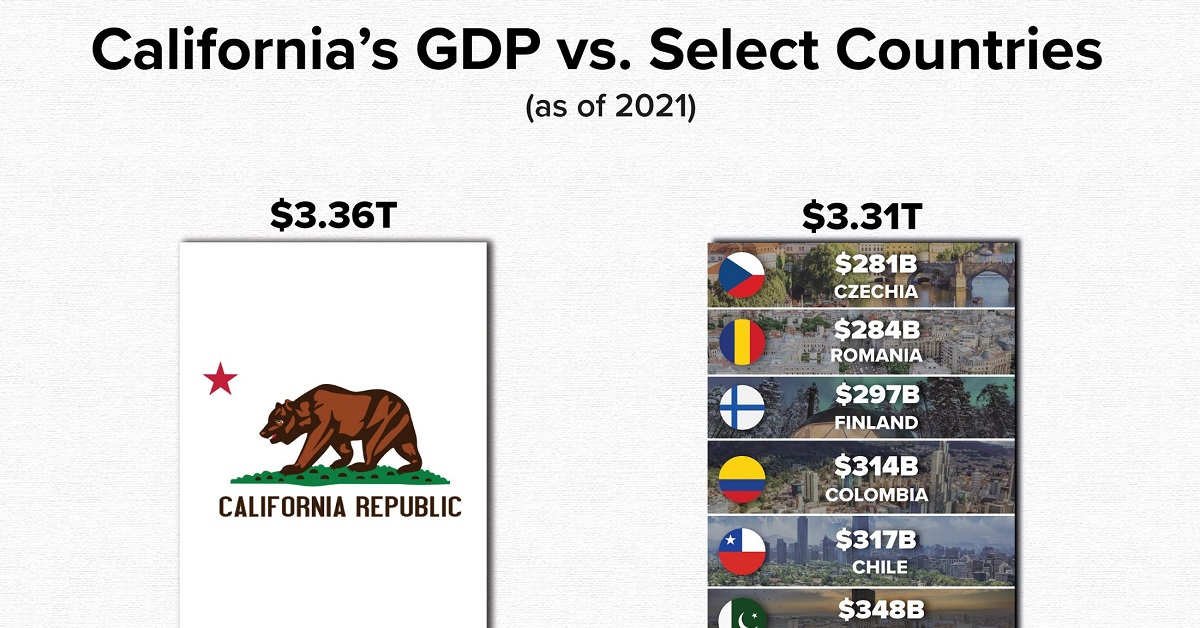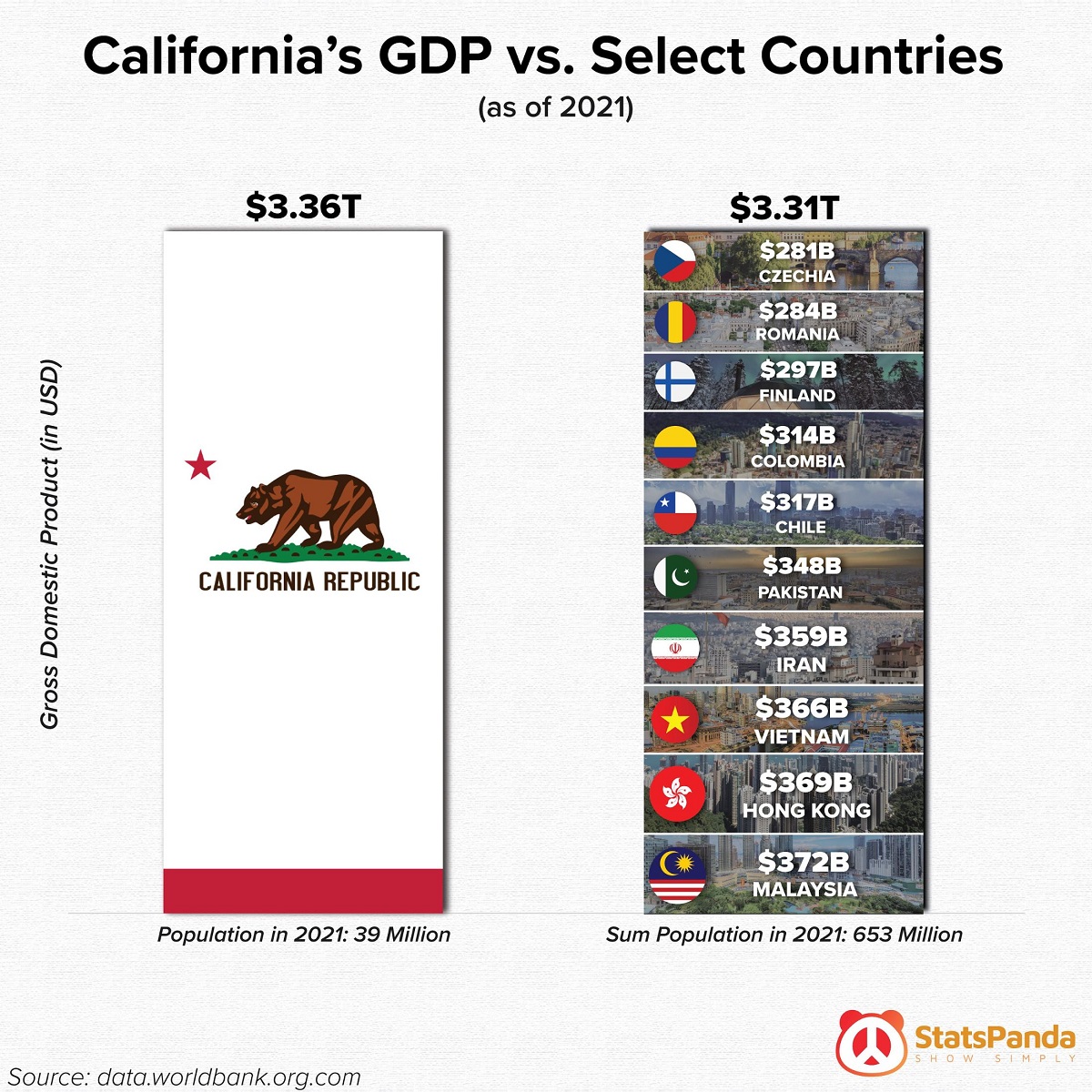 California's GDP Compared to Countries
Comedian Trevor Noah once said America is fifty little countries masquerading as one.
From an economic sense, this might carry some truth. When looking at the economic output of each state, especially the largest and wealthiest ones, they often compare to or even exceed the GDPs of entire nations.
To illustrate, this visual from StatsPanda looks at California's $3.36 trillion GDP using data from The World Bank and compares it to 10 sizable country economies. Let's take a closer look.
Sizing Up California's GDP in 2021
California's $3+ trillion GDP is an enormous figure in its own right, so it's no surprise that it is larger than certain nations' economic output.
But even when comparing with economies like Malaysia, Colombia, and Finland, all among the top 50 countries by GDP, California stands tall.
| Country | GDP (2021 USD) |
| --- | --- |
| 🇲🇾 Malaysia | $372B |
| 🇭🇰 Hong Kong | $369B |
| 🇻🇳 Vietnam | $366B |
| 🇮🇷 Iran | $359B |
| 🇵🇰 Pakistan | $348B |
| 🇨🇱 Chile | $317B |
| 🇨🇴 Colombia | $314B |
| 🇫🇮 Finland | $297B |
| 🇷🇴 Romania | $284B |
| 🇨🇿 Czechia | $281B |
| Total | $3,307B |
| California | $3,357B |
What's more, these 10 countries are quite densely populated, with a combined population of 653 million compared to California's 39 million total.
A Closer Look At California's Economy
What makes California's GDP so vast and their economy so powerful?
Relative population is a big factor, as the state is the most populous in the U.S. with roughly 12% of the country's population calling it home. But since California's GDP makes up over 15% of the country's economic output, there must be something else at work.
One key driver is the technology sector. Not only does Silicon Valley generate massive amounts of technological output, this also translates directly to wealth and economic activity. Many tech markets follow winner-take-all dynamics, bringing large revenues back to the state. In addition, smaller technology companies are frequently gobbled up by larger competitors, adding wealth back into the mix through M&A.
This might partly explain why California's GDP is actually estimated to overtake Germany's in the coming years and become the world's 4th largest economy.