Tracking Hacking: The World's Biggest Data Breaches
Each circle corresponds to the number of records lost per data breach. (Also: interactive version here)

Tracking Hacking: The World's Biggest Data Breaches
This data visualization comes to us from Information is Beautiful. Go to their site to see the highly-recommended interactive format that visualizes the same data, while providing additional details on each specific hack.
The graphic above shows a timeline of some of the biggest data breaches on record. Each bubble represents the number of records lost in any given breach, with the most sensitive data clustered toward the right side.
Before 2009, the majority of data breaches were the fault of human errors like misplaced hard drives and stolen laptops, or the efforts of "inside men" looking to make a profit by selling data to the highest bidder. Since then, the volume of malicious hacking (shown in purple) has exploded relative to other forms of data loss.
From Millions to Billions
Increasingly sophisticated hacking has altered the scale of data loss by orders of magnitude. For example, an "inside job" breach at data broker Court Ventures was once one of the world's largest single losses of records at 200 million.
However, it was eclipsed in size shortly thereafter by malicious hacks at Yahoo in 2013 and 2014 that compromised over 1.5 billion records, and now larger hacks are increasingly becoming the norm.
Small But Powerful
The problems caused by hacks, leaks and other data breaches are not just ones of scale. For example, the accidental 2016 leak of information from spam/email marketing service River City Media stands out at an alarming 1.37 billion records lost. However, sorting by data sensitivity paints a different picture. The River City leak – represented by the larger blue dot below – is surpassed in severity by hacks at Yahoo, at web design platform Weebly, and even at adult video provider Brazzers.
Much of the data lost in the River City hack was made up of long lists of consumer email addresses to be used for spam email distribution, while the other hacks listed compromised items like account passwords, banking information, addresses, phone numbers, or health records. While having your email address become the target for spam exploitation is a serious annoyance, the hacking of much more sensitive personal data has quickly become the norm.
The fact that more and more of our data is being stored "in the cloud" and among devices on the Internet of Things means that increasingly sensitive types of data are now more vulnerable than ever to being hacked. This looks to be even more cause for concern than the rapidly rising volume of records that have been exposed, whether intentionally or by accident.
Charted: What are Retail Investors Interested in Buying in 2023?
What key themes and strategies are retail investors looking at for the rest of 2023? Preview: AI is a popular choice.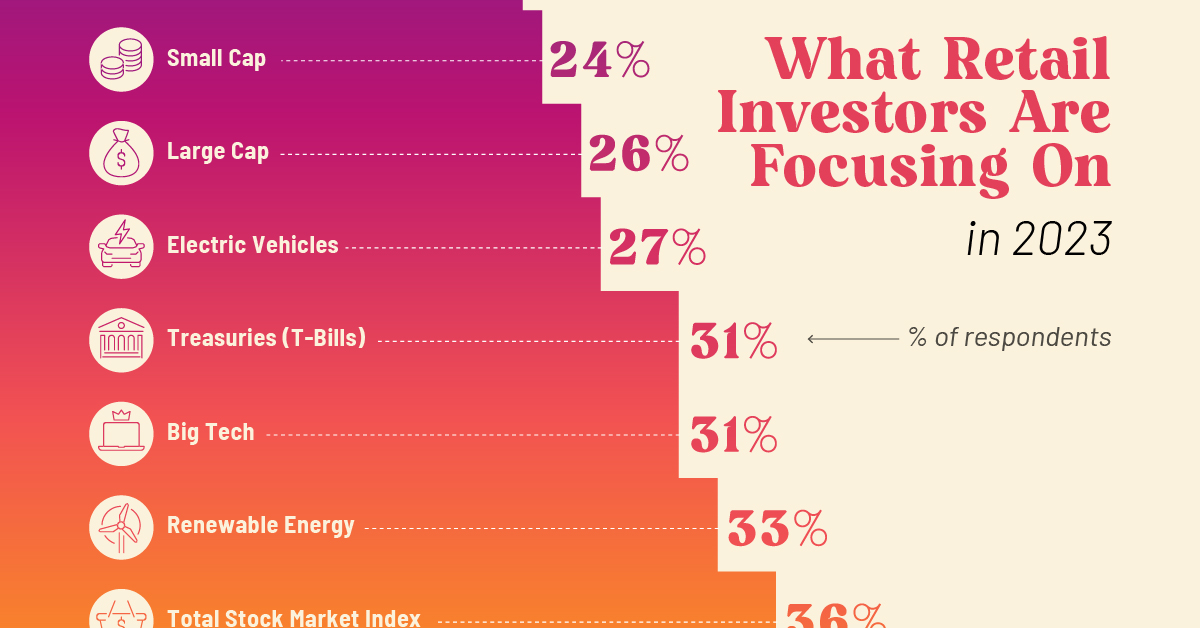 Charted: Retail Investors' Top Picks for 2023
U.S. retail investors, enticed by a brief pause in the interest rate cycle, came roaring back in the early summer. But what are their investment priorities for the second half of 2023?
We visualized the data from Public's 2023 Retail Investor Report, which surveyed 1,005 retail investors on their platform, asking "which investment strategy or themes are you interested in as part of your overall investment strategy?"
Survey respondents ticked all the options that applied to them, thus their response percentages do not sum to 100%.
Where Are Retail Investors Putting Their Money?
By far the most popular strategy for retail investors is dividend investing with 50% of the respondents selecting it as something they're interested in.
Dividends can help supplement incomes and come with tax benefits (especially for lower income investors or if the dividend is paid out into a tax-deferred account), and can be a popular choice during more inflationary times.
| Investment Strategy | Percent of Respondents |
| --- | --- |
| Dividend Investing | 50% |
| Artificial Intelligence | 36% |
| Total Stock Market Index | 36% |
| Renewable Energy | 33% |
| Big Tech | 31% |
| Treasuries (T-Bills) | 31% |
| Electric Vehicles | 27% |
| Large Cap | 26% |
| Small Cap | 24% |
| Emerging Markets | 23% |
| Real Estate | 23% |
| Gold & Precious Metals | 23% |
| Mid Cap | 19% |
| Inflation Protection | 13% |
| Commodities | 12% |
Meanwhile, the hype around AI hasn't faded, with 36% of the respondents saying they'd be interested in investing in the theme—including juggernaut chipmaker Nvidia. This is tied for second place with Total Stock Market Index investing.
Treasury Bills (30%) represent the safety anchoring of the portfolio but the ongoing climate crisis is also on investors' minds with Renewable Energy (33%) and EVs (27%) scoring fairly high on the interest list.
Commodities and Inflation-Protection stocks on the other hand have fallen out of favor.
Come on Barbie, Let's Go Party…
Another interesting takeaway pulled from the survey is how conversations about prevailing companies—or the buzz around them—are influencing trades. The platform found that public investors in Mattel increased 6.6 times after the success of the 'Barbie' movie.
Bud Light also saw a 1.5x increase in retail investors, despite receiving negative attention from their fans after the company did a beer promotion campaign with trans influencer Dylan Mulvaney.
Given the origin story of a large chunk of American retail investors revolves around GameStop and AMC, these insights aren't new, but they do reveal a persisting trend.