The World's 25 Largest Lakes, Side by Side
The World's 25 Largest Lakes, Side by Side
In many parts of the world, you don't have to look very far to find a lake.
According to satellite data, there are roughly 100 million lakes larger than one hectare (2.47 acres) to be found globally. The largest lakes, which rival the size of entire nations, are more of a rarity.
One might expect the world's largest lakes to be very alike, but from depth to saline content, their properties can be quite different. As well, the ranking of the world's largest lakes is far from static, as human activity can turn a massive body of water into a desert within a single generation.
Today's graphic – created using the fantastic online tool, Slap It On A Map! – uses the Great Lakes region as a point of comparison for the largest 25 lakes, by area. This is particularly useful in comparing the scale of lakes that are located in disparate parts of the globe.
The Greatest Lakes
The largest lake in the world by a long shot is the Caspian Sea – a name that hints at a past when it was contiguous with the ocean around 11 million years ago. This massive saline lake, which is nearly the same size as Japan, borders five countries: Kazakhstan, Russia, Turkmenistan, Azerbaijan, and Iran. An estimated 48 billion barrels of oil lay beneath the surface of the basin.
The five Great Lakes, which run along the Canada–U.S. border, form one of the largest collections of fresh water on Earth. This interconnected series of lakes represents around 20% of the world's fresh water and the region supports over 100 million people, roughly equal to one-third of the Canada–U.S. population.
Amazingly, a single lake holds as much fresh water as all the Great Lakes combined – Lake Baikal. This rift lake in Siberia has a maximum depth of 5,371ft (1,637m). For comparison, the largest of the Great Lakes (Lake Superior) is only 25% as deep, with a maximum depth of 1,333ft (406m). Lake Baikal is unique in a number of other ways too. It is the world's oldest, coldest lake, and around 80% of its animal species are endemic (not found anywhere else).
Here's a full run-down of the top 25 lakes by area:
Rank
Lake Name
Surface Area
Type
Countries on shoreline
1
Caspian Sea
143,000 sq mi
(371,000km²)
Saline
🇰🇿 Kazakhstan
🇷🇺 Russia
🇹🇲 Turkmenistan
🇦🇿 Azerbaijan
🇮🇷 Iran
2
Superior
31,700 sq mi
(82,100km²)
Freshwater
🇨🇦 Canada
🇺🇸 U.S.
3
Victoria
26,590 sq mi
(68,870km²)
Freshwater
🇺🇬 Uganda
🇰🇪 Kenya
🇹🇿 Tanzania
4
Huron
23,000 sq mi
(59,600km²)
Freshwater
🇨🇦 Canada
🇺🇸 U.S.
5
Michigan
22,000 sq mi
(58,000km²)
Freshwater
🇺🇸 U.S.
6
Tanganyika
12,600 sq mi
(32,600km²)
Freshwater
🇧🇮 Burundi
🇹🇿 Tanzania
🇿🇲 Zambia
🇨🇩 D.R.C.
7
Baikal
12,200 sq mi
(31,500km²)
Freshwater
🇷🇺 Russia
8
Great Bear Lake
12,000 sq mi
(31,000km²)
Freshwater
🇨🇦 Canada
9
Malawi
11,400 sq mi
(29,500km²)
Freshwater
🇲🇼 Malawi
🇲🇿 Mozambique
🇹🇿 Tanzania
10
Great Slave Lake
10,000 sq mi
(27,000km²)
Freshwater
🇨🇦 Canada
11
Erie
9,900 sq mi
(25,700km²)
Freshwater
🇨🇦 Canada
🇺🇸 U.S.
12
Winnipeg
9,465 sq mi
(24,514km²)
Freshwater
🇨🇦 Canada
13
Ontario
7,320 sq mi
(18,960km²)
Freshwater
🇨🇦 Canada
🇺🇸 U.S.
14
Ladoga
7,000 sq mi
(18,130km²)
Freshwater
🇷🇺 Russia
15
Balkhash
6,300 sq mi
(16,400km²)
Saline
🇰🇿 Kazakhstan
16
Vostok
4,800 sq mi
(12,500km²)
Freshwater
🇦🇶 Antarctica
17
Onega
3,700 sq mi
(9,700km²)
Freshwater
🇷🇺 Russia
18
Titicaca
3,232 sq mi
(8,372km²)
Freshwater
🇧🇴 Bolivia
🇵🇪 Peru
19
Nicaragua
3,191 sq mi
(8,264km²)
Freshwater
🇳🇮 Nicaragua
20
Athabasca
3,030 sq mi
(7,850km²)
Freshwater
🇨🇦 Canada
21
Taymyr
2,700 sq mi
(6,990km²)
Freshwater
🇷🇺 Russia
22
Turkana
2,473 sq mi
(6,405km²)
Saline
🇰🇪 Kenya
🇪🇹 Ethiopia
23
Reindeer Lake
2,440 sq mi
(6,330km²)
Freshwater
🇨🇦 Canada
24
Issyk-Kul
2,400 sq mi
(6,200km²)
Saline
🇰🇬 Kyrgyzstan
25
Urmia
2,317 sq mi
(6,001km²)
Saline
🇮🇷 Iran
The Great Lakes World Tour
For people living in Canada and the U.S., the shape and relative size of the Great Lakes system may be quite familiar. This makes the Great Lakes a fantastic point of comparison to help put the size of other world locations into perspective. To this end, we begin our Great Lakes World Tour.
First, the image below shows how the Great Lakes system would look if it was located in India.
Distortions on commonly used maps can downplay the size of India compared to more northern nations. This view of the Great Lakes can help put India's true size into perspective.
Next, we look at the Great Lakes overlaid within Central Europe.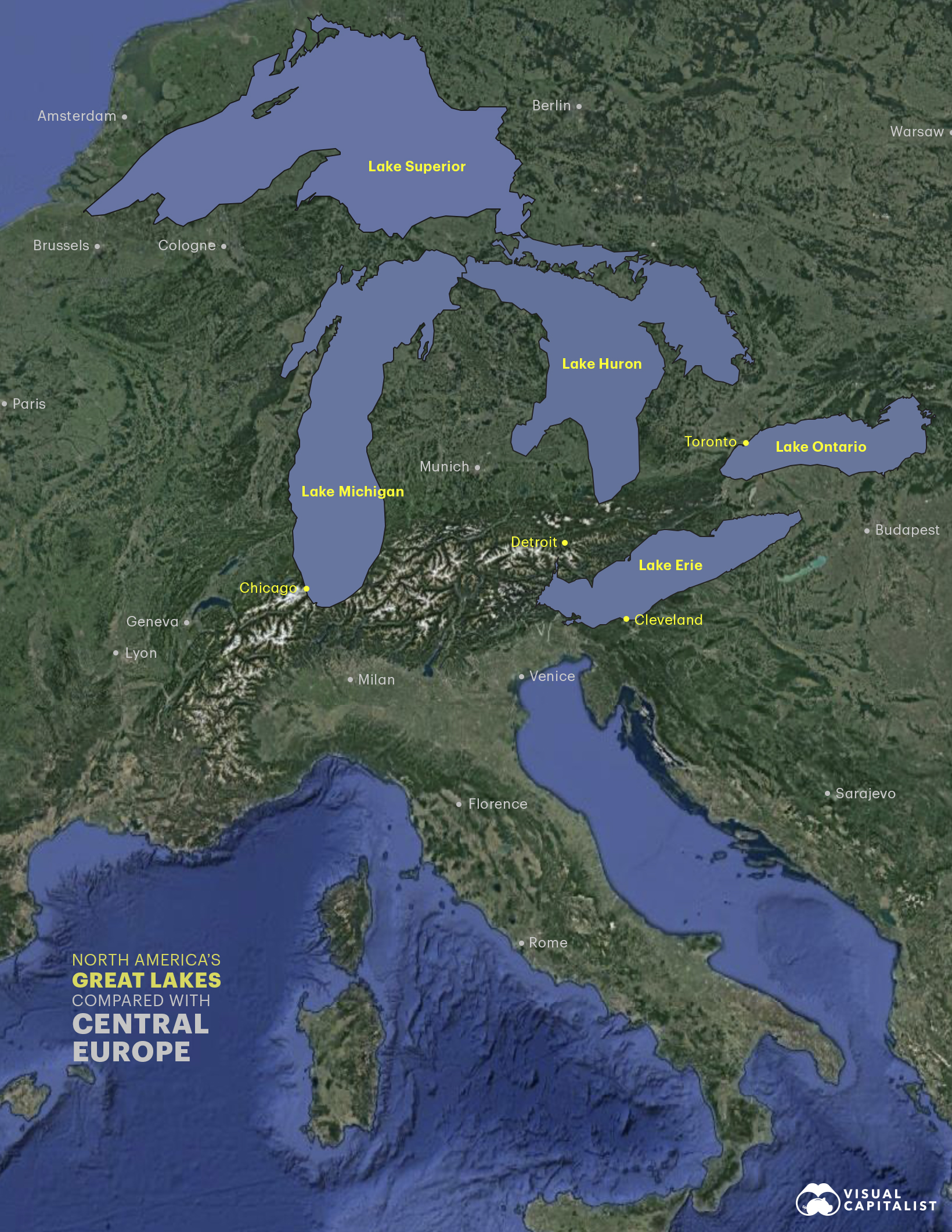 In the context of Europe, the lakes are so large that they extend from the Netherlands over to Slovakia. Lake Superior's surface area of 31,700 mi2 (82,000 km2), is similar in size to Austria. Here's are the five Great Lakes and European countries of equivalent size:
| Great Lakes | Surface Area | Equivalent Country | Area |
| --- | --- | --- | --- |
| Lake Superior | 82,000 km2 (31,700 sq mi) | 🇦🇹 Austria | 83,879 km2 (32,386 sq mi) |
| Lake Huron | 60,000 km2 (23,000 sq mi) | 🇱🇻 Latvia | 64,589 km2 (24,938 sq mi) |
| Lake Michigan | 58,000 km2 (22,300 sq mi) | 🇭🇷 Croatia | 56,594 km2 (21,851 sq mi) |
| Lake Erie | 25,700 km2 (9,910 sq mi) | 🇲🇰 North Macedonia | 25,713 km2 (9,928 sq mi) |
| Lake Ontario | 19,000 km2 (7,340 sq mi) | 🇸🇮 Slovenia | 20,271 km2 (7,827 sq mi) |
Lastly, here is a look at the Great Lakes in Southern Australia. Australia is the world's 6th largest country, so the Great Lakes only occupy one corner of its land mass.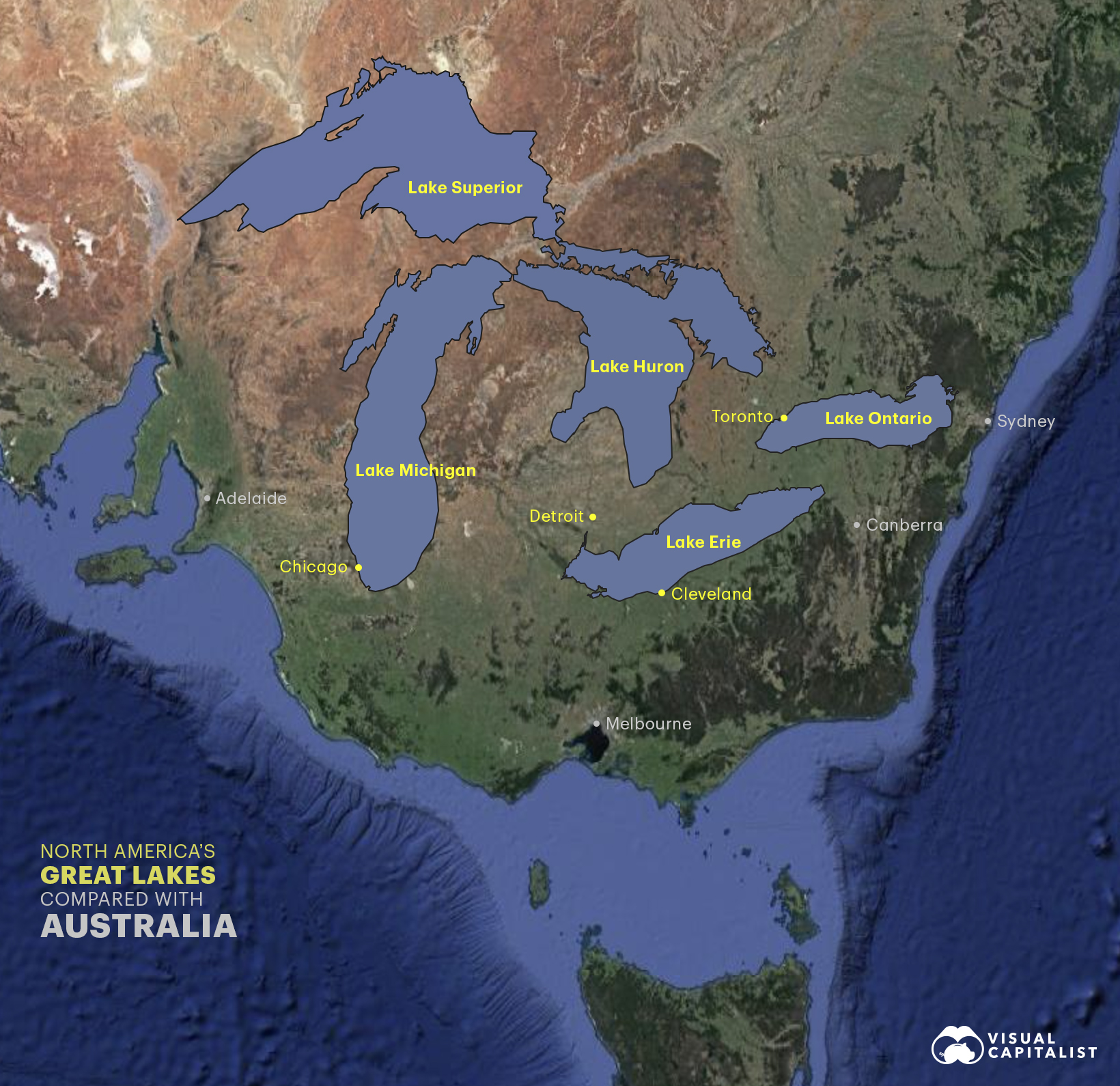 Australia's lack of glacial history means that there are few permanent freshwater lakes in the country. Many of the country's largest lakes only fill up during periods of excessive rainfall.
Shrinking out of the rankings
Not far from the world's largest lake, straddling the border between Kazakhstan and Uzbekistan, lay the sand dunes of the Aralkum Desert. In the not so distant past, this harsh environment was actually the bed of one of the largest lakes in the world – the Aral Sea.
For reasons both climatic and anthropogenic, the Aral Sea began receding in the 1960s. This dramatic change in surface area took the Aral Sea from the fourth largest lake on Earth to not even ranking in the top 50. Researchers note that the size of the lake has fluctuated a lot over history, but through the lens of modern history these recent changes happened rapidly, leaving local economies devastated and former shoreside towns landlocked.
Lake Chad, in Saharan Africa, and Lake Urmia, in Iran, both face similar challenges, shrinking dramatically in recent decades.
How we work to reverse damage and avoid ecosystem collapse in vulnerable lakes will have a big influence on how the top 25 list may look in future years.
5 Opportunities for Innovation in the Plant-Based Food Market
With the booming popularity of plant-based food, here are five innovative opportunities to reshape the industry and meet the meatless demand.
5 Opportunities for Innovation in the Plant-Based Food Market
From an increasing number of people claiming to be flexitarian to more alternatives product options hitting the shelves, the popularity of plant-based food has been skyrocketing—resulting in a consumer base that is far bigger than just vegetarians and vegans.
What's more, plant-based meat has been called the "best climate investment" of late. It's no wonder that the plant-based food market is flourishing—and it's set to grow to $162 billion by 2030.
But to meet high demand, more innovation is needed to scale up and achieve these estimates. This infographic from the Very Good Food Company (VGFC) looks at five opportunities for innovation that could reshape the plant-based food industry.
#1: Protein Sourcing
Do you know where your protein comes from? Among the commercially available plant-based protein ingredients today, a majority are made from just 2% of the 150 plant species that drive the global food supply chain.
Of these, just 12 provide 75% of the world's plant-based food. These statistics also leave out the 250,000 or more plant species that aren't utilized in agriculture today—leaving plenty of room for exploration.
Discovering new sources of plant-based proteins could help expand product offerings, potentially boosting taste as well as texture.
#2: Protein Optimization
Before plant-based proteins can be used for mass production, they must be purified and turned into a protein concentrate. This is an important step, as the way they are made significantly impacts the texture and taste of the final product.
Proteins can be broken down biologically (using enzymes), chemically, or physically. Breaking down and separating proteins has a few benefits, from making them more soluble and improving their textures, to being able to retain fat better.
As a wide variety of proteins are being utilized for plant-based meats, more research is needed to make sure they're processed optimally and efficiently.
#3: Formulation
For consumers looking to make the switch to plant-based food, how closely plant-based products resemble conventional meat can be a big draw.
Protein content typically dominates the conversation of plant-based products, but it is only one component. Fat, carbohydrates, and water equally play a role in the comparison of nutritional value and taste appeal.
For example, plant-based oils or nuts can offer substitutes for natural animal fat, while plant-based carbohydrates can come from legumes, whole grains, or starchy vegetables. Thus, the right formulation of these elements is key to creating a desirable plant-based product.
A deeper understanding of the molecular structure of conventional meat can help improve the taste, texture, and structure of plant-based alternatives.
#4: Processing
During the process of turning a plant-based product from bean to burger, these products have to be "shaped" into the appropriate forms using methods such as stretching, kneading, shear-cell processing, press forming, or extrusion.
These different methods produce unique textures and influence the nutritional value of plant-based products. But as the sources of plant-based proteins diversify, each type brings with it unique properties. This means the end result can turn out very different.
Streamlined manufacturing systems can be used to control and evaluate the production of plant-based products. Real-time monitoring and diagnostic tools help ensure that consistent and high quality textures and tastes are maintained throughout the manufacturing process of plant-based alternatives.
#5: Distribution
Compared to conventional meat, plant-based food has the opportunity to be more agile and reactive to market demands.
The COVID-19 pandemic was a clear indicator of this—as supply chain disruptions occurred across the conventional meat industry, it opened up doors for plant-based distribution to soar.
As the plant-based food market matures, consumers are seeking healthy options, more choice, and improved flavors.
Click here to learn more about how the Very Good Food Company is leading the plant-based boom with an array of great tasting products resulting from innovative research and technology.
Creating Sustainable Supply Chains in Luxury Fashion
From regenerative farming to recycled materials, here's how leaders in luxury fashion are building sustainable supply chains.
The following content is sponsored by Gucci Equilibrium.
Creating Sustainable Supply Chains in Luxury Fashion
From regenerative farming to recycled materials, leaders in luxury fashion are taking bold action to create more sustainable supply chains. As a result, companies have made strides in reducing their environmental impacts—with innovative visions for the future.
In Part 1 of the Equilibrium series, sponsored by Gucci Equilibrium, we show how sustainable practices are transforming luxury supply chains today.
The State of Sustainable Supply Chains
Leaders in luxury fashion are putting sustainability at the forefront of supply chain transformation to address the global climate and biodiversity crises. In fact, references to "sustainability" in annual reports from 15 of the largest fashion companies are now on par with financial terms.
| Number of Times Mentioned in Annual Reports | 2015 | 2016 | 2017 | 2018 | 2019 |
| --- | --- | --- | --- | --- | --- |
| "Profit", "Growth" | 2,167 | 2,329 | 2,366 | 2,711 | 2,539 |
| "Sustainable", "Sustainability" | 1,209 | 1,553 | 1,529 | 1,846 | 2,467 |
Not only are companies talking about sustainability, they are taking action to reduce their impacts across their carbon emissions, biodiversity, water use, waste production, chemical use, and pollution.
Diving deeper, the luxury fashion industry is finding new ways to reduce their impacts while increasing sustainability across their supply chains:
Sustainable sources that give back to nature: Partner with suppliers using regenerative farming practices.
Materials: Use organic, regenerative and recycled materials.
Design: Embed circularity principles and innovate.
Production: Ensure manufacturing best practices.
How are luxury fashion companies driving transformative change across their supply chains?
1. Sustainable Sourcing
One of the largest impacts linked to fashion comes from raw material production. From cotton to leather, where and how raw materials are sourced is the first step for responsible and sustainable fashion.
Here's how fashion brands are planning to improve sustainable sourcing by 2025, based on a survey of 64 respondents who oversee more than $100 billion in combined sourcing value:
| Type of Sustainable Sourcing | Description | % of Respondents |
| --- | --- | --- |
| Sustainable Materials | Planning to source the majority of their products with sustainable materials | 55% |
| Bio-Based Materials | Looking to integrate on par with recycled nylon, recycled wool and responsible wool | 45% |
| Recycled Materials | Planning to use recycled polyester from plastic waste | 75% |
| Traceability | Planning to have full traceability from fiber to store | 65% |
In short, sector-wide adoption of best practices to ensure a lower carbon footprint is at the core of sustainable supply chains.
2. Innovation
Adopting novel, low-impact solutions for materials and manufacturing is a key driver to minimizing impacts in luxury fashion. The good news is that the vast majority—38 out of 40 leading fashion companies—are looking for leather alternatives and more sustainable materials.
It's worth noting that innovating to create more sustainable manufacturing methods and eco-friendly materials can involve years of research and development. As one part of this process, chrome and metal-free tanning support more sustainable leather supply chains. This is important because they prevent the risk of chemical contamination in the local water and soil supply.
3. Training and Capacity Building
Creative designers and artisans influence many dimensions of luxury fashions' impact, including cultural, social, environmental and economic factors.
In fact, 80% of the environmental impact of a garment is determined at the design stage. To ensure the quality and longevity of luxury creations, the traditions of makers play an important role in creating sustainable designs of the future. For this reason, fashion companies have set up specialized training programs to pass on know-how and craftmanship skills to the next era of talent.
4. Supporting Women's Empowerment
Empowering women and underrepresented groups is integral to creating equitable and sustainable supply chains.
Although women make up around 80% of apparel supply chains, they receive lower pay as well as fewer opportunities for advancement than men. To tackle gender inequality, leaders in luxury fashion are working to close the gender gap and expand training for women through leadership, assertiveness, and career development training.
5. Green Financing
Suppliers and companies are utilizing green financing to achieve their environmental, social, and governance (ESG) objectives. These loans can cover a wide scope of sustainable projects, including:
Green logistics
Circular business models
Management of hazardous chemicals
Increasing gender equality in the supply chain
With millions of dollars in green loans going to hundreds of suppliers, companies are focused on making a sustainable transition possible.
Reshaping the Future
Innovation and creativity drive sustainability, offering many solutions to luxury supply chains. As a leader in sustainable luxury fashion, Gucci is delivering on its commitments by focusing on a broad range of best practices with positive impact, such as:
Sustainable Sourcing: Committed to sourcing materials from regenerative agriculture across wool, leather, cotton, silk, and linen.
Innovation: Demetra, an innovative material, combines efficient processes with animal-free raw materials that are primarily from sustainable, renewable, and bio-based materials.
Training and Capacity Building: As part of Gucci École de l'Amour, provided technical training to 461 employees in 2021.
Supporting Women's Empowerment: As part of The Women in Supply Chain Project, 129 women participated in trainings from Gucci's Italian supply chain, reaching more than 67 Gucci suppliers.
Supplier Financing: Provided $307 million in loans including green financing across 175 Italian suppliers.
Gucci is playing an important role in supporting sustainability in luxury supply chains.
Download the 2021 Gucci Equilibrium Impact Report to discover more.
In part two of the Equilibrium Series, we look at how luxury fashion is driving positive impact on supporting gender equality.