The World Population in 2100, by Country
The World Population in 2100, by Country
In 2015, the United Nations predicted that the global population could surpass 11 billion by the end of the century.
Last year, the UN revised these estimates, but the numbers it came up with were still well above 10 billion. These regular projections from the UN have been the status quo—until now.
Plenty of signs have pointed to there being a population plateau, but recent research from the Institute for Health Metrics and Evaluation (IHME), published in The Lancet, suggests that the number of people on this planet may actually start to shrink well before the year 2100.
Here's a closer look at these complex projections.
UN vs. IHME Population Estimates
According to the UN, the world population is set to steadily rise over the years:
2030: 8.5 billion
2050: 9.7 billion
2100: 10.9 billion
In contrast, IHME paints a different picture. It projects the population to actually peak at 9.7 billion in 2064. Following this trajectory, there could be 8.8 billion people in 2100, approximately 2 billion fewer than previously thought.
Various demographic factors are behind these differences—higher life expectancies, migration rates, and lower fertility rates. For this last factor, independent drivers including contraceptive access and higher educational attainment were also considered.
A shifting age structure is also a key aspect of this transition. By 2100, over a quarter of the world or nearly 2.37 billion will be aged 65 years and above.
The Most Populous Countries in 2100
Amid all these demographic sea changes, which countries will come out on top?
Despite an overall decline in numbers to 1.09 billion people in 2100, India moves up from second to first place on the population leaderboard.
| Rank | Country | Population (2017) | Rank | Country | Population (2100E) |
| --- | --- | --- | --- | --- | --- |
| #1 | 🇨🇳 China | 1.4B | #1 | 🇮🇳 India | 1.09B |
| #2 | 🇮🇳 India | 1.38B | #2 | 🇳🇬 Nigeria | 791M |
| #3 | 🇺🇸 U.S. | 325M | #3 | 🇨🇳 China | 732M |
| #4 | 🇮🇩 Indonesia | 258M | #4 | 🇺🇸 U.S. | 336M |
| #5 | 🇵🇰 Pakistan | 214M | #5 | 🇵🇰 Pakistan | 248M |
| #6 | 🇧🇷 Brazil | 212M | #6 | 🇨🇩 DR Congo | 246M |
| #7 | 🇳🇬 Nigeria | 206M | #7 | 🇮🇩 Indonesia | 229M |
| #8 | 🇧🇩 Bangladesh | 157M | #8 | 🇪🇹 Ethiopia | 223M |
| #9 | 🇷🇺 Russia | 146M | #9 | 🇪🇬 Egypt | 199M |
| #10 | 🇯🇵 Japan | 128M | #10 | 🇹🇿 Tanzania | 186M |
The populations of both India and China will begin to contract after the mid-century—and it's predicted that China's total population will drop by almost half to 732 million by 2100.
Led by Nigeria, Sub-Saharan Africa is the only region that will continue to see growth by century's end. In fact, four of the top 10 countries in the world in terms of population count will be located in Sub-Saharan Africa.
Tightly Packed Together
One final thing to consider is how population density may look in 2100, with many more people clustered in the same areas. For example, Nigeria is dealing with a land area nearly 11 times smaller than the U.S.—but it will have more than double the population.
| Country | 2100 Pop. | Area (Millions, km²/mi²) | Population Density per km² (mi²) |
| --- | --- | --- | --- |
| 🇳🇬 Nigeria | 791M | 0.92M km² (0.36M mi²) | 856.3 (2217.7) |
| 🇮🇳 India | 1.09B | 3.29M km² (1.27M mi²) | 331.6 (858.8) |
| 🇵🇰 Pakistan | 248M | 0.88M km² (0.34M mi²) | 281.2 (728.3) |
| 🇪🇹 Ethiopia | 223M | 1.10M km² (0.42M mi²) | 202.7 (531.0) |
| 🇪🇬 Egypt | 199M | 1.01M km² (0.39M mi²) | 197.0 (510.1) |
| 🇹🇿 Tanzania | 186M | 0.95M km² (0.37M mi²) | 196.3 (508.5) |
| 🇮🇩 Indonesia | 229M | 1.90M km² (0.74M mi²) | 120.2 (311.4) |
| 🇨🇩 DR Congo | 246M | 2.35M km² (0.91M mi²) | 104.9 (271.7) |
| 🇨🇳 China | 732M | 9.60M km² (3.70M mi²) | 76.3 (197.8) |
| 🇺🇸 U.S. | 336M | 9.83M km² (3.80M mi²) | 34.2 (88.5) |
Regardless of how the future population count shakes out, it's clear that these heavyweight countries will undergo significant transformation in the coming decades.

Animated Map: The Comparative Might of Continents
We've come a long way since Pangea. This short video examines the area, population, and GDP of our continents as a share of the world's total.
Animated Map: The Comparative Might of Continents
We've come quite a long way since the time of Pangea. Today, the world's continents are home to over 7.8 billion people, and each one is unique in its own way.
This video from the data visualization tool Vizzu compares the surface area, population, and GDP of the continents—all in terms of their contribution to the world's total. Let's dive further into the results of each category.
Click through to source to see the country breakdowns. Antarctica has been excluded from these calculations.
Surface Area: Does Size Matter?
When it comes to sheer land mass, Asia emerges on top with over one-third of the global surface area. On that front, it certainly has a little help from the combined forces of Russia and China, even as the former overlaps Eastern Europe as well.
| Rank | Region | Share of Global Surface Area | Largest Country |
| --- | --- | --- | --- |
| #1 | Asia | 36.5% | 🇷🇺 Russia |
| #2 | Africa | 22.3% | 🇩🇿 Algeria |
| #3 | North America | 17.1% | 🇨🇦 Canada |
| #4 | South America | 13.2% | 🇧🇷 Brazil |
| #5 | Oceania | 6.4% | 🇦🇺 Australia |
| #6 | Europe | 4.6% | 🇷🇺 Russia |
Africa comes in second, but doesn't lag behind by much. A stone's throw from Europe, Algeria is the largest country on the continent—and the 10th largest in the world.
Failing to grasp the true size of Africa is a common mental mistake, as many maps systematically underestimate its scale. The continent could easily fit the entirety of China, India, the U.S., and multiple European countries within its borders.
Population: Packing People Together
Another way to look at things is in terms of the number of inhabitants in each region. Asia is once again on top, with almost two-thirds of the world squeezed onto the continent.
| Rank | Region | Share of Global Population | Most Populous Country |
| --- | --- | --- | --- |
| #1 | Asia | 61.8% | 🇨🇳 China |
| #2 | Africa | 16.1% | 🇳🇬 Nigeria |
| #3 | Europe | 8.2% | 🇷🇺 Russia |
| #4 | North America | 7.7% | 🇺🇸 U.S. |
| #5 | South America | 5.6% | 🇧🇷 Brazil |
| #6 | Oceania | 0.5% | 🇦🇺 Australia |
Asia's lead in population is impressive, but it's a margin that is unlikely to last forever.
By the year 2100—new estimates show the populations India and China could start to dip. Meanwhile Nigeria, which is already Africa's most populous country with near 196 million people, could potentially quadruple in numbers in the same time frame.
In this metric, Europe also rises to third place. This is thanks again to the approximately 146 million people within Russia. However, if only the countries located completely within the continent are considered, Germany's population of nearly 84 million would win out.
GDP: Emerging Wealth Overtakes
Finally, economic output—measured in terms of Gross Domestic Product (GDP)—is the most common way to assess the relative prosperity of countries and continents.
At this, the U.S. dominates with $21.4T according to the World Bank, though it swaps places with China which boasts $23.5T when adjusted for purchasing power parity (PPP).
| Rank | Region | Share of Global GDP | Richest Country (both nominal and PPP) |
| --- | --- | --- | --- |
| #1 | Asia | 36.9% | 🇨🇳 China |
| #2 | North America | 28.9% | 🇺🇸 U.S. |
| #3 | Europe | 23.9% | 🇩🇪 Germany |
| #4 | South America | 5.1% | 🇧🇷 Brazil |
| #5 | Africa | 3.1% | 🇳🇬 Nigeria |
| #6 | Oceania | 2.1% | 🇦🇺 Australia |
Source: World Bank for both GDP Nominal and PPP, 2019.
Global wealth share drops sharply between Europe and South America, though it's worth noting that rising inequality is also hidden under the surface within many high-income regions.
In terms of overall GDP, the Asian continent makes up the lion's share. Asia is also home to many of the world's emerging markets—which means there may be an even more pronounced shift of wealth towards the East in coming decades.

3D Mapping The Largest Population Density Centers
What does population density look like on a global scale? These detailed 3D renders illustrate our biggest urban areas and highlight population trends.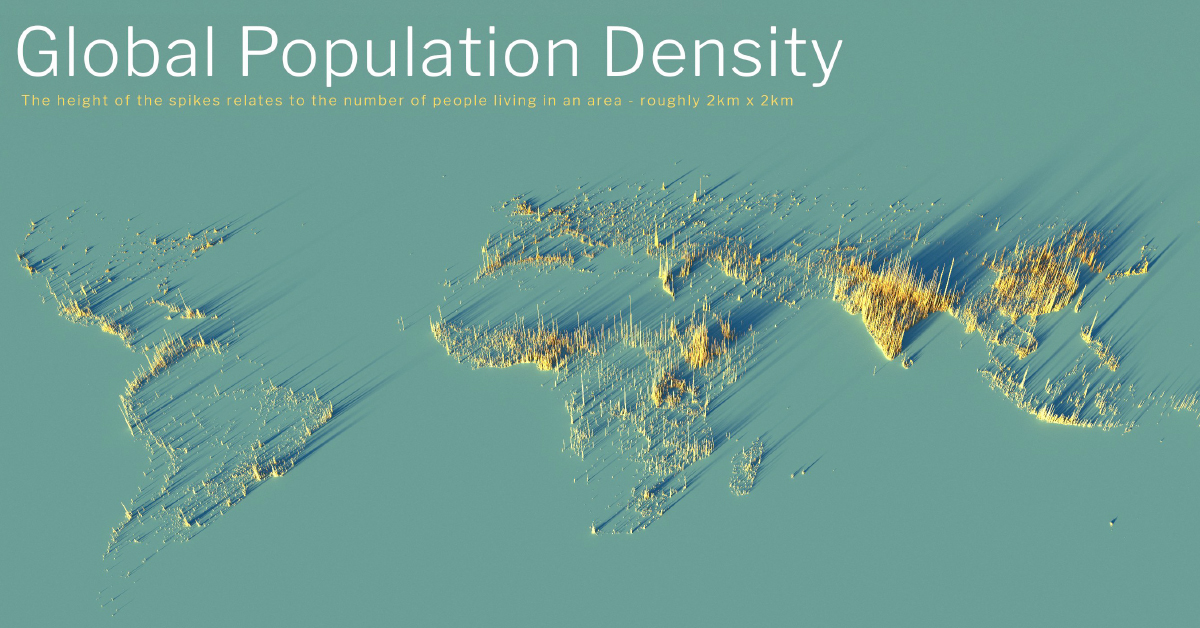 A 3D Look at the Largest Population Density Centers
It can be difficult to comprehend the true sizes of megacities, or the global spread of nearly 7.8 billion people, but this series of population density maps makes the picture abundantly clear.
Created using the EU's population density data and mapping tool Aerialod by Alasdair Rae, the 3D-rendered maps highlight demographic trends and geographic constraints.
Though they appear topographical and even resemble urban areas, the maps visualize population density in squares. The height of each bar represents the number of people living in that specific square, with the global map displaying 2km x 2km squares and subsequent maps displaying 1km x 1km squares.
Each region and country tells its own demographic story, but the largest population clusters are especially illuminating.
China vs U.S. — Clusters vs Sprawl
Click here to view the high resolution version.
Zooming into the most populated country in the world, China and its surrounding neighbors demonstrate massive clusters of urbanization.
Most people are familiar with the large density centers around Hong Kong, Guangzhou, and Shanghai, but the concentration in central China is surprising. The cities of Chengdu and Chonqing, in the Sichuan Basin, are part of a massive population center.
Interestingly, more than 93% of China's population lives in the Eastern half of the country. It's a similar story in neighboring South Korea and Taiwan, where the population is clustered along the west coasts.
Click here to view the high resolution version.
The U.S. also has large population clusters along the coasts, but far more sprawl compared to its Asian counterparts. Though the Boston-Washington corridor is home to over 50 million residents, major centers spread out the population across the South and the Midwest.
Clearly visible are clusters in Florida (and not exclusively focused around Miami like some might believe), Illinois, Georgia, and Texas. The population is sparse in the West as expected, but California's Los Angeles and Bay Area metros make up for the discrepancy and are just behind New York City's density spikes in height.
India & Southeast Asia — Massive Density in Tight Areas
Click here to view the high resolution version.
At 1.38 billion people, India's population is just behind China's in terms of size. However, this sizable population fits into an area just one-third of China's total land area, with the above map demonstrating what the same amount of people looks like in a smaller region.
On one hand, you still have clear clusters, such as in Mumbai, New Delhi, Kolkata, and Bangladesh's Dhaka. On the other, there is a finite amount of room for a massive amount of people, so those density "spikes" are more like density "peaks" with the entire country covered in high density bars.
However, we can still see geographic trends. India's population is more densely focused in the North before fading into the Himalayas. Bangladesh is equally if not more densely populated, with the exception of the protected Sundarbans mangrove forest along the coast. And Pakistan's population seen in the distance is clustered along the Indus River.
Click here to view the high resolution version.
Geographic constraints have always been the biggest deciding factor when it comes to population density, and nowhere is this more apparent than Southeast Asia.
Take Indonesia, the fourth largest country by population. Despite spanning across many islands, more than half of the country's 269 million inhabitants are clustered on the single island of Java. The metros of Jakarta and Surabaya have experienced massive growth, but spreading that growth across oceans to entirely new islands (covered by rainforests) is a tall order.
When the distance is smaller, that cross-water growth is more likely to occur. Nearby in the Philippines, more than 100 million people have densely populated a series of islands no bigger than the state of Arizona.
Indeed, despite being one of the most populated areas in the world, each country in Southeast Asia has had its own growing problems. Some are limited by space (Singapore, Philippines), while others are limited by forests (Thailand, Vietnam).
A World of Different Density Pictures
Though the above maps cover the five most populated countries on Earth, accounting for nearly half of the world's population, they only show a small part of the global picture.
As the full global density map at the top of the page highlights, the population patterns can accurately illustrate some geographic patterns and constraints, while others need further exploration. For example, the map clearly gives an outline of Africa and the sparse area that makes up the Sahara Desert. At the same time, landmasses like Australia and New Zealand are almost invisible save for a few clusters along the coast.
To get a closer and more intricate picture of each country's density map, head to Alasdair Rae's long thread of rendered maps and start scrolling up to find yours!