Why Didn't Apple Use Sapphire Glass in the iPhone 6?
Why Didn't Apple Use Sapphire Glass in the iPhone 6?
It is a longstanding tradition for the rumour mill to heat up before a highly anticipated Apple product launch. With each event getting more attention than the previous, it is no surprise that sometimes the hype gets out of hand.
This has led to a new tradition: the entire internet griping about which rumours and leaks that Apple was unable to fulfill with their latest product.
The case was no different for the iPhone 6 and iPhone 6 Plus launch yesterday at the Flint Center in Cupertino. Prior to launch, the most persistent buzz about the iPhone 6 was that it would be the first major smartphone to adopt sapphire glass displays rather than use Gorilla Glass, the industry standard.
However, as the launch got closer and closer, it became more and more doubtful that sapphire glass would be used – even despite Apple's $578 million investment in producing the material. Reports were that the Arizona plant was still slow to ramp up, and it also surfaced that supply chain insiders had not seen enough orders go through.
So why didn't Apple use sapphire glass in the iPhone 6?
The first reason has to do with the sapphire glass itself. While the material is almost as hard to scratch as a diamond, it turns out that any small impurity in the material can severely compromise its structural integrity. GT Advanced Technologies, the maker that Apple has partnered with, would have had to ramp up production to unprecedented levels while producing flawless material for an estimated 80 million iPhones.
What makes this even more difficult is the way that synthetic sapphires are made. To grow each crystal, aluminum oxide must be heated to 3,700°F in a controlled furnace. Then, the crystal is grown out in a boule and cut with diamond-laced saws. This is a very intricate and involving process, which is much more difficult to ramp up than an industrial scale glass operation such as that of Corning and its Gorilla Glass.
The second big reason that made sapphire glass difficult to integrate within a short timeline is that the economies of scale are not yet there to make the price worthwhile for Apple customers. There are multiple estimates on the price differential, but one estimate puts sapphire as 10x more expensive than Gorilla Glass.
That could be brought down significantly with streamlined production, likely to at least the 3-4x range. In any case, to keep the same margins Apple has, the cost would have to be passed to the customer. Is it worth $100+ to the end user to have more scratch resistant glass?
Maybe some would agree, but Apple believes that it definitely wasn't worth the risk just yet.
Who Owns the Most Satellites?
Despite Starlink's dominance in the industry, the company is set to face intense competition in the coming years.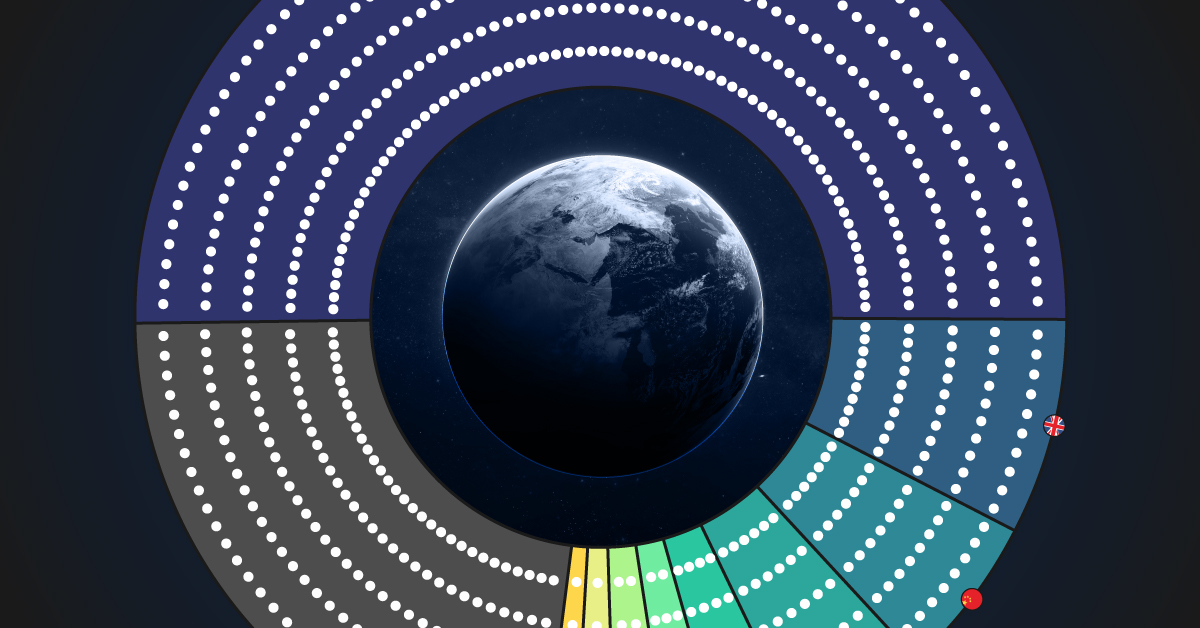 Who Owns the Most Satellites?
Nearly 7,000 satellites orbit the Earth, serving vital functions such as communication, navigation, and scientific research.
In 2022 alone, more than 150 launches took place, sending new instruments into space, with many more expected over the next decade.
But who owns these objects? In this graphic, we utilize data from the Union of Concerned Scientists to highlight the leaders in satellite technology.
SpaceX's Dominance in Space
SpaceX, led by Elon Musk, is unquestionably the industry leader, currently operating the largest fleet of satellites in orbit—about 50% of the global total.
The company has already completed 62 missions this year, surpassing any other company or nation, and operates thousands of internet-beaming Starlink spacecraft that provide global internet connectivity.
Starlink customers receive a small satellite dish that self-orients itself to align with Starlink's low-Earth-orbit satellites.
| Owner | Total | Share | Country |
| --- | --- | --- | --- |
| SpaceX | 3,395 | 50% | USA |
| OneWeb Satellites | 502 | 7% | UK |
| Chinese Government | 369 | 5% | China |
| U.S. Government | 306 | 4% | USA |
| Planet Labs, Inc. | 195 | 3% | USA |
| Russian Federation | 137 | 2% | Russia |
| Spire Global Inc. | 127 | 2% | USA |
| Swarm Technologies | 84 | 1% | USA |
| Iridium Communications, Inc. | 75 | 1% | USA |
| Other | 1,528 | 23% | |
Percentages may not add to 100 due to rounding

.
In second place is a lesser-known company, British OneWeb Satellites. The company, headquartered in London, counts the UK government among its investors and provides high-speed internet services to governments, businesses, and communities.
Like many other satellite operators, OneWeb relies on SpaceX to launch its satellites.
Despite Starlink's dominance in the industry, the company is set to face intense competition in the coming years. Amazon's Project Kuiper plans to deploy 3,236 satellites by 2029 to compete with SpaceX's network. The first of the fleet could launch as early as 2024.
The Rise of China's Space Program
After the top private companies, governments also own a significant portion of satellites orbiting the Earth. The U.S. remains the leader in total satellites, when adding those owned by both companies and government agencies together.
American expenditures on space programs reached $62 billion in 2022, five times more than the second one, China.
China, however, has sped up its space program over the last 20 years and currently has the highest number of satellites in orbit belonging directly to government agencies. Most of these are used for Earth observation, communications, defense, and technology development.
Satellite Demand to Rise Over the Decade
Despite the internet being taken for granted in major metropolitan areas and developed countries, one out of every three people worldwide has never used the web.
Furthermore, the increasing demand for data and the emergence of new, more cost-effective satellite technologies are expected to present significant opportunities for private space companies.
In this context, satellite demand is projected to quadruple over the next decade.