What's Made from a Barrel of Oil?

Subscribe to the Elements free mailing list for more like this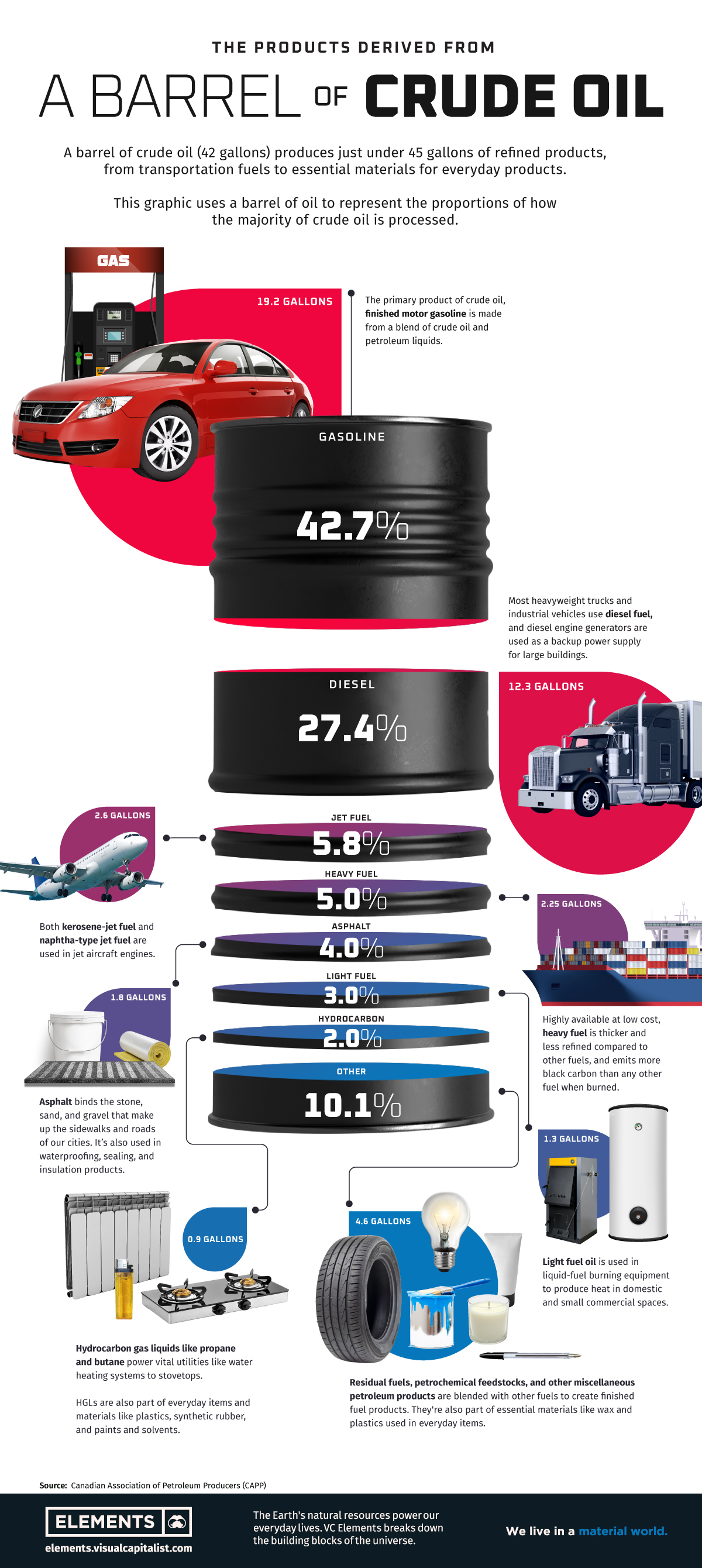 What Products Are Made from a Barrel of Oil?
This was originally posted on Elements. Sign up to the free mailing list to get beautiful visualizations on natural resource megatrends in your email every week.
From the gasoline in our cars to the plastic in countless everyday items, crude oil is an essential raw material that shows up everywhere in our lives.
With around 18 million barrels of crude oil consumed every day just in America, this commodity powers transport, utilities, and is a vital ingredient in many of the things we use on a daily basis.
This graphic visualizes how much crude oil is refined into various finished products, using a barrel of oil to represent the proportional breakdown.
Barrel of Oil to Functional Fuel and More
Crude oil is primarily refined into various types of fuels to power transport and vital utilities. More than 85% of crude oil is refined into fuels like gasoline, diesel, and hydrocarbon gas liquids (HGLs) like propane and butane.
Along with being fuels for transportation, heating, and cooking, HGLs are used as feedstock for the production of chemicals, plastics, and synthetic rubber, and as additives for motor gasoline production.
| Refined Crude Oil Product | Share of Crude Oil Refined |
| --- | --- |
| Gasoline | 42.7% |
| Diesel | 27.4% |
| Jet fuel | 5.8% |
| Heavy fuel | 5.0% |
| Asphalt | 4.0% |
| Light fuel | 3.0% |
| Hydrocarbon gas liquids | 2.0% |
| Other | 10.1% |
Source: Canadian Association of Petroleum Producers
Crude oil not only powers our vehicles, but it also helps pave the roads we drive on. About 4% of refined crude oil becomes asphalt, which is used to make concrete and different kinds of sealing and insulation products.
Although transportation and utility fuels dominate a large proportion of refined products, essential everyday materials like wax and plastic are also dependent on crude oil. With about 10% of refined products used to make plastics, cosmetics, and textiles, a barrel of crude oil can produce a variety of unexpected everyday products.
Personal care products like cosmetics and shampoo are made using petroleum products, as are medical supplies like IV bags and pharmaceuticals. Modern life would look very different without crude oil.
The Process of Refining Crude Oil
You might have noticed that while a barrel of oil contains 42 gallons, it ends up producing 45 gallons of refined products. This is because the majority of refined products have a lower density than crude oil, resulting in an increase in volume that is called processing gain.
Along with this, there are other inputs aside from crude oil that are used in the refining process. While crude oil is the primary input, fuel ethanol, hydrocarbon gas liquids, and other blending liquids are also used.
| U.S. Refiner and Blender Inputs | Share of Total |
| --- | --- |
| Crude oil | 85.4% |
| Fuel ethanol | 4.8% |
| Blending components | 3.5% |
| Hydrocarbon gas liquids | 3.0% |
| Other liquids | 3.3% |
Source: EIA
The process of refining a 30,000-barrel batch of crude oil typically takes between 12-24 hours, with refineries operating 24 hours a day, 365 days a year. Although the proportions of individual refined products can vary depending on market demand and other factors, the majority of crude oil will continue to become fuel for the world's transport and utilities.
The Difficulty of Cutting Down on Crude Oil
From the burning of heavy fuels that tarnish icebergs found in Arctic waters to the mounds of plastic made with petrochemicals that end up in our rivers, each barrel of oil and its refined products impact our environment in many different ways.
But even as the world works to reduce its consumption of fossil fuels in order to reach climate goals, a world without crude oil seems unfathomable.
Skyrocketing sales of EVs still haven't managed to curb petroleum consumption in places like Norway, California, and China, and the steady reopening of travel and the economy will only result in increased petroleum consumption.
Completely replacing the multi-faceted "black gold" that's in a barrel of oil isn't possible right now, but as electrification continues and we find alternatives to petrochemical materials, humanity might at least manage to reduce its dependence on burning fossil fuels.
The Top 10 Biggest Companies in Brazil
What drives some of the world's emerging economies? From natural resources to giant banks, here are the top 10 biggest companies in Brazil.
The Top 10 Biggest Companies in Brazil
In 2009, the at-the-time emerging economies of Brazil, Russia, India, and China held their first formal summits as members of BRIC (with South Africa joining in 2010).
Together, BRICS represents 26.7% of the world's land surface and 41.5% of its population. By GDP ranking, they're also some of the most powerful economies in the world.
But what drives their economies? We're highlighting the top 10 biggest companies in each country, starting with Brazil.
What Are the Biggest Public Companies in Brazil?
Brazil isn't just one of the largest and most diverse countries in the world, it is also an economic powerhouse.
With over 213 million people, Brazil is the sixth most populous country on Earth and the largest in Latin America. It's also the wealthiest on the continent, with the world's 12th-largest economy.
Once a colony focused on sugar and gold, Brazil rapidly industrialized in the 20th century. Today, it is a top 10 exporter of industrial steel, with the country's economic strength coming chiefly from natural resources and financials.
Here are Brazil's biggest public companies by market capitalization in October 2021:
| Top 10 Companies (October 2021) | Category | Market Cap (USD) |
| --- | --- | --- |
| Vale | Metals and Mining | $73.03B |
| Petróleo Brasileiro | Oil and Gas | $69.84B |
| Ambev | Drinks | $43.87B |
| Itaú Unibanco | Financial | $41.65B |
| Banco Bradesco | Financial | $34.16B |
| WEG | Industrial Engineering | $29.43B |
| BTG Pactual | Financial | $25.01B |
| Banco Santander Brasil | Financial | $24.70B |
| Rede D'Or Sao Luiz | Hospital | $23.79B |
| XP Inc. | Financial | $22.45B |
At the top of the ranking is Vale, a metals and mining giant that is the world's largest producer of iron ore and nickel. Also the operator of infrastructure including hydroelectricity plants, railroads, and ports, It consistently ranks as the most valuable company in Latin America.
Vale and second-ranking company Petróleo Brasileiro, Brazil's largest oil producer, were former state-owned corporations that became privatized in the 1990s.
Finance in Brazil's Top 10 Biggest Companies
Other than former monopolies, the top 10 biggest companies in Brazil highlight the power of the banking sector.
Five of the 10 companies with a market cap above $20 billion are in the financial industry.
They include Itaú Unibanco, the largest bank in the Southern Hemisphere, and Banco Santander Brasil, the Brazilian subsidiary of Spanish finance corp.
Another well-known subsidiary is brewing company Ambev, which produces the majority of the country's liquors and also bottles and distributes PepsiCo products in much of Latin America. Ambev is an important piece of Belgian drink juggernaut Anheuser-Busch InBev, which is one of the world's largest 100 companies.
Noticeably missing from the top 10 list are companies in the agriculture sector, as Brazil is the world's largest exporter of coffee, soybeans, beef, and ethanol. Many multinational corporations have Brazilian subsidiaries or partners for supply chain access, which has recently put a spotlight on Amazon deforestation.
What other companies or industries do you associate with Brazil?
Correction: Two companies listed had errors in their market cap calculations and have been updated. All data is as of October 11, 2021.
Which Countries Have the Most Nuclear Weapons?
How big is the world's nuclear arsenal? Here are the stockpiles of the nine countries with nuclear weapons.
Which Countries Have the Most Nuclear Weapons?
In theory, nuclear weapon stockpiles are closely held national secrets. The leading countries have rough estimates that aren't regularly updated, newly nuclear countries keep their capabilities vague and unclear, and Israel has never officially confirmed a nuclear weapons program.
But thanks to limited disclosures, records, and leaks, we can visualize the full extent* of the world's nuclear arsenal. This graphic uses estimated nuclear warhead inventories from the Federation of American Scientists as of August 2021.
Based on these estimates, there are just nine countries with nuclear weapons in the world.
Editor's note: Exact numbers of nuclear warheads possessed by countries are closely guarded state secrets, with the FAS estimate being the closest, most-used, and most-trusted international approximation available.
Nuclear Weapons, by Country
The nuclear arms race has always centered around the U.S. and Russia.
After the end of World War II and well into the Cold War, the world's two superpowers raced to build more nuclear weapons (and more capable nuclear weapons) than the other.
Even while international organizations lobbied for the end of nuclear proliferation, the world's nuclear weapon stockpile grew to a peak of 70,300 total warheads in 1986.
As arms agreements and non-proliferation treaties started to gain greater momentum, the U.S. and Russia cut back on stockpiles while new countries with nuclear weapons started to pop up.
| Country | Total Warheads (2021) | % of Total |
| --- | --- | --- |
| 🇷🇺 Russia | 6,257 | 47.7% |
| 🇺🇸 U.S. | 5,550 | 42.3% |
| 🇨🇳 China | 350 | 2.67% |
| 🇫🇷 France | 290 | 2.21% |
| 🇬🇧 UK | 225 | 1.71% |
| 🇵🇰 Pakistan | 165 | 1.26% |
| 🇮🇳 India | 160 | 1.22% |
| 🇮🇱 Israel | 90 | 0.69% |
| 🇰🇵 North Korea | 45 | 0.34% |
Despite reducing their stockpiles significantly since the end of the Cold War, Russia and the U.S. still own around 90% of all nuclear warheads in the world.
Far behind them are China and France, which started testing nuclear weapons in 1964 and 1960 respectively. The UK has the fifth-most nuclear weapons today, though it was the third country in the world to develop them after the U.S. and Russia in 1952.
The countries with fewer than 200 nuclear weapons are regional rivals India and Pakistan, which first tested nuclear weapons in the 1970s, and North Korea, which began to operate uranium fabrication plants and conduct explosive tests in the 1980s.
Israel is also estimated to have fewer than 200 nuclear weapons, and reports have its weapons program dating back to the 1960s. However, the country has never confirmed or announced its nuclear capabilities.
Countries With Nuclear Weapons, by Warhead Status
Though the world has 13,132 nuclear weapons, that doesn't mean they're all ready to fire.
Weapons (or "warheads") are delivered by missile, and countries don't keep all of their nuclear warheads primed for use. The estimation of nuclear stockpiles also clarifies whether warheads are considered deployed, reserved, or retired:
Deployed warheads are deployed on intercontinental missiles, at heavy bomber bases, and on bases with operational short-range delivery systems.
Reserve warheads are in storage and not deployed on launchers.
Retired warheads are still intact but in queue for dismantlement.
| Country | Deployed Warheads | Reserve Warheads | Retired Warheads |
| --- | --- | --- | --- |
| 🇷🇺 Russia | 1,600 | 2,897 | 1,760 |
| 🇺🇸 U.S. | 1,800 | 2,000 | 1,750 |
| 🇨🇳 China | 0 | 350 | 0 |
| 🇫🇷 France | 280 | 10 | 0 |
| 🇬🇧 UK | 120 | 105 | 0 |
| 🇵🇰 Pakistan | 0 | 165 | 0 |
| 🇮🇳 India | 0 | 160 | 0 |
| 🇮🇱 Israel | 0 | 90 | 0 |
| 🇰🇵 North Korea | 0 | 45 | 0 |
Only four countries have officially deployed warheads, while the majority of the world's nuclear stockpile is in reserve. This is partially due to estimates ranging from relatively transparent in the case of the U.S. to opaque and uncertain for countries like China and North Korea.
But some countries are expected to further bolster their stockpiles. The UK government announced it would increase its stockpile to no more than 260 warheads, and U.S. intelligence expects China, India, and Pakistan to increase their stockpiles.
Though the world's nuclear stockpile will likely continue dwindling on account of U.S. and Russia retirements, the 2021 landscape of countries with nuclear weapons shows that proliferation is still underway.