What Weapons are Banned or Restricted in War?
What Weapons Are Banned or Restricted in War?
For thousands of years, there have been rules to control the types of weapons in warfare—for instance, the use of poison in armed combat was forbidden in Ancient Greece.
But it wasn't until the 19th century that international agreements were made to legally regulate the types of weapons that are allowed (and banned) in wars around the world.
This graphic outlines the weapons that are banned or limited in war, according to international humanitarian laws that are outlined in the United Nations Convention on Certain Conventional Weapons (CCW).
CCW and The Five Protocols
The CCW, also known as the Inhumane Weapons Convention, is an international agreement that restricts the use of weapons that have been deemed unnecessarily cruel and inhumane.
Currently, there are 125 State Parties involved in the agreement, with signatures from an additional four states. In the CCW, there are five protocols outlined that restrict or limit the use of the following weapons:
Non-detectable fragments: weapons specially designed to shatter into tiny pieces, which aren't detectable in the human body. Examples are fragmented bullets or projectiles filled with broken glass.
Mines, booby traps, and other devices: This includes anti-personnel mines, which are mines specially designed to target humans rather than tanks.
Incendiary weapons: Weapons that cause fires aren't permitted for use on on civilian populations or in forested areas.
Blinding lasers: Laser weapons specifically designed to cause permanent blindness.
Explosive remnants of war: Parties that have used cluster bombs in combat are required to help clear any unexploded remains.
It's worth flagging that, under the CCW, the use of cluster bombs is not outright banned. However, their use and production is prohibited under separate legislation called the Convention on Cluster Munitions (CCM).
At this time, the CCW does not have enforcement processes in place, or systems to resolve any breaches of the agreement.
The Chemical Weapons Convention
Another international treaty that aims to limit the use of unnecessarily dangerous weapons is the Chemical Weapons Convention (CWC), which prohibits the creation, acquisition, stockpiling, and use of chemical weapons by State Parties.
193 State Parties have signed the CWC, and one more state (Israel) has technically signed the agreement but hasn't yet made it official.
Syria signed the agreement back in 2013, but according to reports from UN human rights investigators, the Syrian government has used chemical weapons on numerous occasions throughout its ongoing civil war.
Is Russia Using Prohibited Weapons in Ukraine?
In the current conflict between Russia and Ukraine, it's been reported that Russia's been using several weapons that are banned by international legislation, including cluster bombs and explosive weapons. Harvard Law expert Bonnie Docherty explains why these weapons are so dangerous:
They scatter submunitions over vast areas of land, meaning they can hit unintended targets
Many don't explode and end up laying dormant for years
According to reports from Human Rights Watch, Russia has been using cluster bombs in several areas of Ukraine, such as the heavily populated city of Mykolaiv, and in Solyani, a suburban area just outside of Mykolaiv.
AI in Weapons and Warfare
Over the last few decades, certain protocols and restrictions in the CCW have been amended and changed based on societal changes and technological improvements.
So, as military weapons continue to improve, and technology like commercial drones become more common, proper legislation around drone use in warfare may be necessary.
Currently, there is no international legislation that bans the use of drones in war. However, several global defense companies are popping up to try and find ways to counter these new military technologies. In fact, the global addressable market for counter drones and tracking systems is estimated at $10 billion worldwide.
Mapped: World's Top 40 Largest Military Budgets
War in Europe has caused Ukraine's military spend to jump up by 640%. How do the world's largest military budgets compare?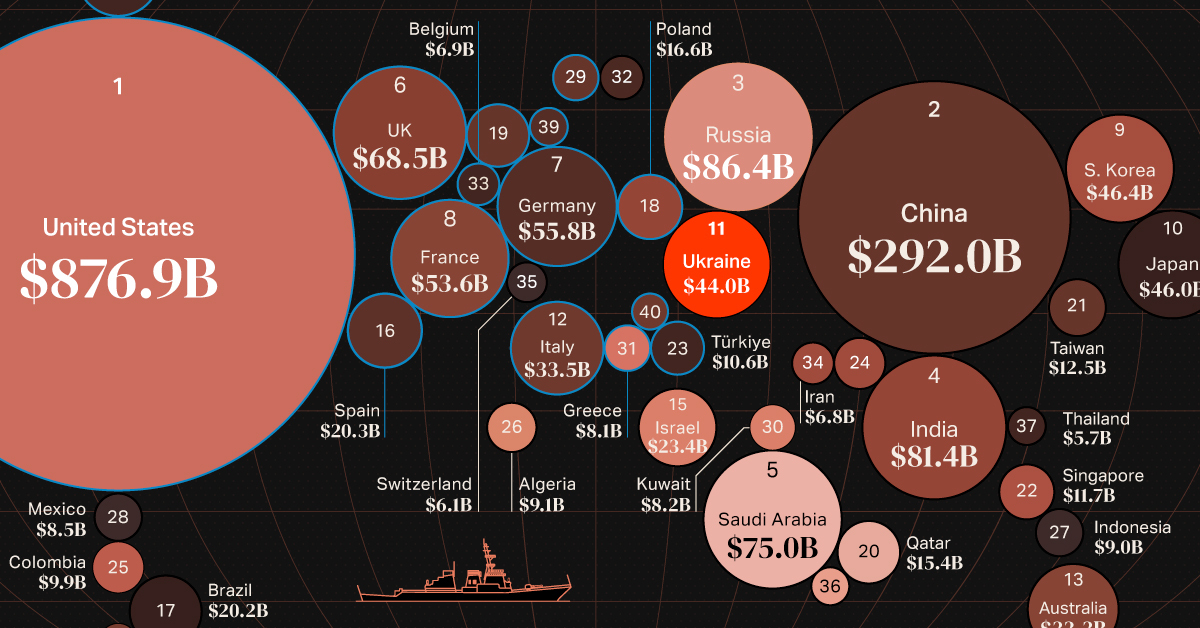 Mapped: World's Top 40 Largest Military Budgets
In the final year of World War II, the U.S. spent about 38% of its GDP on its military. When adjusted for inflation, the military budget over those four years of war came to a staggering $4.1 trillion in 2020 dollars.
Almost 80 years later, modern day military spending isn't much of a far cry from World War II budgets. The top spenders have continued to increase their military capabilities, while war in Ukraine has caused countries in the region to re-evaluate their budgets as well.
In 2022, global military budgets hit an all-time high of $2.2 trillion, according to data released by Stockholm International Peace Research Institute (SIPRI), the eighth consecutive year of increase. This post looks at the top 40 largest military budgets in the world.
The Largest Military Budgets in 2022
The United States accounts for almost 40% of global military expenditures, with its 2022 spend coming to $877 billion.
Here are the top 40 largest military budgets in the world for 2022 in U.S. dollars:
Rank
Country
Military Budget (Billions)
% of World
Military Spend
1
🇺🇸 U.S.
$876.9
39.0%
2
🇨🇳 China
$292.0
13.0%
3
🇷🇺 Russia
$86.4
3.9%
4
🇮🇳 India
$81.4
3.6%
5
🇸🇦 Saudi Arabia
$75.0
3.3%
6
🇬🇧 UK
$68.5
3.1%
7
🇩🇪 Germany
$55.8
2.5%
8
🇫🇷 France
$53.6
2.4%
9
🇰🇷 South Korea
$46.4
2.1%
10
🇯🇵 Japan
$46.0
2.1%
11
🇺🇦 Ukraine
$44.0
2.0%
12
🇮🇹 Italy
$33.5
1.5%
13
🇦🇺 Australia
$32.3
1.4%
14
🇨🇦 Canada
$26.9
1.2%
15
🇮🇱 Israel
$23.4
1.0%
16
🇪🇸 Spain
$20.3
0.9%
17
🇧🇷 Brazil
$20.2
0.9%
18
🇵🇱 Poland
$16.6
0.7%
19
🇳🇱 Netherlands
$15.6
0.7%
20
🇶🇦 Qatar
$15.4
0.7%
21
🇹🇼 Taiwan
$12.5
0.6%
22
🇸🇬 Singapore
$11.7
0.5%
23
🇹🇷 Türkiye
$10.6
0.5%
24
🇵🇰 Pakistan
$10.3
0.5%
25
🇨🇴 Colombia
$9.9
0.4%
26
🇩🇿 Algeria
$9.1
0.4%
27
🇮🇩 Indonesia
$9.0
0.4%
28
🇲🇽 Mexico
$8.5
0.4%
29
🇳🇴 Norway
$8.4
0.4%
30
🇰🇼 Kuwait
$8.2
0.4%
31
🇬🇷 Greece
$8.1
0.4%
32
🇸🇪 Sweden
$7.7
0.3%
33
🇧🇪 Belgium
$6.9
0.3%
34
🇮🇷 Iran
$6.8
0.3%
35
🇨🇭 Switzerland
$6.1
0.3%
36
🇴🇲 Oman
$5.8
0.3%
37
🇹🇭 Thailand
$5.7
0.3%
38
🇨🇱 Chile
$5.6
0.2%
39
🇩🇰 Denmark
$5.5
0.2%
40
🇷🇴 Romania
$5.2
0.2%
China, ranked second in absolute terms, accounts for another 13% of world military expenditure at $292 billion.
Russia, India and Saudi Arabia round out the top five biggest military budgets in 2022. Add in the UK to the mix (#6 rank), and these countries all had military expenditures that made up at least 3% of global spend.
Comparatively, the lowest budgets on the top 40 ranged include Romania at $5.2 billion, Denmark at $5.5 billion, and Chile at $5.6 billion. They each account for just 0.2% of the world's military budgets in 2022, and of course there are many countries with even smaller spends.
Largest Military Budget Increases in 2022
Russia's position as the third-largest military spender is a recent development, as the country's military spend had a 9% increase between 2021 and 2022, according to SIPRI estimates.
On the other side of Russia's invasion, Ukraine was the top 40 military budget with the largest annual increase in 2022, surging nearly six and a half times above its 2021 expenditures.
Country
% Change
(2021-2022)
Rank Change
(2021-2022)
🇺🇦 Ukraine
640%
+25
🇶🇦 Qatar
27%
+2
🇸🇦 Saudi Arabia
16%
+3
🇧🇪 Belgium
13%
0
🇳🇱 Netherlands
12%
0
🇸🇪 Sweden
12%
-1
🇵🇱 Poland
11%
0
🇷🇺 Russia
9.2%
+2
🇩🇰 Denmark
8.8%
+3
🇪🇸 Spain
7.3%
-1
🇳🇴 Norway
6.2%
0
🇮🇳 India
6.0%
-1
🇯🇵 Japan
5.9%
-1
🇮🇷 Iran
4.6%
+5
🇨🇳 China
4.2%
0
🇬🇧 UK
3.7%
-2
🇨🇦 Canada
3.0%
-1
🇸🇬 Singapore
2.8%
+1
🇩🇪 Germany
2.3%
0
🇮🇩 Indonesia
1.3%
0
🇨🇴 Colombia
1.1%
-1
🇺🇸 U.S.
0.7%
0
🇫🇷 France
0.6%
-2
🇬🇷 Greece
0.6%
-1
🇨🇭 Switzerland
0.4%
-1
🇹🇼 Taiwan
0.4%
-1
🇦🇺 Australia
0.3%
-1
🇵🇰 Pakistan
-2.0%
-3
🇰🇷 South Korea
-2.5%
+1
🇷🇴 Romania
-2.6%
+1
🇴🇲 Oman
-3.0%
+1
🇩🇿 Algeria
-3.7%
-1
🇮🇱 Israel
-4.2%
-1
🇮🇹 Italy
-4.5%
-1
🇨🇱 Chile
-6.2%
-3
🇧🇷 Brazil
-7.9%
-1
🇲🇽 Mexico
-9.7%
0
🇰🇼 Kuwait
-11%
-4
🇹🇭 Thailand
-11%
-5
🇹🇷 Türkiye
-26%
-6
Ukraine's dramatic increase represents the highest single-year jump ever recorded by SIPRI, painting a vivid before-and-after picture of a nation engaged in conflict.
Although no other country comes close in matching Ukraine's surge in defense spending, Qatar saw a substantial increase of 27% over the last year, marking a continuing trend over the last decade of significantly bolstering its military.
Additionally, Saudi Arabia, along with four European nations (Belgium, the Netherlands, Sweden, and Poland), have registered year-over-year changes of over 10%.
On the flipside, 13 of the nations with the largest military budgets decreased spend from 2021, including top 15 spenders such as South Korea, Italy, and Israel.
The largest drop was seen by Türkiye, with an estimated 26% reduction in military budget. This drop may be linked to Türkiye's inflation problem, which saw prices rise 72.3% in 2022—effectively decreasing the purchasing power of their currency in relative terms to other nations.
The Specter of War in Europe
With an ongoing conflict in the region and large financial powerhouses, its no surprise that eight of the top 10 countries with the most significant increases in military spending are located in Europe.
Consequently, European military budgets have reached levels not witnessed since the end of the Cold War.
And amid escalating geopolitical concerns, countries in Asia such as India, Japan, and China have also ramped up their defense spending. This is an indication of simmering global flashpoints such as India and China's border skirmishes, the longstanding South China Sea territorial conflict, and concerns surrounding Taiwan's sovereignty.
Source: Stockholm International Peace Research Institute (SIPRI).
Data note: SIPRI's military expenditure data collection began in 1949, thus its records do not account for all expenditure that occurred during both World Wars.
Please see SIPRI's methodologies page for more details on how they collect their data and create estimates.